Our SSO team
At our Store Support Office we've an incredible team of talented people who provide the best possible support to our store teams across the UK and Ireland. It's a vibrant and lively hub of people and ideas, based in Southampton, Hampshire.
If you think you've got what it takes to join our team of retail and DIY experts, come and take a look at the variety of exciting career opportunities at our Store Support Office.

A good move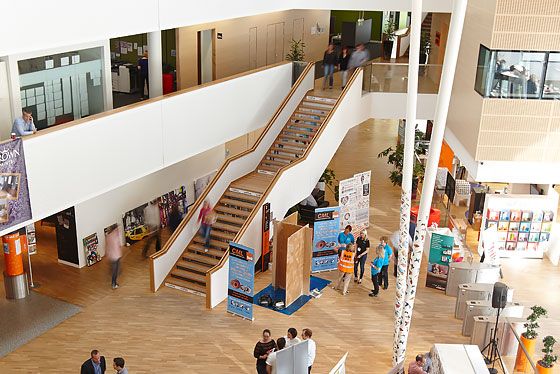 Southampton is in the beautiful county of Hampshire, close to the stunning New Forest, with access to beaches and only a stone's throw from the historical cities of Winchester, Salisbury and Chichester. The local schools and universities are excellent and we have a great choice of shops, bars, restaurants and leisure facilities. Southampton is also home to a Premiership Football Club and County Cricket Team.
We've good links to the M3 and M27, and are on the doorstep of Southampton Airport and the main train station. London is only an hour away by train or car.
A great place to work
B&Q is part of the highly successful Kingfisher Group, an international family of companies with stores in ten different countries. They pride themselves on providing rewarding careers and personal development for its employees.
As part of the Store Support Team, you'll be offered the chance to thrive, and the opportunity to move your career through different roles within B&Q.
Healthy happy you
We encourage our Store Support Team to lead an active lifestyle while in the office, as well as outside of it - helping to promote and support a healthy work-life balance. Employees enjoy fitness schemes and can make the most of flexible working patterns.
The on-site Gym and Wellbeing Centre helps to promote increased vitality and performance while helping people to relax and let off steam.
B&Q also encourage people to walk and cycle to work. Our 'Blazing Saddles' and 'Foot Soldiers' schemes reward cyclists and walkers with tokens which can be spent in our canteen or exchanged for goods such as walking boots, bike accessories or Bonus Bonds vouchers.
The perks...
Free on-site parking
Informal dress code
Costa Coffee shop
Car Share Scheme
Sports & Social Club
Eco-friendly building
Where will you fit in? Whatever your talent, you'll find an exciting range of opportunities within our Store Support Office. Take a look…
Omni Channel
…This team takes care of the B&Q strategy, customer experience, technology, development, merchandising and trading. The team plays an active role in educating other areas of our business about online customer behaviour and how this positively impacts our stores and supports our vision for the brand.
Commercial
…designs, delivers and trades an inspirational product range that meets our customers' needs, builds brand value, drives sales and profit growth and improves market share across all channels. Our category teams are responsible for developing and executing a category strategy, and our support teams provide the specialist support to help delivery of the plan.
Customer & Marketing
…Our highly creative team provides the business with an understanding of our customers - defining our proposition and how we interact with our customers, and creating a plan to meet customer needs. They manage our customer communication across all media channels, inside our stores, and through all digital channels, consistently focusing on optimising our customer experience and driving sales.
"I've had a lot of opportunities to work on my self development in my varying roles enabling me to get to where I am now. I also work with some great people in many different professions, including external suppliers and agencies. So I have really gained a great understanding of the business as a whole and therefore what opportunities are available to me in the future."
James Burnett, POS Equipment & Store Development Co-ordinator at SSO
Finance
…partners with the rest of the organisation to consolidate all financial activity in order to report an accurate reflection of business performance. Key accountabilities are to process financial transactions accurately, produce financial targets, performance reports and investment analysis. We also aim to remove complexity from finance processes and ensure that we present one version of the truth.
Logistics
…develop our supply chain and international supply chain strategy, maximising availability and value and harnessing group synergy across Kingfisher. This team ensure effective and efficient delivery of stock to our stores and our customer's homes through the B&Q network and the execution of the logistics plan.
HR
…exists with one sole purpose; to help our people and to enable them to make a real difference. The team works to deliver a complete HR solution across the Store Support Office and stores. Opportunities range from general HR roles to many specialist roles, including Learning and Development, Recruitment and HR Shared Services.
Retail operations
…creates and delivers a customer experience that is informed by our understanding of customers needs and enables consistent delivery of the trading plan across all stores.
"B&Q gives me the opportunity to work for an organisation with a purpose I believe in - to give our customers better homes and better lives. On a daily basis my team and I get to solve problems and deliver changes which will sustainably simplify our business. The culture is collaborative and empowers people to continuously improve, making it a really rewarding environment to work in."
Chris Bargate, Productivity Program Lead at SSO
Property
…provide a sustainable and flexible retail property service that accommodates the changing needs of our customers and store colleagues. They're constantly striving to make sure that all our stores are the best they can be which includes maximising the store estate space and working in the most efficient way possible. The Facilities Team are also a part of the Property Function, ensuring that all our stores and our SSO building are running to a high standard, challenging our costs and looking at our impact on the environment.
Customer proposition
…help to provide direction for all activity across the organisation, defining our plans by our analysis of our stores and understanding of our customers' needs. The Space and Format team establish how much space we require, and how the space should be designed, look and feel. We work closely with all functions including customer & marketing, property and commercial to deliver the best possible experience for our customers.
Strategy
…determine the long term direction of the organisation whilst delivering and governing the major changes required to get us there. We identify and govern our strategic risks, monitor the external environment and benchmark B&Q accordingly and proactively source and evaluate new strategic opportunities.
Range change
…deliver the B&Q Range Change Programme of large scale projects & layflats, delivering to time, cost and quality targets. We work closely with the Proposition team to ensure that the changes are delivered effectively, and that there is synergy between the plans we put in place, and the execution of the plans in our stores.
Help Services