colourcourage paint Dark Aubergine
Dark Aubergine is a very dark and exciting red-violet shade.
Dark Aubergine
All items in this range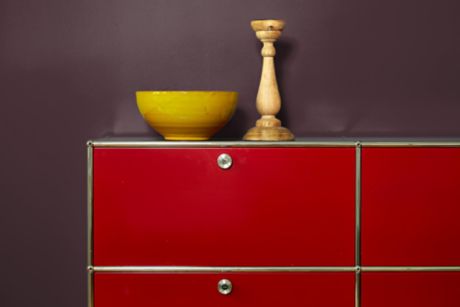 What's the story?
"When travelling throughout Europe in search of the perfect colour, you cannot miss a typical French weekly market. Fresh vegetables or spices often have inspiring colours. In particular, I would like to stress the dark shade of the aubergine as a truly unique and absolutely striking shade. It is a dark, but not black colour but not gaudy either, it has a magical and at the same time soothing effect."
Shop Dark Aubergine
Shop all colours
Styling tip:
DARK AUBERGINE is a deep and exciting red-violet shade. Pairing perfectly with AGAVE NOBILE, as well as CONTZEN WHITE in larger areas. VIOLET IMPULSE is the ideal colour combination due to its violet tinge, as it neutralises the colour play and works harmoniously with it.
Lars Contzen about colours:
"The beauty of a colour does not depend on a particular object. Every colour may tell a thousand stories. Use colours the way you like them best. There are colour combinations, though, that harmonize perfectly."
Must have items for your project
Get inspired
Current Promotions
How to create a feature wall

Why not think about wallpapering a single wall to create a striking design feature?