colourcourage paint Earthy Malachite
Earthy Malachite is a slightly broken turquoise shade.
Earthy Malachite
All items in this range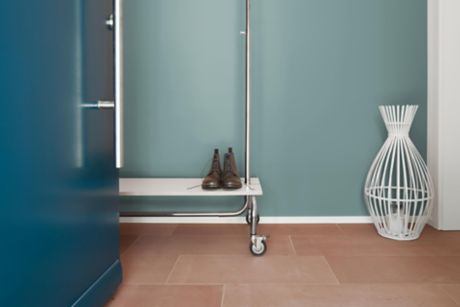 What's the story?
"At a flea market in England I noticed an old silver ring set with a relatively big turquoise stone. I asked the operator of the stand what kind of stone that was. He was not sure, but guessed it to be malachite. Since besides turquoise this shade had a brownish tone about it, too, I named the colour EARTHY MALACHITE."
Shop Earthy Malachite
Shop all colours
Styling tip:
EARTHY MALACHITE is a shade of turquoise that's complemented with other colourcourage® shades such as MARSH MELLOW. Light grey and white help to neutralise this bold colour and light floors and white furnishings go well as they help to give additional light to a well-designed home.
Lars Contzen about colours:
"The beauty of a colour does not depend on a particular object. Every colour may tell a thousand stories. Use colours the way you like them best. There are colour combinations, though, that harmonize perfectly."
Must have items for your project
Get inspired
Current Promotions
How to create a feature wall

Why not think about wallpapering a single wall to create a striking design feature?