colourcourage paint Hotel Paris
Hotel Paris is a dark, broken red-violet that looks very elegant and stylish.
Hotel Paris
All items in this range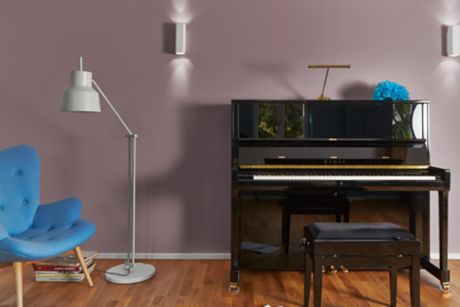 What's the story?
"On a stopover in Paris I noticed a venerable small hotel when passing by. Had I been asked to compare that hotel with human characters, I would have thought of an older, elegant lady as a synonym. I mixed the hardly describable colour shade of the hotel facade on canvas and added it to the collection under the name HOTEL PARIS.
Shop Hotel Paris
Shop all colours
Styling tip:
HOTEL PARIS is a dark and muted red-violet that's elegant and stylish. The shade HONU LULU blends well with it. Delicate green shades also form a pleasant and complementary contrast. White doors and window frames stand out against this shade and floor-length curtains create an air of opulence throughout the room.
Lars Contzen about colours:
"The beauty of a colour does not depend on a particular object. Every colour may tell a thousand stories. Use colours the way you like them best. There are colour combinations, though, that harmonize perfectly."
Must have items for your project
Get inspired
Current Promotions
How to create a feature wall

Why not think about wallpapering a single wall to create a striking design feature?