colourcourage paint Marsh Mellow
Marsh Mellow is modest enough to be used for the painting of entire rooms.
Marsh Mellow
All items in this range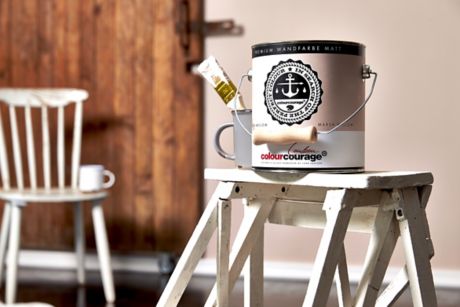 What's the story?
"As much as I was inspired during my visit to an English candy shop, I was simply overwhelmed by the load of impressions regarding the variety of colours. Yet, I found it difficult to detect a truly beautiful or interesting shade. All colours seemed quite artificial or kitschy. In the end, I determined my own shade, MARSH MELLOW. It is best described as a milky-brownish rose and does not have much in common with the colour of a marshmallow anymore.
Shop Marsh Mellow
Shop all colours
Styling tip:
MARSH MELLOW is a muted and slightly milky shade. It contrasts beautifully against other colourcourage® shades such as SHORE BREAK and works well across entire rooms. White doors and window frames really stand out against the subtle tone. Light floors and white furniture only add to enhance this look.
Lars Contzen about colours:
"The beauty of a colour does not depend on a particular object. Every colour may tell a thousand stories. Use colours the way you like them best. There are colour combinations, though, that harmonize perfectly."
Must have items for your project
Get inspired
Current Promotions
How to create a feature wall

Why not think about wallpapering a single wall to create a striking design feature?