colourcourage paint Peanut Sunrise
Peanut Sunrise is a pastel beige-orange.
Peanut Sunrise
All items in this range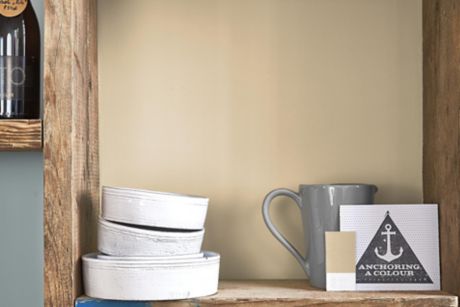 What's the story?
"At the end of a long day searching for the perfect shade, I sat in a small bar in a coastal town in England. I ordered a Tequila Sunrise from the cocktail menu. Next to the nicely looking mixed drink the waitress placed a small bowl of peanuts. While inspired by the colour shift of the cocktail, I viewed the peanuts. These also looked very appealing. Spontaneously, I thought of the name PEANUT SUNRISE and I added the shade of the peanuts to the collection."
Shop Peanut Sunrise
Shop all colours
Styling tip:
PEANUT SUNRISE is a pastel beige and orange shade that pairs well with SABLES DE FRANCE. It's also highly complemented by GREEN SUBMARINE to add a cooler feel to the colour play. To create a softer look, paint walls in CONTZEN WHITE and pair with wooden accessories that bring out the accent colour.
Lars Contzen about colours:
"The beauty of a colour does not depend on a particular object. Every colour may tell a thousand stories. Use colours the way you like them best. There are colour combinations, though, that harmonize perfectly."
Must have items for your project
Get inspired
Current Promotions
How to create a feature wall

Why not think about wallpapering a single wall to create a striking design feature?