colourcourage paint Retired Buoy
Retired Buoy is a powerful, slightly darkened orange shade that is full of energy.
Retired Buoy
All items in this range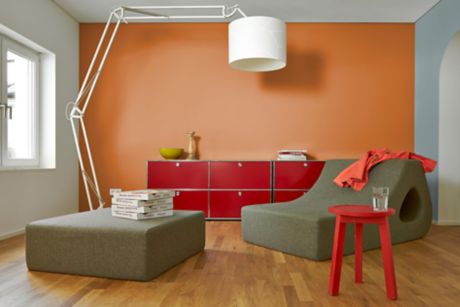 What's the story?
"On my journey through Scandinavia, between colourful fisher huts, I found an old buoy. It was lying in front of a shadowy wall painted in dark green and was intensively illuminated by the flat afternoon sun. Its orange surface had many traces of usage and quirks. The buoy seemed to be discarded, but I thought that it had found a nice place for its retirement. I named the deep orange colour of its worn surface RETIRED BUOY."
Shop Retired Buoy
Shop all colours
Styling tip:
RETIRED BUOY is a powerful and slightly darkened orange that's packed with energy. It's an expressive and striking colour that should be used sparingly throughout the home. BEACH PEBBLE and CONTZEN WHITE help to soften the look and feel, especially in larger areas. GREEN SUBMARINE is a great counterpart to help restore balance and fits beautifully with wooden surfaces and grey, natural stone.
Lars Contzen about colours:
"The beauty of a colour does not depend on a particular object. Every colour may tell a thousand stories. Use colours the way you like them best. There are colour combinations, though, that harmonize perfectly."
Must have items for your project
Get inspired
Current Promotions
How to create a feature wall

Why not think about wallpapering a single wall to create a striking design feature?