colourcourage paint Terra De Siena
Terra De Siena is a warm orange-brown that has a natural and classic effect at the same time.
Terra De Siena
All items in this range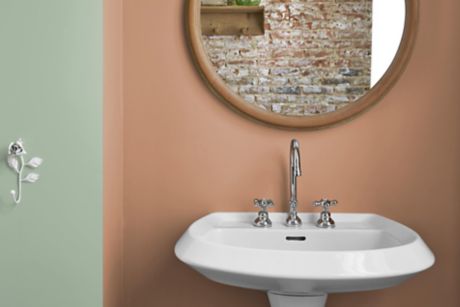 What's the story?
"To me, TERRA DE SIENA is the typical colour of Italy. Lots of classic facades are painted in this warm orange-brown tone that is generated from natural colour pigments. Originally, only those pigments were used for it that had been gained from the earth in the area around Siena. I have seen innumerable painted facades on my travels, but none of them looked as good with patina on it as this one."
Shop Terra De Siena
Shop all colours
Styling tip:
TERRA DE SIENA is a warming orangey-brown that has both a natural and classic effect. It gives a Mediterranean feeling and can be beautifully combined with varied shades of brown or wood. Stone surfaces fit in well also. Add BOUTEILLE A LA MER to complement this look.
Lars Contzen about colours:
"The beauty of a colour does not depend on a particular object. Every colour may tell a thousand stories. Use colours the way you like them best. There are colour combinations, though, that harmonize perfectly."
Must have items for your project
Get inspired
Current Promotions
How to create a feature wall

Why not think about wallpapering a single wall to create a striking design feature?