colourcourage paint Vieux Bordeaux
Vieux Bordeaux is an intense, dark cherry-red. The shade is very classical and gives surfaces a striking effect.
Vieux Bordeaux
All items in this range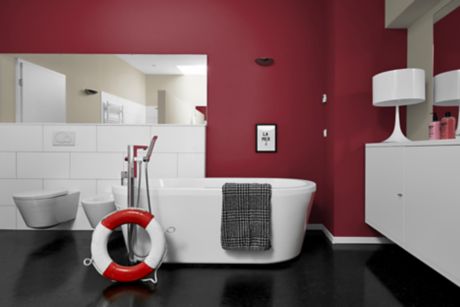 What's the story?
"Next to a cycle path along the coast towards Bordeaux, I noticed an old telescope. It was painted in an intense red that charmingly decorated the device. The red tone seemed very classical and stylishly conveyed a vintage attitude. Due to its location the shade, which is ranging between cherry red and bordeaux, got the name VIEUX BORDEAUX."
Shop VieuxBordeaux
Shop all colours
Styling tip:
VIEUX BORDEAUX is an intense, dark cherry red that's both classic and striking in its appearance. Used moderately, it's a bold colour that can be soothed with DUSTY PORCELAIN and BOUTEILLE A LA MER.
Lars Contzen about colours:
"The beauty of a colour does not depend on a particular object. Every colour may tell a thousand stories. Use colours the way you like them best. There are colour combinations, though, that harmonize perfectly."
Must have items for your project
Get inspired
Current Promotions
How to create a feature wall

Why not think about wallpapering a single wall to create a striking design feature?