Introduction
Outdoor lighting can serve a plethora of purposes in a home, from simple decoration to essential safety and security. Purpose and style are the key things to consider when choosing between outdoor lighting options; here we'll take you through some of the most popular products and how they can best be put to use.
Getting Started

Before you buy any kind of outdoor lighting equipment, think about what you are trying to achieve and what kind of area you are trying to shed light on.
Are you trying to create an outdoor area for guests to enjoy? Bulking up on home security? Or just making a dark path easier to navigate at night? For security a large floodlight is usually the best option, style and safety though offer a lot more choice.
It's also a good idea at this early stage to consider the practical matters; how will the lights be powered? Do you have a safe, dry spot to position a switch? Are your neighbours or anybody likely to be affected?

What's Available?
Outdoor lighting comes in a huge variety of different shapes and sizes, all designed to fulfil a particular need. A few of the main types you can choose from are:
Fitted Lighting
Creating a permanent lighting fixture outdoors can be the most effective solution, whether it's motion sensor security lights or an old style lamp to light up your porch. These types of light can be wired into your home electricity supply and controlled with an ordinary light switch.
Lighting can also be fitted elsewhere in a garden or driveway, incorporated into decking or patio projects, pathways or other areas.
Portable Lighting
Simple, battery powered fairy lights can be intertwined into a parasol to make an affordable yet effective garden lighting solution. Spike/post lights are also an increasingly popular option; usually solar powered these can be easily stuck into the ground to highlight a pathway or light up a particular area.

Decorative Lights
Well placed lighting can really add a bit of drama to an outdoor area, spotlights can highlight particular points, working especially well with water features, whilst subtle lighting on path and driveways or otherwise dark corners can help to create a warm, welcoming atmosphere.

Security Lamps
If security is your main reason for adding outdoor lighting to your home, we have a whole range of products designed with this specific purpose in mind. Motion sensor controlled, or constant floodlights can drench every corner of your driveway in bright light, helping to keep your home secure.
Key Factors
Positioning
Placing your outdoor light in the right spot is essential, and can be more complicated than you'd think. Remember to take into account things like glare, where people will be sitting, whether the neighbours are likely to be affected. If the light is wired in does it have any protection from the elements? If not choose something with a high IP (ingress protection) rating, the higher the number the more water resistant and hardwearing it will be. Floodlights should be placed at least 2 metres off the ground to ensure maximum effectiveness, try holding lights up or rigging temporarily with twine or duct tape to test the position before making a permanent fixture.
Safety
Installing outdoor lighting should be a fairly simple task for a DIY novice; electricity is not to be toyed with, however, so you might want to at least have your work checked over by a professional. If your outdoor lights are far from the house but running from the mains supply, you'll need steel wire armoured cable, buried at least 450mm deep, low voltage systems are the safest to use, they use a transformer to step down the voltage to a low level as it is transported; so that even if you cut directly into a cable there's no risk of electrocution.
Extras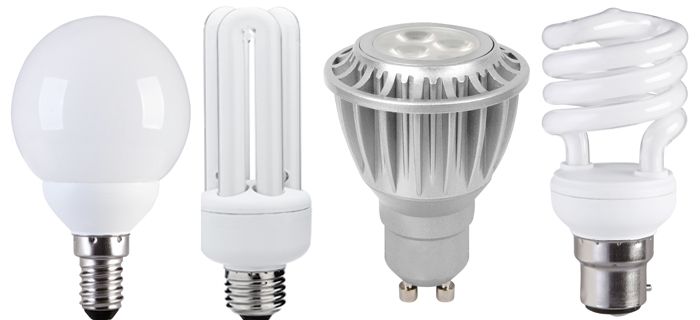 As well as the light fittings themselves there are a few extras that you'll need to complete the setup, particularly if you're planning to install them yourself.
Light Bulbs
There is a huge range of different light bulbs on offer nowadays, make sure that you know which type you're going to need and have considered the costs – modern LED or CFL bulbs are more expensive to purchase but will last much longer and use less power than the old style tungsten bulbs.
Switches
If you're placing the switch indoors then any standard light switch will do the job, if it's being placed outside, however, be sure to choose a switch with a high IP rating, ideally with a plastic waterproof cover as well, to keep out any moisture or dust that can quickly cause damage to an electric circuit.
Installation Tools
If you're installing outdoor lighting yourself you'll most likely need a few basic tools: Power drill, screwdriver and spirit level, as well as a stepladder, a spade and the all-important silicone sealant to provide a fully waterproof finish to your outdoor lighting system.