Charcoal and gas BBQ options explored
For food lovers, sunny weather means one thing - fire up the barbecue. Dining al fresco is a summer treat that's guaranteed to create a buzz amongst your family and friends.
And it doesn't matter if you're only cooking a handful of hamburgers for your closest loved ones, or hosting an epic party to remember - the BBQ buffet has to deliver. And with our selection of gas and charcoal models, we have one to help you find the recipe for outdoor food fun.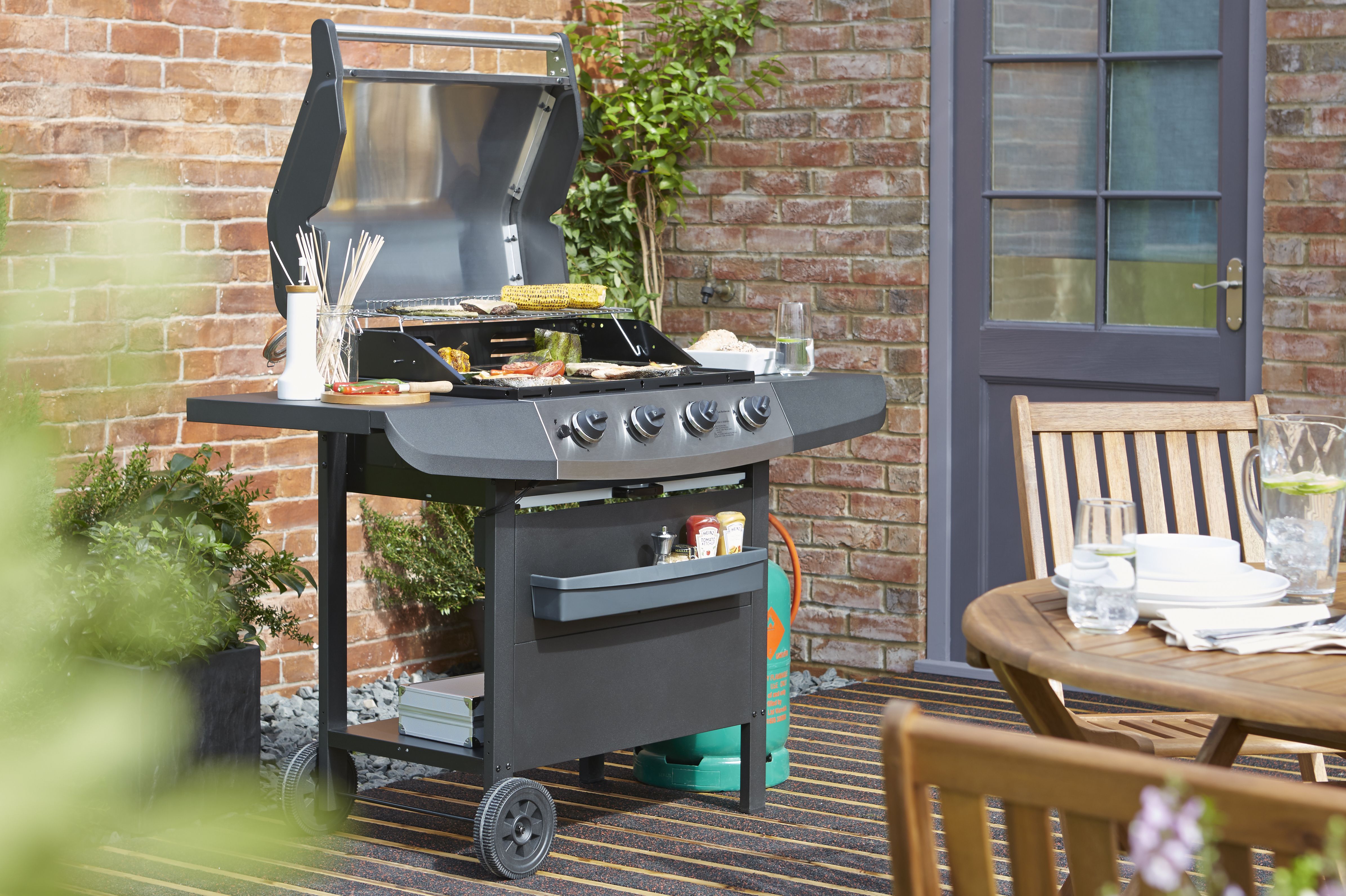 Before you begin
Where will you be using your barbecue?
Are you going to be doing the majority of your cooking in your own garden? Or will you take it with you for picnics and camping?
Many in our range come with handles and wheels so you can easily move them around. But if you're going to be transporting it a lot, consider the size and weight of your barbecue and how you'll be getting it in and out of your car.
When deciding where to place your barbecue, make sure there are no low-hanging plants or tree branches close by. And remember that they're not recommended for balconies or to be placed on artificial grass (as it will melt).
How many people will you be cooking for?
Almost all of our barbecues are designed to cook enough food for four people or more, but the bigger the grill size, the better it will be to cater for larger groups or parties. Look for more than one grill level if you want to be able to cook several different types of food at once – if for example you want to separate out vegetables or fish from your meat.
If you're looking to create the feel of an outdoor kitchen, explore a BBQ with a side burner so that you can boil vegetables or make rice without having to go back indoors.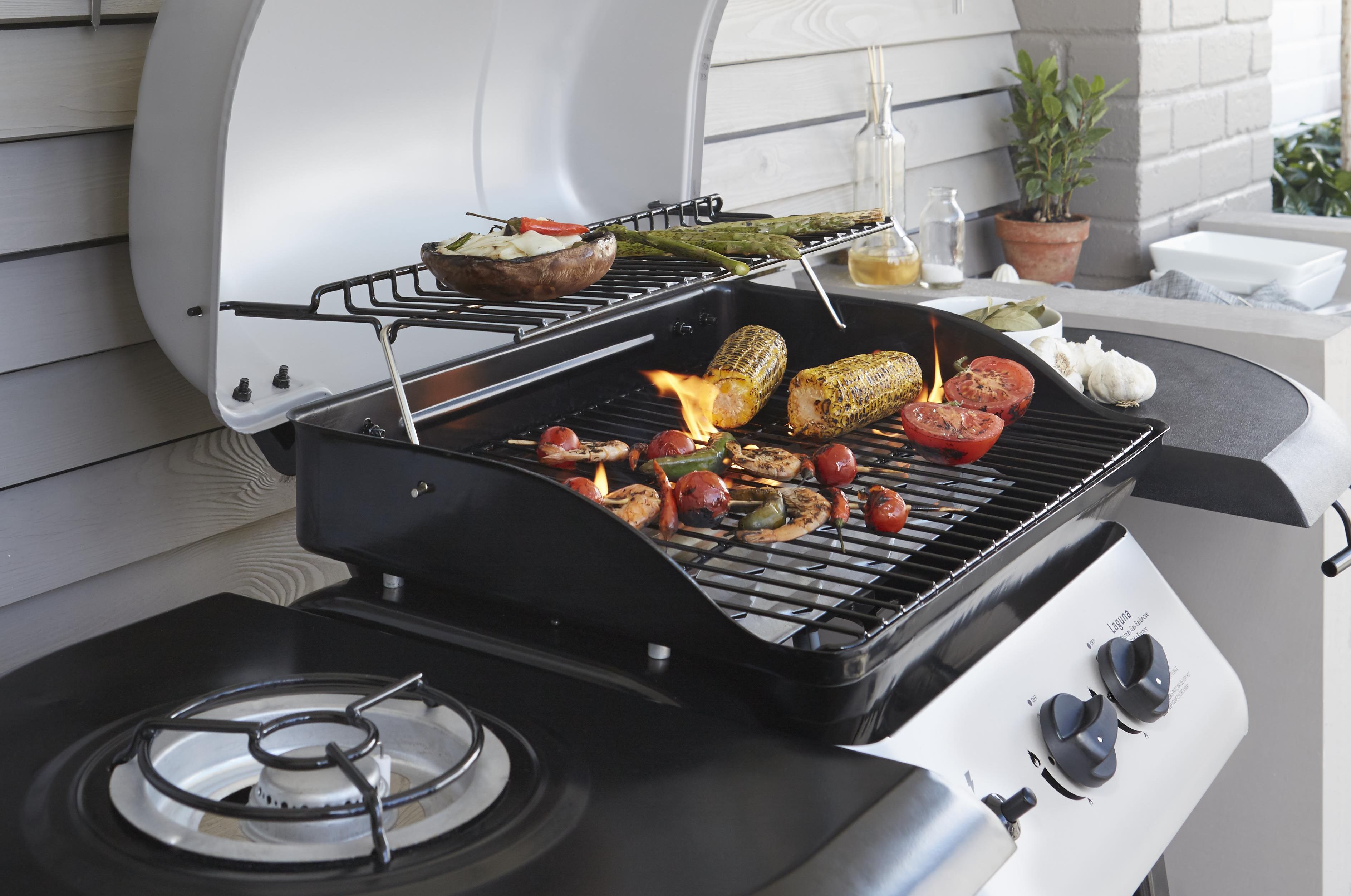 Types of barbecue
We stock two types of BBQ: gas and charcoal.
Gas barbecues
For complete control over the temperature, as well as the ease of being able to start cooking with one click, choose a gas barbecue. Unlike a charcoal option, they're ready to start cooking almost immediately. Gas barbecues have a generous cooking area making them ideal when cooking for larger groups, and they're easy to clean afterwards.
Our gas barbecues:
Cater for six to 16 people.
Offer a heat output of up to 13.2 kilowatts (kW).
Feature grills made from either powder-coated steel, stainless steel or porcelain enamel. Porcelain grills offer even heat distribution.
Have up to four burners, as well as side burners for saucepans.
Are easy to clean with removable drip trays. Some models feature vapour bars that protect the burners from excess grease.
Are flat-packed and easy to assemble, though some may require a second pair of hands.
Are simple to store – most come with handles and wheels to make moving them into your garage or shed a breeze.
Are available with the TRU-Infrared Cooking System. This uses radiant heat energy to ensure even, consistent cooking and lock in more juices than traditional grill barbecues.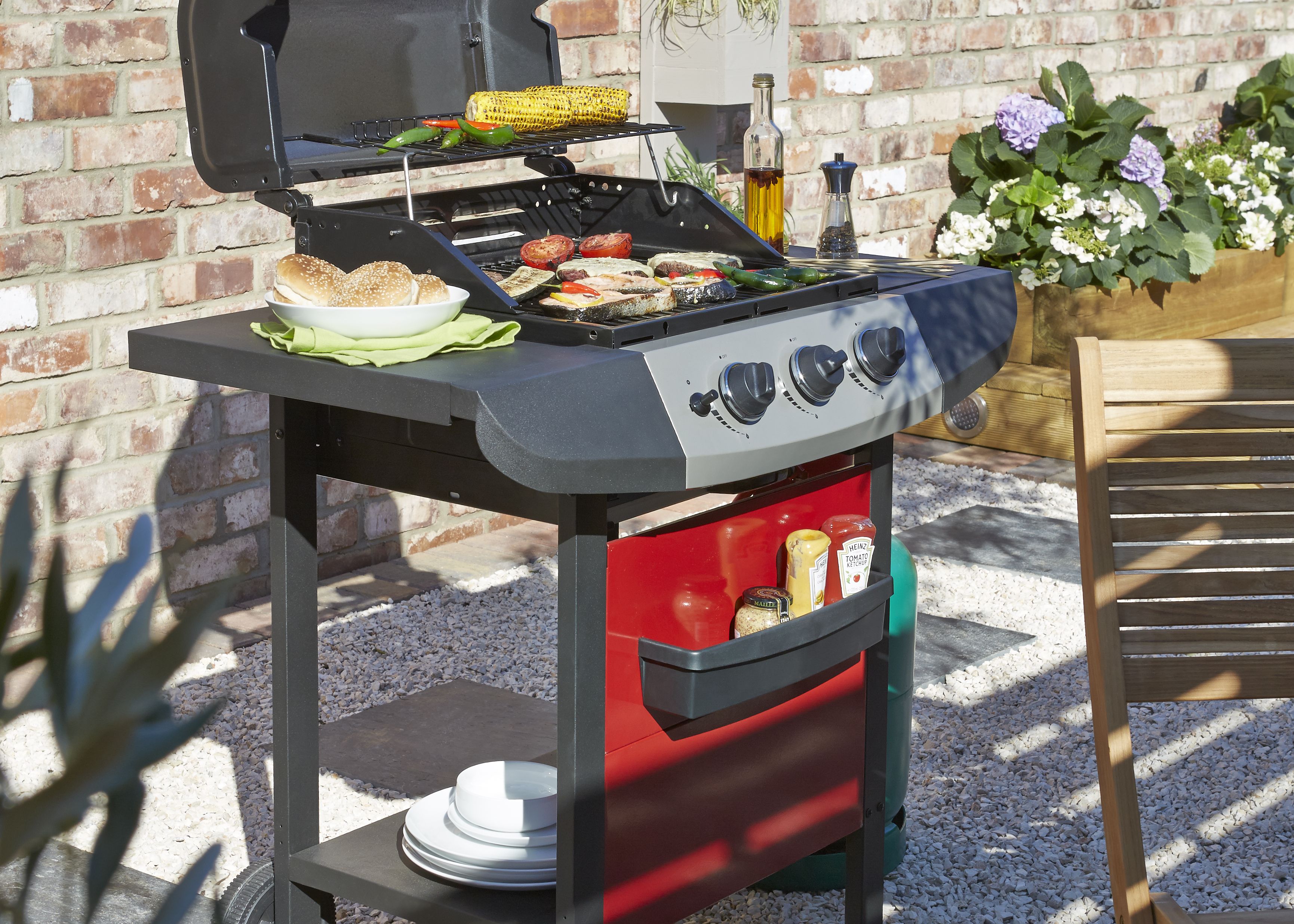 Charcoal barbecues
For the authentic barbecue experience and flavour, grab a charcoal barbecue. While they take a little more time to be ready – you'll need to wait at least 20 minutes after lighting before you can begin cooking – the ritual of getting one going is what outdoor cooking is all about.
Our charcoal barbecues:
Cater for six to 10 people.
Have grills made from steel, steel and enamel, or porcelain enamel.
Feature up to four adjustable grills to allow you to control the temperature of your food.
Are available with non-rust vents to provide the proper airflow for perfect barbecuing.
Can include helpful cooking accessories such as hooks, warming racks, ash collection trays, chimney starters, bins, stone cutting boards and bottle openers.
Are a cost-effective choice.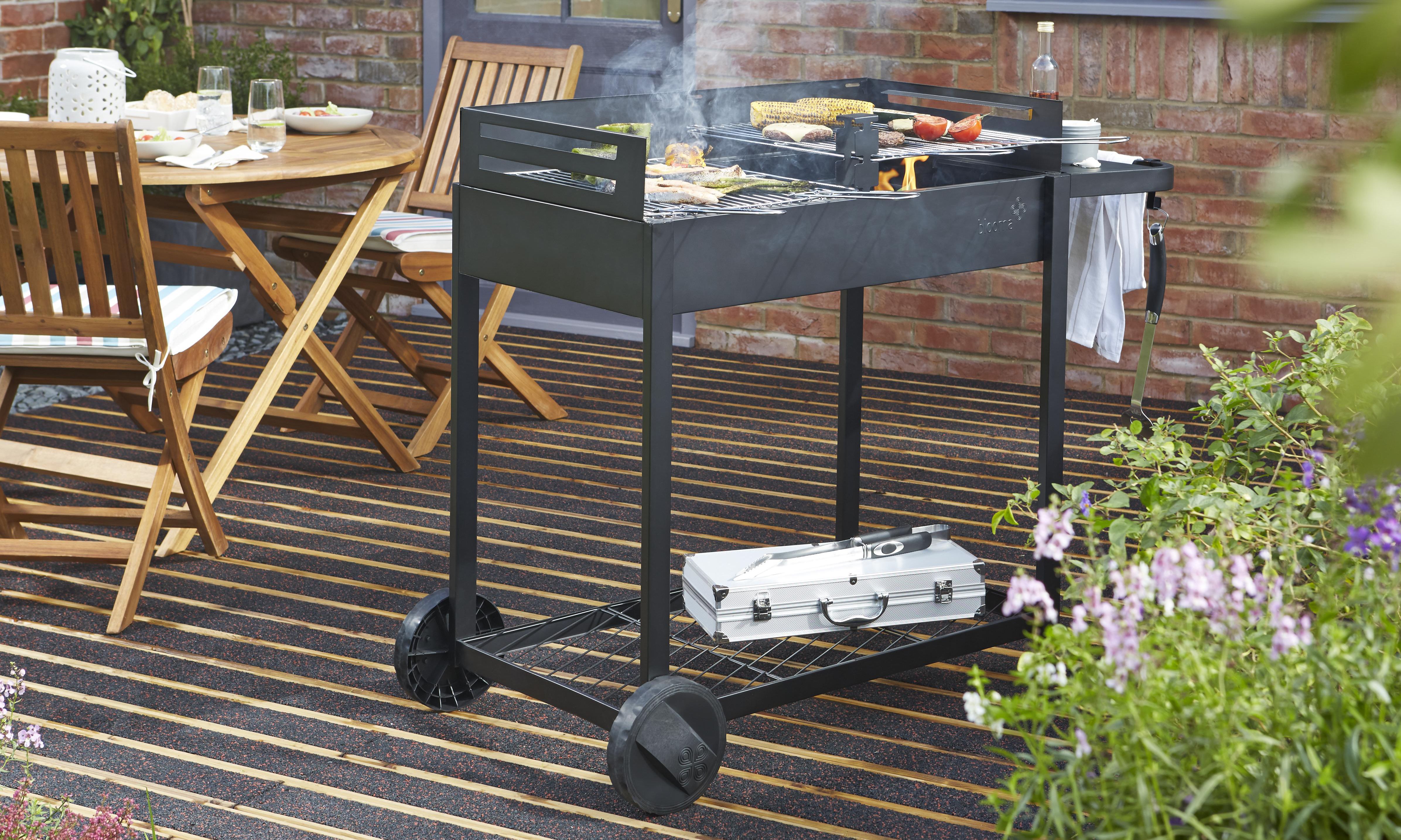 Masonry barbecues
For a permanent charcoal option, explore our masonry barbecues. They're ideal if you want to enjoy as much outdoor cooking as possible, and help create the feel of an outdoor kitchen. Why not do so by growing a herb garden safely nearby so that you can easily grab herbs to add to your food when cooking? Masonry barbecues can double up as a patio heater in colder weather and our range is available exclusively online.
Our masonry barbecues:
Come with up to four adjustable grills to allow you to control the temperature of your food.
Are made from marble granulate or marble and stone.
Are available with helpful features such as crystal-polished finish worktops, ember safety stops and side tables.
Shop masonry barbecues Shop all barbecues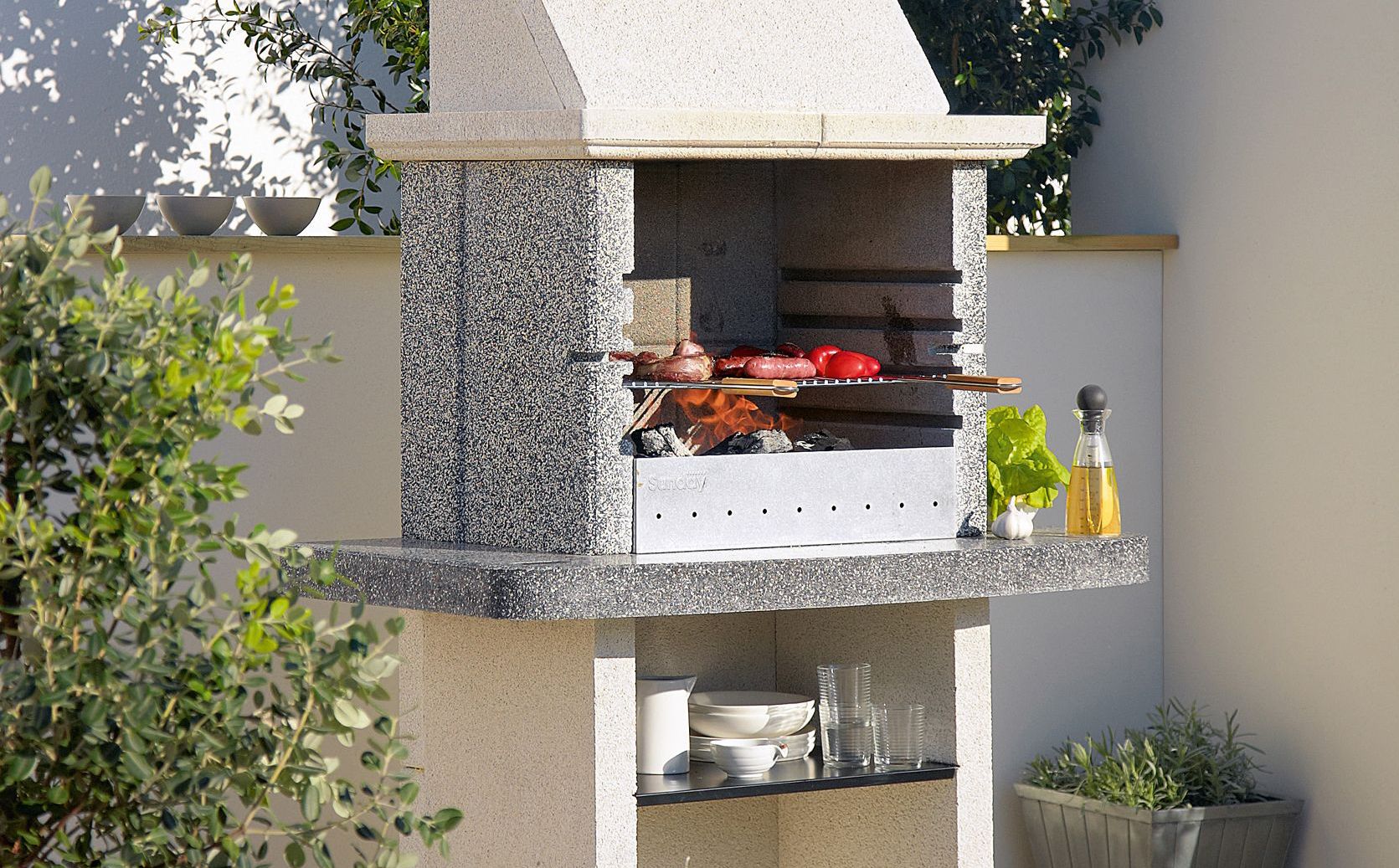 You might need
To get the best out of your barbecue, pick up a couple of extra items.
Barbecue fuel
Make sure your barbecue doesn't burn out halfway through cooking your sausages by having fuel on hand. Choose from charcoal, logs and gas canisters (available in store only), dependent on what type of barbecue you have. Charcoal BBQs will also need firelighters or a chimney starter to get the fire going.
Be sure that any extra fuel is kept a good distance away from your barbecue when it is lit.
Barbecue cooking tools
Prepare delicious food on your barbecue with the help of our wide range of cooking accessories. From smokers to grill baskets, digital thermometers, to tool sets and even kit for preparing pizza, rotisserie poultry and meat and home-made burgers - our cooking tools will help you look and feel like a professional chef.
Shop all barbecue cooking tools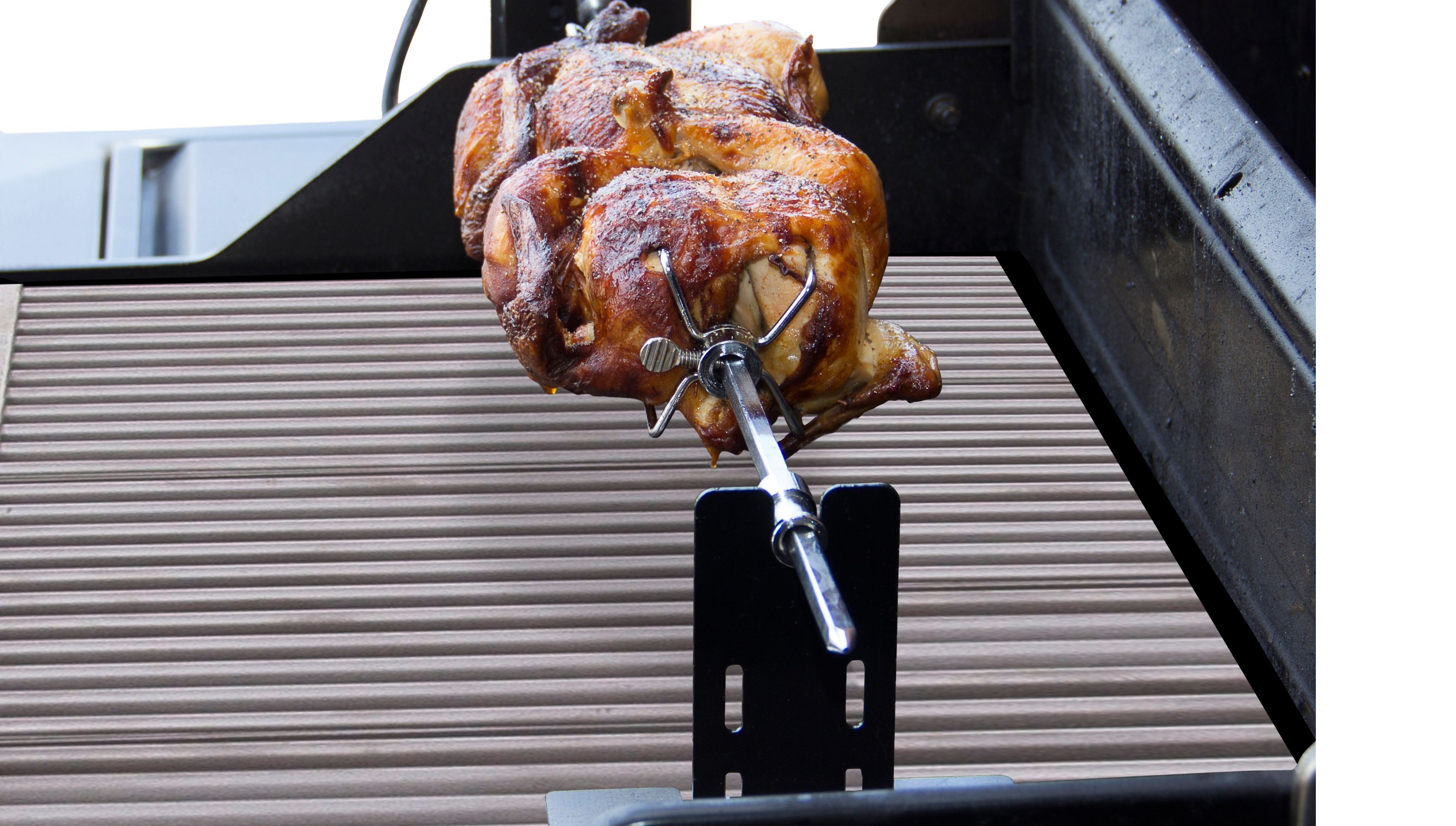 Barbecue cleaning
Keep your grill sparkling by cleaning after every use with a suitable cleaner spray and a wire brush.
Barbecue covers
If being stored outside, shield your barbecue from the the elements with a barbecue cover. Choose the right one to suit the shape and size of your barbecue and look for those made from material that is water and tear-resistant for extra protection.
Shop barbecue covers Shop all barbecue accessories