Give your home a festive glow this holiday season
Give your home a quick festive makeover with the simple flick of a switch. Twinkly lights are one of the easiest ways to brighten up your Christmas decorations. They've become a seasonal staple and if you ask us, there's no such thing as too many Christmas lights. In fact, the more the merrier.
Christmas lights are one of the most versatile decorations available. Use them indoors and out, as standalone decorations or to complement other features like trees, porches, mantelpieces and staircases. You can keep your Christmas lights subtle, soft and elegant, or big, bold and colourful. You can use them to create a party mood or even an entire Christmas scene.
So whether you fancy being the most brightly-lit house on your street or are looking for something more low-key, we have a selection of twinkly festive lights to help create your perfect Christmas.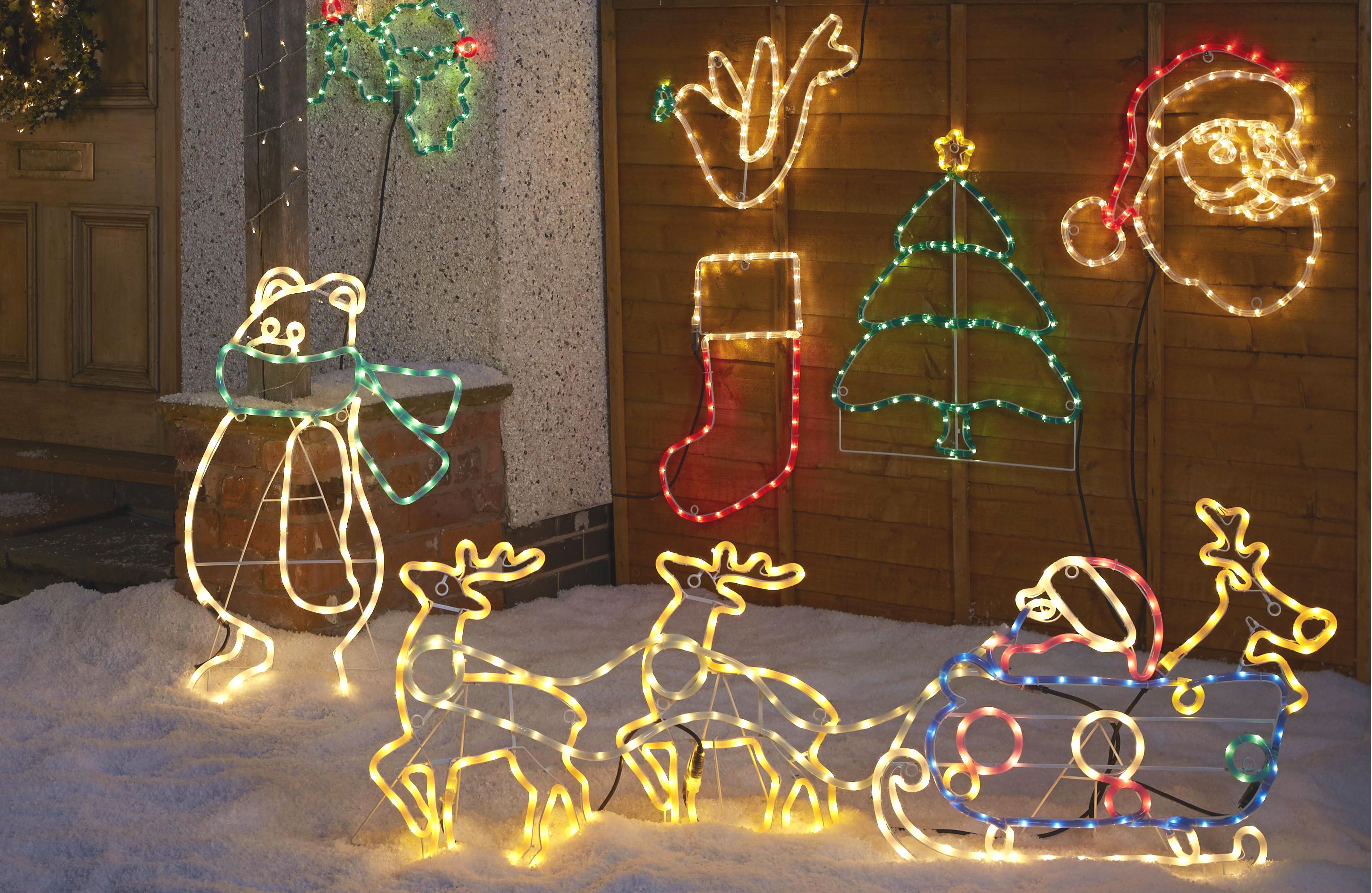 Before you buy
Safety first
Remember to check the product carefully before buying to ensure you know exactly what you're buying and where you're going to use it.
It's especially important to note where the product is recommended for use, as outdoor and indoor lights can have very different designs. Outdoors lights are built to shine brightly for a long time against the elements. This can result in them burning quite hot, and so are not safe to use indoors as they can pose a fire risk. Whereas indoor lights aren't designed to be weatherproof and survive outdoor conditions, particularly if the weather is bad.
If you're not quite sure if you'd like to use your lights indoors or out, look for ones that can be used in both settings. Many different types offer safe use in both environments (such as string lights), while some are specific just to one area (such as window silhouettes), so always check first.
And always keep lights out of reach from small children and pets.
String lights
These classic Christmas lights, also known as fairy lights, are the traditional choice for lighting up your Christmas tree. They have become increasingly popular to use around the home for further decoration. There are different shapes, colours and bulb effects available, so we're here to breakdown your options this Christmas.
Shape
We offer string lights in a variety of different shapes, choose from: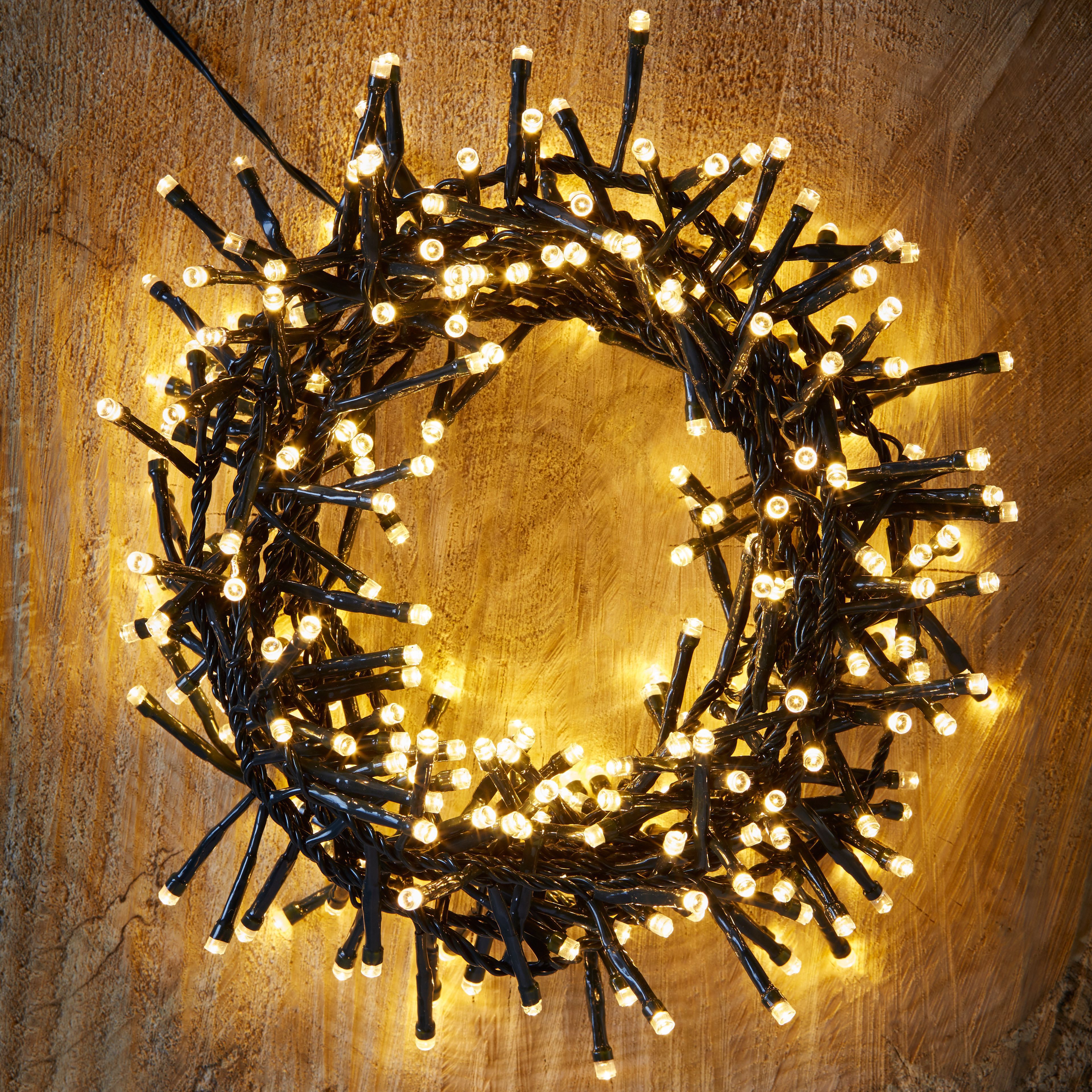 Straight line string lights
The most original and popular choice. Easy to use, simply drape or attach them where you want some added seasonal sparkle. Look out for battery-operated timer lights that can be programmed to come on at the same time every day. Set up once, these automated lights are a great hassle-free option.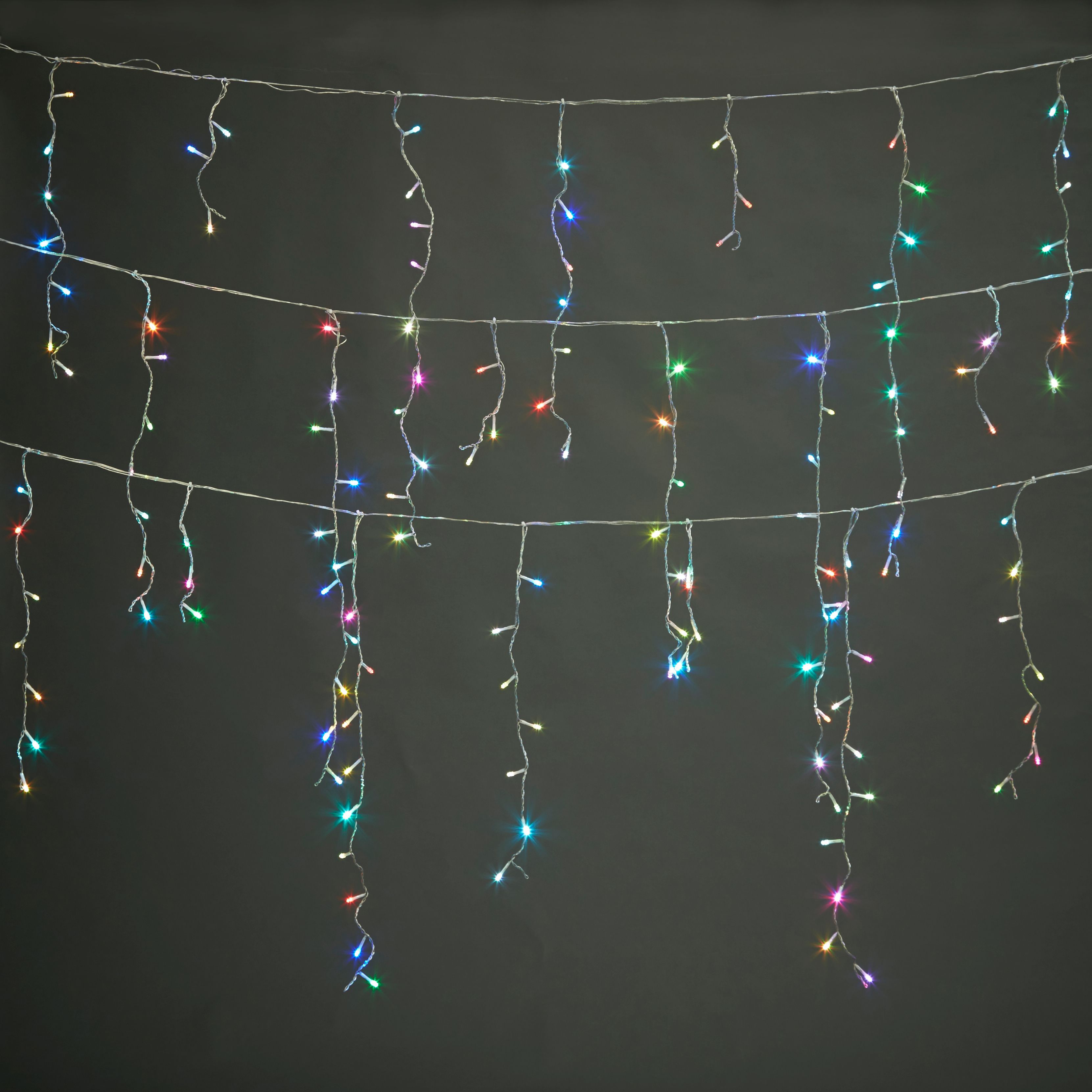 Icicle string Christmas lights
Echoing the frosty chill of winter icicles, these lights use the straight line framework but with hanging lights of different lengths. They look fantastic hung from eaves and windows – though remember to stay safe if attempting to hang in such spots. Alternatively, use indoors in windows, like curtain lights.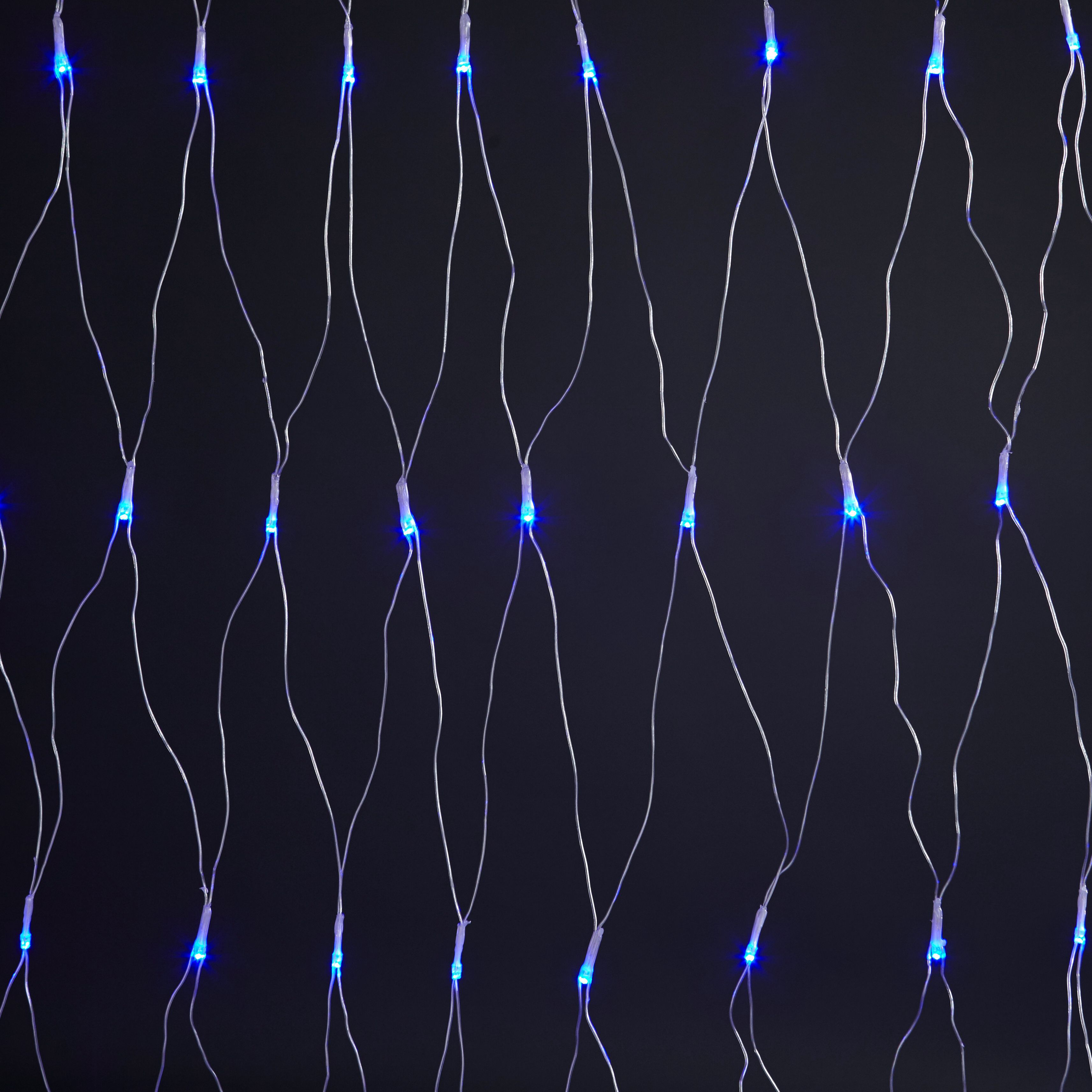 Net Christmas lights
Net lights feature a grid of LED bulbs, most usually in a square or rectangular shape. They're often used outdoors for maximum impact and they look especially effective draped over the roofs of porches or inside window frames.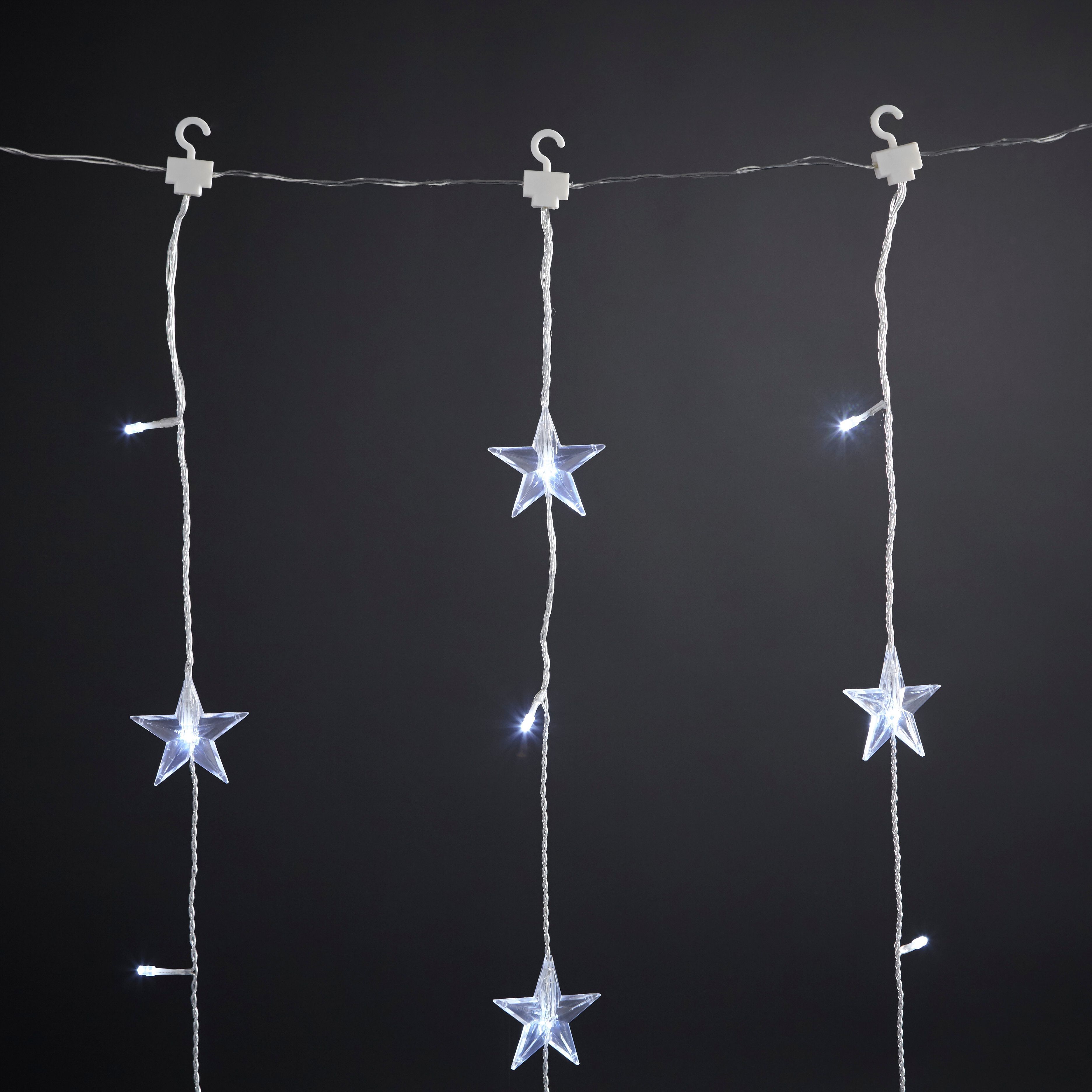 Curtain Christmas string lights
Replicating the look of window curtains, these lights are designed with lines of string lights hanging loosely from a horizontal cable. They look great in windows or in entrance ways.
Bulbs
All of our Christmas string lights are fitted with LED bulbs, so they're energy-saving and cost-efficient to run. But that's the only thing that's standard about them. Our range offers variety in each of the following design features:
Number of bulbs/ lamps - as few as 10 lights, up to as many as 2,000
Bulb shapes – including stars, berries and balls and also more decorative and unusual shapes like snow globes, cookie cutters and penguins
Bulb colours - available in single colours, such as white and blue, or multicolour
Lighting effects - help achieve your festive mood with settings from twinkling to flashing, soft glow to sequenced patterns
Bulb spacing - opt for the bulbs close to one another for a clustered look or more spaced out for a sparser approach
Power source - available as mains or battery-operated to best suit how and where you want to use your Christmas lights
Cable colour – choose from green or clear to help keep the wiring discreet
Cable length – directly related to the number of bulbs or lamps featured. Our range stretches up to 35 metres (m) for some of our most busy string lights.
Don't pack away after the holidays
Why not enjoy your Christmas string lights all year long? Use outdoors ones to light up your garden come summer, or decorate a feature in your home such as a fireplace with them for year-long twinkle.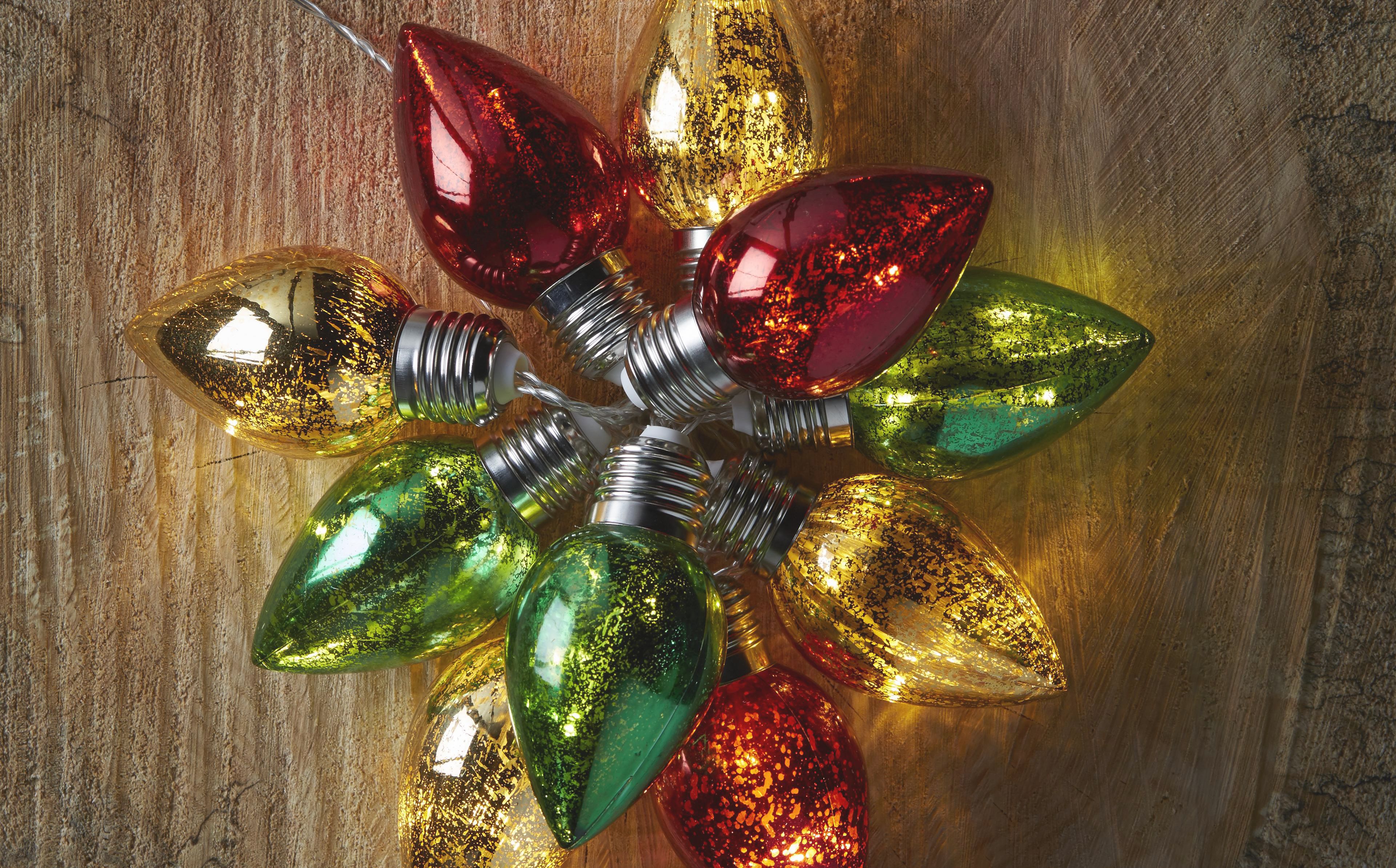 Silhouettes
A hit with kids - silhouettes have become the family choice for fun, festive lighting. As the name suggests, they use light effects to create seasonal shapes and profiles. Due to their simple form, they are easy to distinguish from a distance and so are commonly used outdoors and in windows as a warm greeting to welcome friends and family to your home.

They're easy to set-up, many simply are erected (if freestanding) or hung (if wall or window-mounted), and are available as main operated or battery-powered. Choose from:
Outdoor silhouettes
Greet your guests with a seasonal display on your front garden, porch or roof top (always remembering to stay safe when installing). Use a single silhouette for a striking look or assemble many for a more detailed scene.
Some are two-dimensional (2D) in design and so look best against a flat background such as a fence or wall; while others are three-dimensional (3D) and freestanding and so work well stood in a garden. Choose a combination of the two to create a more balanced and interesting picture – and with many designed to coordinate, the creative options are endless.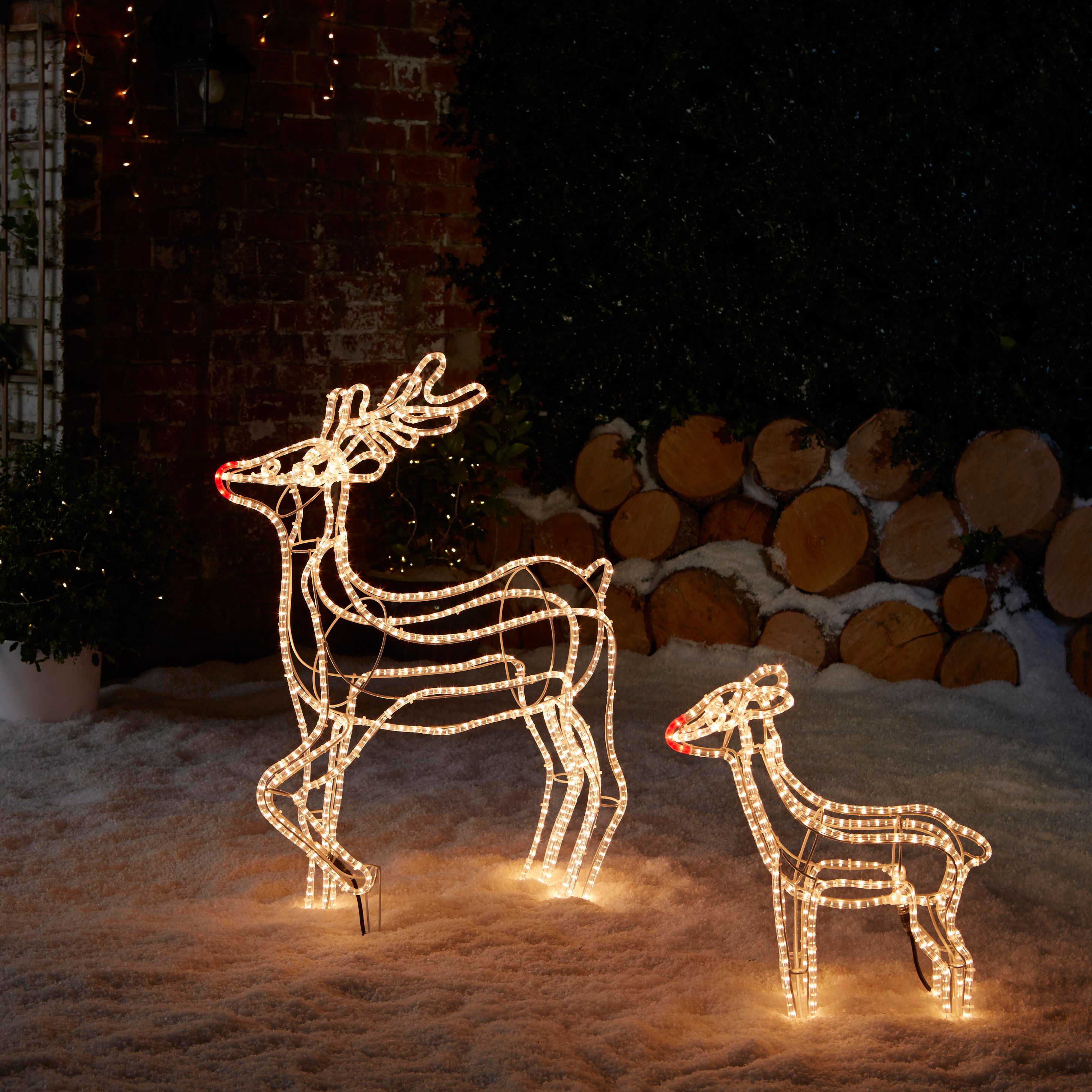 LED rope silhouettes
Silhouettes created with LEDs offers a bright, bold, consistent stream of light that isn't patchy or prone to breaking up. These bulbs are also energy-efficient and so more cost-effective than alternatives.
Our range offers simple shapes such as stars, bells and Christmas trees; more character-led ones such as Santa Claus, reindeer and snowmen; and more unusual ones such as an Emperor penguin and mummy polar bear with baby.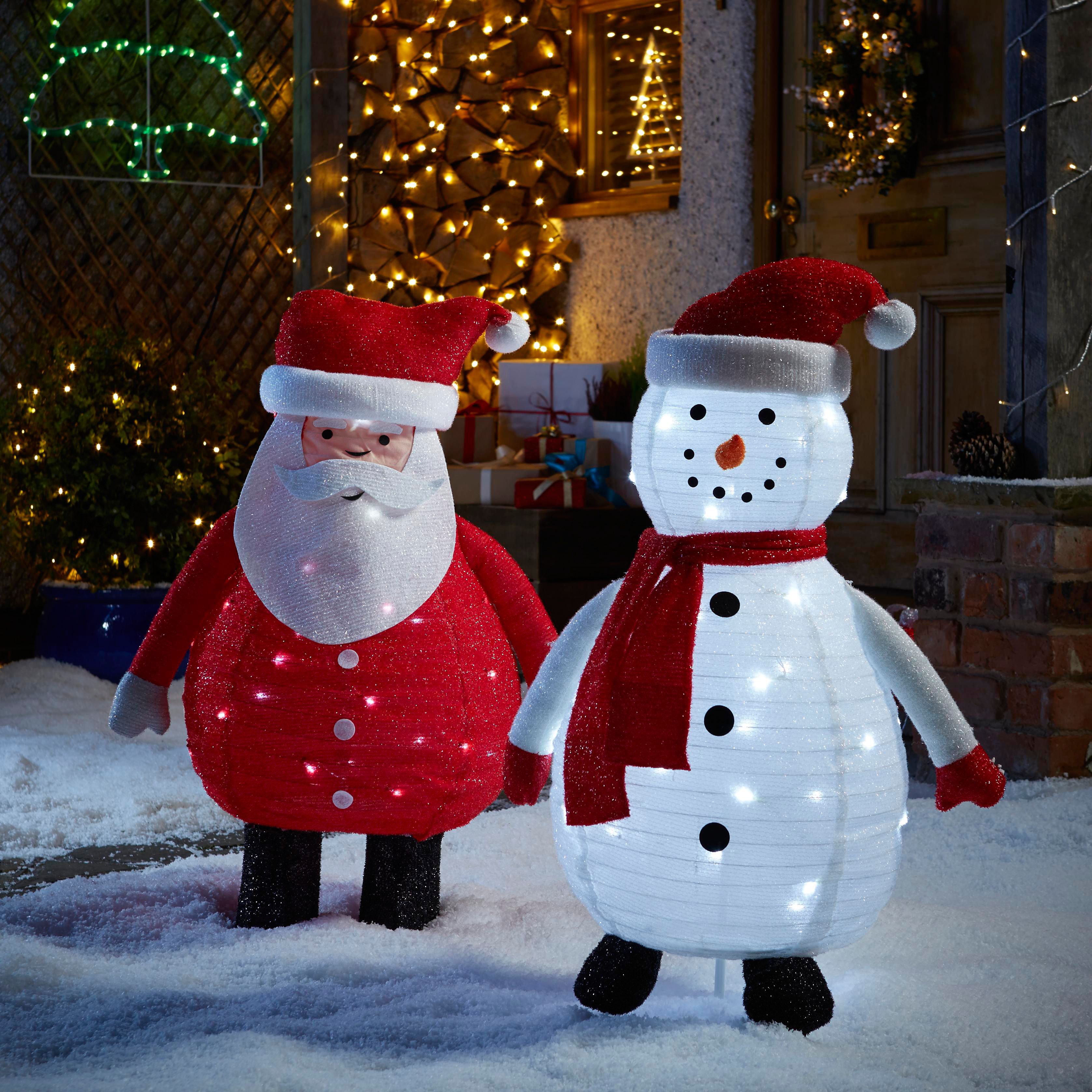 Pop up silhouettes
Our outdoor silhouette range is completed by our cheeky pop up characters. Pre-lit with LED lights, these 3D figures include a Santa, snowman and Christmas presents – easy to set up for maximum festive impact.
Indoor Christmas silhouettes
Indoor, or window-hanging, silhouettes bring the fun back into the warmth of your home. Smaller in scale, these two-dimensional designs are available as simple, individual shapes, such as a snowflake or star, or more elaborate images, such as the Rattan Effect Freestanding Reindeer or Christmas Tree Silhouette with LED festive message. Look for ones fitted with a suction cup or hanging hooks to ensure easy hanging.
Shop indoor Christmas silhouettes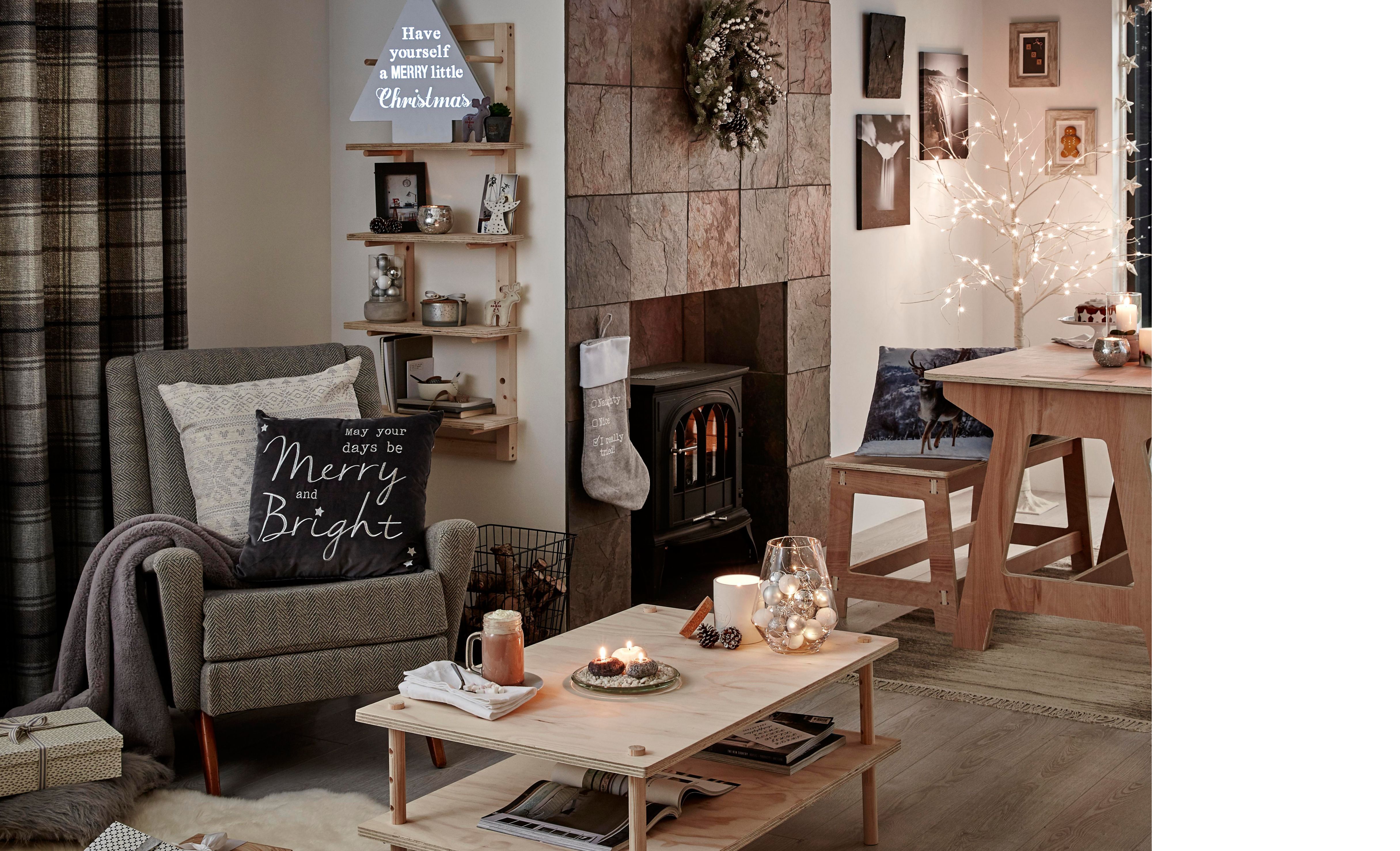 Other lights and must-haves
Fancy a little more Christmas lighting? Explore our other exciting ideas.
Lighting essentials
Hooks
Make hanging your lights a doddle with our selection of self-adhesive fixings.
Extension leads
We've got the power with our extension leads – here to ensure you can hang your lighting where you want it. Don't forget your RCD adaptor for safe use outside.
Shop extension leads Shop RCD Plugs
Batteries
Don't let the lights fade out. Keep them burning brightly with some back-up batteries.
Timers and switches
Set lights to your schedule with our range of electronic timers. Use to efficiently manage when your lights come on and off, saving you precious pennies.
And even control your lighting via your smartphone or tablet with our switches – part of our innovative Smart Home range. Only suitable for use with indoor lighting, simply plug your switch into your plug socket, and your Christmas lights into the switch. Download the App and off you go – automated seasonal lighting that you can control even when away from home.
Shop timersShop Smart Home switches