Keep your outdoor space private and secure
The most popular way to mark a boundary, fencing is a cost-effective and easy to install option for your outdoor space – whether you're replacing what you have currently, repairing it or are starting from scratch.
Fences can have many functions, and our wide range includes options for all scenarios. So no matter if you're enclosing your garden for privacy, ensuring that your children or pets are secure, or using a fence to create beautiful space within your garden, we'll have something for you.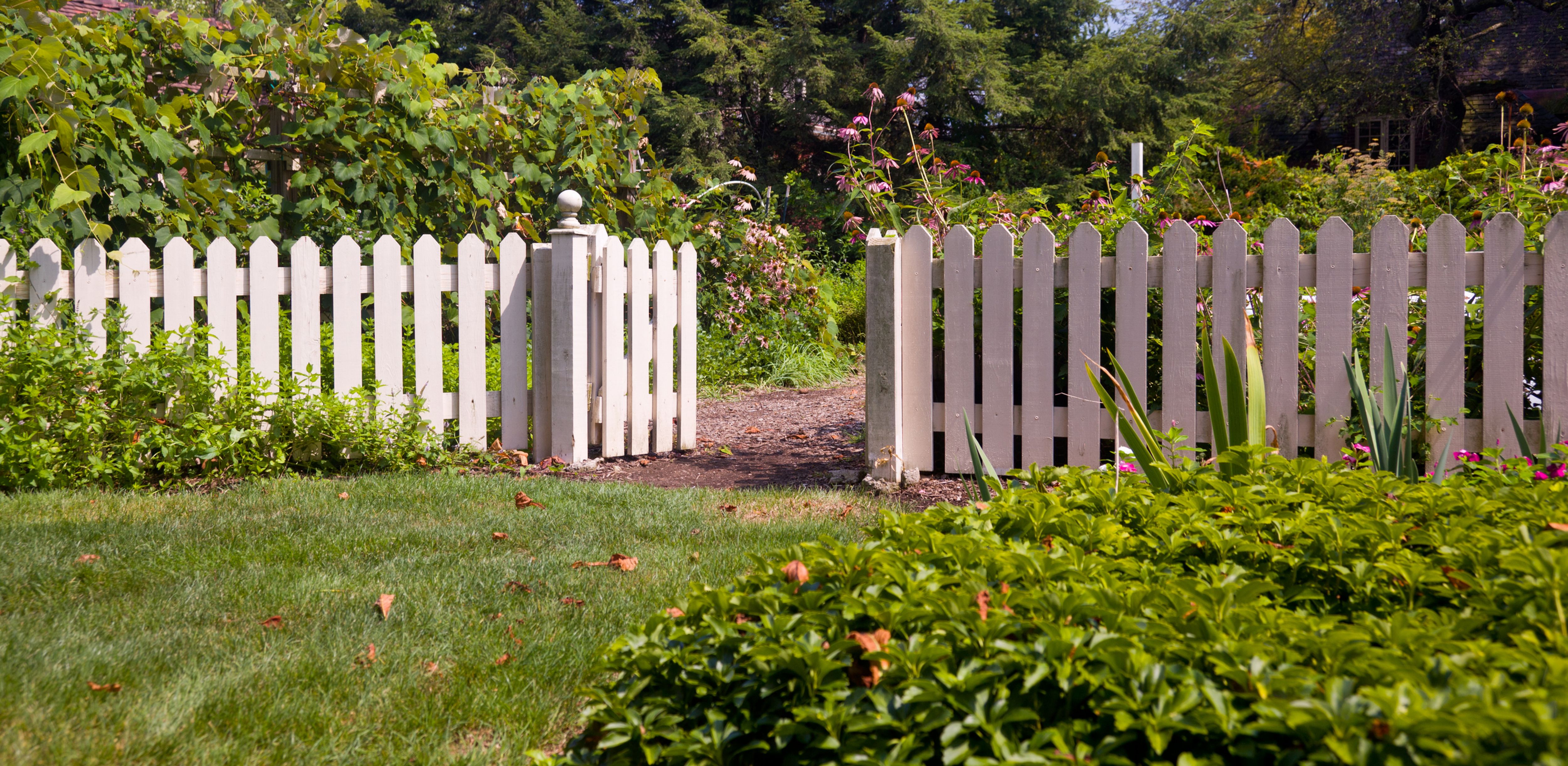 Before you begin
Where's your fence going?
The type of fence you'll be looking for will differ depending on where it's going to be placed. So, if creating a separate zone within your garden you could consider a short, decorative fence with an open design. Whereas if bordering your property, you might want a taller, solid fence that people cannot look through for extra security.
If you're replacing an old fence and already have posts in place that you're not looking to move, you'll be limited for the width and height of fence panels you can choose. So be sure to take precise measurements to ensure that your new fence panels fit. In contrast, if you're building a new fence and have no existing posts, explore the full range of sizes and styles available.
Also, think about which direction you want your panels to face and plan installation accordingly.
What size fence do you need?
Height is an important factor when deciding on your new fence panels. Do you want to be able to see over it? Remember that if you can see out, others can see in. If security and privacy are what you're looking for from your fencing, choose a taller fence. Or gain extra height by adding trellis to the top of it complete with sprawling climbing plants to block the view. Panels that are smaller than 1.5 metres (m) are ideal if you want to add trellis. And remember to account for the addition of a gravel board (if you're considering one) when it comes to working out the height you'd like.
Fence panels don't vary much in width with the standard size being 1.83m (1.8m for more decorative panels). If you have posts already in place, be sure to choose panels that will fit in the spaces. And if you're working with a blank slate, consider and measure where it's going, and remember to leave space for posts and fittings.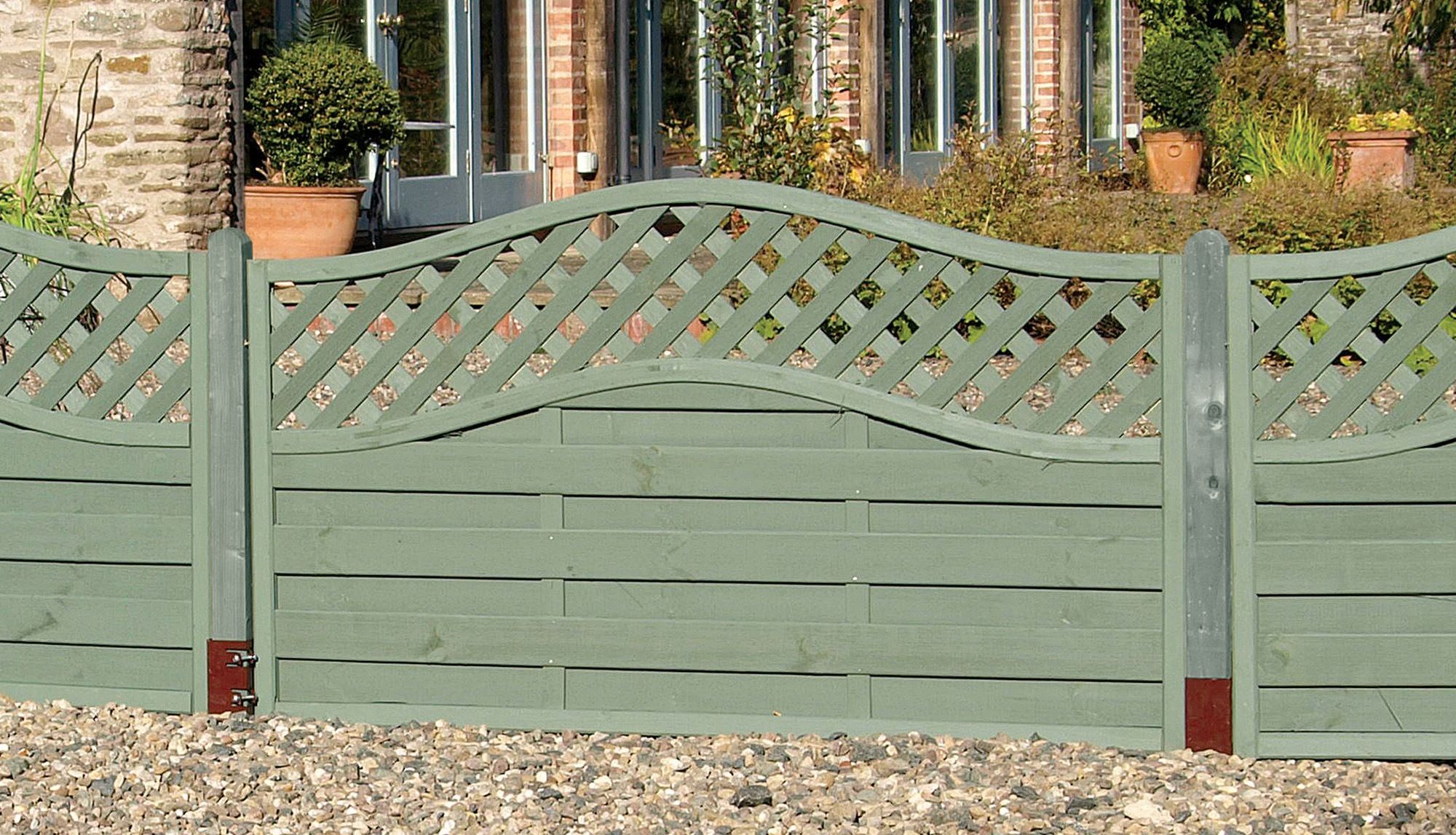 Types of fencing
We offer two types of fencing: wooden and metal railing.
Wooden fences
Our wooden fence panel options are:
Made with responsibly sourced wood that is approved by the Forest Stewardship Council (FSC). For more information, read our buyer's guide to forest-friendly timber
Available in heights ranging from 0.9 m – great for dividing a large outdoors space – up to 1.8m for better seclusion and privacy
In widths of 1.79m to 1.83m
Protected against decay, insect infestation and rot in one of two ways:

Dip treated – The timber is immersed in preservative to provide a protective coating. A water-based treatment will need to be re-applied regularly to keep your fencing looking good.

Pressure treated – Longer lasting defence is provided by pressure treating the timber. This process involves blasting protective treatment into the wood at high pressure

Offered in a few different construction styles. These are: - featheredge – evokes the look of bird's feathers with boards that overlap one another - closeboard (also known as boarded) – the boards lay flat to one another - picket –these feature gaps between the pales for a more decorative design
Available with the fence boards either planed creating a smooth, modern look or rough sawn for more rustic gardens
Designed in a number of styles to suit your garden. These include the boards being laid vertically, horizontally and in diagonals. Some even feature a combination of both horizontal and vertical for greater interest
Finished in a choice of profiles, including straight, curved and domed. The domed shapes are also available with integrated top trellis
Presented in either their natural colour (after treatment) or pre-painted to save you time when installing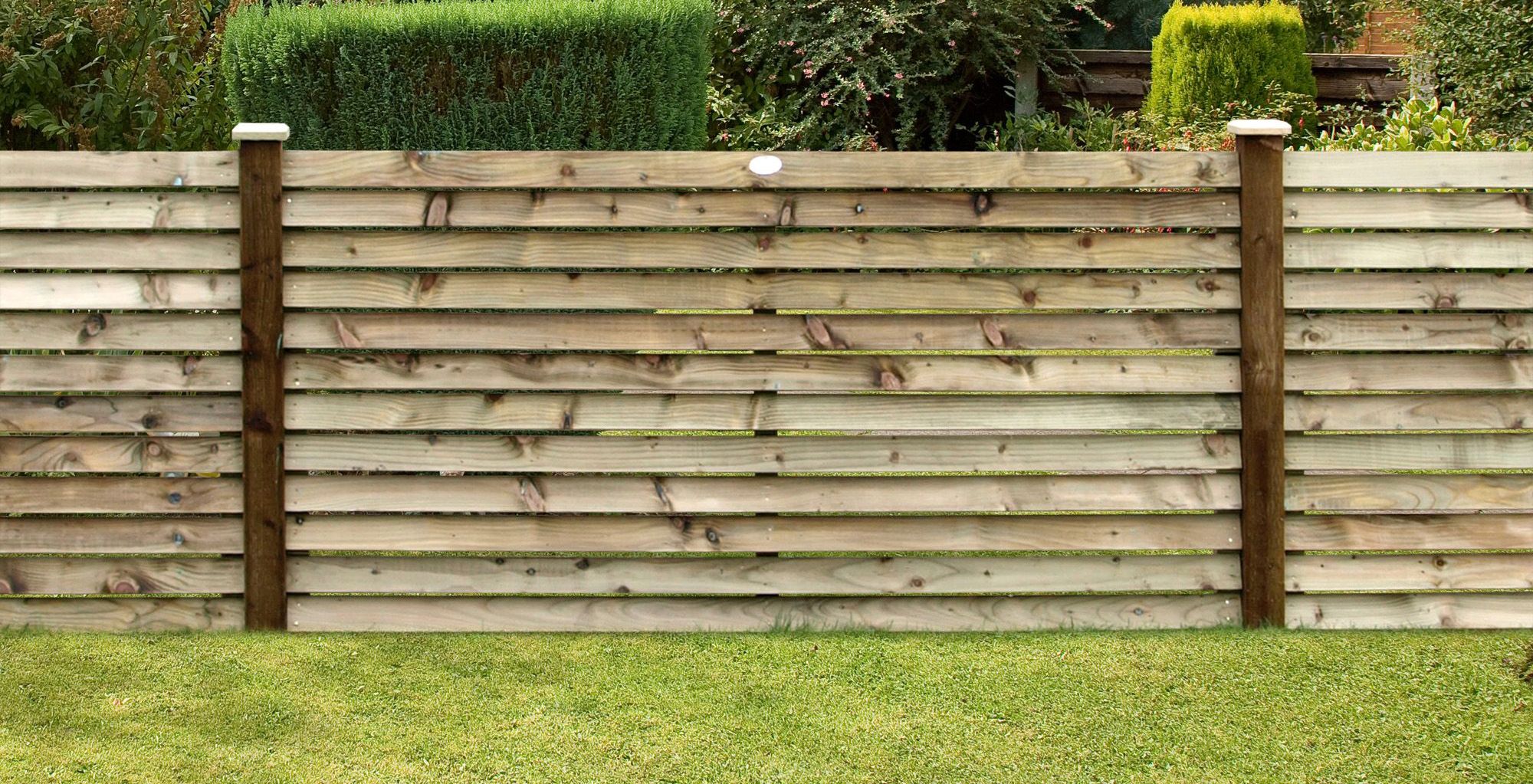 Metal railing
If you're looking for something more classically decorative, choose metal railing.
Our metal railing is:
Great for garden dividers, driveways and front gardens – even install on top of walls or decking
Available from as low as .45m to .935m
A standard width of 1.8m
Made from steel and zinc and powder coated in black to prevent rust and corrosion
Finished in decorative top shapes including flat with a swirl, spears and balls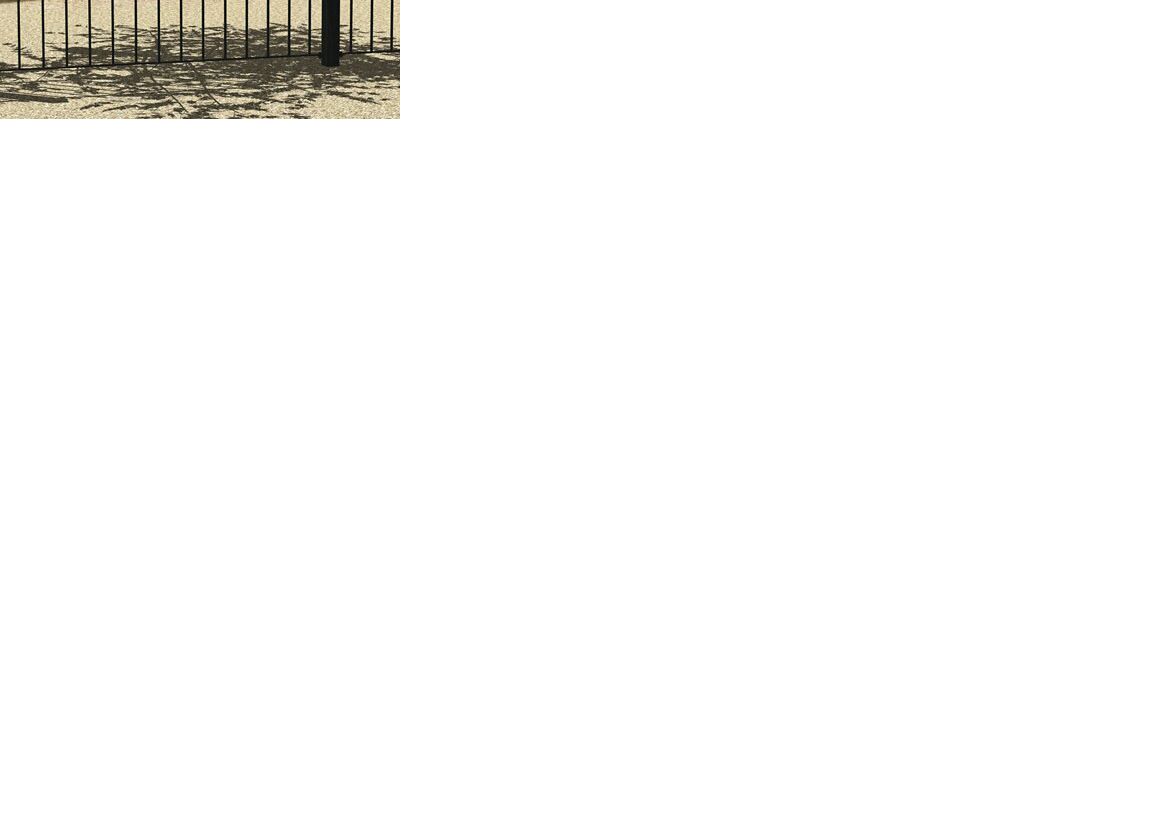 You might need
Fence posts and accessories
Your fence panels are held in place by fence posts, and if you're starting your fencing project from scratch, you'll need new ones. Choose from concrete or wooden posts. The concrete option is stronger and will last longer, but if you want a complementary look for your fencing, choose a wooden post that matches your panels.
Your fence posts are secured to the ground with a post support. If you're fencing on turf, insert a metal spike version into the ground or use a concrete in support if your ground is too stony to do this. A bolt-down post support is best for concrete surfaces and patios, and you can also use this to secure posts to walls.
Be sure to get clips and brackets to secure your posts to the panels. And to finish off the look of your fencing project, as well as protect the post from rainwater damage, add a post cap – it ensures that water is directed away from the post.
Shop fence posts & accessories
Gravel boards
Adding a barrier between your fencing panel and the damp ground, gravel boards help protect from rot and mould. They also add height to your fencing.
Trellis
Introduce plants into the look by attaching some trellis to the top of your fencing and let climbers grow up and through it. Alternatively leave it bare to show off the striking shapes and enjoy the sunlight shining through it.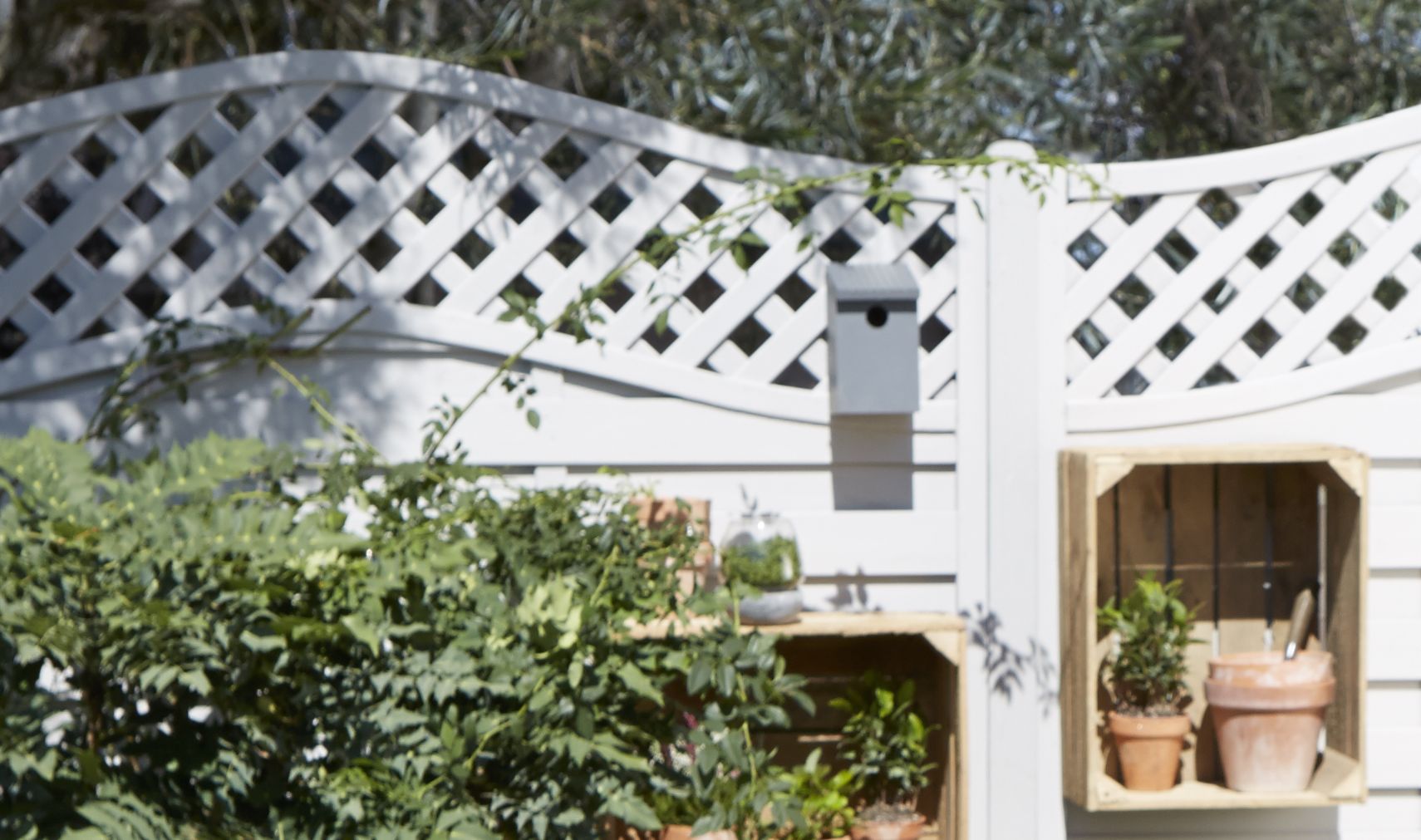 Protection and paint
Wooden fencing that has been dip treated will need to be regularly stained in order to keep it looking as good as new, as well as protect it from mould and rot. Repaint yours with treatment six to twelve months after you've bought it and then every couple of years after that – water-based stains are best.
To create a coordinated colour scheme in your garden, why not paint your structures and fencing in matching or complementary shades? We have a wide range of exterior wooden paint colours to choose from to help you personalise your outdoor space with paint.
If you've chosen metal railings, these won't require as much maintenance. Touch up the odd chip or scratch with metal paint to keep it looking smart as well as prevent rusting.
Shop fence paint Shop exterior metal paint