Practicality and style in the kitchen
Whether you're renovating your kitchen or utility room completely, or are just updating what you have already, the right kitchen tap can be the perfect finishing touch – not just by looking great, but in making life in your kitchen easier.
There are so many clever new features with kitchen taps – all designed to help busy households save time on everyday tasks. From flexible necks that shoot jets into difficult to reach crannies to swivel spouts that can be turned out of the way for easier kitchen sink access. From those that offer immediate piping hot drinking water for tea and coffee to those with filters that remove all impurities from the water creating a better-tasting drink. The humble kitchen tap has enjoyed an exciting evolution which has seen it emerge as one of the most innovative and stylish features in this busy heart of your home.
So whether you want something traditional and classic, or a tap that's more modern and on-trend, our wide range of taps offer a variety of shapes, styles and even colours to make the ideal addition to your kitchen.
Let's get started.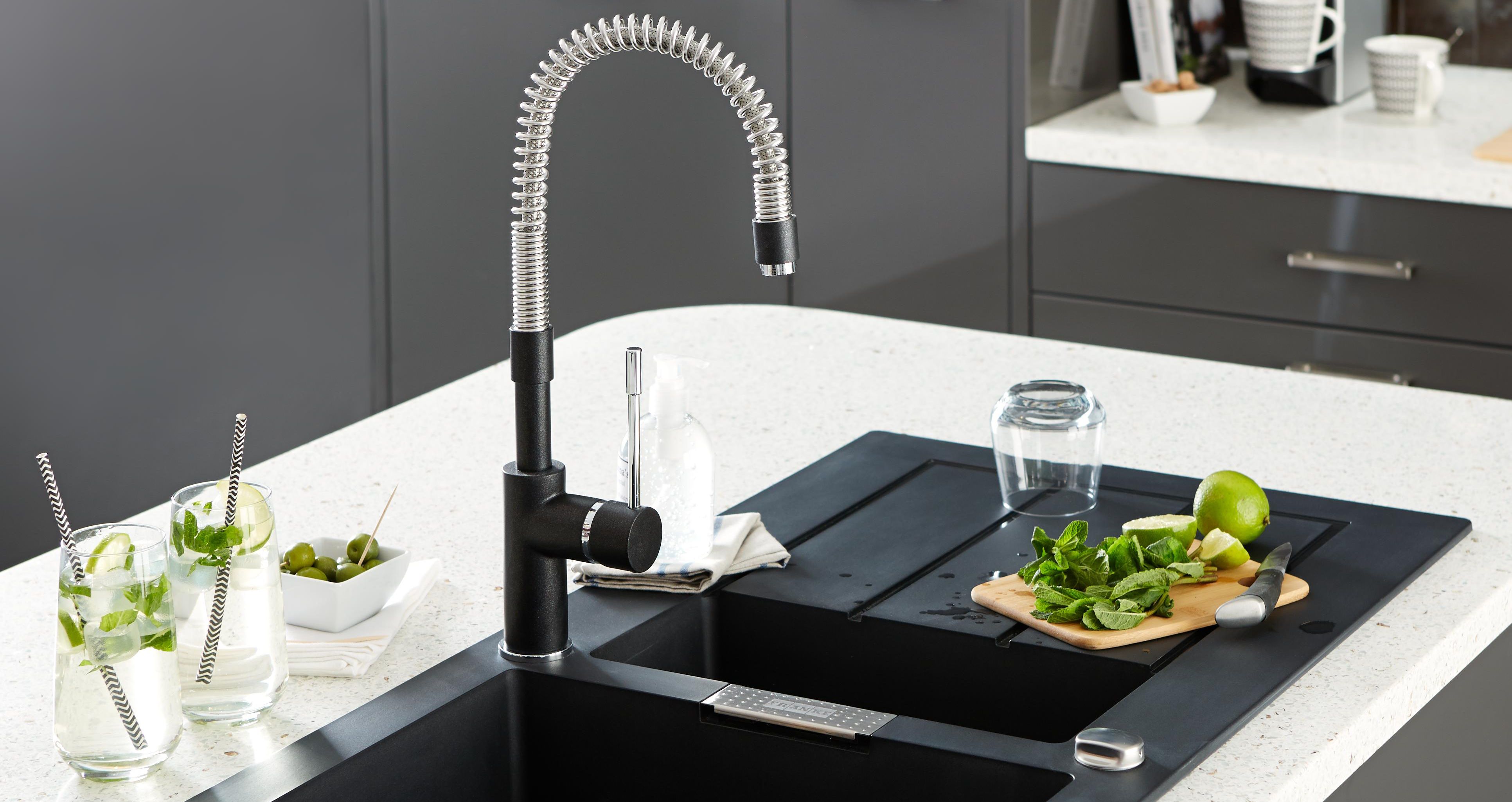 Before you begin
To get the best performance from a new tap, you'll want to choose one which suits the water pressure in your home. If you have a low pressure water system, a tap designed to operate at this pressure will help to ensure a steady flow of water. On the other hand, if you've got a high water pressure system you'll be able to opt for some innovative features to get your kitchen working harder for you.
Our guide will help you to identify the water pressure system your home, and offers advice on how to identify taps which will work best in your kitchen.
Types of tap
Some choices will be determined by whether you are fitting a new sink or simply updating an existing one.
Most sinks have pre-drilled holes – so if you're planning an update you will need match your tap to the number of holes. If you're opting for a new sink, try to marry your choice of sink and tap so that you have the correct number of holes.
If you have one tap hole, you can choose from the following;
If you have two tap holes, you can choose between one or two spouts;
Features
Handles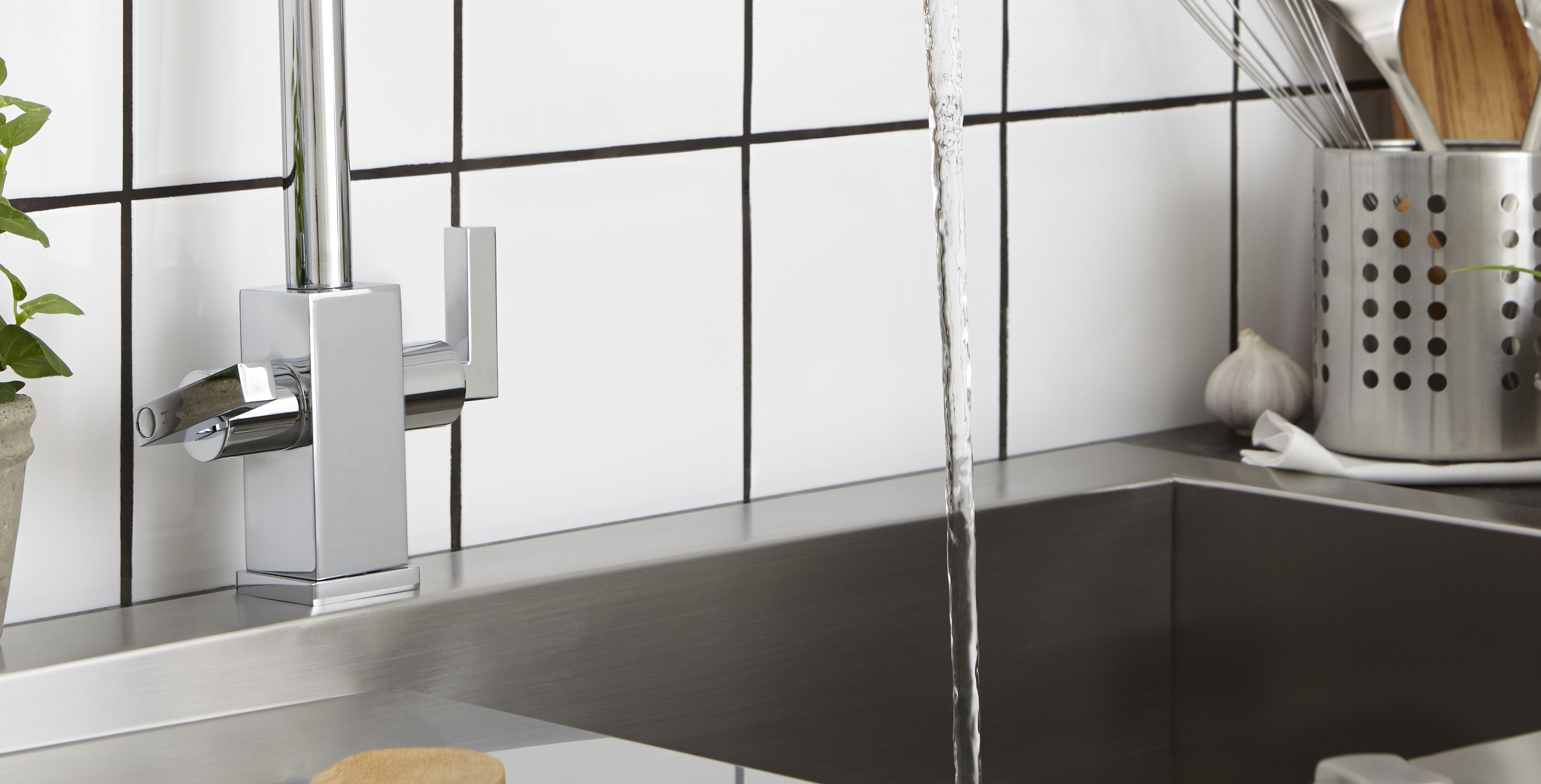 Whichever style of tap you opt for, don't forget to consider the handles. Our range includes both lever, cross-shaped and knob handles. Lever handles suit busy kitchens, where the ease of using the back of your hand to turn water on can be a bonus. They're a great choice if you have reduced mobility in your hands, or enjoy spending time in kitchen with your family as children will find this style easier to operate. Cross shaped handles offer period charm – perfect for traditional style kitchens and older properties, whilst knobs are a great option for tighter budgets.
Spouts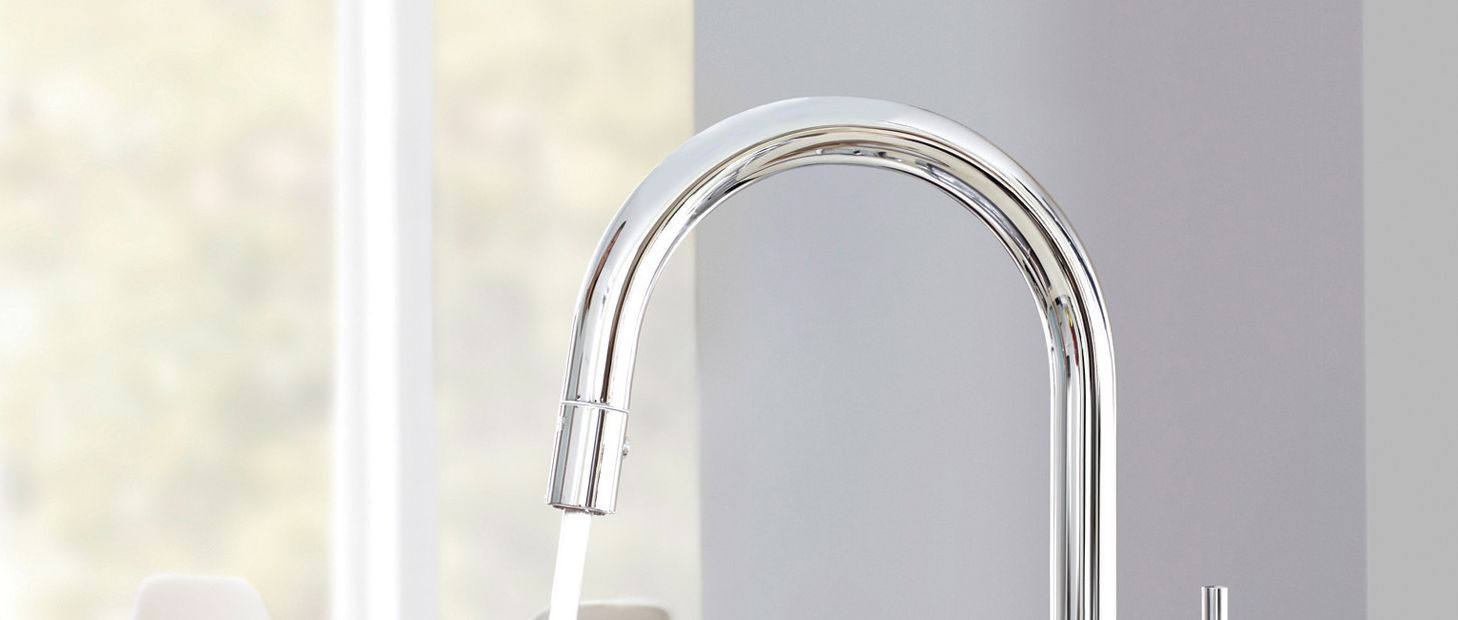 Choose a high spout to allow you to easily wash and fill large pots and pans, or a low spout where space is at a premium or if you want less visual impact. Spouts which pivot can be helpful: they'll allow you to direct water flow into different bowls if you have a 1.5 or 2 bowl sink, and can be swivelled out of the way to make washing up easier.
You'll also want to consider the size of the spout in relation to the sink bowl. Ideally, the spout so should reach to the centre of the sink bowl. Taps with larger, higher spouts will suit large and multiple bowl sinks best, whilst pillar taps and smaller single lever taps are ideal for smaller sinks.
Finishes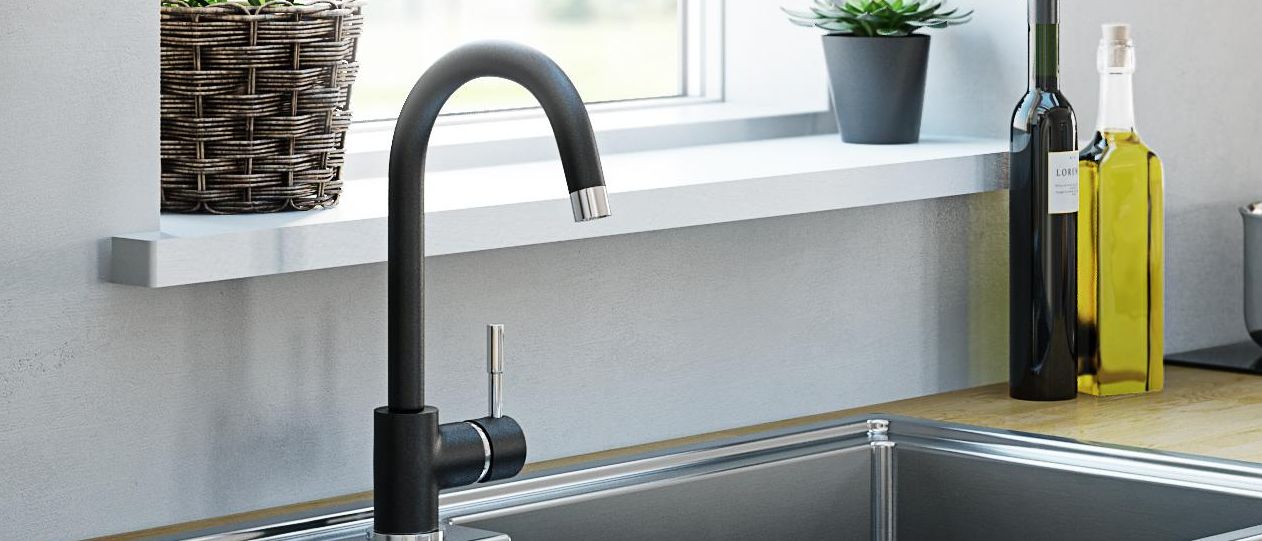 It's not only the style of your tap that has a big impact on your kitchen, it can also be the finish. Most taps have a chrome effect finish. It's a classic look that's equally at home in sleek, modern kitchens as well as with period styling or a colourful backdrop. Stainless steel effect is also popular, and can complement kitchen hardware. It has a slightly softer, brushed finish that wears well over time. But you needn't be limited to just this choice. For traditional-style kitchen, try pairing brass effect bridging taps with a Belfast sink for a classic, timeless look. Or, if bold colours are more your thing, these taps from InSinkErator are available in orange, white and stone – use to create a statement in a neutral room, or add fun to a family space. Black makes a smart, sharp statement in any room but pairs especially well with the clean lines of a high gloss kitchen – such as our those in our Rafello range.
Valves
Integral to every tap is a valve, which controls the flow of water. Different types of tap use different valves, and understanding these will help you choose one offering the ease of use and durability that meets your needs.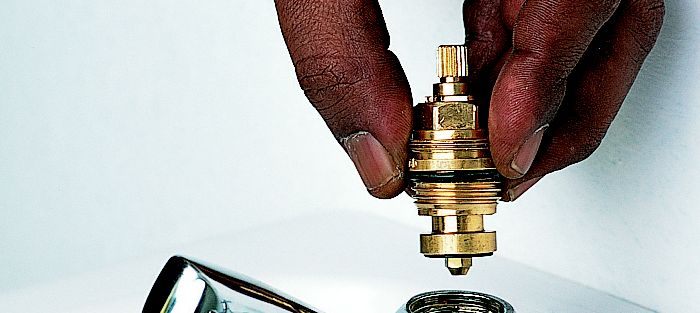 Brass compression valves
Brass compression valves are found in pillar taps, and in some monobloc taps. They're made of solid brass with a watertight seal to prevent dripping. These seals can wear over time, but can easily be replaced. These use a simple rising spindle or non rising spindle mechanism to control the water flow as the handles or levers on the tap are turned.
Ceramic disc valves
Ceramic disc valves are considered a more durable option, and should last the lifetime of the tap. ¼ or ½ turn brass valves with a ceramic disc are the most common type of valve, and are found in monobloc and deck mixer taps. They're easy to operate with just a quarter or half turn of the lever handle.
Single lever taps use a ceramic disc cartridge which allow you to control the speed of flow by raising or lowering the tap lever, and flow of hot or cold water by moving the lever left or right. Many contain eco click cartridges: Lift the lever half way until it clicks for a low flow to save water, lift the handle higher for a faster flow.
Innovation
When it comes to technology in the kitchen, taps may not be the first thing you think of. But, whether you want to make light work of cleaning up, or enjoy a refreshing brew, there's a tap to make life easier. Choosing additional features can be a great way to reduce the number of other small appliances you might already be using in your kitchen, and can make the time you spend there more efficient and enjoyable.
Pull-out / Spring neck taps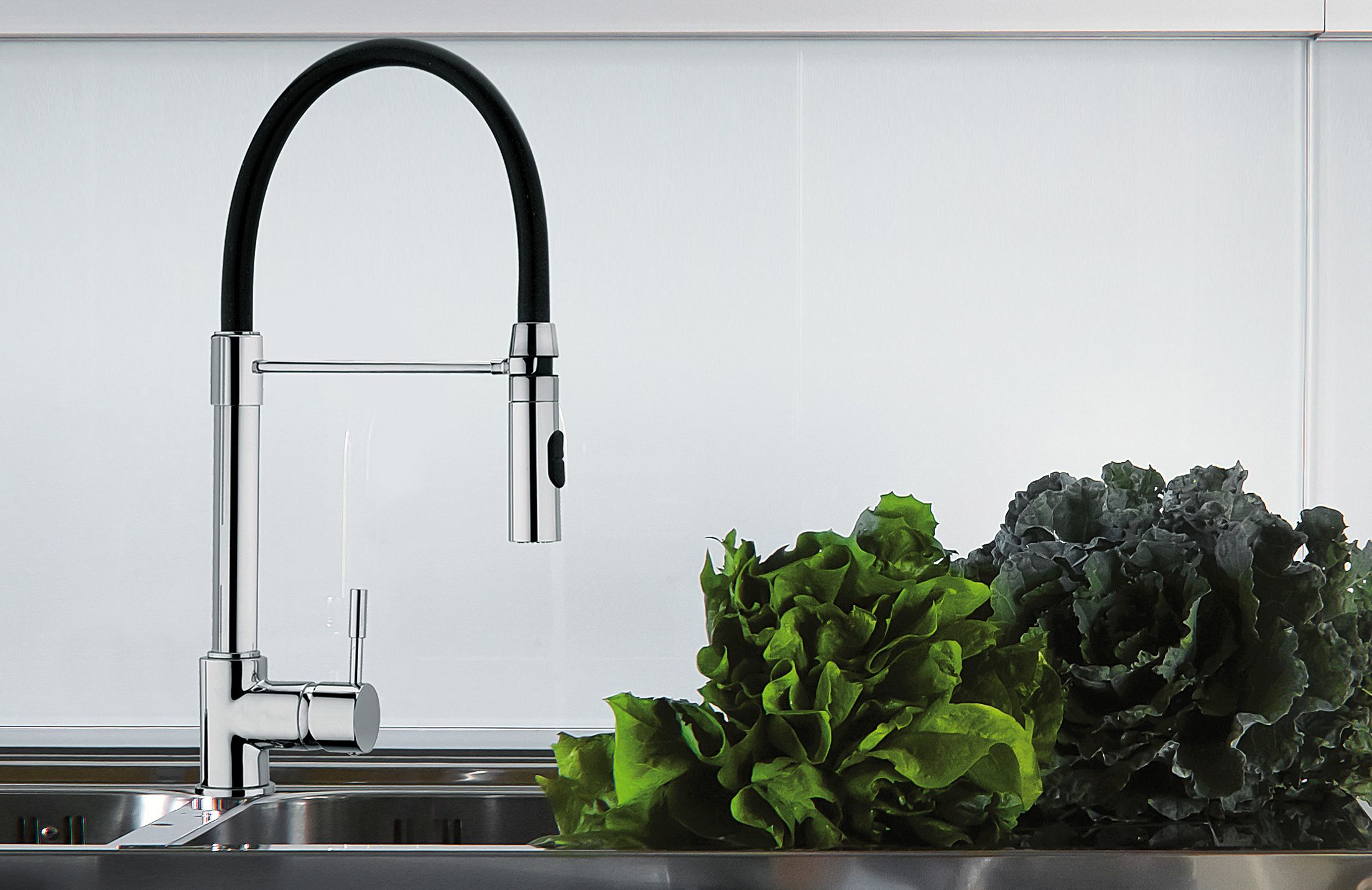 Similar to those you might have seen in restaurant kitchens, the spout can be extended on these taps making it easier to tackle difficult cleaning tasks. Spring neck taps are usually equipped with a spray head that makes rinsing salad vegetables a breeze. The Clyro concealed pull-down tap from Cooke & Lewis is a great choice for smaller kitchens as it packs all of the benefits of a conventional pull-out or spring neck tap in a smaller, sleeker unit.
Shop pull-out and spring neck taps
Filter taps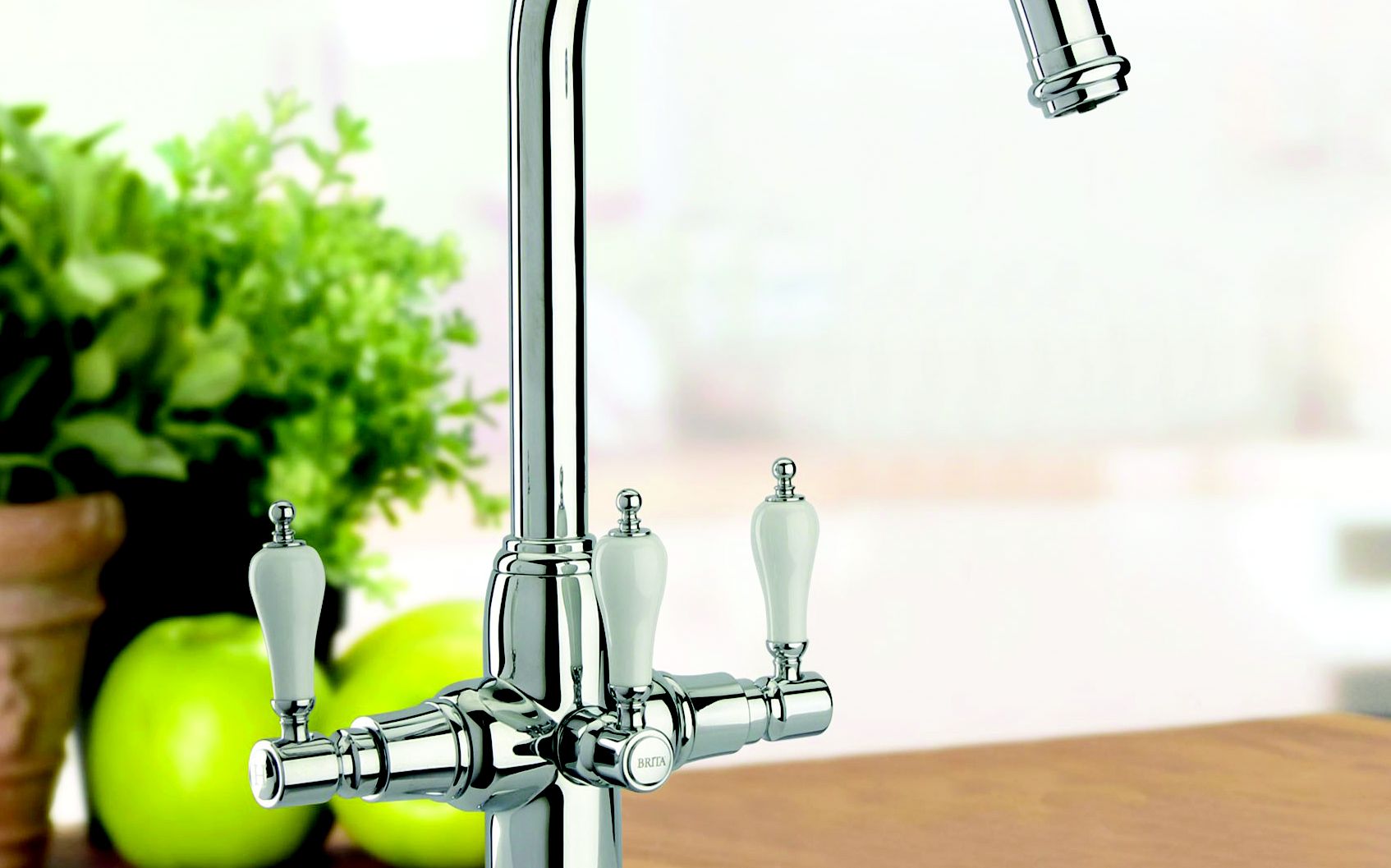 If you already use a drinking water filter in your home, a filter tap could be an ideal choice for your kitchen. The filter is fitted into the tap itself, eliminating the need for separate filter jugs. You can still change your filters as needed, just like you would with a jug, but unlike a jug you'll always have a filtered water to hand. The filter sits neatly under the sink, and the tap includes separate controls for hot, cold and filtered water, so you can choose when you do and don't want to use your filter. When the filter is ready to be changed, it's easy to swap it out for a new one. Installation services are included with Brita filter taps, so you can be sure of the perfect set-up.
Shop filter taps Shop replacement water filter cartridges
Steaming hot, hot and cold water taps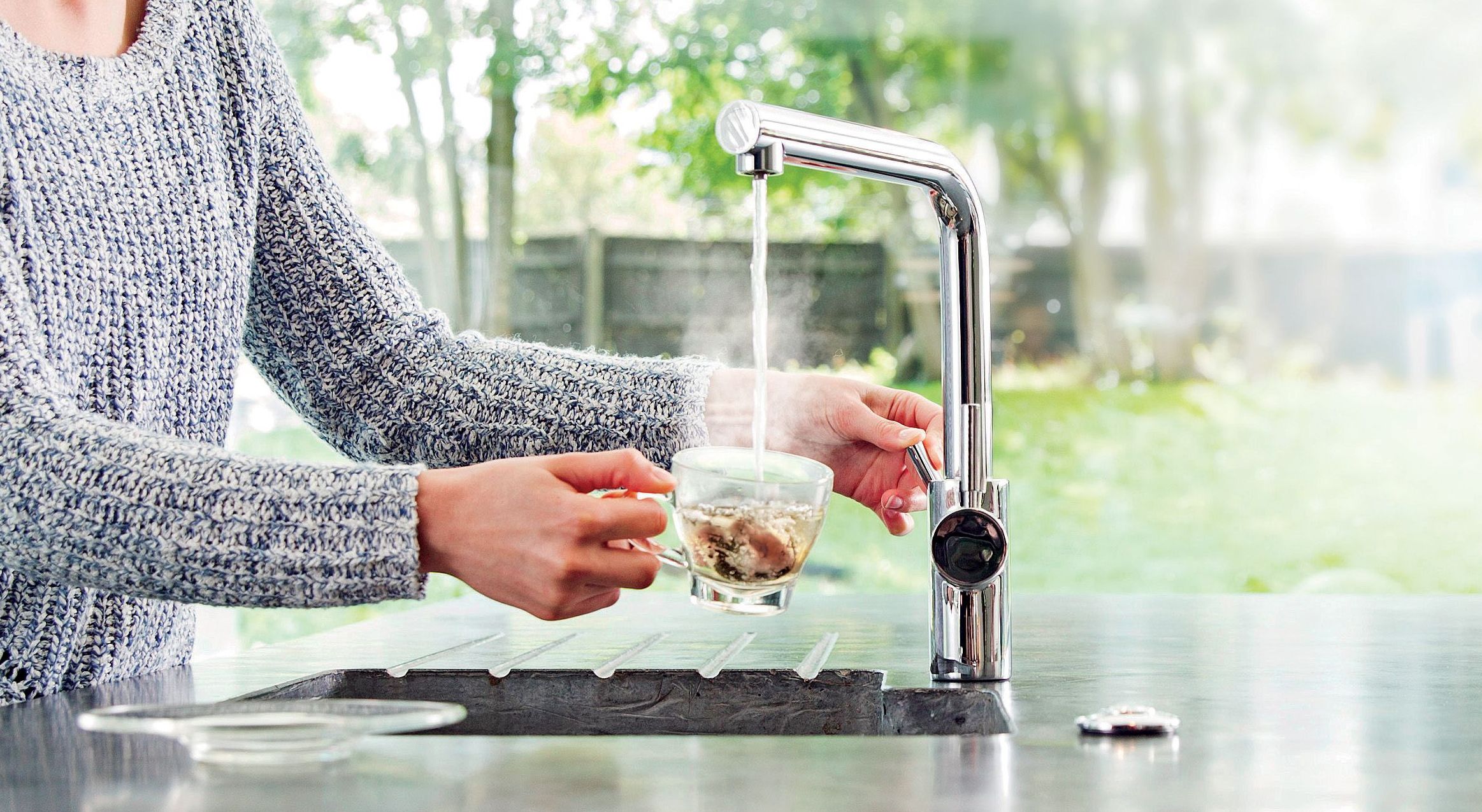 Also known as boiling water taps, these taps provide steaming hot water at the turn of a lever in addition to your regular supply of hot and cold water. They're a perfect choice for busy households, as steaming hot water to hand can be used for much for than hot drinks. Look for models which allow you to add a filter for filtered hot and cold water.
Touch sensitive taps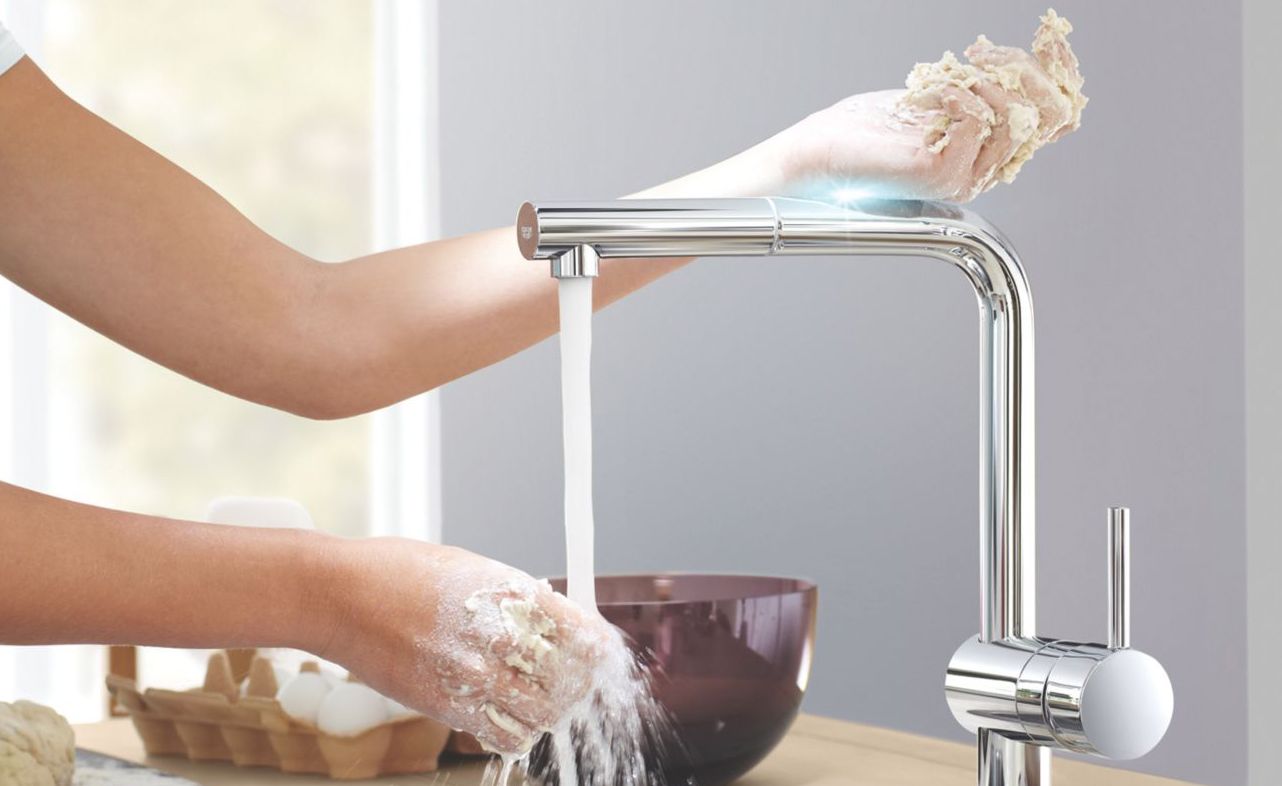 Touch sensitive taps are the ideal solution for busy cooks, letting you turn the water flow using just the touch of the back of your hand to your tap. Gone are the days of mucky handles - these taps are great for gardeners, bakers and pet owners, and will help you keep your sink area clean and hygienic.