From rotaries to ride-ons, your lawn maintenance options explored
Lawnmowers are an essential tool for ensuring your lawn looks in pristine condition all year round. But with so many options to choose from and so much technical talk, finding the right one can be challenging.
That's why we're here to help. We'll take you through the different types available, the power sources on offer and all the features to look out for to make mowing your lawn as easy and simple as possible. So whether you have small patch of grass or a whole field to take care of, we've got the right mower for you.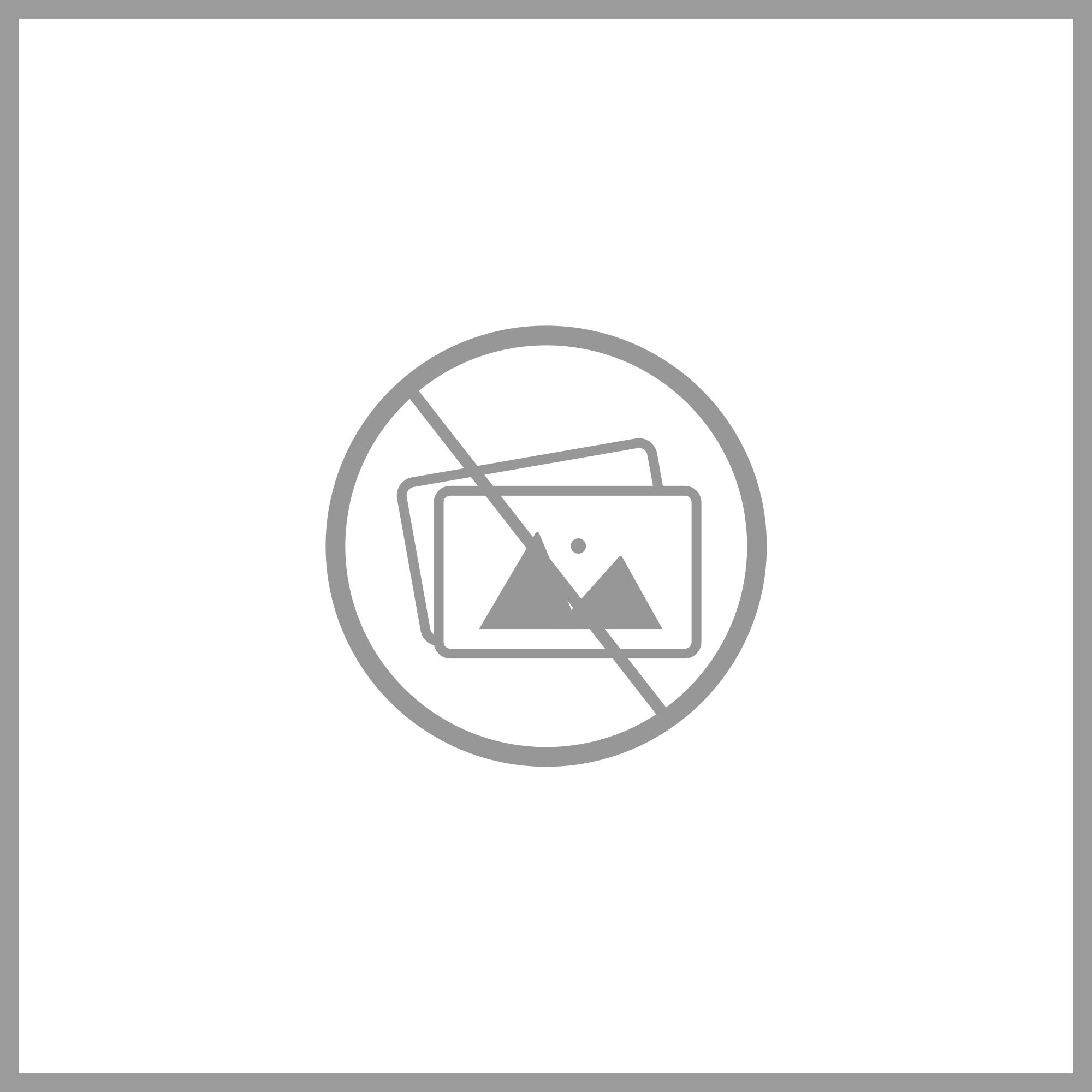 Before you begin
How large is your garden?
While smaller spaces are better suited to compact, lightweight mowers that are easier on the wallet, larger gardens need a more durable and robust lawnmower that requires a bit more investment. Greater power is needed to get around these broader lawns quickly and easily. Similarly, there are a number of innovative features that will help make even the toughest mowing job simple so look out for these.
Where will you be storing it?
Before deciding on the size of your lawnmower, think about both access and storage. Do you need to pass through gates in order to mow your back and front gardens? If so, be sure to measure these in advance of buying to avoid snapping up a model too big to fit through the doors. The same is true of where you'll be storing your lawnmower – make sure you can get it into your shed or garage, as well as having enough space to keep it out of the way.
How close is your lawn to a power source?
A power source close to your lawn gives you more options when it comes to your choice of lawnmower. However, don't fret if your garden is very large or your lawn away from the power source – we have a wide range of mowers to suit every situation and size of garden.
Let's go through your options.
Lawnmower types
There are many different types of lawnmowers, therefore it is important that you choose the product that you're most comfortable with using.
Ride-on lawnmowers
For those with a medium-sized lawn or larger, consider a ride-on lawnmower to cut your grass with minimal physical effort.
Lawnmower power
After deciding which type of lawnmower bests suits your gardening needs, you then need to think about power. Choose from corded electric, cordless electric (battery-powered) or petrol.
Lawnmower features
When choosing your lawnmower, look out for these features and technical specifications.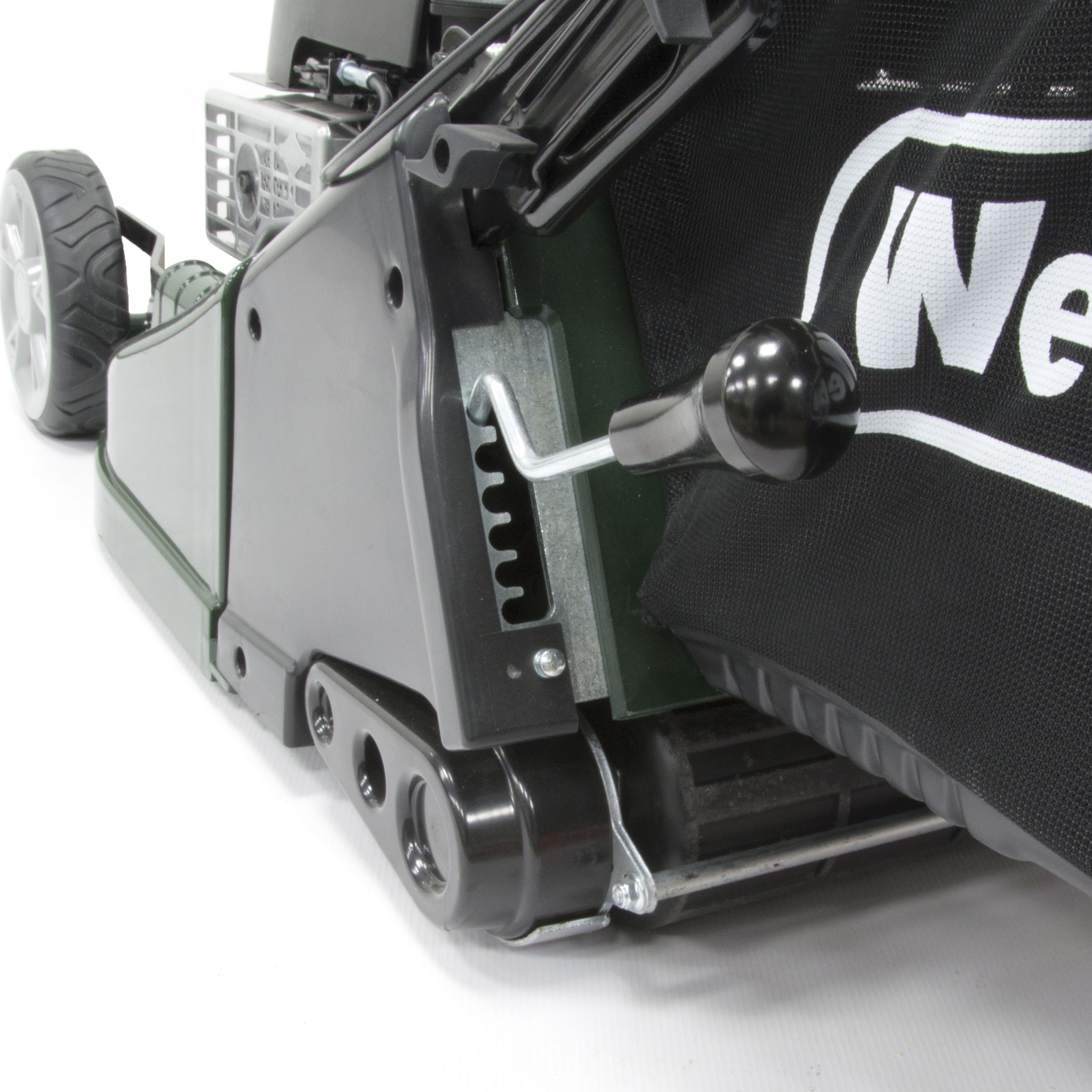 Cutting height
Measured in millimetres (mm).
As the name suggests, this basic feature allows you to choose different cutting heights for your grass to ensure a clean, precise cut. Also known as the cutting capacity, it offers you more freedom in deciding how often you want to mow your lawn. So, if you know you're an infrequent mower, look for the options with the taller cutting heights.
Cutting width
Measured in millimetres (mm).
This is the width of the path cut through the grass. The larger the garden, the larger the cutting width of the lawnmower should be, as it will cut a bigger path and so take less time to mow the expanse of lawn. For lawns on the smaller size, choose a cutting width up to 320mm, and if your lawn's on the larger size, look for a cutting width of over 400mm.
Make sure that the cutting width you choose can pass through the narrowest part of your lawn, such as between a gate or path, as well as fit into your garage or shed for storage.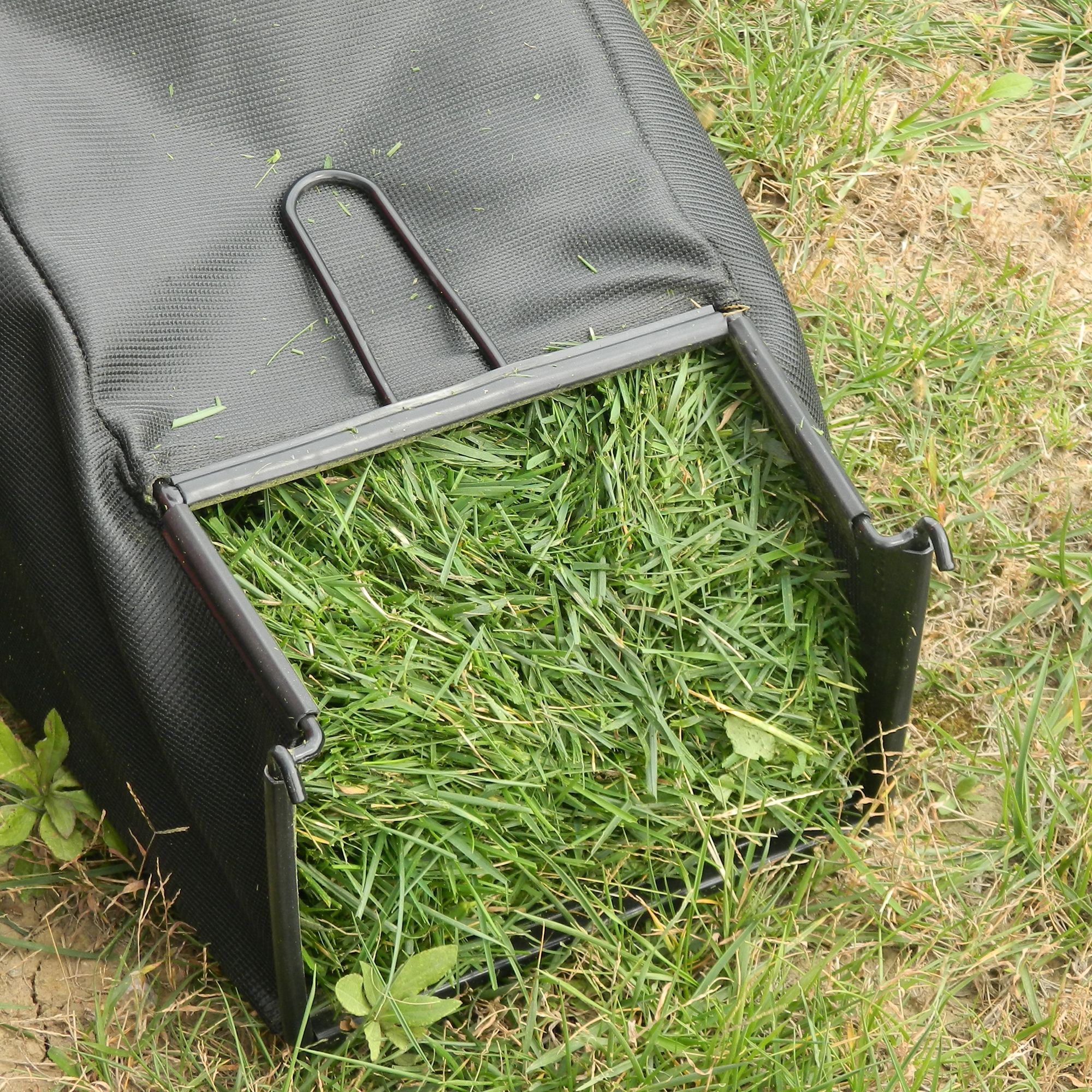 Grass collection box
Collection capacity measured in litres (L).
Collection boxes ensure that all the grass clippings are collected immediately after cutting, so you don't have to manually collect them after the job is done. We recommend the largest capacity you can manage, as it'll mean fewer trips to the compost heap or green waste bin. Look for ones with a small window in the box, or are entirely transparent, so you can see how full it is as you mow.
Weight
Measured in kilograms (kg).
Heavier lawnmower models tend to be bigger in most ways, so will cut more at once than a lighter option. Larger mowers are heavier to push, as well as to turn and manoeuvre around obstacles, so do bear that it in mind if you have a lot of structures, plants or ornaments on or around your lawn, or if your garden is on a slope. Heavier machines are also more likely to leave track marks on the lawn, so be sure to consider this when choosing your lawnmower.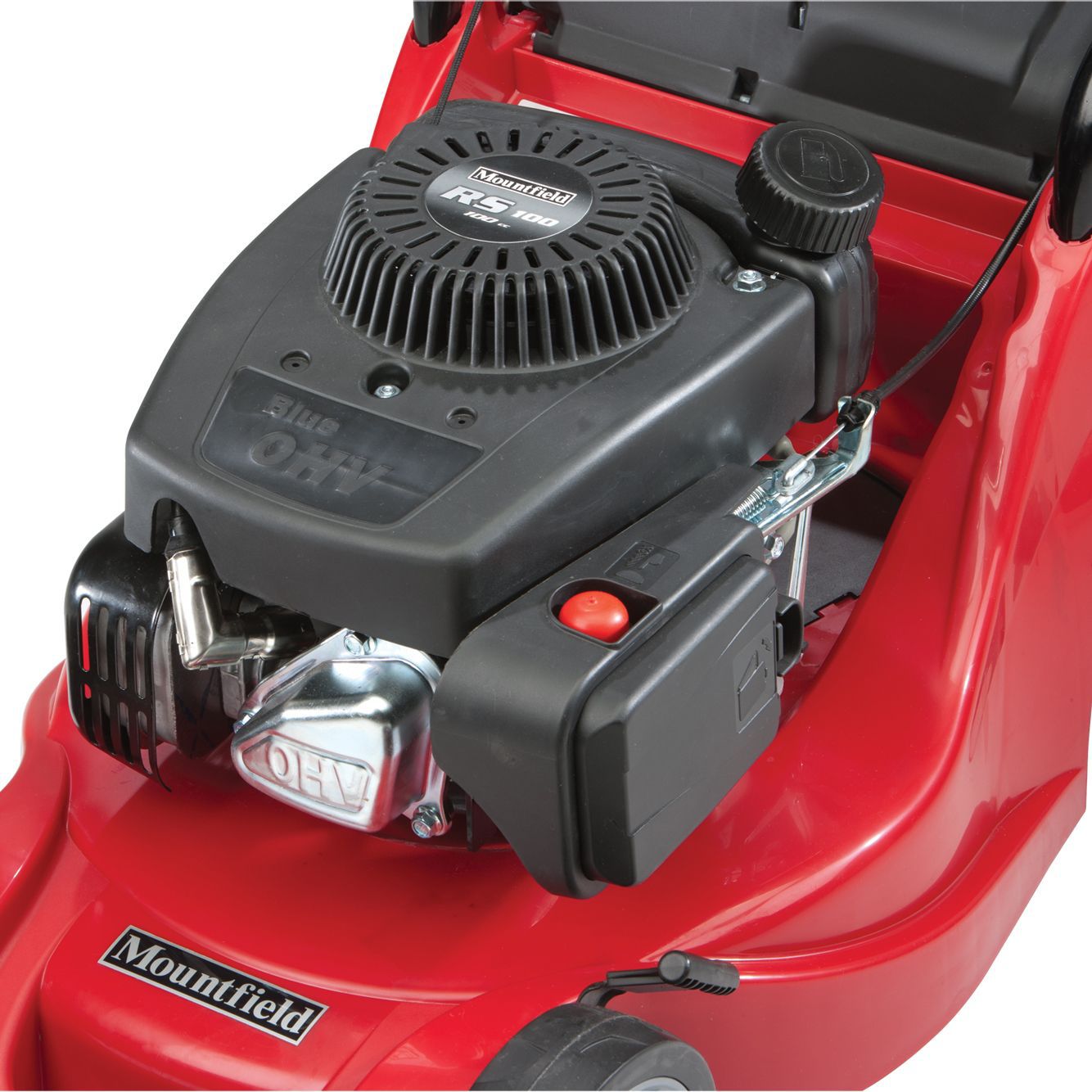 Cubic capacity
Measured in cubic centimetres (cc).
The bigger the number of cubic centimetres, the more powerful your petrol lawnmower will be. This is important when dealing with tougher conditions, so choose a larger engine if you're going to be mowing tall and wet grass, or have a lot of weeds that you'll be cutting down.
Tank capacity
Measured in litres (L).
The larger the tank, the more petrol your lawnmower can store. This means that you can mow for longer without having to fill up – although a bigger cubic capacity means that your lawnmower will need more petrol to power it and this affects how quickly the fuel it's used.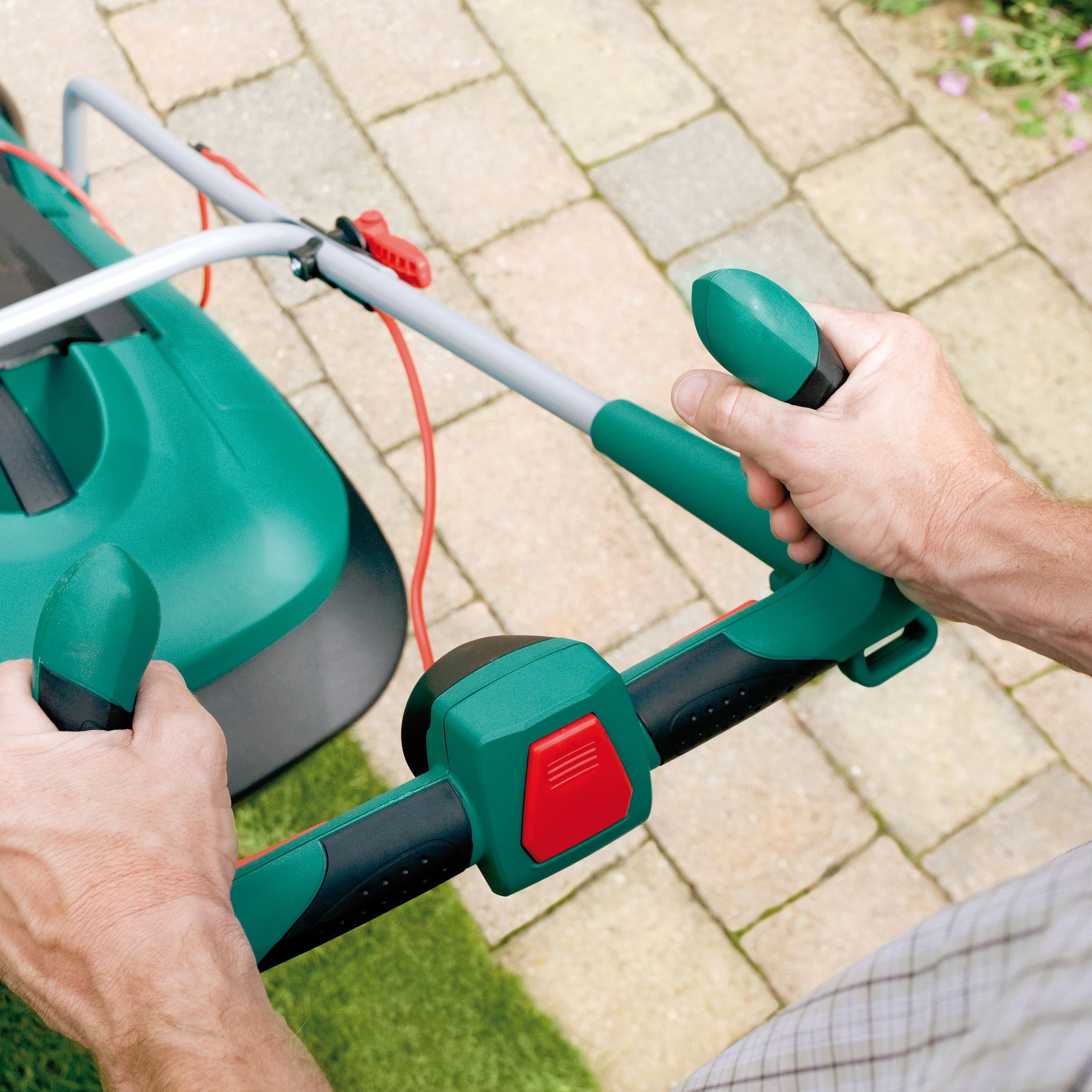 Handle types
Ergonomic handles minimise discomfort when mowing as they reduce back and muscle strain – ideal for those who have larger gardens or heavier mowers. And if you're looking for a lawn mower that's easier to store, choose one with foldable handles. Collapsing the handles will make your lawnmower more compact, and easier to place in corners.
Automatic ignition
To start an electric lawnmower, you simply have to pull a switch or push a button. However, petrol lawnmowers come in two different ignition types: recoil and electric.
Recoil ignition involves pulling a rope to start the petrol engine – just like you would a chainsaw. Electric ignition, on all of our ride-on options, requires a key to start your lawnmower as you would your car. Remember to keep the key safe or else you won't be able to mow your lawn.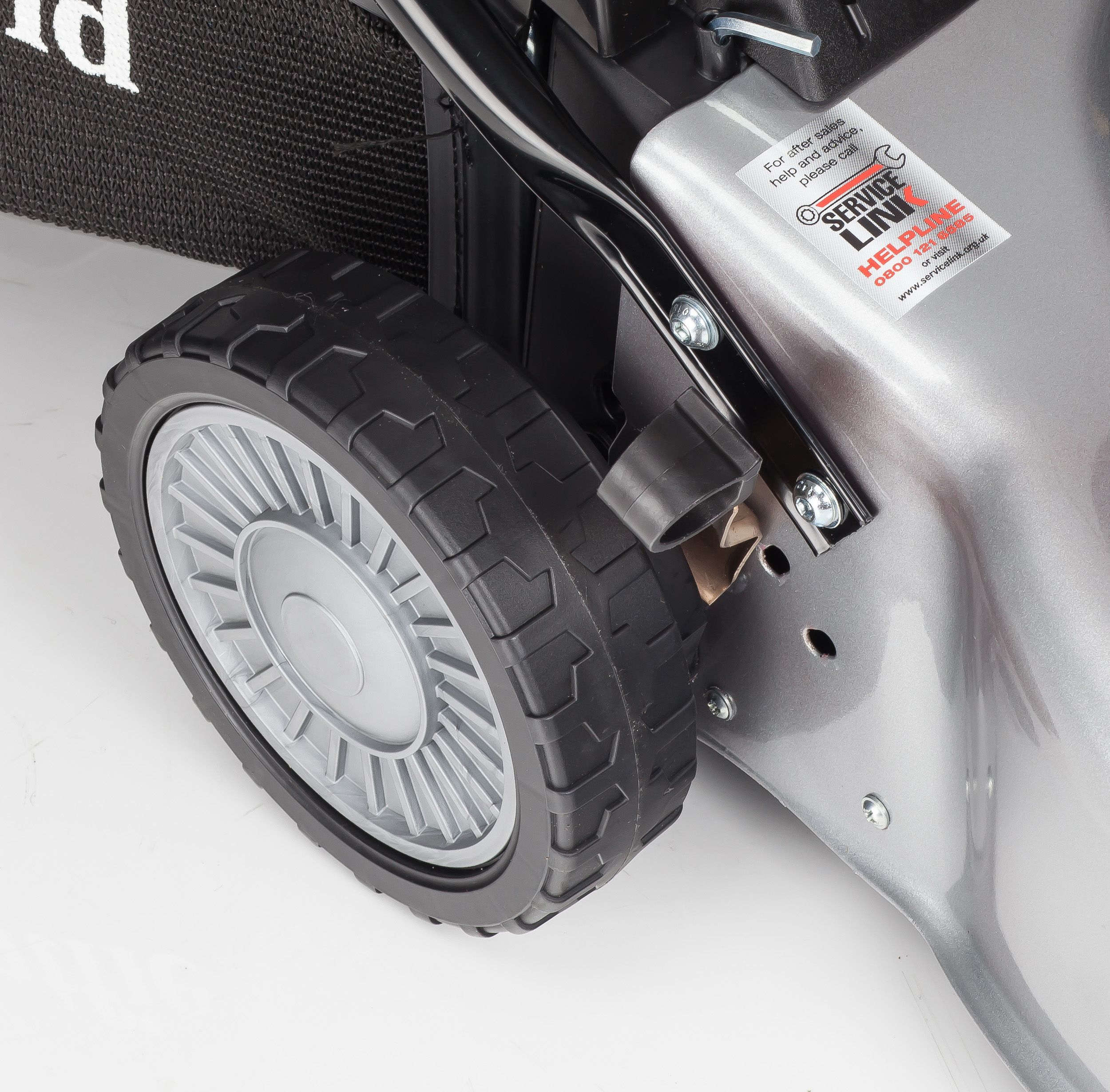 Rear roller
Create the classic striped lawn effect thanks to a lawnmower with a rear roller. This helps push the grass down into place to achieve the look, and helps flatten any unwanted lumps and bumps. A lawnmower with a rear roller is usually slightly heavier than one without.
Mulching function
Look for petrol lawnmowers and ride-on tractors with the facility to fit a mulching plug to mulch the grass clippings. Mulching involves cutting the grass clippings multiple times into extra fine particles that are then blown down into the lawn to decompose and return valuable nutrients back into the soil.
When collecting clippings, you'll need to regularly empty the collector. However, with mulching lawnmowers there's no reason to stop, so you can mow your lawn much more quickly - especially on larger lawns. Mulching also fertilises your lawn, adding enough nitrogen to keep your lawn as healthy as if you were using a bought fertiliser. It also saves you accumulating a grass waste as it's immediately recycled back into the ground.
You might need
Now that you've selected your lawnmower, it's time to make sure you have all the extras you'll need to use, store and maintain it.
Protective gear
Like all gardening tasks it is important to keep yourself safe whilst using a lawnmower, so consider wearing protective gloves, goggles and sturdy shoes when mowing your lawn.
Blades and blade sharpeners
Sharp lawnmower blades are essential for safely mowing your lawn and getting a clean result. Every now and then, either replace your blades or remove and sharpen them.
Shop lawnmower blades Shop blade sharpeners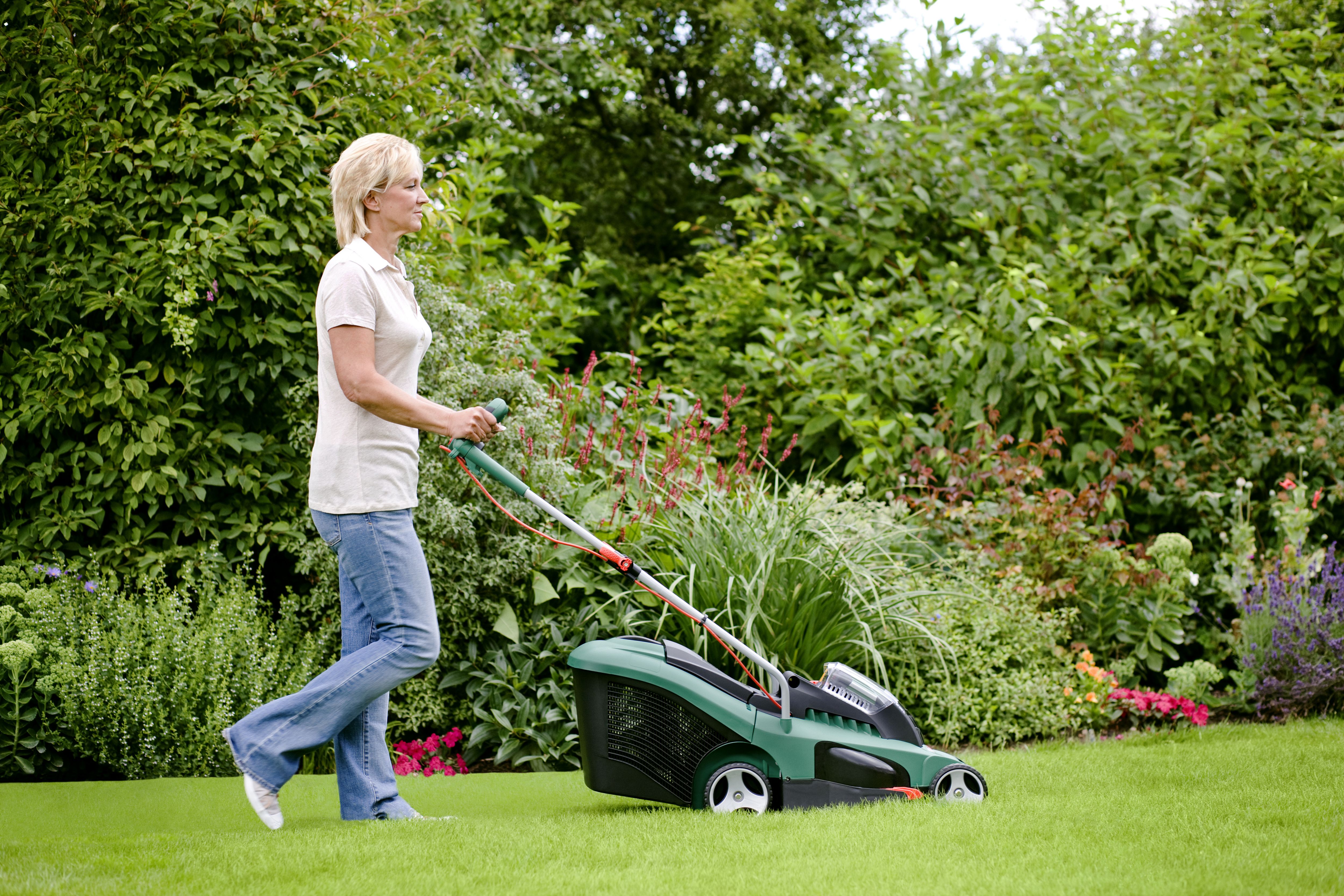 Lawnmower storage
Do you have somewhere to store your lawnmower? Keeping it out of the elements will help keep it safe and in great condition. Smaller lawnmowers may fit nicely in one of our storage chests, while larger models and ride-on options will need a shed, garage or workshop.
Check out our buyer's guide to sheds to explore your options.
Corded electric lawnmower accessories
Even with the longest cable, you may still want more length in order to move without restrictions. An external extension lead will give you a bit more room to manoeuvre. And a residual current device (RCD) is essential when using electricity outside – it immediately turns it off in case of faults, or if you run over the cable when mowing your lawn.
Shop external extension leads Shop RCDs
Cordless electric lawnmower accessories
Pick up a spare battery before you tackle the lawn so that you can keep on working without interruptions and delays.
Petrol lawnmower accessories
You'll need a few extra things to run your petrol lawnmower. A petrol can to transport and store your fuel, a funnel for easy pouring and oil to protect the engine and keep it running smoothly.