Maximise your living space with our stylish storage ranges
No matter how big or small your home is, hardworking storage solutions are a household must have. They help us keep the clutter at bay and can introduce organisation and order into even the smallest nook or cranny. They can add to the style and personality of your room or be purely practical, and when lives are busy and space is precious, storage becomes ever more important.
And it's because of this that storage has changed a lot in recent years. While some furniture items remain unique to room types, modern storage options happily find a place all over the home. From bedrooms to offices, garages to living rooms – they can be used in different spaces to store different things in different ways. And, as every room becomes increasingly multifunctional, it's this adaptability that makes them a firm favourite.
But with so many storage choices available, it can be difficult to know where to start. How do you work out what's best for your needs – both now and in the future? Not to worry. That's where we step in. We're here to help you find the solution to your particular storage problem so you can transform every room in your home into a smart and savvy living space.
Let's explore the options…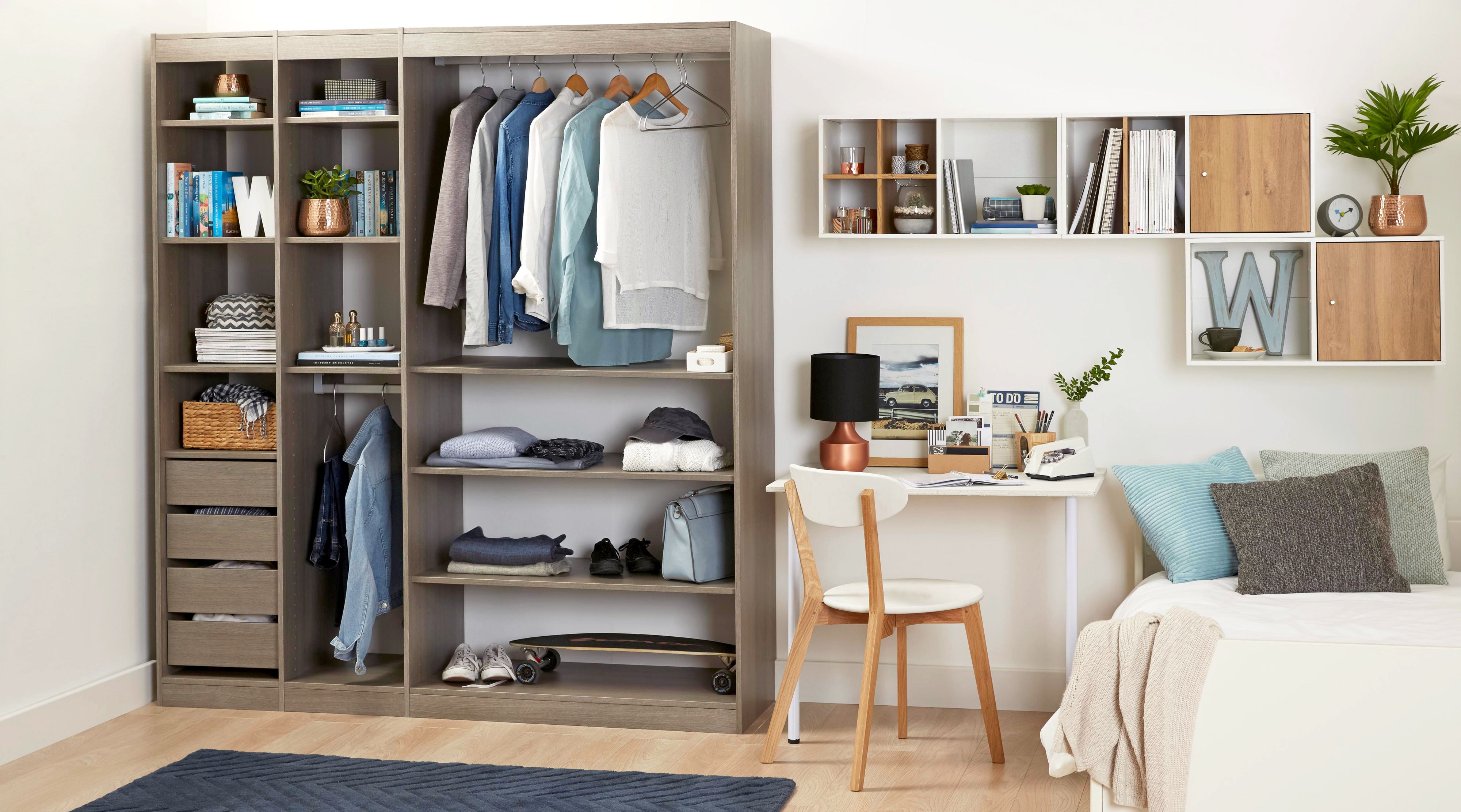 Floor-standing or wall mounted?
For many of us, the first decision to make is whether to choose wall mounted or floor-standing storage. This might not seem like the first consideration – there are plenty more exciting ones to think about, such as style and function. But before these more appealing options can be explored, you need to know whether your storage solution will be a permanent fixture in your home or not.
This decision might not be yours to make, if for example you're renting your property. But if you have both options available, it's essential to think through the potential pros and cons of both storage types.
Floor-standing storage is:
Renter friendly - ideal for when you can't or don't want to make structural changes to the property
Portable and flexible – move it around to achieve new looks
Forever yours - take it with you when you move house
Light on tools – don't worry about more complex DIY
To view all floor-standing storage furniture:
Shop the Perkin storage furniture range
Shop the Darwin bedroom furniture range
Shop the Konnect and Mixxit storage cubes
Shop the Flexi-Store plastic storage range
It's important to remember that our floor-standing storage solutions must still be securely fixed to the walls for safety using an L bracket.
Wall mounted is:
A long-term investment – it can add to your home's value when selling
Space efficient – reach into awkward corners or high ceilings to make maximum use of all space
To view all wall mounted storage options:
Shop the Oppen storage furniture range Shop the Twinslot storage units range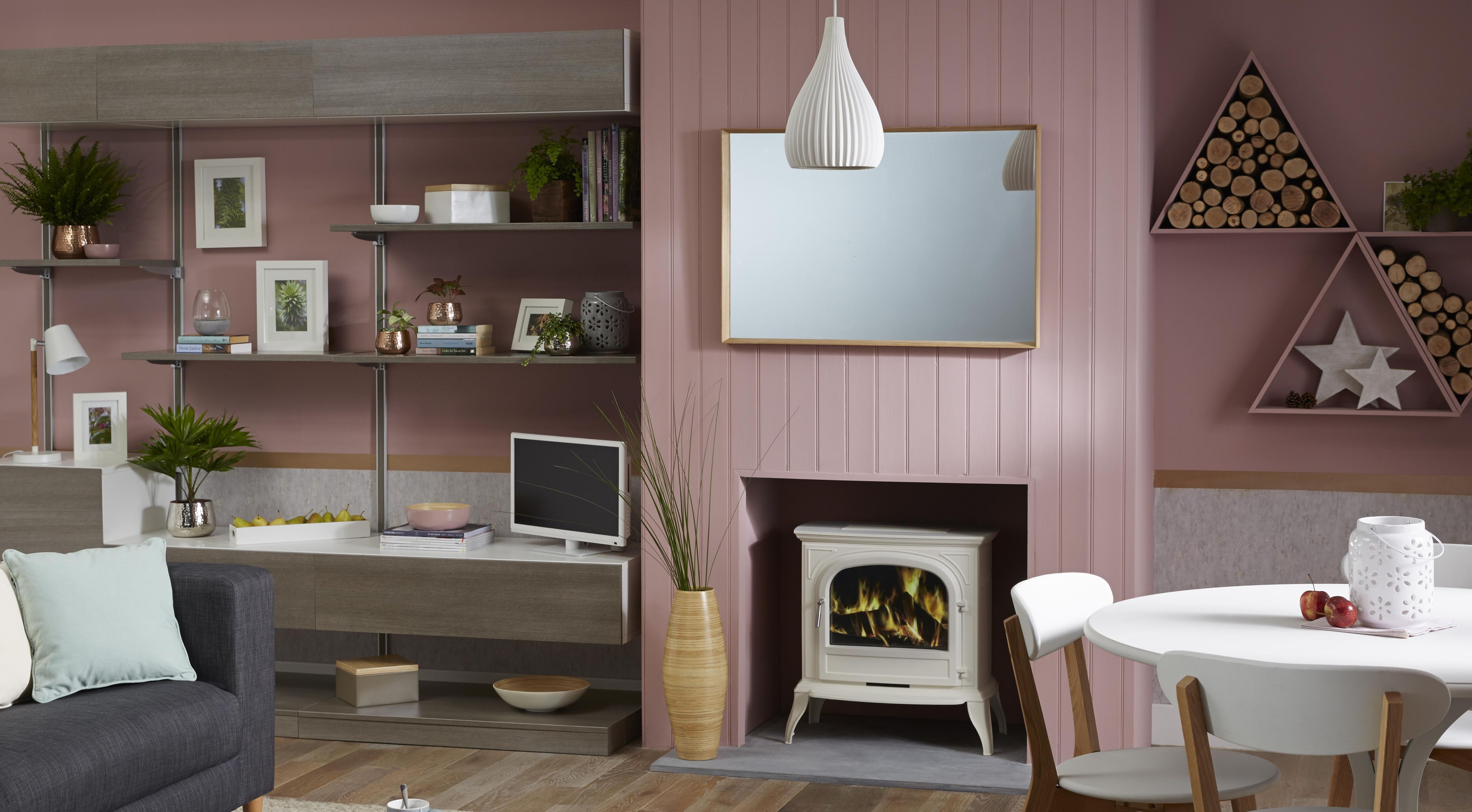 Displayed or hidden?
Storage is most commonly a practical problem that is solved with an equally practical solution. However that doesn't mean your possessions have to be hidden away from view. Modern storage can provide the opportunity to display your personal treasures, giving them pride of place to be looked on and enjoyed.
And so this brings us to the second big question to answer – do you want your storage to openly display your possessions or store them out of sight?
Hidden storage
Hidden storage organises items behind door and drawer fronts, or in boxes and baskets where the contents aren't seen. This offers greater privacy, a sleek and streamlined feel, and you can colour match for a coordinated look. Being hidden away works well for delicate or sensitive items, it prevents fading in the sunlight and reduces the risk of accidentally being knocked or damaged. Hidden storage is also great if you're prone to untidiness as any mess is hidden from view and can help save on housework as there's potentially less surface area to dust.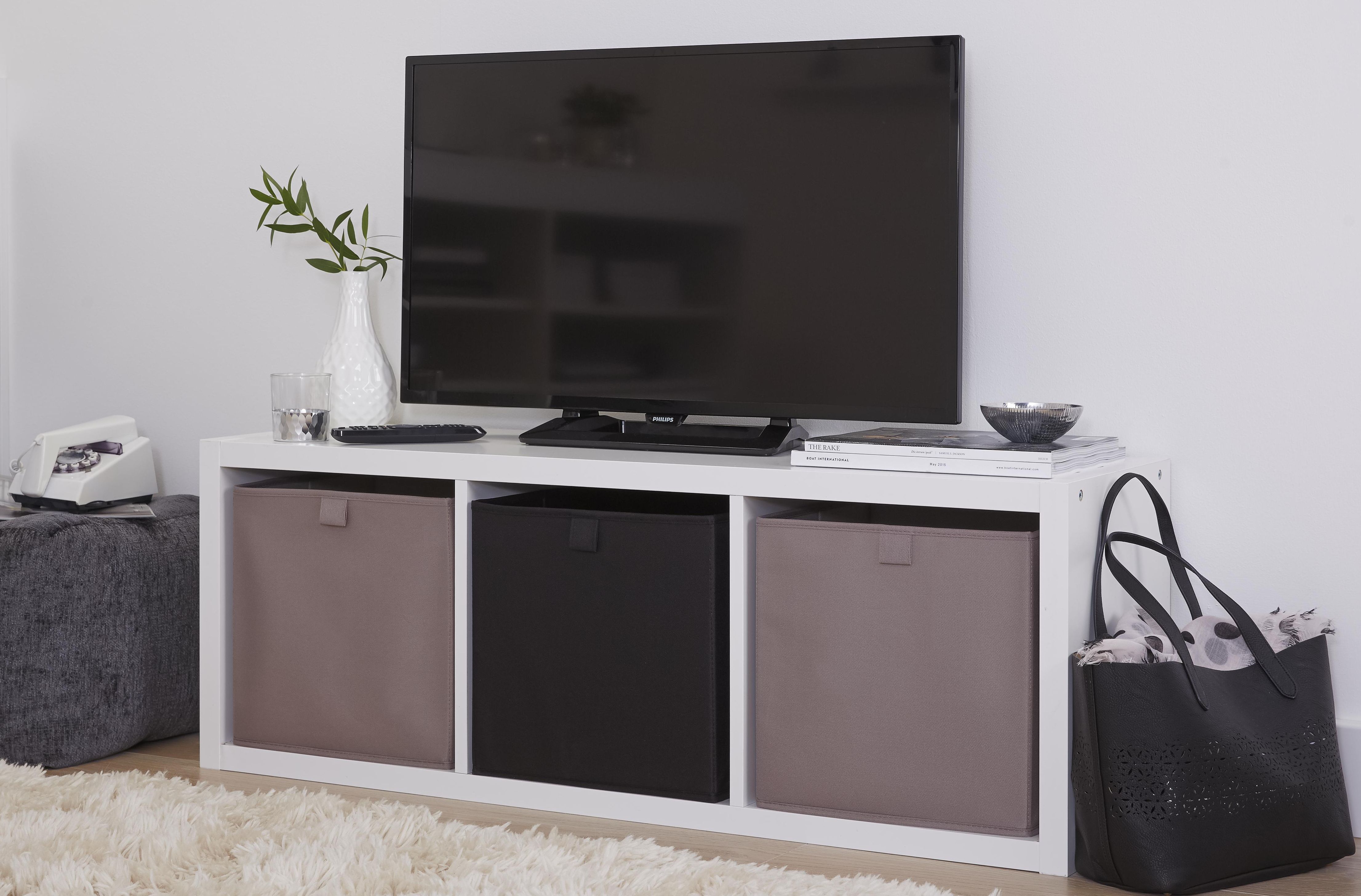 Displayed storage
This option strips away any barriers to seeing what's being stored. This can be open rails, trays, shelves, units, boxes or baskets. It's a more personal and intimate choice, revealing more of your possessions and so, in turn, reflecting more about you – ideal if you're looking to stamp your unique style on your storage choice. With everything on show, items are easier to reach and readily accessible and the look can really open up smaller or darker spaces. However, any messiness while be evident to all, so think about how you'll maintain the look and whether your possessions are suitable for this open presentation.
Not quite sure? No problem - many of our storage solutions offer both options so you can mix and match as you fancy. It's all about creating the right balance for you. Neatly slot boxes and baskets into storage cubes to keep their contents hidden, or fit storage furniture with compatible sliding wardrobe doors to protect hanging clothes. Even plastic tubs can work double duty – opt for a clear one to see the contents or a dark one in grey or black to keep things private.
And whether your storage is on show or not, you still want it to look good. That's why all of the colours and wood finishes available across our ranges are exactly matched to one another for a coordinated, stylish look. This consistency gives you more options if you want to move storage from one room to another, and peace of mind that any later additions to your storage will blend in effortlessly.
Shop all storage ranges that can be both hidden and open
Shop all storage ranges that are open only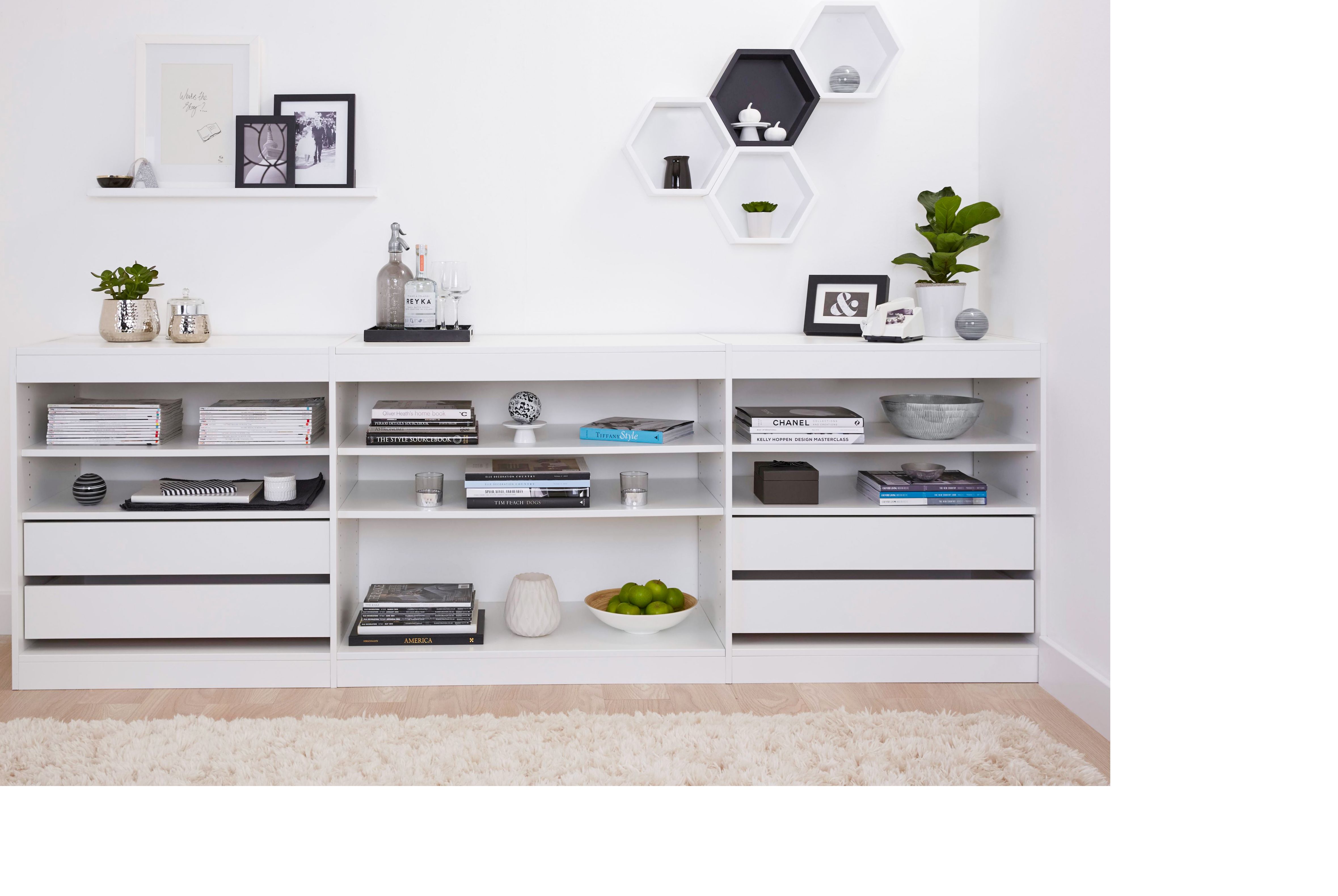 What are you storing?
You've decided if your storage should be wall-mounted or freestanding, and whether it'll be hidden or on display. Now it's time to ask: what are you going to be storing and where will you be storing it? In some instances these two questions are related, producing a very straightforward solution. For example, clothes will most likely be stored in a bedroom or tools in a garage. However, some items aren't localised to particular rooms or you might want to store a variety of items in one place. That's when we need to consider some of the unique and bespoke qualities of different storage options to pinpoint the right one for your needs.
Storing larger items?
It can be tough to efficiently store larger-sized items, such as winter clothing or office equipment, or large collections of smaller ones, such as books and entertainment. You don't want to cram them in clumsily or break up your collection, but with limited space your options can seem limited.
That's why we've introduced a number of completely customisable storage solutions to comfortably house your bulkiest of belongings. And they can happily find a home in all sorts of unloved, awkward and under-used corners of your home, such as under the stairs or under sloped ceilings, alcoves, existing cupboards or wardrobes. If you've got spare space – we've got the storage solution to make the most of it.
Storage furniture
Best suited to bedrooms, living rooms, hallways and offices
We offer two wall-mounted storage furniture ranges – Oppen (pictured above) and Darwin (pictured below).
Oppen consists of a back panel that is fitted to the wall which is then customised with our range of adjustable units, doors and shelves. It's available in multiple heights and widths to best suit your space and in two wood finishes and one colour. Mix and match the look with reversible back panels that can either complement or contrast and fit with a sliding wardrobe door and the compatible Darwin wardrobe rail for a closed wardrobe.
Shop the Oppen storage furniture range
Our Darwin range is designed specifically for bedrooms and so packs plenty of clever storage options perfect for protecting your clothing collection. Simply pick your cabinet from our choice of five sizes, kit it out with internal drawers, rails and shelves, choose your preferred finish from our six options (including mirrored) and then add the final touches such as handles and trims. Create a suite of matching individual items from wardrobes to chests of drawers, book cases to bedside tables to transform your bedroom into a storage sanctuary.
Shop the Darwin bedroom furniture range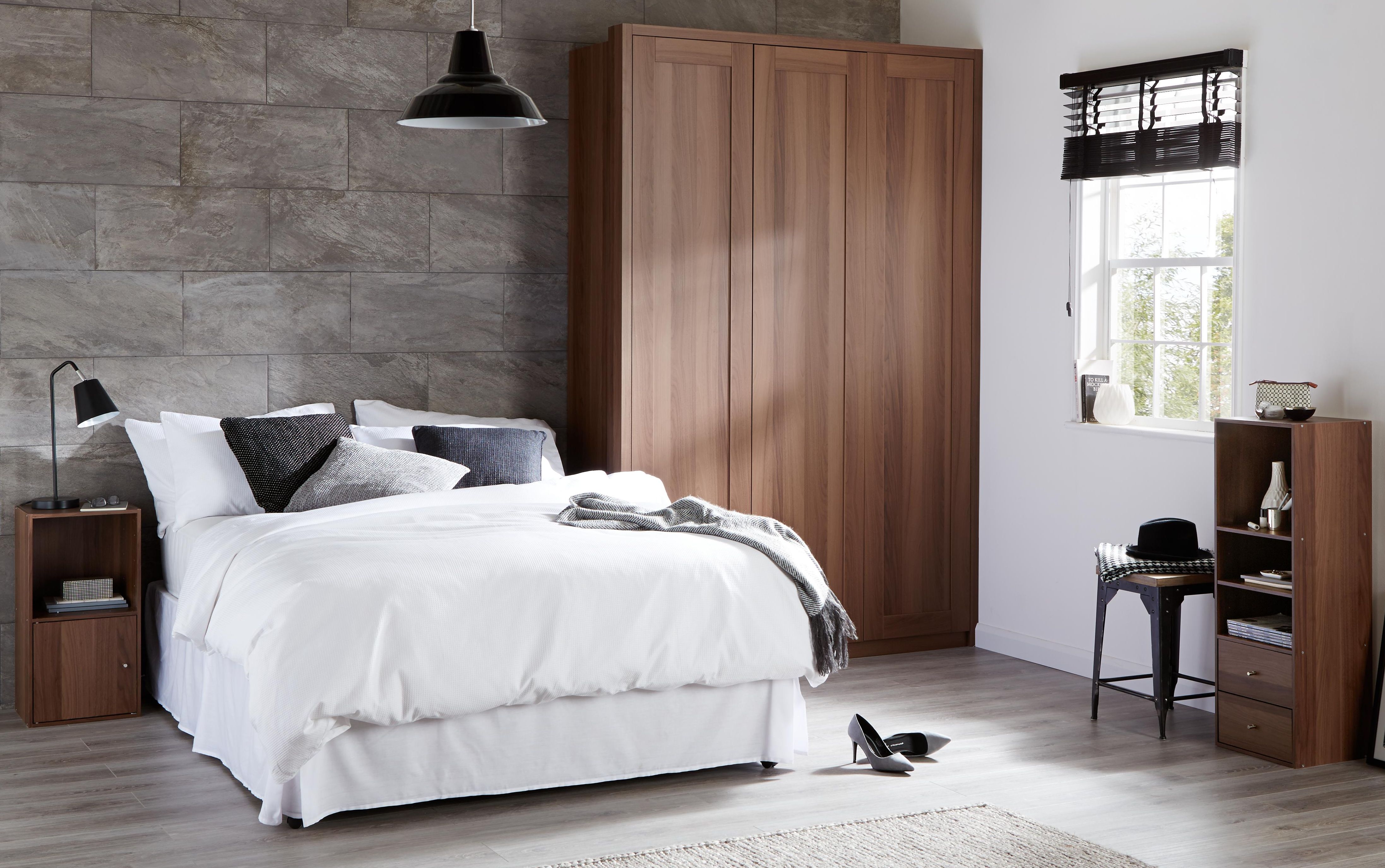 If you're looking for a freestanding, open storage furniture option, consider the Perkin range. Much like the Oppen, it's all about choosing the desired combination of storage compartments and can be fitted to include a closing wardrobe, however unlike the Oppen range, Perkin is floor standing and so ideal if you're looking for something portable. Its durable finish helps it withstand everyday scratches, scuffs and dents and there are complete bundles available in certain sizes to get you started straight away.
Shop the Perkin storage furniture range
Storage units
Super in garages, utility rooms and offices
Looking to organise your workspace? Check out our Twinslot range (pictured below). With its stripped back, industrial design, this wall-mounted storage solution is all about practicality. Metal uprights are screwed into the wall and are fitted with horizontal storage tracks to create an adjustable grid. Brackets are then slotted onto this grid, which support a range of storage accessories including shelves, wire shelves, baskets, hooks, specific tool holders and a peg board. Combine as many uprights as you want and move the tracks around to create a wall of bespoke storage. Available in two colours, the Twinslot neatly stores bulky and heavy items like ladders through to small hand tools – and all in easy reach.
Shop the Twinslot storage units range
Storing only small items?
Don't waste lots of space on storage if a compact solution will work. Small items such as toys, craft and hobby materials, books and ornaments can be displayed to great effect on shelves and modular cube furniture, such as our Konnect and Mixxit ranges. Alternatively tidy away odds and ends by adding doors, drawers, fabric boxes or baskets to these storage units, or use portable plastic tubs like our Flexi-Store collection. And don't worry about starting small. It's easy to increase your capacity by adding more and more of these options, as and when you need to.
Storage cube furniture
Ideal for living rooms, bedrooms and offices
Our Konnect range (pictured below) offers storage cubes in four models, the smallest being a 1x1 size (1 cube) up to a 4x1 (4 cubes). Add shelves and dividers to organise the internal space; and drawers, doors or fabric boxes to tidy away the contents. Konnect is available in three wood finishes and six eye-catching colours – making it a great choice for children's bedrooms. It can be wall-mounted, used either horizontally or vertically, and is compatible with Mixxit fabric storage baskets.
Shop the Konnect storage cubes
Like Konnect, Mixxit storage cubes are available in a variety of sizes, ranging from 3x1 (3 cubes) to 3x3 (9 cubes). They are our premium quality option and fit with fabric storage baskets and boxes. Mixxit is offered in one wood effect finish and one colour.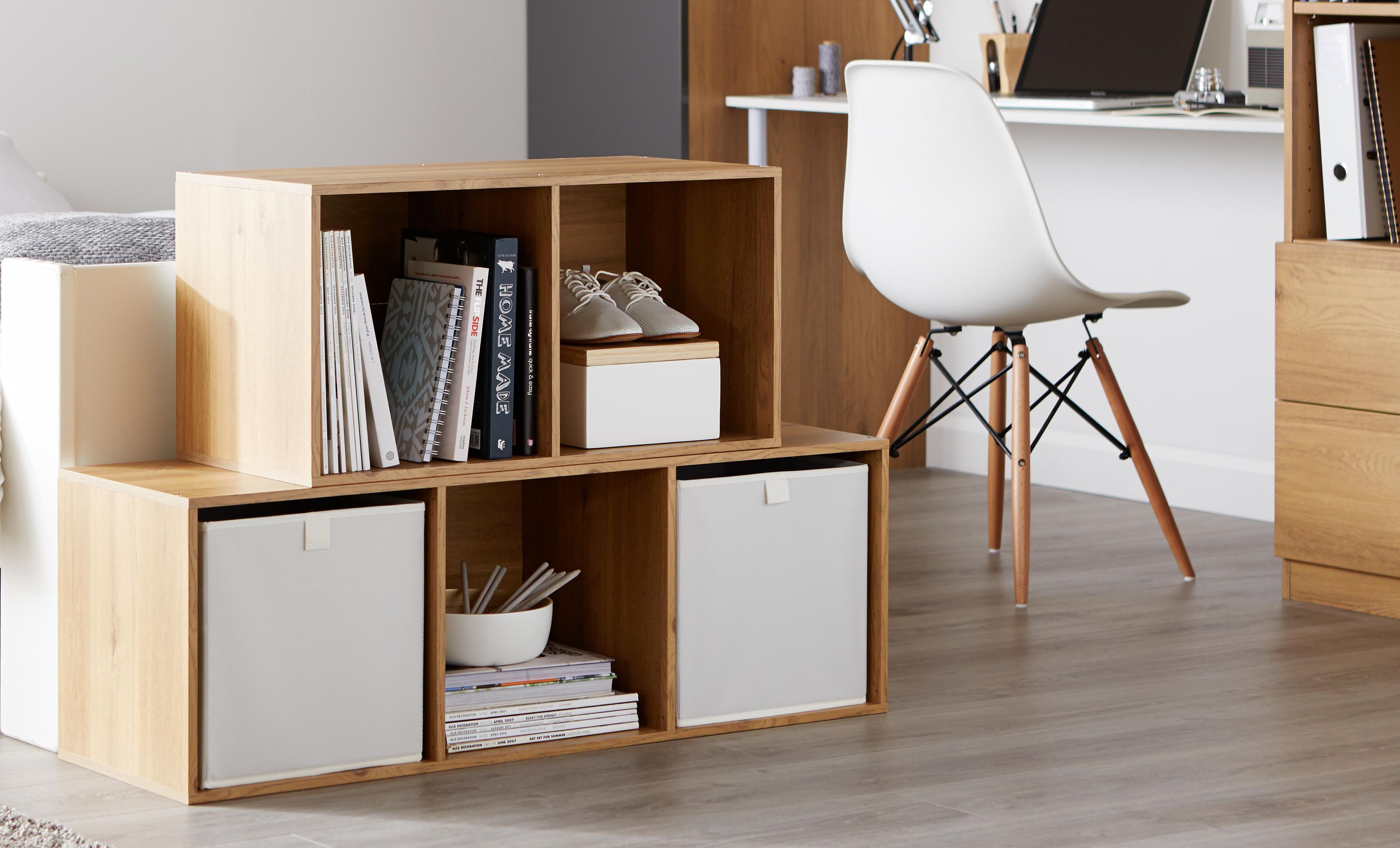 Plastic storage boxes
Perfect for children's bedrooms, offices, garages and workshops
Our Flexi-Store range of stackable plastic storage boxes come in eight different sizes to suit your storage needs. Fit them with dividers and trays to keep them organised and opt for the mix and match colour lids to colour coordinate. Kids love the vibrant shades available, while the Ultra Tough range with waterproof seals are great for garages and workshops. Stack and store or group together on a shelving unit.
Shop the Flexi-Store plastic storage range
Wall shelving
The versatile option
Choose from a variety of wall shelving styles and sizes to help display your treasured trinkets. Select an eye-catching shape, such as cubes and hexagons, or utilise every inch of space with a practical corner shelf. Opt for floating (also known as hidden fixture) shelves for a streamlined look or go traditional with ornate brackets. We've got photo ledges to best show off your pictures and with different colours, materials and sizes available – there's a shelf to suit every room in your home.