Introduction
Painting a room is one of the easiest DIY jobs you can do to your home and one of the most rewarding. Whether you've just moved home or fancy a refresh, painting a room allows you to add your own personal touch.
The surface you are looking to paint will require a specific paint; browse our guide below to help you choose the right one for your project. If you need guidance on painting please see our how to guides.
Which paint should I use?

Walls and Ceilings: Emulsion paint
Ideal for walls and ceilings, emulsion paints are water based and come in a huge range of colours. Emulsion paint typically needs two coats and is applied directly on walls that have been painted before, or on paintable wall coverings like lining paper and textured wallpaper. When painting darker walls with a lighter colour, use a primer or add an extra coat to ensure the correct colour appears.
Emulsion comes in two main finishes: matt and silk - though you can get others that are somewhere between the two (like soft sheen, satin or eggshell).
Below are the most common finishes of emulsion paint.
Matt finish emulsion
Matt paint has a flat, non-reflective appearance that works well if you want to disguise an uneven surface. Traditionally, matt emulsion marks easily and isn't washable. However you can now buy wipe-clean matt paints in a lot of ranges.
Silk finish emulsion
Silk paint gives you a shiny, reflective finish that is washable. This makes it handy for places in your home where walls can get a bit grubby - like halls, staircases and children's bedrooms. Silk emulsion is available in a variety of greater or lesser sheens.
One-coat emulsion
Want to get your room finished more quickly? This special emulsion paint is thicker than standard emulsion, and covers the surface more thoroughly. It usually comes in satin, mid-sheen and matt finishes and one coat is usually enough to cover most surfaces. Try and use a good quality roller if you want a really smooth, even coverage.
Durable emulsions
A high-coverage paint specially formulated for a durable and washable finish, meaning you can scrub and wash surfaces down.
Light reflecting emulsions
Specially formulated light-reflecting paint to make rooms feel brighter and more spacious. Great for a small room or hallway.
Magic white emulsions
Ideal for painting ceilings, it needs only one coat and goes on pink (so you can see where you've painted) but dries white.
Shop Wall PaintShop Ceiling Paint
Kitchen and bathrooms: Specialist emulsion
Kitchens and bathrooms tend to steam up pretty quickly - so these paints are specially designed to resist humidity, condensation, moisture and grease. This gives you a tough surface that's simple to scrub clean.
A regular emulsion paint will absorb the moisture which can create discolouring and mould - so it's important to use a kitchen and bathroom version.

Furniture and home accessories: Multi-purpose paints
B&Q offers a wide range of multi-purpose paints that can be used on many areas of your room. These are great to colour co-ordinate items such as lamps, furniture and wooden trims. They are use advanced formulas which means they're tougher and most are also washable. There are varieties of interesting finishes ranging from chalky to metallic.
Doors, skirting boards and woodwork: Oil based gloss paints
Gives you a perfect finish for wood and metal. Ideal for doors, skirting boards and internal wood. Can also be used on metals - but check the packaging first. Many glosses are available in "non-drip" versions, these are great for someone painting for the first time.
Primers and undercoats

There are plenty of paints that give good coverage on properly prepared surfaces without the need for separate undercoat. But you'll get better results if you decide to apply an undercoat - especially if you're painting over strong or dark colours. There are also specially formulated undercoats that include fine, flexible fillers - making them perfect for covering filled areas and hairline cracks.
Primer and undercoat for multi-surfaces
Great for interior and exterior wood, metal and masonry surfaces.
Primer for difficult surfaces
Suitable for MDF, tiles, melamine and UPVC, this primer provides excellent adhesion on difficult interior and exterior surfaces.
Professional undercoat
An ideal product to use under liquid gloss, it has superb hiding power, good 'cling' to sharp edges and excellent levelling properties. It can be applied to interior or exterior wood and metal surfaces.
Tester pots
Choosing the right paint for your walls is a big decision. And, because it can be hard to visualise colour in a room, tester pots are a great way to 'try before you buy'. Tester pots do have their limitations, but we've got a few ways to help you get the most from them.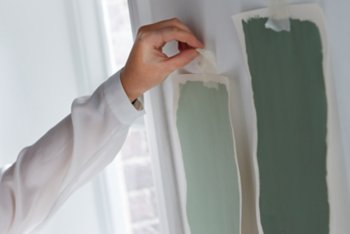 1. Paint near your wood finish
To see what the colour will look like against your skirting boards and doors, paint a swatch onto lining paper and place near the wood finish. This will give you a chance to see how the colour blends in with the rest of your room.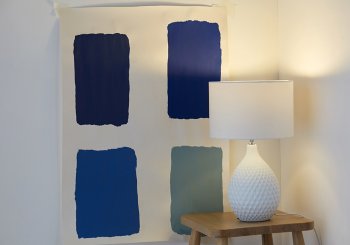 2. Test in different light sources
Colour can change once it hits the walls, and can look a different shade altogether when it's placed near varying light sources. Test your paint against the lighting in your home to get a better idea of what it'll look like.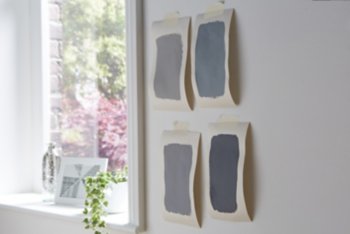 3. Swatches of shade
Use tester pots when you've narrowed down your paint choice. Don't paint swatches of lots of different colours, this will only make your decision harder. Opt for shades and variations of a similar colour.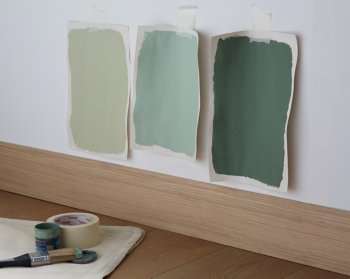 4. Paint sheets of paper
Don't commit to painting straight onto the wall, just in case you decide to go back to your original colour - you'll have to repaint the entire room. Paint the colour onto lining paper and move around the walls and use masking tape to stick them to the wall. Make a note of the colour at the bottom of the piece of paper.