From vinyl tiles to planks, learn more about this low-maintenance option
Updating your floor can dramatically change the look and feel of a room – even if you're not doing a massive decorating job. And vinyl flooring is an excellent choice for your high traffic areas.
Our vinyl flooring options are:
Easy to install
Low maintenance
Available in a range of styles, thicknesses and textures
Water resistant - can be used in the kitchen or bathroom where there will be splashes, spills and humidity
A good choice for homes with pets and/or people with allergies as pollen, dust and animal hair can be easily cleaned away
Softer and warmer underfoot than natural stone and laminate flooring. And certain types can work with underfloor heating
Let us take you through the options to find the perfect option for you and your home.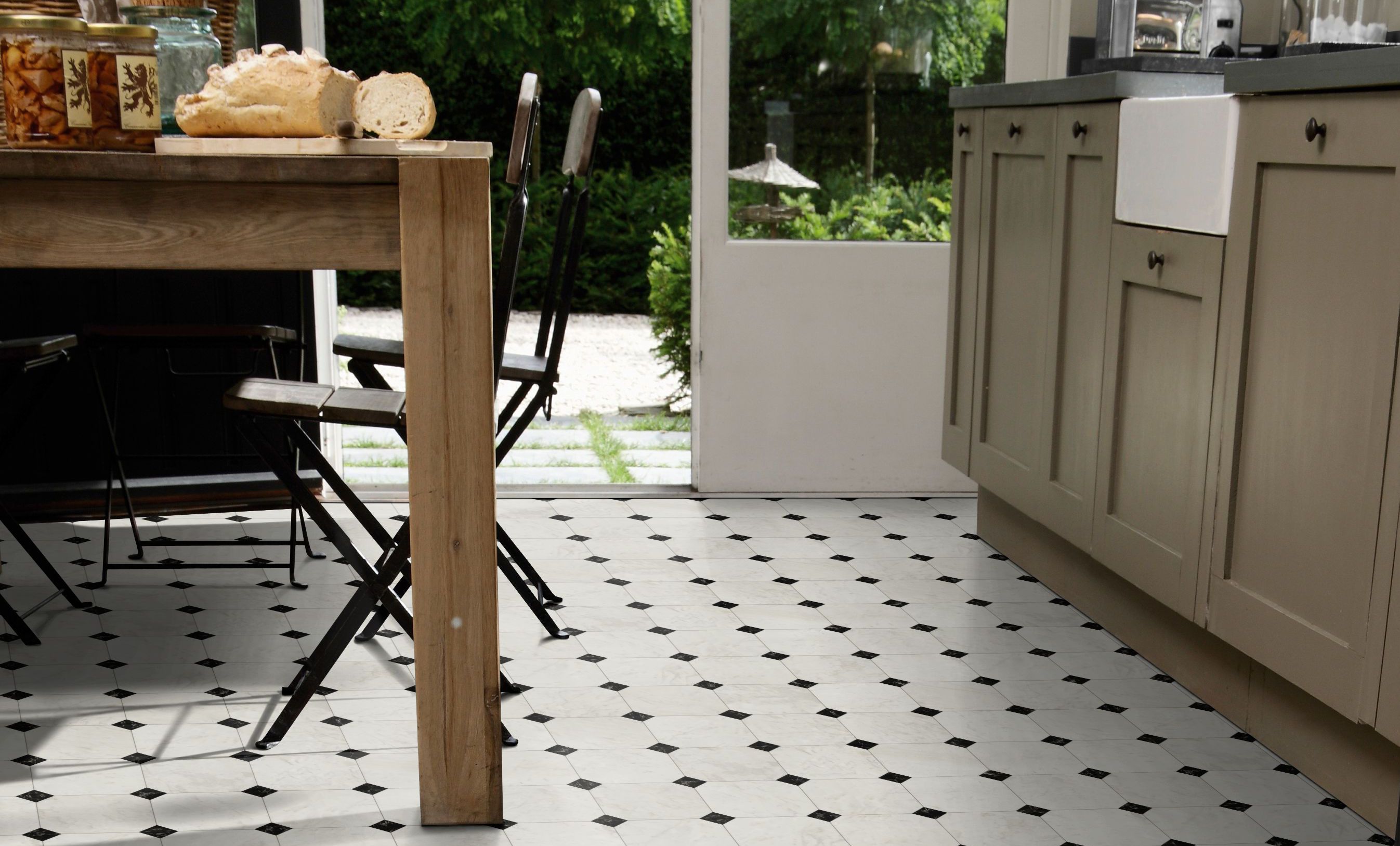 Before you buy
If you're thinking about vinyl flooring, there are a few things for you to consider about before you explore all the options.
Slip resistance
When choosing your vinyl flooring, it's important to remember that this man-made product is water resistant. While this makes it ideal for the kitchen and bathroom where there's a high risk of spills or spray, you will need to wipe up liquids immediately to reduce the risk of slips.
Most of our sheet vinyl products come with an anti-slip coating already applied, so choose this if you're looking for a less slippery option. Alternatively, add a rug or mat to your new floor. Look for non-slip options that won't slide away when you step on them, but remember that rugs with rubber backing should not be used on most vinyl floors. If you opt for a rug that isn't non-slip, keep it safe and secure with rug grips that can be laid underneath the rug to help stop it slipping.
Shop rugs and mats Shop rug grips
Thickness
The thicker your vinyl flooring, the softer and warmer it will feel underfoot – especially when compared to materials like stone. Our selection ranges from 1millimetre (mm) in thickness all the way up to our 4.5mm luxury option.
Thicker flooring also means better sound insulation and less wear and tear – so it's a great choice for children's playrooms, as it will muffle the sounds of loud play.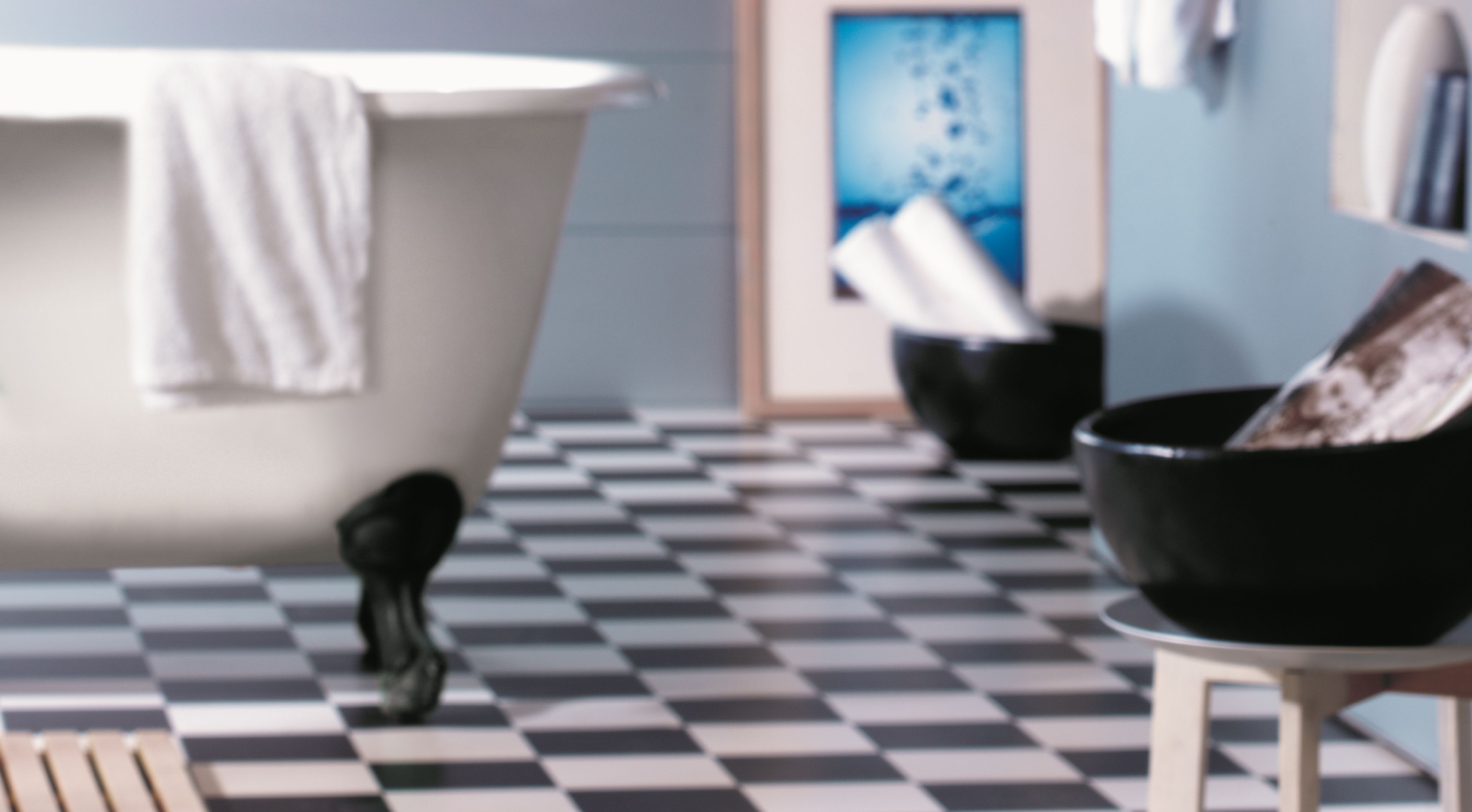 Underlays
Most vinyl floors don't need an underlay – if the surface you're laying on is level and smooth, a well cushioned vinyl floor should be fine on its own.
Our Luxury Vinyl Click Flooring is laid the same as laminate options in that it's loose laid, floating floor – as such, issues can arise if the sub-floor isn't level. With that in mind, we recommend adding a foam underlay when you choose this flooring option.
Installation and maintenance
Vinyl flooring is incredibly easy to install so this is a great DIY project for every home. Read our article on how to lay sheet vinyl before you get going.
Our tiles and planks are kept in place by glue. You don't need to buy this separately as they're self adhesive, while our sheet vinyl and luxury click options can just be laid on top of a fully prepped base. This means that you can add underfloor heating to sheet and click flooring, but it would melt the glue of the other options.
When to comes to cleaning, vinyl flooring is incredibly low maintenance. Just give it a regular run around with a broom or vacuum cleaner to keep it clean. And for extra care, pick up a vinyl floor polish.
Shop brushes, dustpans and brooms Shop vacuum cleaners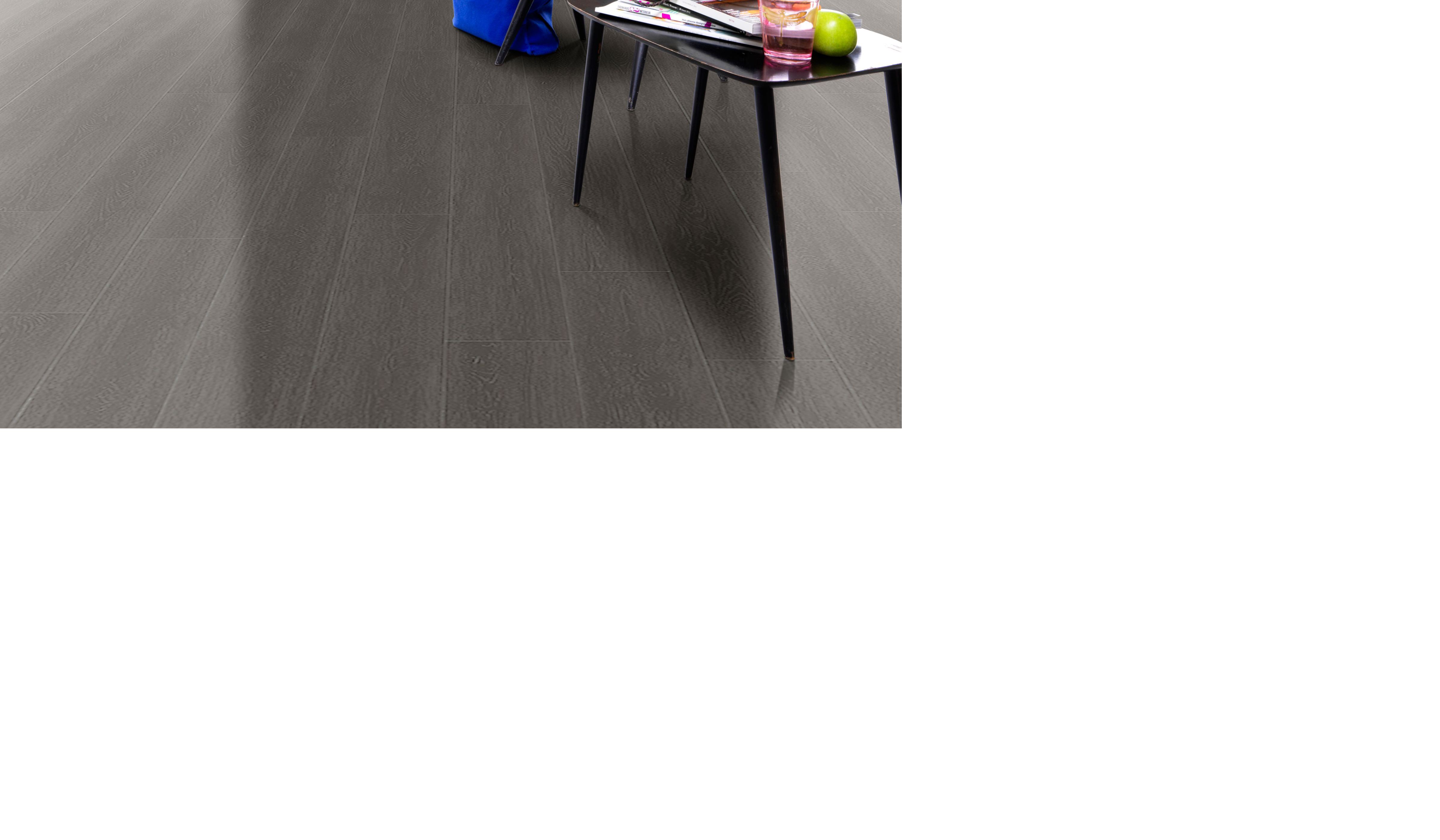 Types of vinyl flooring
We offer four types of vinyl flooring:
sheet vinyl,
self adhesive vinyl tiles,
self adhesive planks,
luxury vinyl click flooring
Sheet vinyl
Of all the options, sheet vinyl has the most diverse offering when it comes to looks. Available in a range of patterns and prints from marble effect to replicating mosaics or even slate, sheet vinyl can cover most rooms in one seamless piece, leading to an attractive result with no joins. However, for larger rooms you can lay two or three strips – it will just take more care to make sure that there are no seams showing.
For rooms that are smaller than 30 metres squared, sheet vinyl doesn't need any glue, you just cut it to the size of the room and put in place. You can use double-sided vinyl tape around the edges of the room for extra grip if you consider it necessary. For larger rooms, or rooms with multiple pieces of sheet vinyl, you'll need to secure the floor in place with vinyl flooring adhesive. Though it's worth remembering that you can't have underfloor heating if you use tape.
When cutting to the size of the room, add an extra 50 millimetres (mm) to 100mm to the edges to be safe. You don't want to cut too small and your flooring not be snug to the wall.
Shop vinyl flooring tape Shop flooring adhesive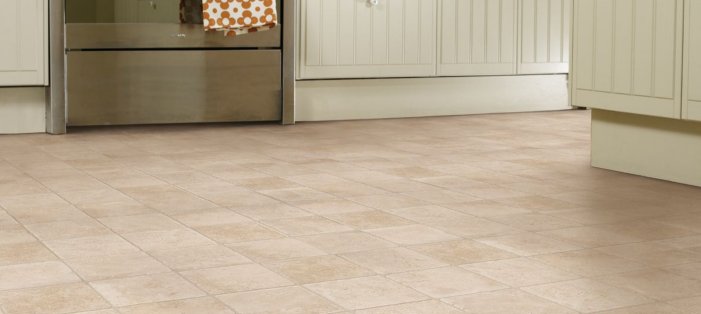 Self adhesive vinyl tiles
Vinyl tiles are perfect if you want to unleash your creativity – they can be laid using a single colour, or you can mix and match using contrasting colours to create your own unique design. Available in wood or stone effects, they lend themselves to most modern and contemporary looks and the neutral tones look great with a pop of colour.
Our self adhesive vinyl tiles don't need glue as they stick directly to the floor, and can work in any size room. They will not work with underfloor heating because the glue will come away.
Shop self adhesive vinyl tiles
Self adhesive vinyl planks
Our vinyl planks are available in several wood effects all of which add warmth to any room. Choose from natural, grey or white colour options to finish off your home's look.
Just like our vinyl tiles, vinyl planks are easy to install and can work in most size rooms. They're self adhesive, so no glue is required, but because of this they will not work with underfloor heating.
Shop self adhesive vinyl planks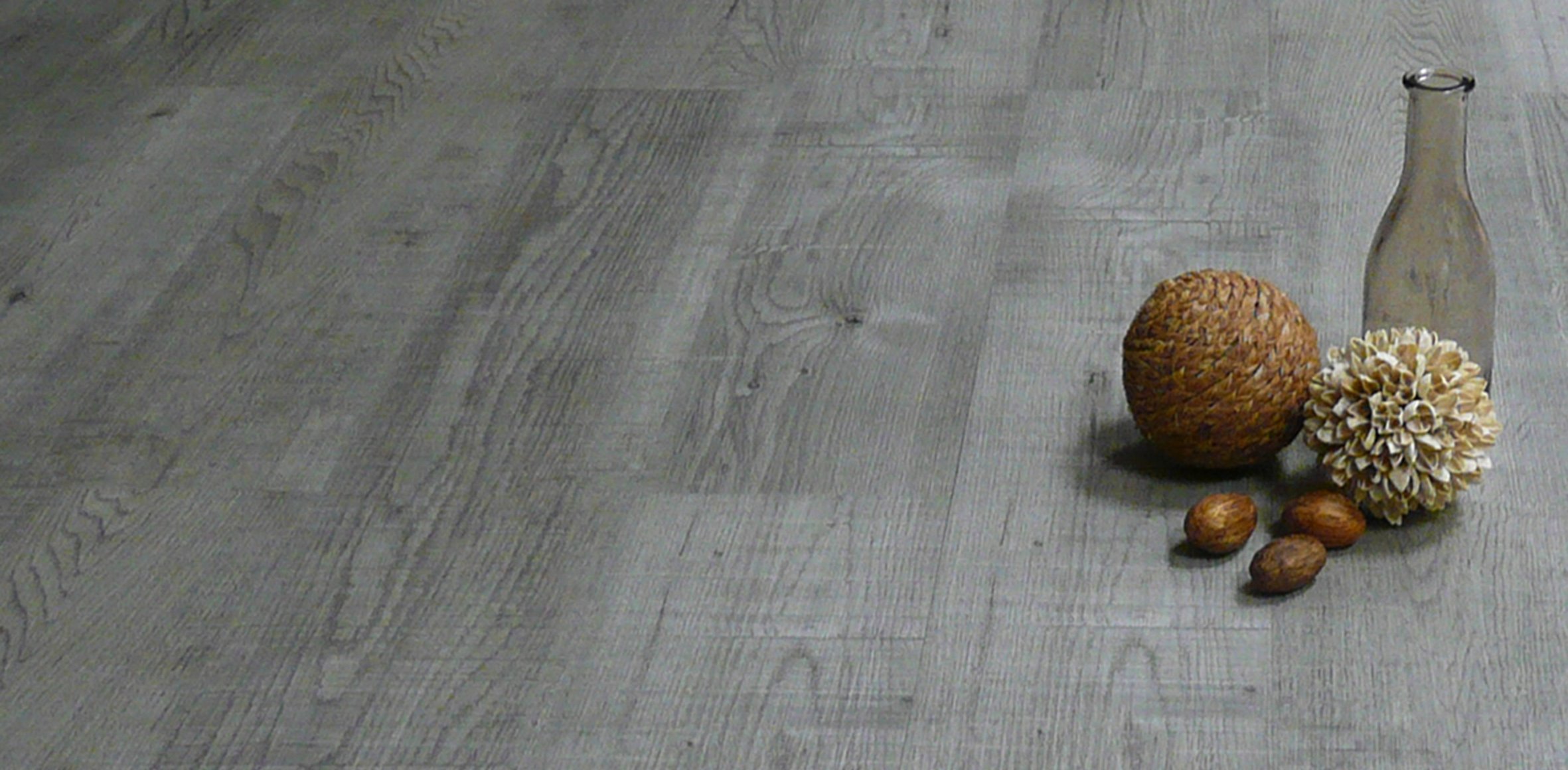 Luxury Vinyl Click Flooring
If you're looking for something that looks great and is durable enough for a high-traffic area, check out our luxury vinyl flooring option. Available as either wood effect planks or stone effect tiles, our luxury vinyl flooring clicks together easily to give a flawless finish.
Offering the look and feel of natural materials, luxury vinyl click flooring is soft and warm underfoot and allows you to add underfloor heating if you wish. Stain resistant and easy to clean, it has a hard-wearing polyurethane (PU) coating to increase its durability.
We recommend adding an underlay, especially if you're working with an uneven floor. Selit Bloc Foam Underlay is 15mm thick, made especially for luxury vinyl click flooring and works to protect the joints of the panels as well as reduce sound transmission by up 19 decibels – something to consider if you floor will be pounded on by active children or playful pets.
Shop luxury vinyl click flooring Shop luxury vinyl click flooring underlay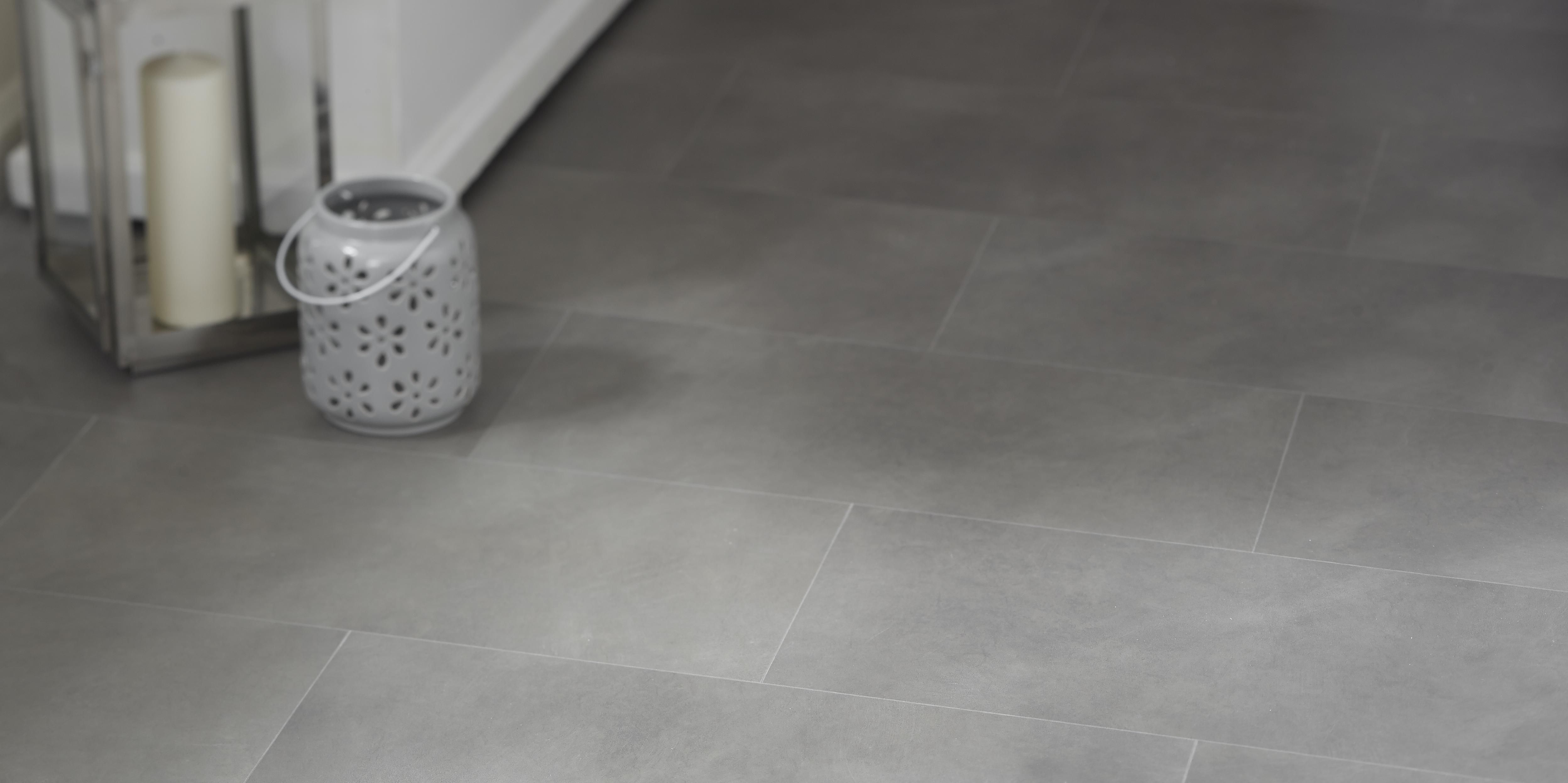 You might need
Flooring adhesive
Most of our vinyl flooring options are self adhesive, so you won't need to buy any extra glue. However, if you've chosen sheet vinyl for a larger room, we offer both flooring adhesives and double-sided vinyl flooring tape to make sure that your flooring remains secure.
Shop flooring adhesives Shop vinyl flooring tape
Mats, rugs and rug grips
Adding a rug or a mat to your new vinyl floor is a good way to prevent slipping as well as complete the look of the room. We offer a range of sizes, colours and patterns that will work whatever your style. If the rug you choose hasn't got an anti-slip bottom, you can add rug grips to keep it secure.
Shop rugs and mats Shop rug grips
Floor cleaning products
You can keep your vinyl floor clean simply by sweeping and vacuuming. But if you do need to give it a deeper clean, we have the cleaning products for the job. Be sure to check that they're suitable for vinyl.
Shop brushes, dustpans and brooms Shop vacuum cleaners