Add some evergreen extras to your Christmas decorations
Festive floristry doesn't begin and end with a Christmas tree. There are other decorations available that can complement your tree and create a coordinated look in your home.
The most common of these alternative decorations is the festive wreath, a traditional favourite that comes in a variety of designs to suit all tastes. This simple circle hangs on your door, or above your mantelpiece, to offer guests a warm welcome. We love the idea of using a wreath as a centrepiece on your dining table, you could even stand an LED candle in the centre for added drama. Swags are very similar to wreaths, they hang on doors or over mantelpieces and add a charming festive touch to your Christmas home decor.
Christmas garlands are versatile decorations. You can wind them around stair bannisters, decorate fireplaces, drape them over mirrors and large items of furniture such as dressers and display cabinets, or place them artfully on window sills. If your garland is suitable for outdoor use, wrap it around porches or archways to add extra impact to your outdoor look. Garlands can also be used to bring festive cheer to small rooms that can't accommodate a tree – making them a great alternative when space is scarce.
Shop wreaths, garlands and swags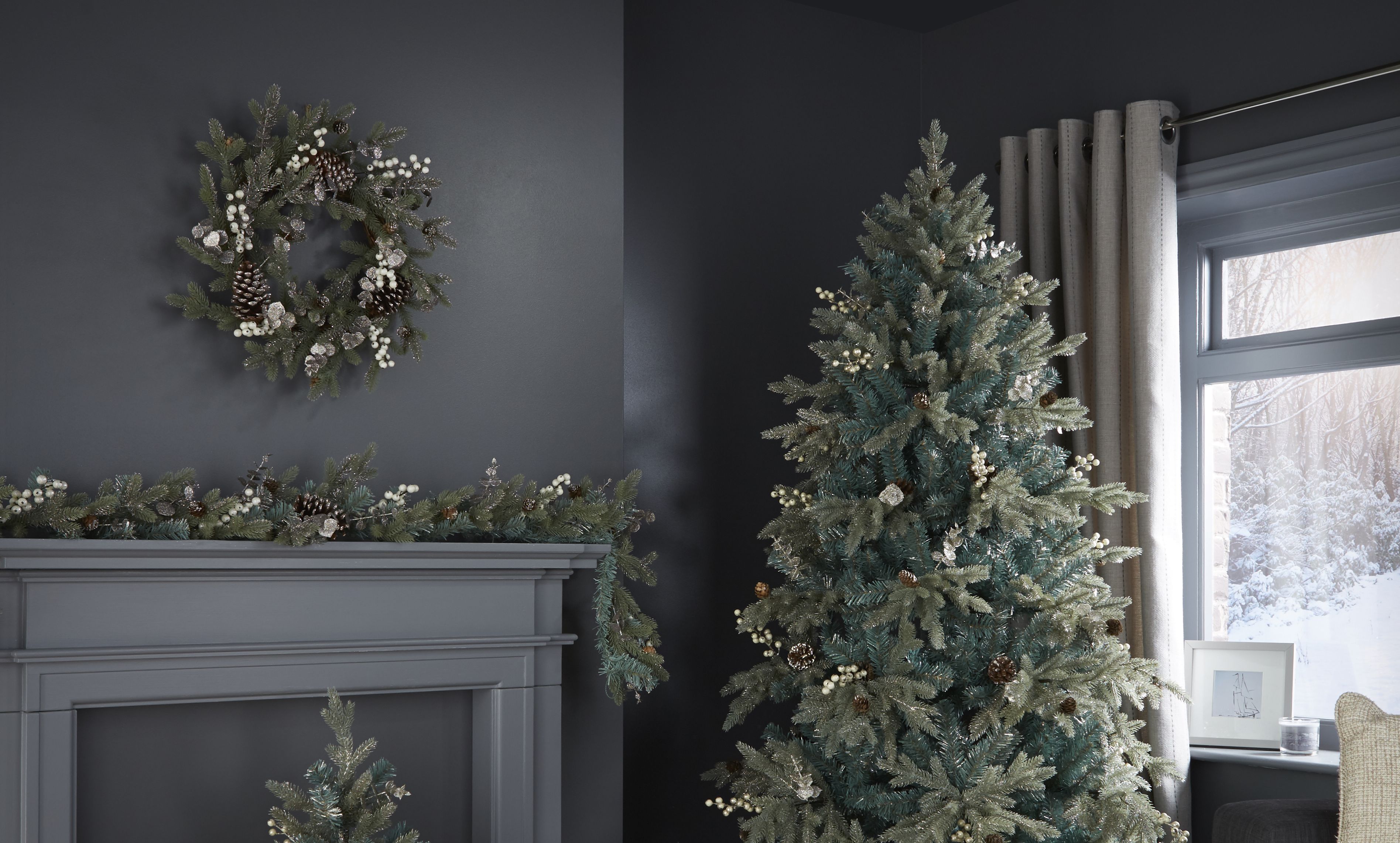 Before you buy
Before buying, it can be helpful to understand where you want to hang your wreath or swag or how you want to arrange your garland.
Safety first
Outside
While outdoors display is one of the most common uses for wreaths, this exposure to the elements can take its toll. If you're thinking of hanging your decorations in the open air with no protection from the weather, we recommend opting for real/ horticultural ones. They can better withstand unpredictable winter weather conditions and dropping needles are less of an issue outside. If hung under the protection of a porch or canopy, some artificial wreaths, garlands and swags can also be displayed outdoors.
If you choose to decorate your wreath or garland with LED string lights, make sure they are suitable for outdoor use. We like battery-powered ones as they don't have trailing cables that pose potential trip hazards.
If using mains-powered lights, plug into an outdoor power socket (read our guide to adding an external power supply and use an RCD to protect against potential accident. Check that the cable can comfortably reach from the socket, and if not, invest in an outdoors-friendly extension lead.
Shop outdoor power Shop RCD Plugs Shop outdoor extension leads
Ensure all decorations are safely and securely attached. All of our wreaths and garlands are fitted with hooks for easy hanging. We recommend adhesive hooks – they don't leave any marks once removed and are quick and easy to apply.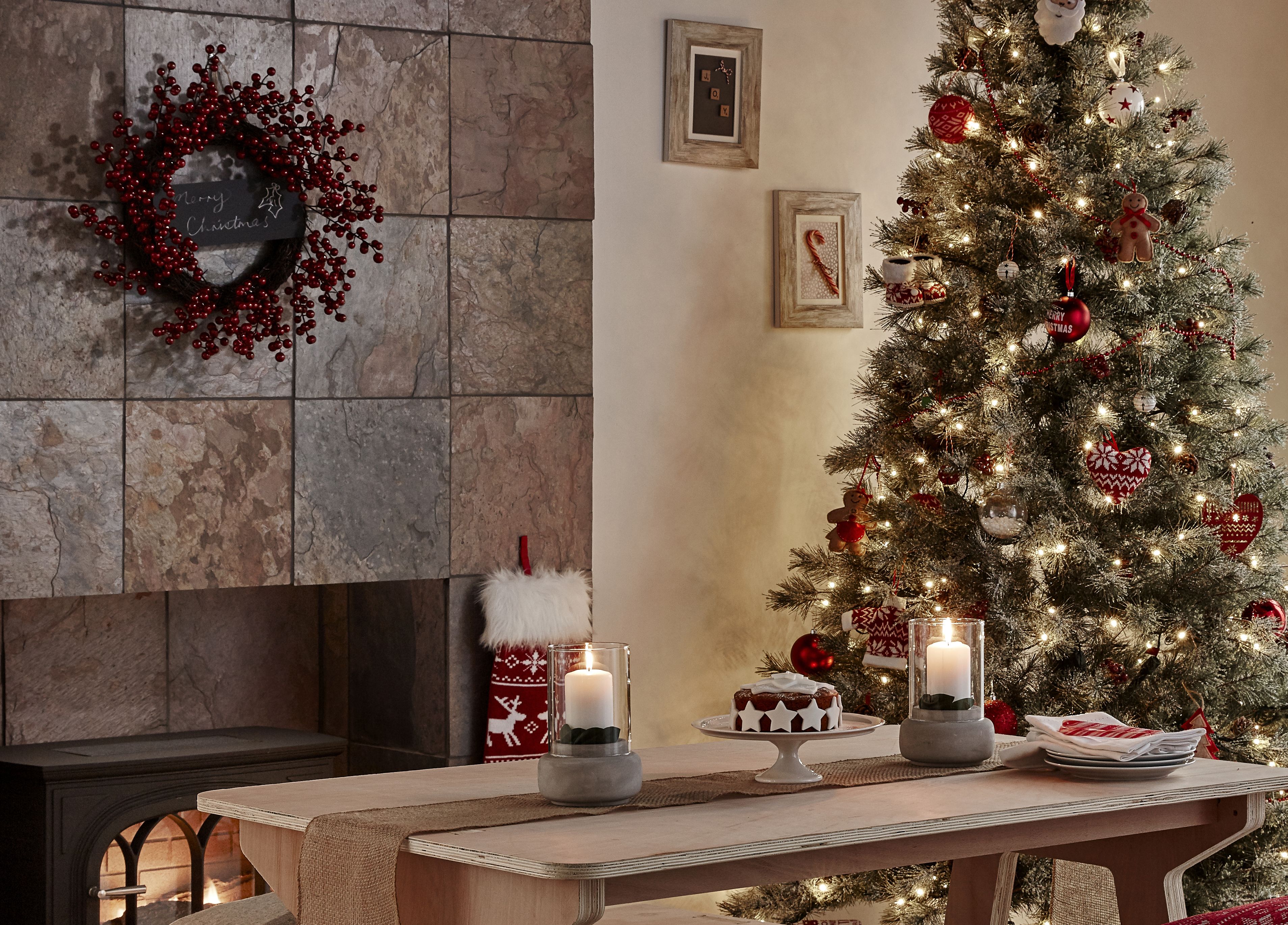 Indoors
Both wreaths and garlands make fantastic table decorations. Light up wreaths with flameless LED candles for safety; and ensure they're never near a naked flame. Take special care if hanging near a working fireplace.
By feature
From real to artificial; pre-decorated to plain; small to large – we offer a super selection of wreaths and garlands to help create your signature seasonal style.