Combine landscaping and interesting plants for a modern look
Looking for something more structured than a cottage garden, but less traditional than a classic garden? Why not introduce some contemporary style into your outdoor space?
With contemporary gardens, it's easy to just think they're all about straight lines and gleaming stainless steel. But they can be so much more than that. And by using modern, all-weather materials in unusual ways, you can create chic, living, up-to-the-minute art in your garden.
Best of all, this look works brilliantly regardless of how big your space is. It suits both large and small, and can be one of the best approaches if you're limited for room with a courtyard garden, modest backyard or balcony. It can also be low-maintenance, with many of the materials used – slate, glass, steel and concrete – requiring very little attention once installed, whilst also looking fantastic when combined with interesting plant life.
Sound like the style for you? Read on for our helpful tips on how to introduce that modern, sleek look into your garden.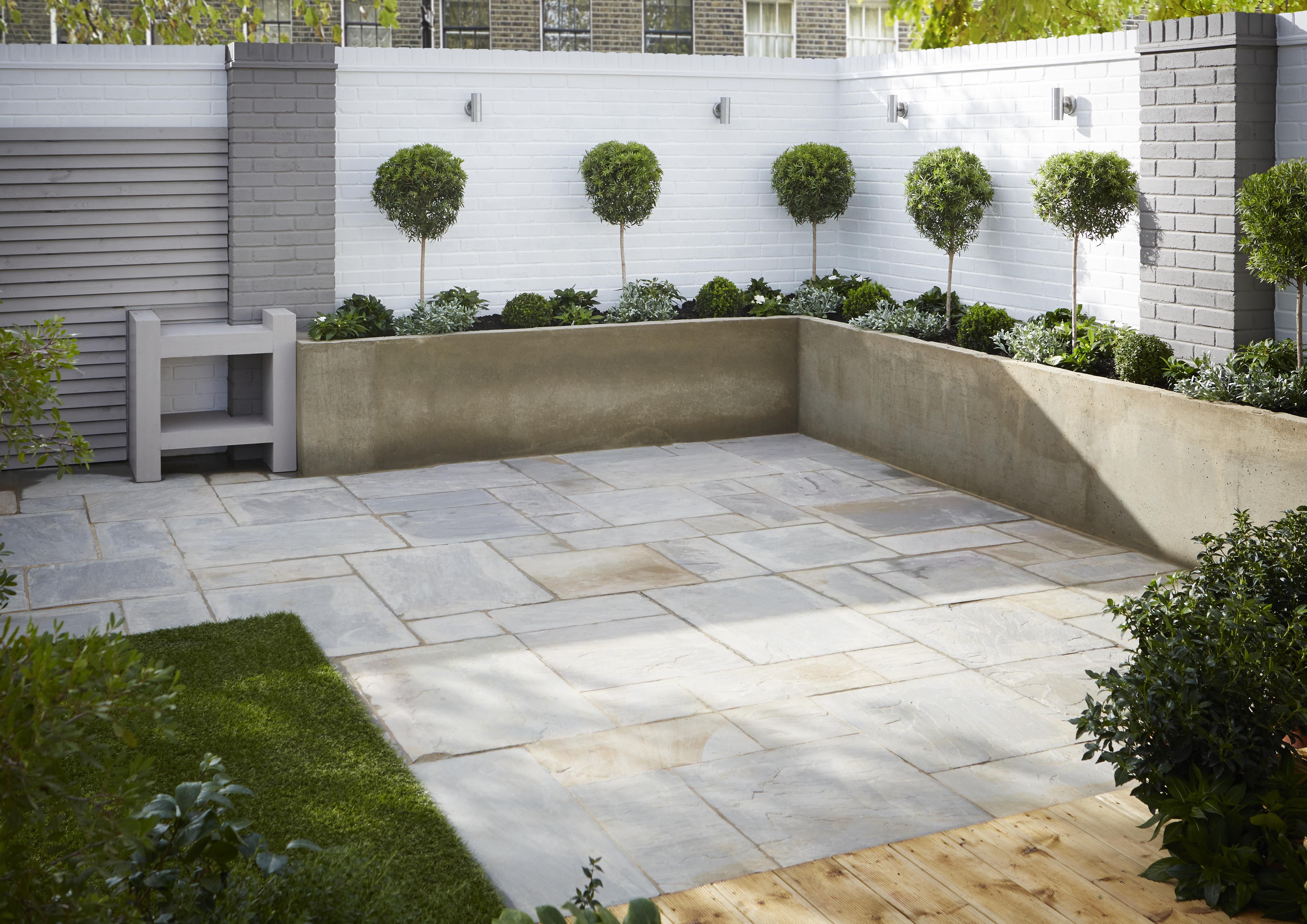 Tools & materials required
Our top tips
Landscaping
The focus of the contemporary garden is most commonly the landscaping elements. Explore contrasting textures with surfaces like wooden decking, slate paving or coloured gravel or stones for maximum impact. If you have the space, play around with landscaping on different levels to create an interesting visual effect.
Decking has become a standard feature of many contemporary gardens due to its attractive yet practical nature. It can fit in almost any size space, and our range of decking oils and stains mean that you can customise it to complement your garden. Or if looking for paving, check out our range of contemporary-themed paving ranges that include natural stone materials such as granite and porcelain for a really polished look.
Read our buyer's guides to decking and paving to help find the right landscaping options for you.
Shop decking Shop wood stains, varnishes and oils
Shop contemporary paving ranges Shop stone, gravel and chippings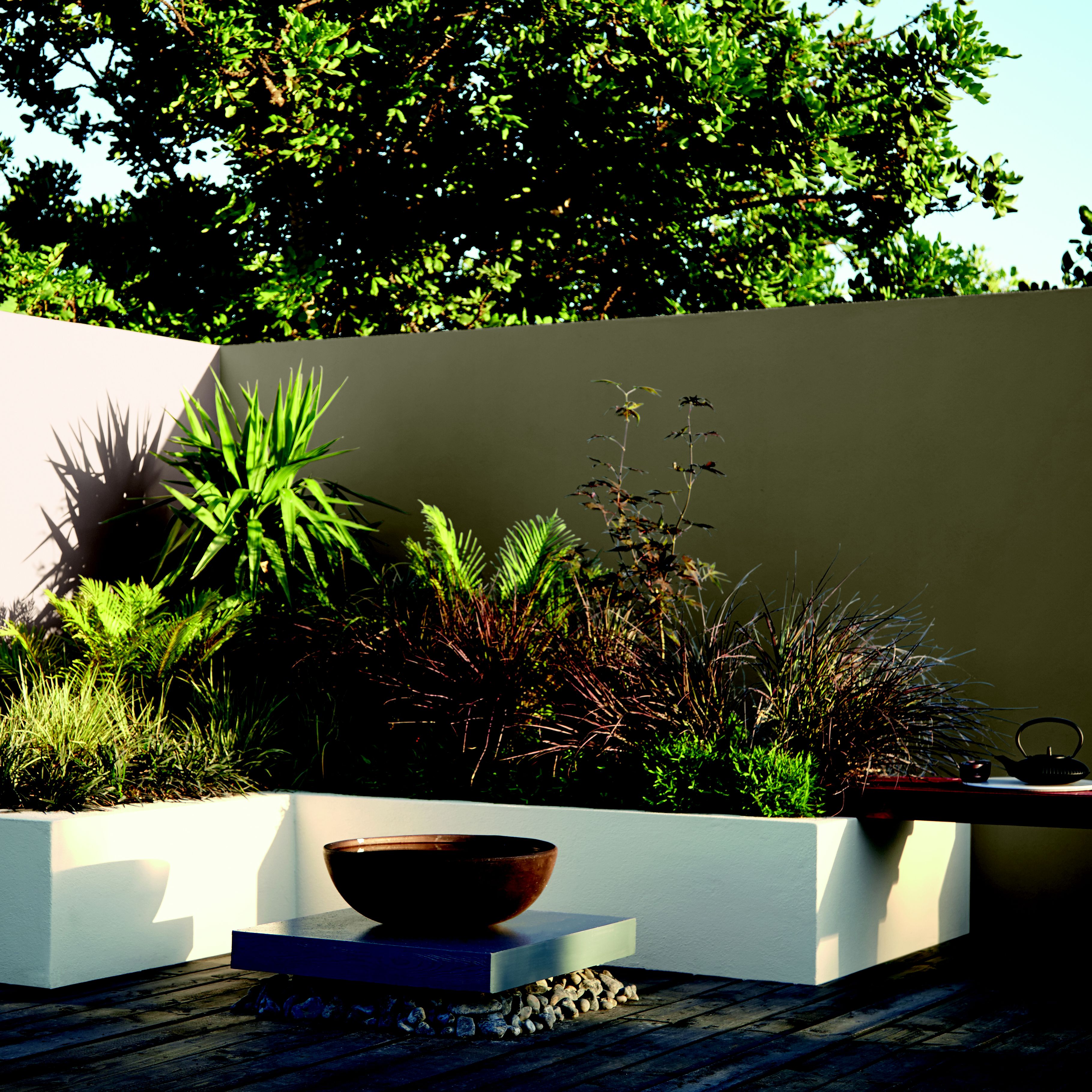 Plants
When it comes to the contemporary garden, planting should be all about structure, focusing on interesting flowers and foliage. Where possible, make sure they're evergreen, so that your plants will look good in your garden all year round. This will also mean less work for you, as once established, most evergreen plants need little more than watering and the occasional feed.
Tall and dramatic, bamboo forms in clumps and comes in various different versions. Check out black bamboo for a particularly stunning specimen – its thick canes turn black after a year. Bamboo is a hardy choice that can be grown in the ground or in containers, in the sun or in partial shade. Just make sure that your soil is moist and well drained.
Rosemary is another popular choice for modern outdoor spaces. Not only does it have great-smelling, narrow leaves that can be used in your kitchen, it will also give you purple/blue flowers from mid-spring to summer, attracting bees and butterflies. Plant it in beds, borders, or pots that are in the sunshine.
If you're looking to add a climber, we recommend wisteria for contemporary gardens. It has a woody stem and fragrant flowers in lavender/purple that are not dissimilar in shape to peas. Grow it over your walls, pergolas, or even any trees that you have in your space. Plant it in full sun and in soil that is fertile and well drained.
When it comes to trees, the Japanese maple is a tough but beautiful choice. Small enough that it can be planted in a pot on your patio or balcony as well in the ground, its leaves turn bright, vivid red in autumn. Be sure to plant it in a spot that's either in the sun or has partial shade and out of the way from cold winds.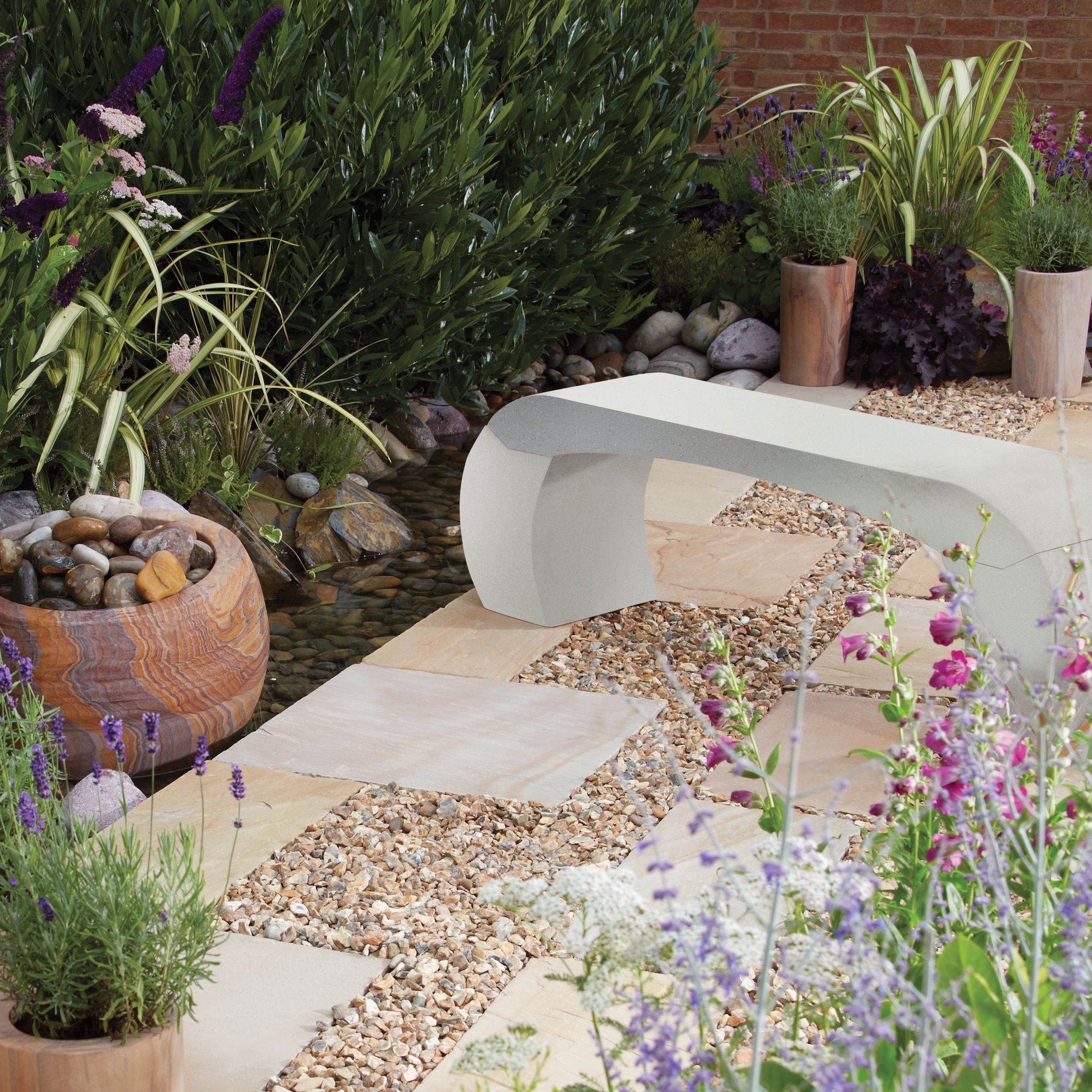 Extras
Make the most of your contemporary garden after sunset with outdoor lighting. It not only offers extra security, but also creates a lovely night-time atmosphere. Solar powered lights are a top choice for ambient lighting - powered by the sun and with no wiring required, they're energy efficient and easy to install. And bring the whole look together with decking lights. These are integrated into your deck boards and work brilliantly on steps to keep everyone safe from falls.
If you're looking to create a focal point, there's nothing quite like moving water to create a beautiful feature and a relaxing feel in the garden. We have a range of contemporary water features to help you create the look you want, as well as ornamental sandstone benches that allow you to just sit back and enjoy the view.
And for those with large gardens, invest in a striking pergola or wooden walkway. These add height, focus and interest and can be placed to frame everything from pathways to patios for a really dramatic look. Keep them, and any other garden structures, coordinated with a lick of exterior paint. We offer a wide range of colours - from subtle to bold - that will help any shed, storage chest or structure complement your theme.
Shop outdoor lights Shop water features
Shop sandstone benches Shop pergolas and walkways