Add country charm to your outdoor space
For a beautiful and romantic outdoor space, cottage gardens are loose, informal and full of brightly-coloured and fragrant flowers all jostling for position and spilling over onto paths and lawns.
Despite the name, cottage gardens are not reserved for thatched cottages in the depths of the countryside. You can create your own wherever you live, and whatever size outdoor space you have. It's all about style, not space or location, so even the most urban or compact of spaces can evoke some country garden spirit.
So let's talk about how you can create yours.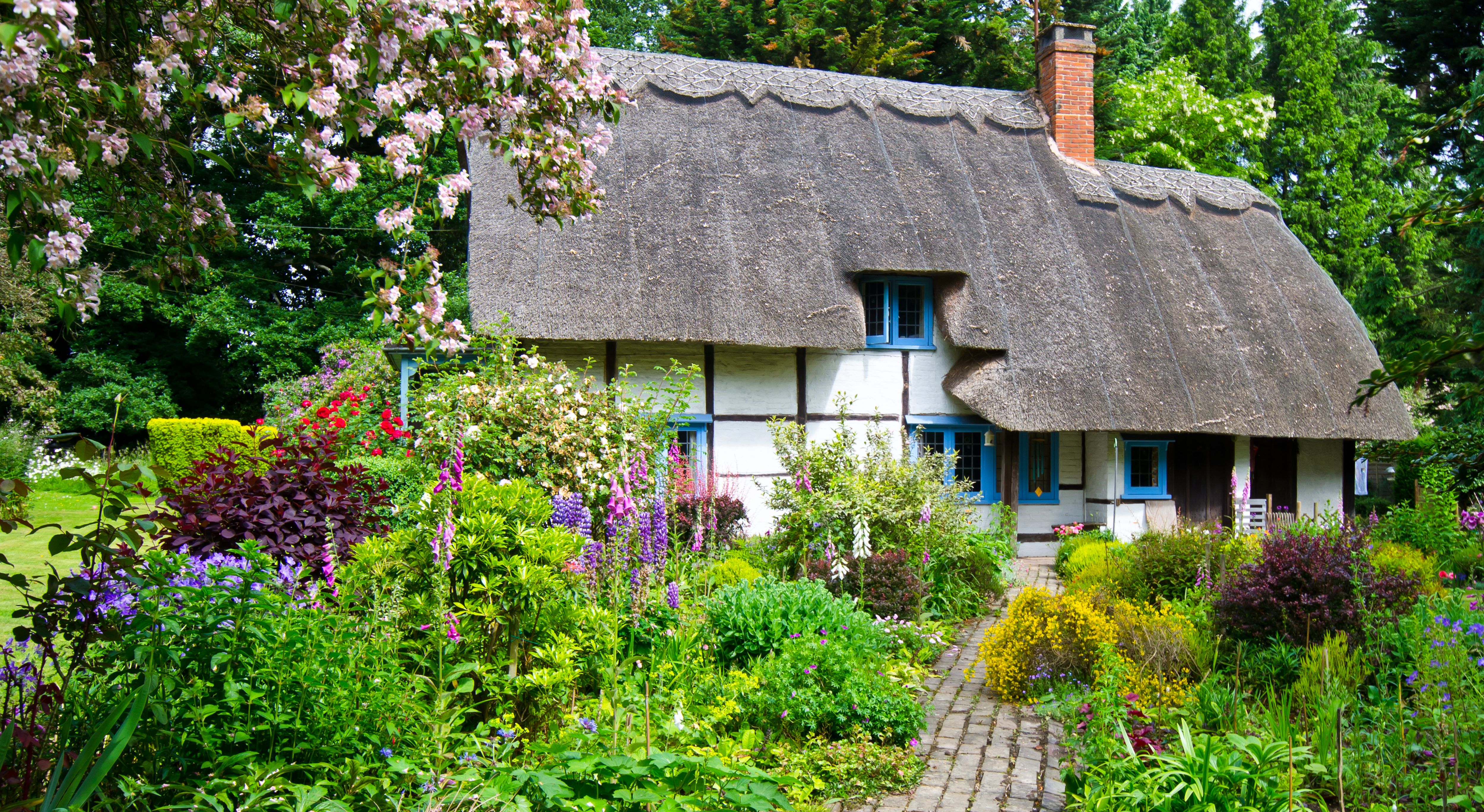 Tools & materials required
Our top tips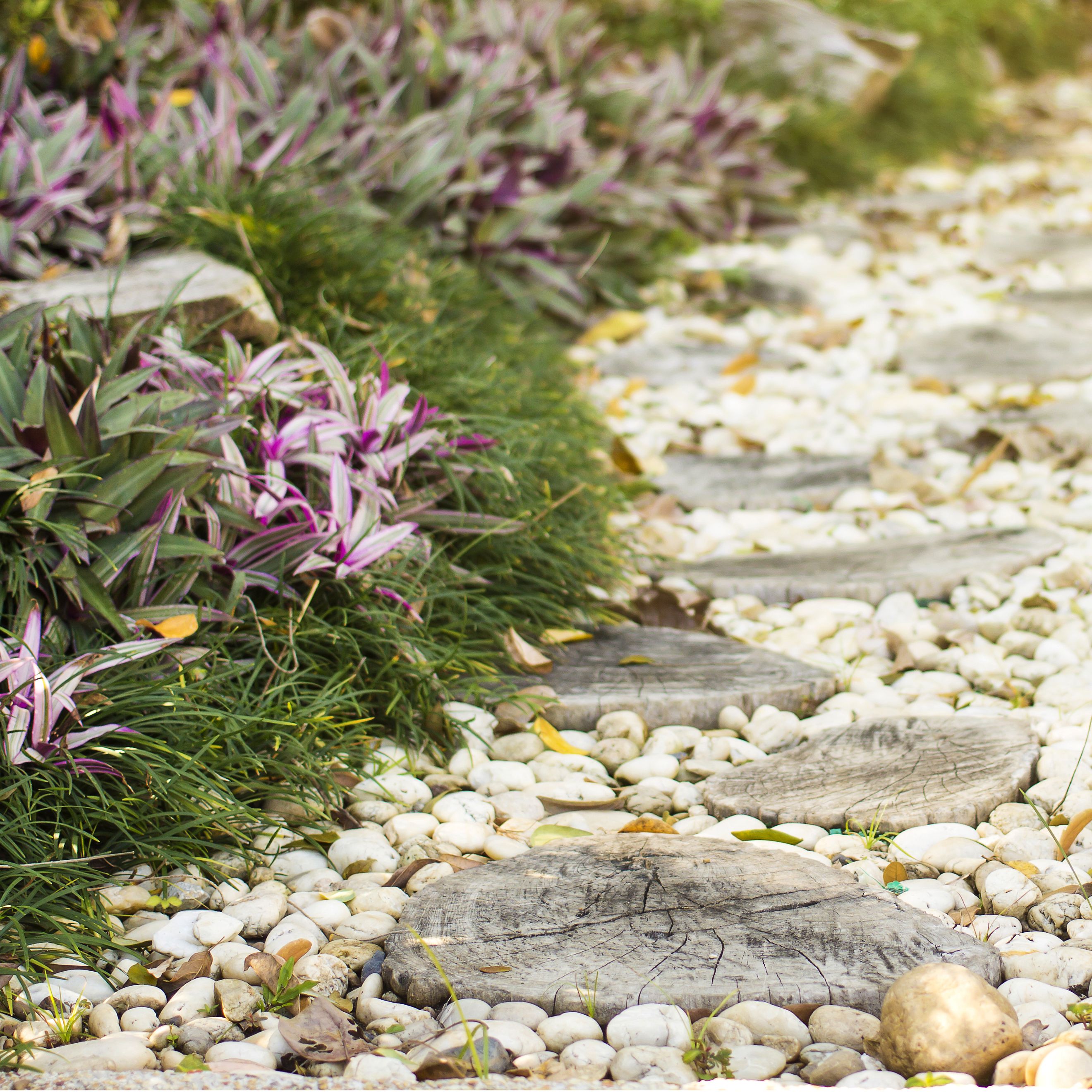 Landscaping
Country gardens are relaxed and unstructured, so play around with asymmetry and textures in your space to create something charming.
Both hard and soft landscaping options, such as patios, decking and lawns, all work in the cottage garden. You can even have some of these elements alongside each other if you have the room. The key is to make sure that obvious straight lines are avoided – this is a garden that is all about smooth curves. So if you're adding a path or stepping stones, they should be curved and winding.
Look to create these from natural paving slab materials, gravel or even bark chips. Our buyers guide to paving will take you through all your options when it comes to choosing the right material for you. We recommend the more weathered options for a traditional look.
Plants
This is a garden that is all about the planting, so dedicate as much space as possible to it when planning your space. And remember to consider how you'll access the plants - you don't want to spend ages planting and nurturing them only to end up treading on them when they grow in size. They'll be densely packed, so look to create easy routes to tend and water them without causing disruptions.
Traditional country gardens were not only irregular in shape, they were also made up of a variety of plants. This outdoor space was a working area where vegetables and flowers were mixed in together. Nowadays, it's a good idea to mix the traditional plants with plants that will add interest into autumn and winter, as well as providing ground cover that will help keep weeds at bay.
When choosing flowers for your country garden, decide if you want pastels for a soothing look, or if you'd prefer to create a more energetic style with bolder, more vibrant colours. We advise planting both perennials and annuals so you have something beautiful to look at, all year long.
Sweet pea, a fast-growing annual climber, is strongly scented and comes in a range of colours. They'll give you flowers throughout summer and early autumn – plant them in well-drained soil that gets full sunshine. Another flower that grows throughout the summer and into autumn, plus comes in a range of bold colours is the dahlia. This perennial is bushy, quite hardy and will look great in your sunny borders.
Don't forget to think about scent when planning your country garden. Lavender is an ideal evergreen shrub for your borders, low hedges or even your containers, giving you great smelling blue/mauve foliage from July until September.
When it comes to trees, sliver birches are a top choice, with their gorgeous liver-white bark that develops black cracks in it as it ages. It will also give you yellow catkins (clusters of flowers on a spike) in spring. Or why not choose the classic British apple tree? Plant it in sunny, or partially shady area, and it will give you juicy apples from September to October. If you have the space, plant another variety of apple tree nearby. They'll then cross-pollinate and you'll get more apples from both.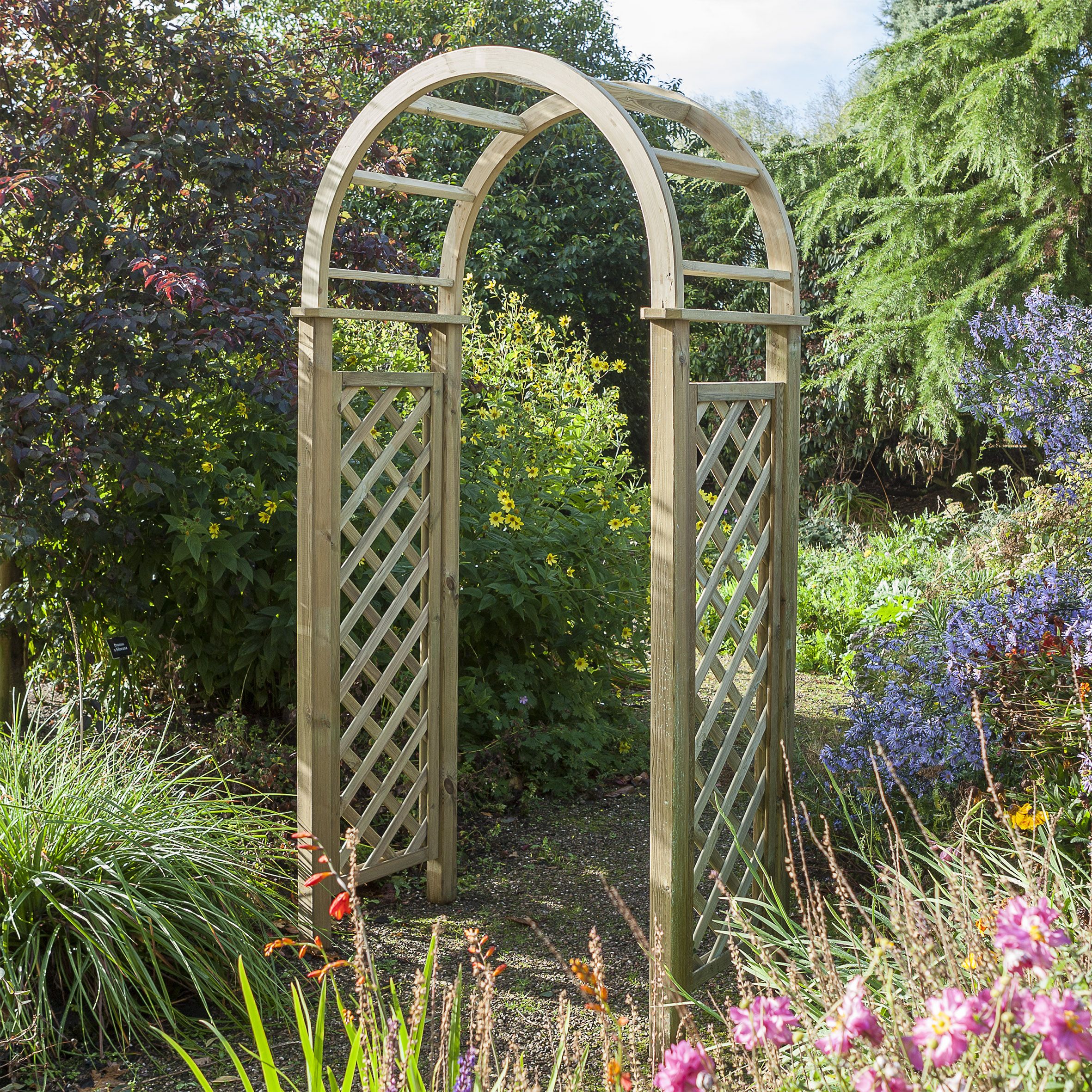 Extras
Garden structures
For a touch of romance, think rustic arches, arbours or pergolas surrounded by, and even partially covered with, flowers and foliage. Put seating in a sunny corner where you can sit and enjoy nature in full bloom, read a book or just have a cup of tea. If you don't have the space for these garden structures, consider trellis. This can be added to the top of existing fencing or used by itself. It adds intricate detailing and also a favourite spot for climbing plants.
Shop arbours, arches and pergolas Shop trellis
Exterior paint
Timber adds a natural warmth to country gardens, whether used in decking, sheds or arches. Keep it looking good by regularly protecting with stains and varnishes. Or add some more colour to your space with our wide range of exterior paints. We recommend keeping things soft and subtle so that your timber blends in with the landscape for the most seamless country style.
Shop exterior paints, stains and varnishes
Pots and planters
If you have limited space to create your rustic garden, stock up on pots and containers to bring the floral fun to your outdoor space. Choose them in varying sizes, shapes and styles to keep things looking unfussy and, where possible, add planters and raised beds for visual impact at different heights. Combine this with plants of varying heights and colours, and to make them a visual delight.