Advice on growing and caring for home-grown tomatoes
Tomatoes are a great place to start if you're looking to dip your toe into growing your own produce. They're easy to grow - perfect if this is your first time growing fruit and vegetables, and you'll only need a couple of plants to provide you and your family with enough to enjoy. These popular fruits are incredibly versatile - tasting great in salads, sauces and soups, and even liquidised into a delicious juice - and are packed with essential vitamins and antioxidants.
There are plenty of different types available, from firm favourites like tiny cherry tomatoes to more unusual ones such as our Black Prince variety with its black/brown coloured flesh. So if you're keen to add some colour to your vegetable patch and impress with your home-grown efforts, read on for step-by-step instructions on how to grow your own tomato plants.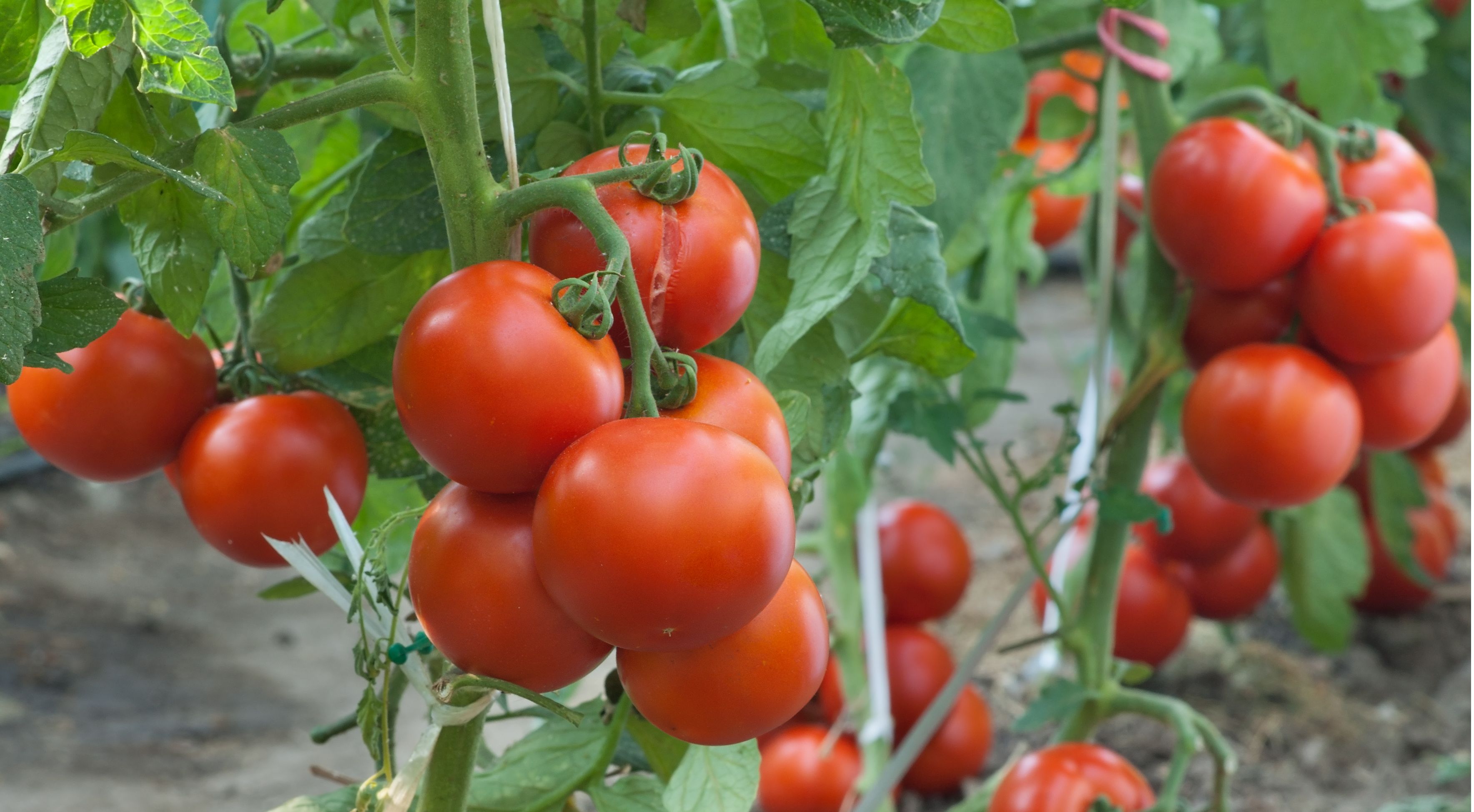 Tools & materials required
Types of tomato plant
There are two main types of tomato plants to choose from – each grow to different sizes and can be bought as seeds or as young plants ready to be planted outside straight away.
Vine tomato plants
Also known as cordon or indeterminate tomatoes, these are the most common of the tomato plants. They grow in a single stem with the fruit growing on either side of the vine (any side stems will need to be removed by you) and will grow to be very tall – sometimes as much as 2.5 metres (m) in very warm conditions. Putting a stake next to them allows you to train your plants to grow upwards, protecting the fruit from touching the ground and giving you more space.
Bush tomato plants
The smallest of the tomato plants, bush or determinate tomatoes form quite compact plants, unlike conventional tomatoes that make a long stem and need staking. Tumbling varieties are good for hanging baskets, while bushy ones are best grown in pots. Usually the fruit is red or yellow in colour and the size of the fruit ranges between that of a marble and a golf ball.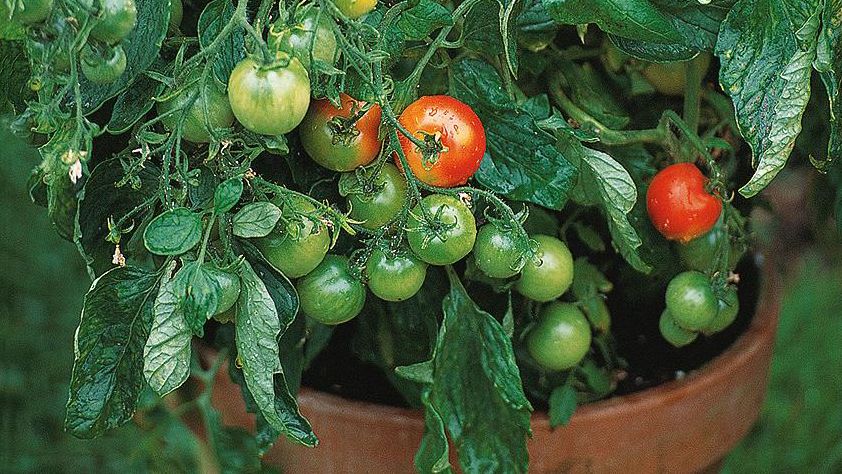 How to grow tomatoes from seed
Tomato seeds will germinate as early as March with the help of a heated propagator; by April an unheated greenhouse should provide enough warmth.
If you're new to sowing seeds, read our how to article for some top tips.
You will need: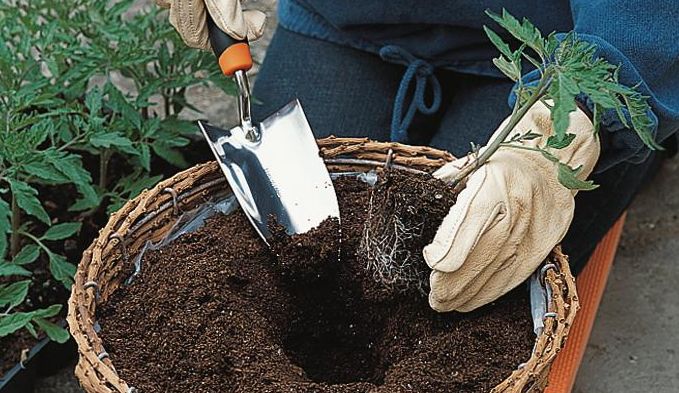 Step 1

Fill your seed tray or pot with compost and level off the top. Scatter the seeds across the top – remembering to space them out at the suggested distance (see the packet for instructions). Very lightly water using a watering can with a fine spray rose head.

Step 2

Place your seed tray or pot somewhere warm and bright to ensure the tomatoes will sprout.

We recommend any of these three options:

On a sunny windowsill. You may want to enclose in a polythene bag to create an artificial greenhouse effect.
In a heated propagator – making sure to lightly water regularly.
In a heated greenhouse.

Step 3

Water regularly for the next couple of weeks until your seedlings reach a couple of centimetres in height.

Step 4

Once they've reached this height, prick them out. This is the process of giving them more space to grow. Prepare some new seed trays or pots with compost, ready for the baby tomato plants to be lifted from their original compost. Use a small stick to help their roots come out. Always hold tomato seedlings by their leaves as their stems are very tender and could be squashed. Discard any seedlings that look sickly or haven't grown as fully as the others.

Step 5

After transferring your tomato seedlings to a modular seed tray or small pot, allow them to grow for approximately three weeks until they reach roughly 15 centimetres (cm) in height.

Step 6

When the plants are about 15cm high with a stem as thick as a pencil, transfer them to a larger pot, bed or grow bag. This can be in an unheated greenhouse, cold frame or out of doors if the weather is mild and sunny. Plant them quite deeply, so that the stem is buried up to the first leaves, then water in. The buried part of the stem will then grow new roots. 


Step 7

Water regularly, feed as required and care for them until the fruit has ripened.

Step 8

Unless you're growing bush tomato plants, once it reaches around 50cm in height, it will require staking to provide the support it needs when it starts to fruit. Without support, the plant will collapse and the stems will snap due to the weight of the fruit. Stick a bamboo cane or garden stake into the soil, close to the plant but taking care to avoid any visible roots. Use garden twine to loosely anchor the main stem of the plant to the stake or cane.
How to care for tomato plants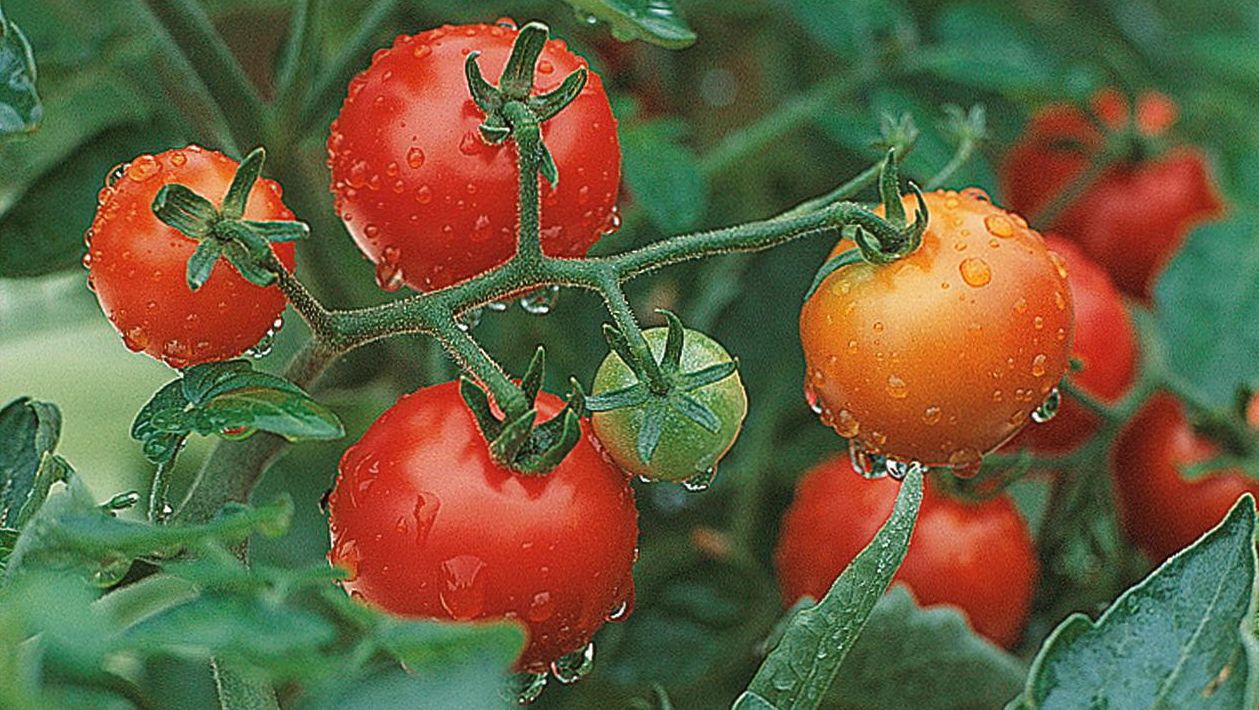 Shelter
Tomato plants need as much light, warmth and shelter as 
you can provide. If you live in a cooler part of the country a greenhouse, conservatory or even sheltered patio will provide extra warmth and encourage them to fruit more quickly, so do place them here if you can. Bear in mind that tomato leaves are susceptible to a fungus called blight; and protecting them from the rain will prevent this.
Water and food
Be sure to water regularly – especially in dry weather. Irregular watering can cause the fruit to crack or could lead to blossom end rot. This is where the bottom of the fruit turns black and sunken. And don't forget to feed your tomatoes at at the flowering stage and beyond.
Pruning
As well as being staked, vine and semi-determinate types should be regularly pruned. This involves removing any unwanted growth to ensure that you get the biggest tomatoes possible. Pruned plants put all their energy into the remaining fruit meaning that you can also expect an earlier harvest.
Ripening
Fruits will form quite quickly over the summer but can seem to take a while to ripen, especially in dull weather. It's worth waiting for the full colour to develop: although a red tomato can be eaten while still pale, the flavour will be much richer, sweeter and juicier if the fruit is left to ripen on the vine before picking.
Ripening times will be longer by September; any mature but unripe tomatoes can be picked at the end of the month to ripen in the warmth indoors, although the flavour won't be as full.