Get outdoors and get creative with lights this Christmas
Hanging your Christmas lights – you either love it or hate it. If you're unprepared it can be a time-consuming and tricky task, and won't show off your decorations at their best.
Fortunately, we can help to make decorating your home and garden much less stressful and much more rewarding. Whether you're aiming for simple and subtle or big and bold, we can point you in the right direction to make the most of your Christmas lights.
We'll guide you through the best way to hang string lights outside your home, to help make decorating your home a festive and hassle-free experience this Christmas.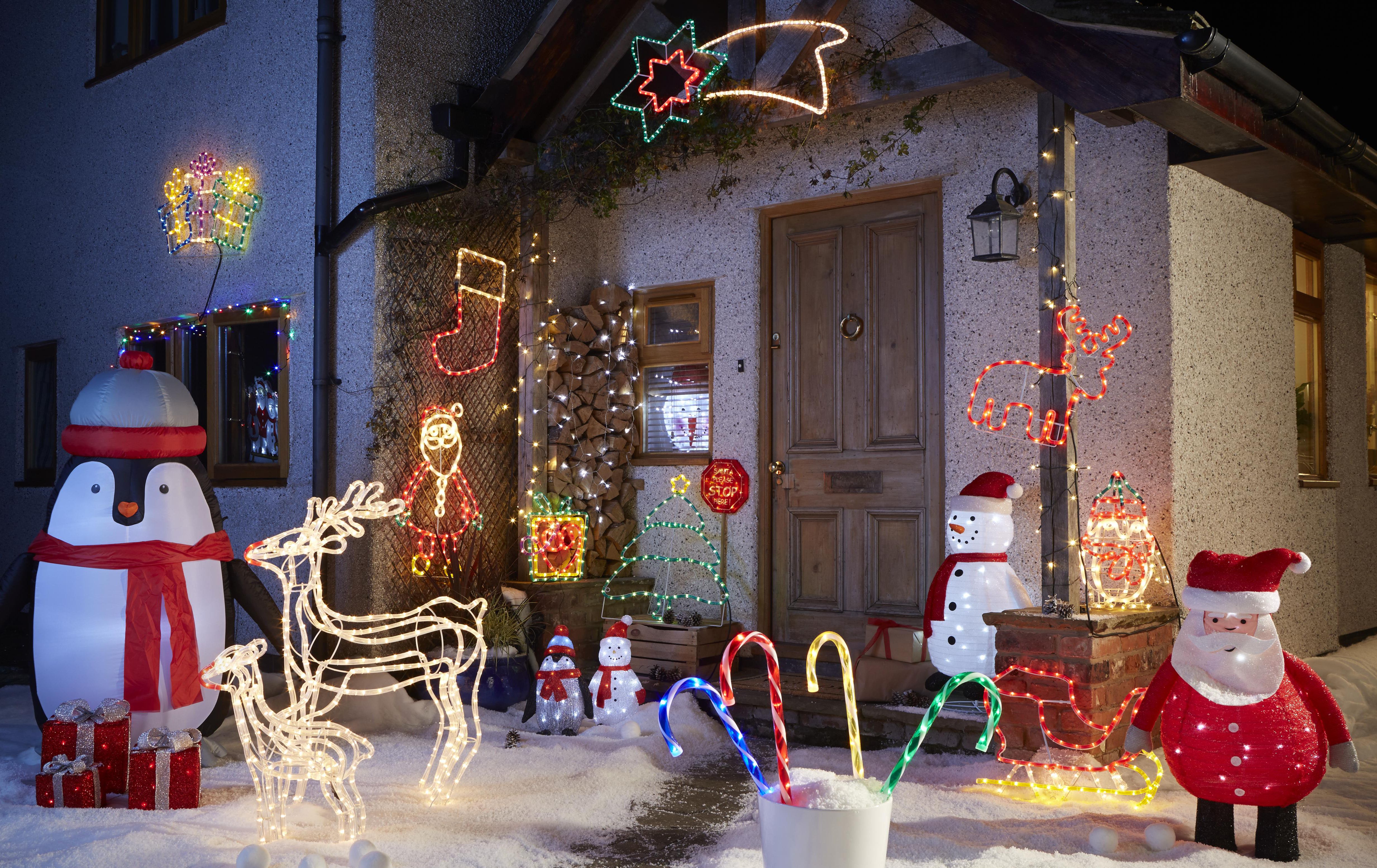 Tools & materials required
Before you begin
Most outdoor Christmas decorations are powered by mains electricity. You'll need access to a safe outdoor power supply to plug your lights in, so check that you have a suitable outdoor socket that will protect the electrics against the elements. Measure the distance from the socket to where you want to hang your lights, and check whether the cable on the lights will be long enough. If it isn't, consider a different location or opt for a weatherproof extension lead that is safe to leave outdoors.
Shop weatherproof extension leads
If you don't already have an outdoor power supply, find out how to install an external socket in our helpful guide.
How to add an external power supply
If you don't have access to an outdoor socket, or have a larger garden, then battery-powered lights are ideal. They're a great choice for decorating sheds, summerhouses and other outdoor buildings – as well as arches and arbours. You won't need to worry about trailing cables, and they offer greater flexibility if you're going for a more creative display. Don't forget to stock up on batteries or keep a charger and rechargeable ones to hand.
Shop battery-powered lightsShop batteries
Working with battery-powered lights?
Instead of starting at a plug socket, think about where you'll want to place the battery pack. Bear in mind that a decorating clip won't be strong enough to support this, so consider a window sill, ledge or low wall that you can safely place this on. Somewhere that won't easily get knocked is ideal as you won't want a falling battery pack to bring your display crashing down.
Once your battery pack is safely located, follow the same steps as for a mains-powered lights to create a lighting display you can be proud of. Don't forget to keep spare batteries, or a battery charger if your opting for rechargeable, close to hand.
Be sure to only use lights which are suitable for outdoor use – these will be weatherproof, ensuring safety and that your display will last the festive season.
Before you start work, plug in your lights at ground level to make sure that everything is working correctly. It will be much harder to replace bulbs or fix problems once the lights are hung, so tackle this first. If you're bringing lights out of storage check the cables – if these look worn or damaged then replace your decorations, as this could be a sign they are unsafe.
Don't forget that if you're working at height, on a ladder, to hang your lights, there are a few simple precautions to take. Make sure that you place your ladder on a solid, level piece of ground and ask another adult to hold the ladder still whilst you're working. Why not team up with a neighbour to help each other decorate your homes? You'll also want to make sure that you can reach the highest point you're hanging lights from without standing on the top step of the ladder.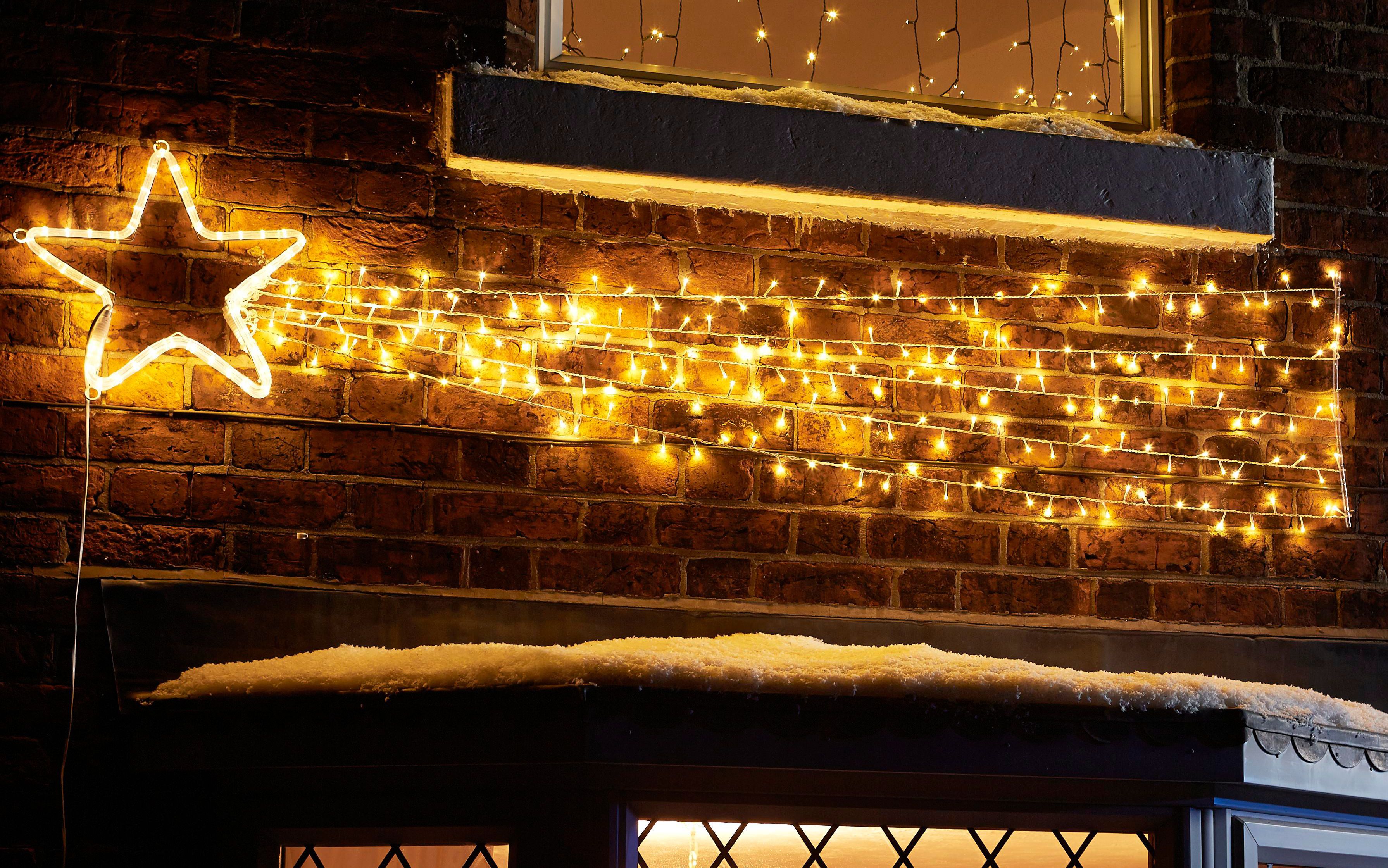 How to decorate trees and plants with Christmas lights
String and rope lights can add a delightful twinkle to Christmas trees and other garden plants and trees. Trees can be decorated in much the same way as an indoor Christmas tree, and no extra supplies are needed.
You might need:
Outdoor string lights – choose between mains-powered (if you have an outdoor power supply) or battery-powered (if you don't have access to a power point or would rather avoid trailing cables)

Potted real Christmas trees– if you don't have any suitable foliage to decorate in your garden, a potted tree is a great choice. They can easily be moved around, and will weather the festive season better than a cut tree.
Top tip: Net lights
If you're decorating foliage outdoors, why not try net lights? As the name suggests, they're meshed together in a square net rather than the lights being attached in a string. Net lights are great for draping over evergreen trees and plants as the lights will all be evenly spaced amongst the greenery. They're also quicker to hang than string or rope lights.
Shop net lights
Step 1.

Take your length of lights, and find the end. This will be the first light you place on the tree.

Step 2.

Start from the top and work your way down the tree – you can either work around the tree, or zig-zag across the front if this is the only part that will be seen. Ideally, you'll want to space the lights out evenly from top to bottom.

Step 3.

Once you reach the end of the bulbs, wrap the cable loosely around a lower branch to secure and run the rest of the cable to the socket.
Decorating the outside of your home with Christmas lights
Where to start
There are no hard and fast rules when it comes to decorating your home and garden. Create a stunning display on your house by highlighting features such as porches, windows and the eaves of the building. Bring life to your garden by illuminating summerhouses, arches and arbours. Mix and match different styles of lighting in the same colour for a coordinated display or go for similar styles in bold to inject some fun into your outdoor space.
You might need
Outdoor Christmas lights - depending on the look you're going for, you might choose different type of lights from our wide range. Opt for warm white string lights to delicately illuminate the eaves of buildings for a subtle, traditional look or welcome in the frosty weather with sparkling icicle lights. Net and curtain lights can create a magical, twinkling display when suspended above windows or draped across arches and arbours in the garden. If you're not sure what lights are right for your home and garden, find more advice in our buyer's guide.
Gutter hooks or decorating clips. To hang string and rope lights, you'll want to use outdoor decorating clips that are suitable for string lights. These will allow you to hang your lights between a series of fixed points. Decorating clips can be stuck onto wooden and uPVC surfaces, such as door frames, gutters and fascias. Alternatively, gutter hooks can be hooked onto the edge of your gutter for a quick, moveable solution. Just make sure that the material you're attaching them to will be strong enough to hold the weight of your lights.
A ladder
An outdoor extension lead (if needed)
Another adult to give a helping hand
Step 1.
Think about the effect you'd like to create with your lights before you get started. You might want to create a hanging icicle effect along the edge of your roofline, highlight your door or porch, or illuminate features such as door and window frames.
Step 2.
Work out how far your lights will reach from your plug socket, and consider using an extension lead if needed. You don't need to be very precise at this point, striding out the approximate length of the cables should give a good indication.
Step 3.

Attach your decorating clips or gutter hooks to the surface you are decorating at regular intervals. Use a clip or hook every 30 to 50 cm. If your lights are heavier, like those with hanging icicle details, space the clips or hooks closer together to support the weight.

Use the following guide to work out how many clips or hooks you'll need;

For lights with a 3-4m cable = 10 decorating clips or hooks
For lights with a 7-8m cable = 20 decorating clips or hooks
For lights with a 14-15m cable = 40 decorating clips or hooks
For lights with a 24-25m cable = 80 decorating clips or hooks

Step 4.

Plug the lights in, but do not switch these on yet. Work backwards from the socket, clipping the cable into the decorating clips or gutter hooks.

Take care not to pull on the cable, and try to avoid leaving cables hanging very loosely. Aim for the cable to be snuggly secured but not tugging on the plug socket. Not only is this safer, but it'll also create a neater effect. You'll also want to only attach one piece of cable to each hook or clip – use multiple if you'd like to hang many lights in a similar place.

Step 5.

Work slowly around the area you're decorating until you reach the end of your string of lights.

Make sure that you've got a decorating clip or hook in place to hold the end of the string.

Step 6.

Take a step back and have a good look at your lights. Are the bulbs evenly spaced? Do you have any droopy cables where you didn't expect them? If there are any problem areas, now's the time to go back and adjust where needed.

Step 7.

When you're happy with the spacing of your lights, you're ready to switch on! Take a step back and admire your work.