Green up the garden by with grass seed
Grass is a welcome addition to any garden. It adds year-long colour to your outdoor space, is ideal for children to play on and feels amazing to walk on barefoot.
If you're looking to create a new lawn area, lawn seed is a low-cost way to get some greenery into your garden. While it takes longer to establish than turf, there's a larger range of grass types available and it's easier to lay. Plus, if you buy seeds and the weather is too wet to sow on the day you'd planned, you can hold onto them until the weather's better. Turf, on the other hand, has to be laid pretty quickly after it's been bought.
If you decide that you do want to lay turf instead of seed, read our article on how to lay a new lawn with turf.
Read How to lay a new lawn with turf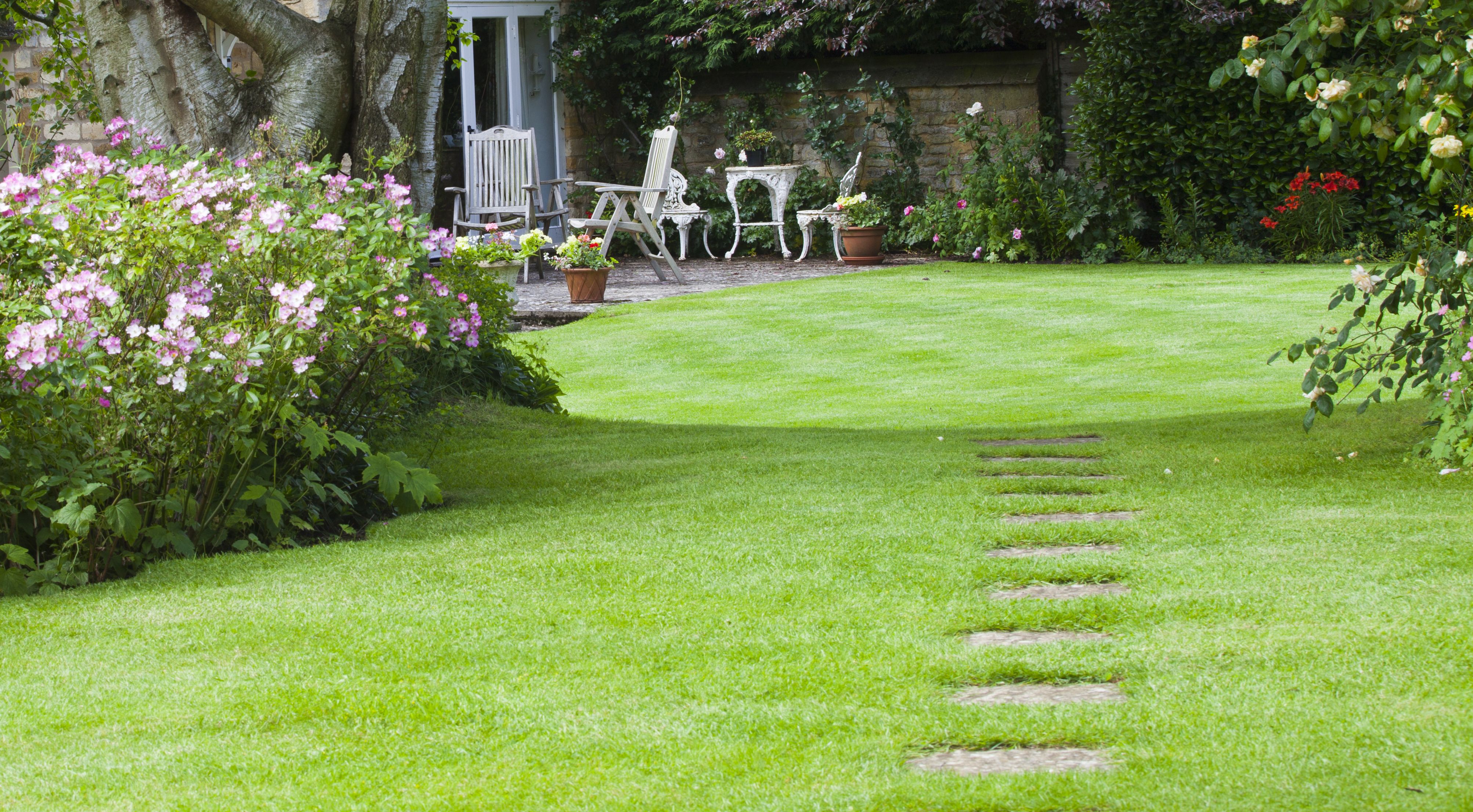 Tools & materials required
You might need
Tools
Materials
Protective kit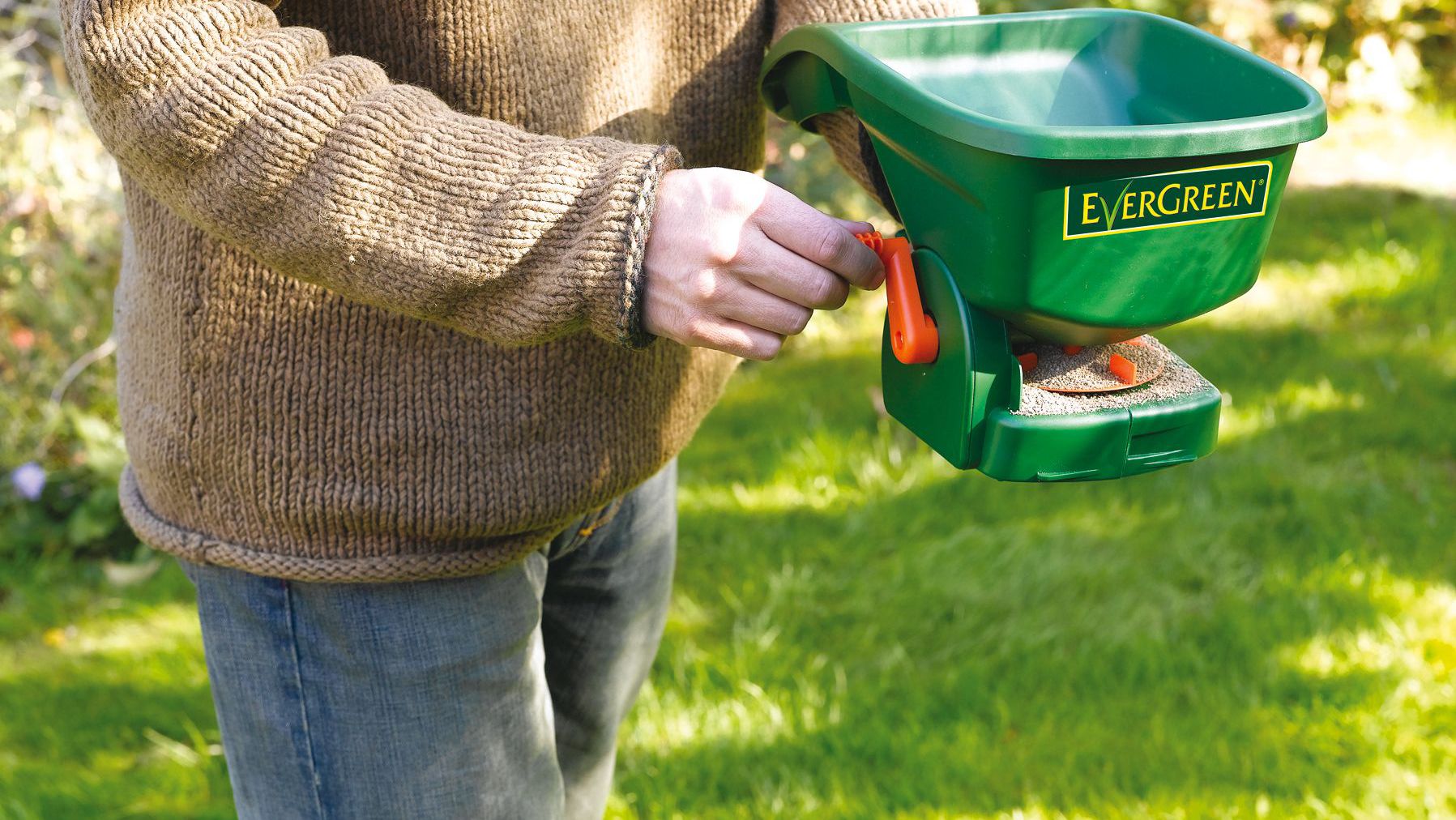 Before you begin
When's the best time to lay grass seed?
Lawn seed should be sown in either spring or early autumn.
How to choose lawn seed
There's a wide range of grasses to choose from depending on what you need in your garden. You can even use more than one lawn seed to best suit these different garden zones. And if joining the two areas, seed where they meet with a mixture of the two types for a gradual and seamless change.
Choose your lawn seed based on what kind of lawn you'd like:
Family lawn seed. This is made up of tough and coarse grass seeds producing a lawn that's durable enough to withstand regular use – whether it's being used as a party venue or as a football pitch.
Ornamental lawn seed. This mixture creates a fine and attractive lawn that will tolerate close mowing. It doesn't contain any of the coarser grasses like ryegrass.
Alternatively, consider your garden's conditions.
Shady areas of your lawn will need a particular type of lawn seed that helps prevent it from going brown without sun.
Or the amount of time you have to spend on the project.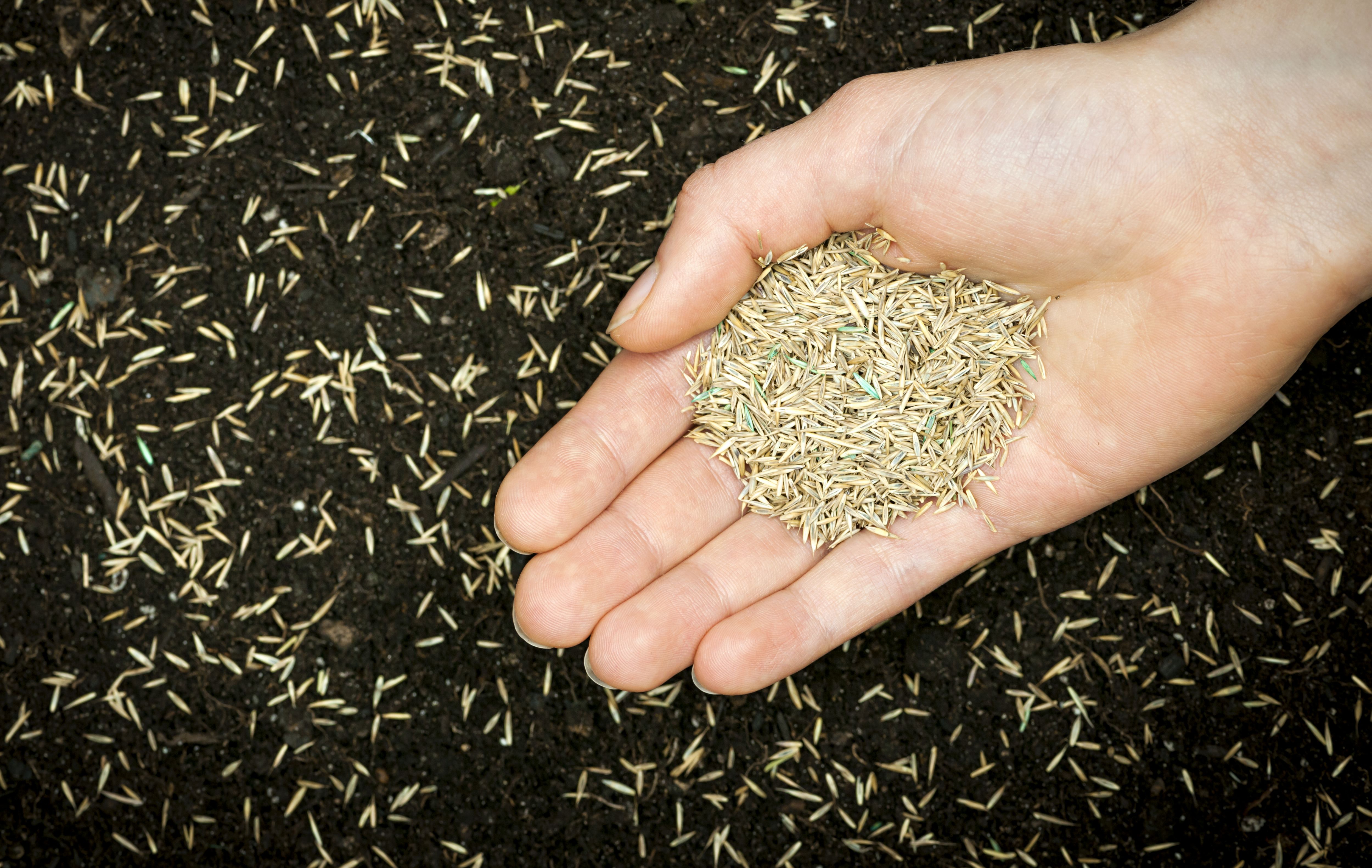 How much lawn seed is needed?
How much lawn seed you need depends on the size of your lawn and the type of seed that you're using. Check the product's packaging for recommended amounts.
Top tip: Assess the area for potential problems
Before laying a new lawn, think about the part it will play in your overall garden layout. Consider where people will walk, or if there are any obstacles that will get in the way 
of mowing. Areas likely to be subjected to heavy wear and tear – such as access routes and shortcuts or children's play areas – are better anticipated at the planning stage. If need be, place stepping stones within the lawn, and position children's play equipment elsewhere.
How to prepare the site
Before you lay the seed, it's essential to prepare the site.
Step 1
Clear the ground of all stones, debris and weeds. If necessary, treat any stubborn weeds with a systemic (non-residual) weed killer – this will reduce the likelihood they'll reappear later.
Then dig over the entire site with a garden fork, mixing in compost (if you need to) which will improve the condition of the soil. Break down any hard lumps by bashing them with the back of the fork.
If you're working across a large area, use a powered cultivator (also known as a rotavator) – these can be bought or hired.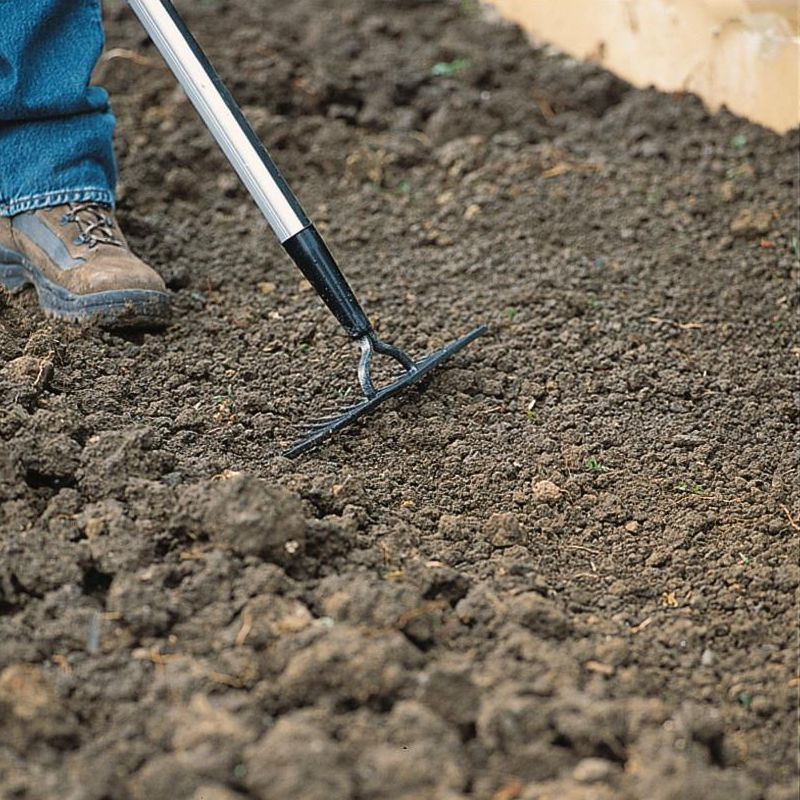 Step 2
Now that the soil is roughly-dug, add some pre-turf and seed fertiliser at about half the recommended rate and continue to take out big stones and bits of old roots.
Then use a garden rake to go over the ground to produce an even surface.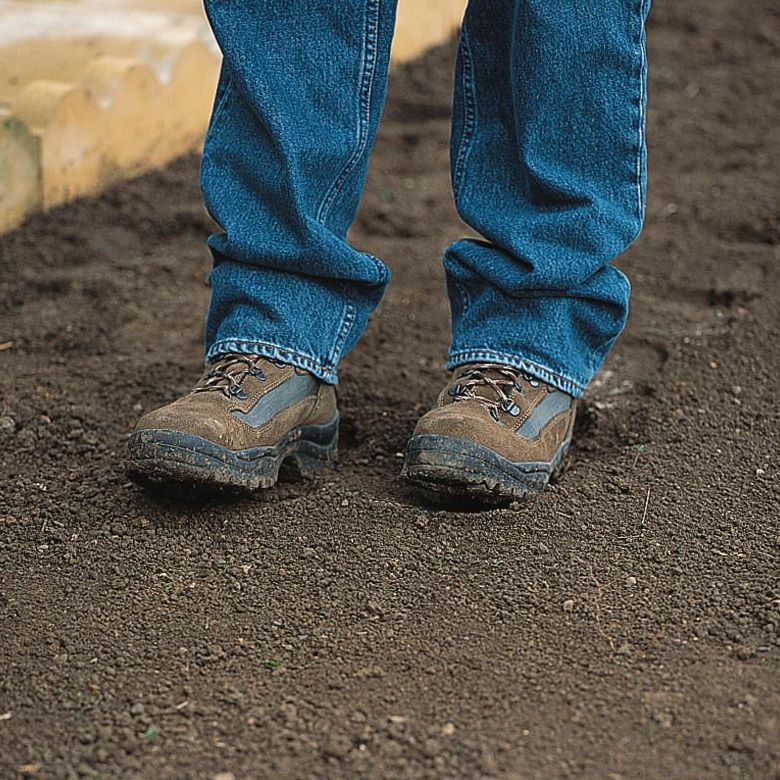 Step 3
Firm the soil down by compressing it with the heels of your boots.
Be methodical – start at one end of the patch and trample the soil in a straight line across the end of the plot, then turn around and go back. Carry on shuffling over the earth until you've covered the whole area with footprints.
Then gently rake over your footprints so that the surface is similar to fine cake crumbs. Fill in any hollows and remove any last lumps of root and debris until the ground is completely flat. You may have to repeat this a few times to get the perfect finish.
Keep off the lawn until you are ready to start sowing seed.
How to sow grass seed
Smaller lawns can be sown by hand; for a larger lawn, use a spreader.
Step 1
If spreading seed by hand, tie four 1metre (m) bamboo canes together with garden twine to form a square – then spread a measured quantity of seed within it. This will show you how densely you need to sow the seed.
Repeat until the entire area has been covered.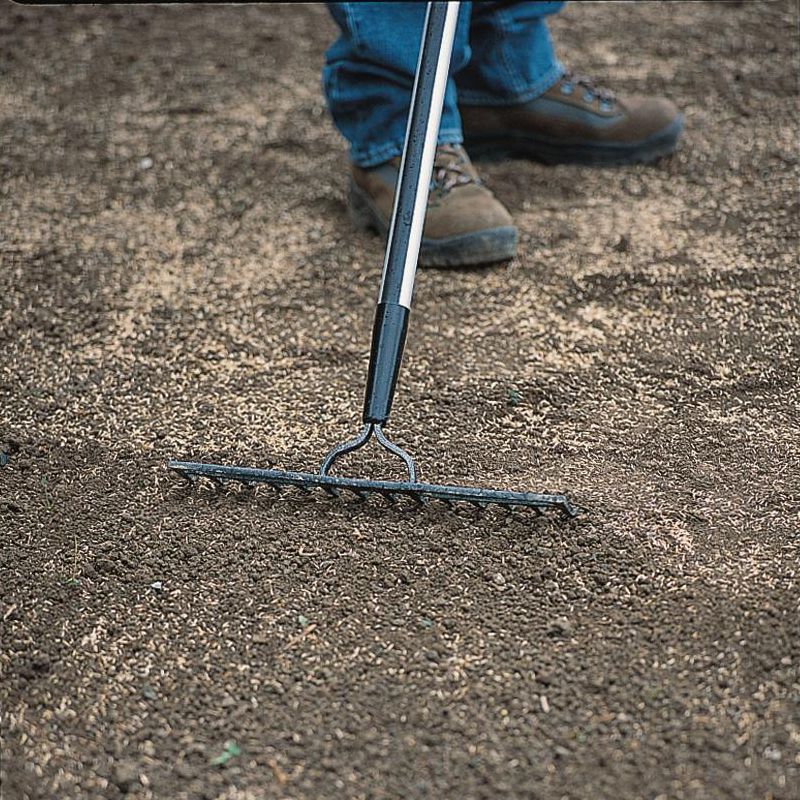 Step 2
Once you have sown the seeds, go over the area with a garden rake to mix the seed roughly into the surface of the soil, but don't worry about burying it all.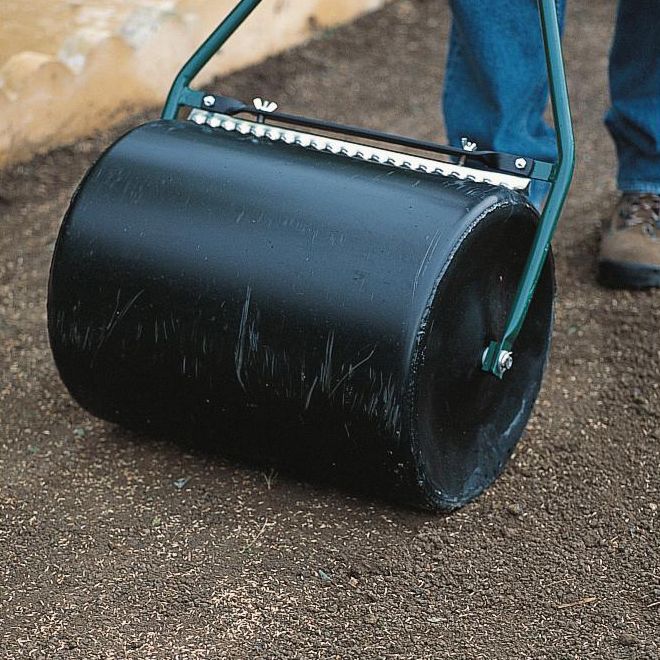 Step 3
Finish the sown area by going over it methodically with a garden roller.
Finally, water the new seeds. If you don't have rain within 48 hours of sowing, give the seeds a good soaking with a lawn sprinkler.
How to look after a newly-seeded lawn
Watering
If the weather is dry, it's essential to keep the new grass seedlings well watered. While the seedlings are very tiny and delicate, it's best to water using a fine mist spray from a hose gun attachment or sprinkler with a mist setting. As they grow stronger, water with an ordinary sprinkler.
Mowing
Once the grass has grown to five to eight centimetres (cm), it can have its first cut. Check that the lawnmower's blade is really sharp, otherwise the shoots will tear and lift out of the ground. Set your lawnmower to its highest setting, so that you only take off the tips for the first few months and collect, and dispose of, the clippings.
As the lawn thickens up, the cutting height can gradually be lowered. Even if weeds appear, don't apply weed killer for at least the first six months after sowing.
Keep off the grass
A new lawn needs plenty of time to establish itself – so the last thing you want is for people and animals to trample it or for birds to eat the seed. To prevent this, either crisscross the area with cotton, tied to regularly spaced canes pushed into the ground, or use fine-mesh netting fixed a few centimetres off the ground.