Efficiently water your plants during warm weather
An essential element of any successful and healthy garden, water isn't an infinite resource. And as such, we all try and do our best to conserve water and only use what we need. This can be tricky when caring for your outdoor plants in hot weather, especially when temporary use bans are introduced.
That's where we can help. We'll talk you through four top ways to use water as efficiently as possible in your garden. From recycling leftover water from your domestic chores to collecting and harvesting rainwater, so that none is wasted.
For more advice on caring for your garden during a hot spell, check out our helpful how to article.
Read How to care for your garden in hot weather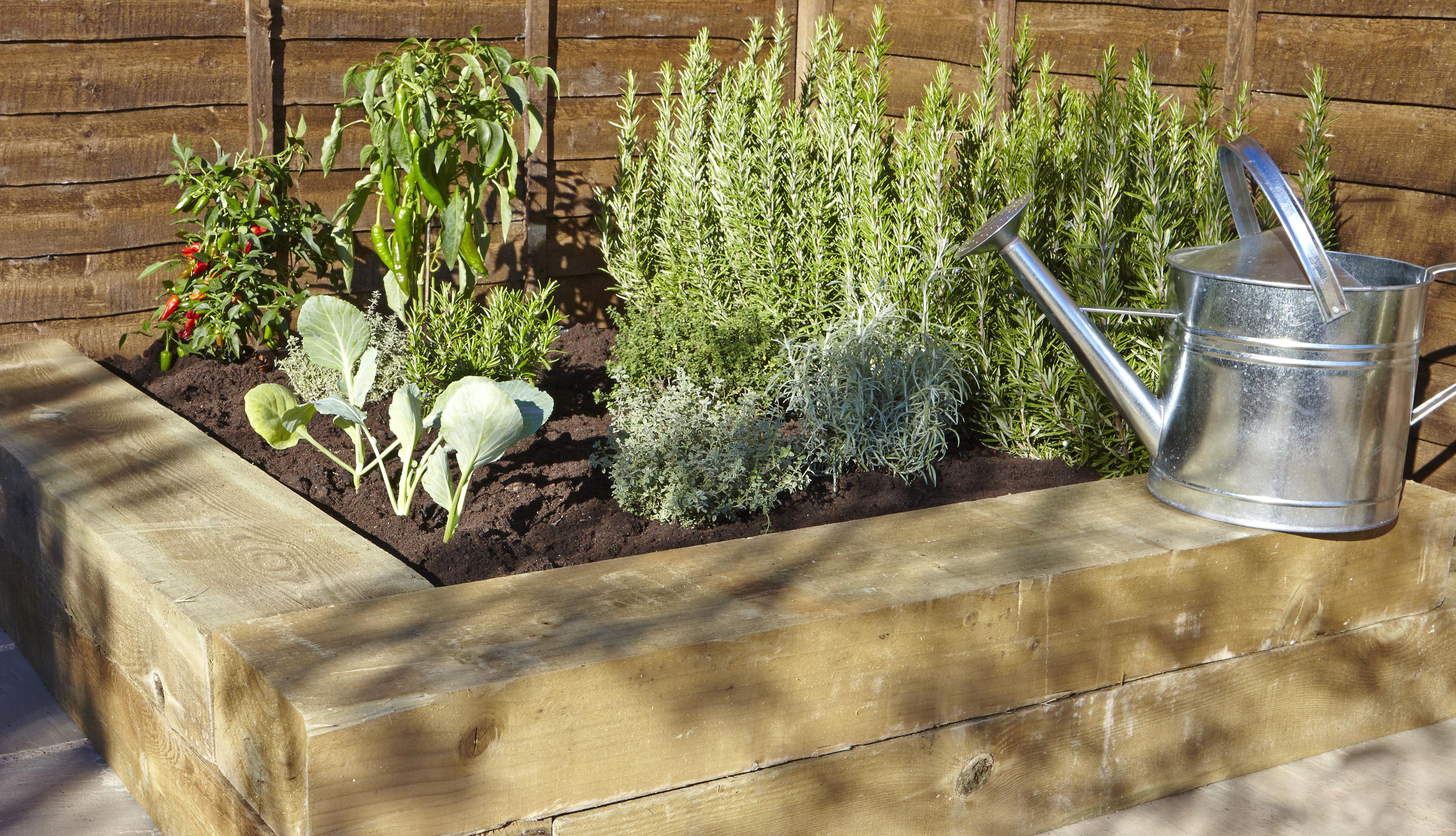 Tools & materials required
How to install a water butt
Do a favour for your plants, the environment, and even your wallet by collecting, storing and recycling rainwater.
Rainwater is not only free, it's also better for your garden than hard mains water as it won't leave limescale deposits or increase the alkalinity of the soil. This is particularly important if you want to grow acid-loving plants like blueberries and heathers. Rainwater can also be used for various cleaning jobs within your garden as well as for watering the plants.
The best way to collect it is in a water butt connected to a downpipe – giving you a little extra water to last through the hottest periods when temporary use bans may be in place.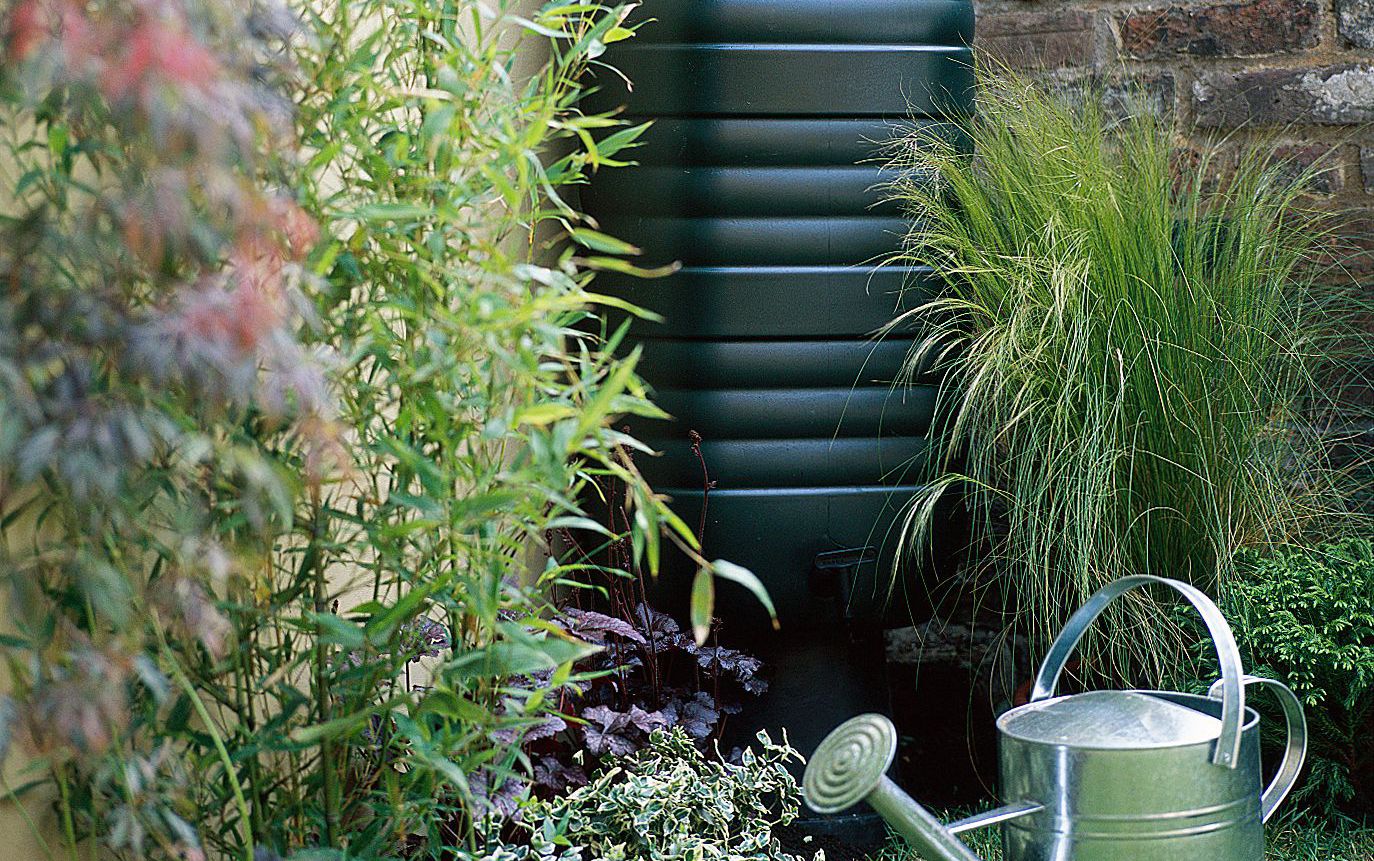 You will need:
Materials
Tools
Safety first
Fit your water butt with a lockable tap to prevent any accidents if toddlers, young children and pets are likely to go anywhere near your water butt.
Always keep the lid fitted on your water butt for safety and to keep insects out.
Ensure that your water butt is securely attached - when empty, they're light enough to be pulled over easily.
You can install your water butt in these five simple steps:
How to water your plants
The aim of watering is to raise the moisture content of the soil around a plant's roots – not wet the foliage or the surrounding ground. By watering correctly, the plant gets the water it needs, discouraging weeds from growing nearby as you'll only be using the water you need and won't be wasting it.
You might need
When to water your plants
Knowing when to water your plants is one way to conserve water. There's a common misconception that watering should be a daily routine, however most plants don't need to be watered every day and only when they show signs of needing a drink.
Picking the right time of day to water your plants can also make a difference; early morning or late evening is best, as it will require less water due to less evaporation and subsequent scorching. Avoid watering at the hottest time of the day, in full sun. And if the weather's dull, be sure to water in the morning as this will give them a chance to dry out before it gets dark, leaving them less prone to fungal infection. An automatic timer connected to your sprinkler or irrigation system can make this a lot easier.
How to water your plants
When watering, keep the following tips in mind to ensure you're conserving as much water as possible.
water at the base of the stem, beneath the foliage
opt for fine droplets rather than heavy watering which can damage the soil structure
It's most important to water plants that are:
newly planted (this is also true for lawns in their first season)
young
shallow-rooted
in containers
annuals
edible. Vegetables will benefit from extra watering in the two weeks prior to harvest, especially leaf crops like lettuces.
Little watering is needed for:
perennial plants
herbs
shrubs
trees
established lawns - don't worry if your lawn goes brown during a dry spell, it will go green again once it starts raining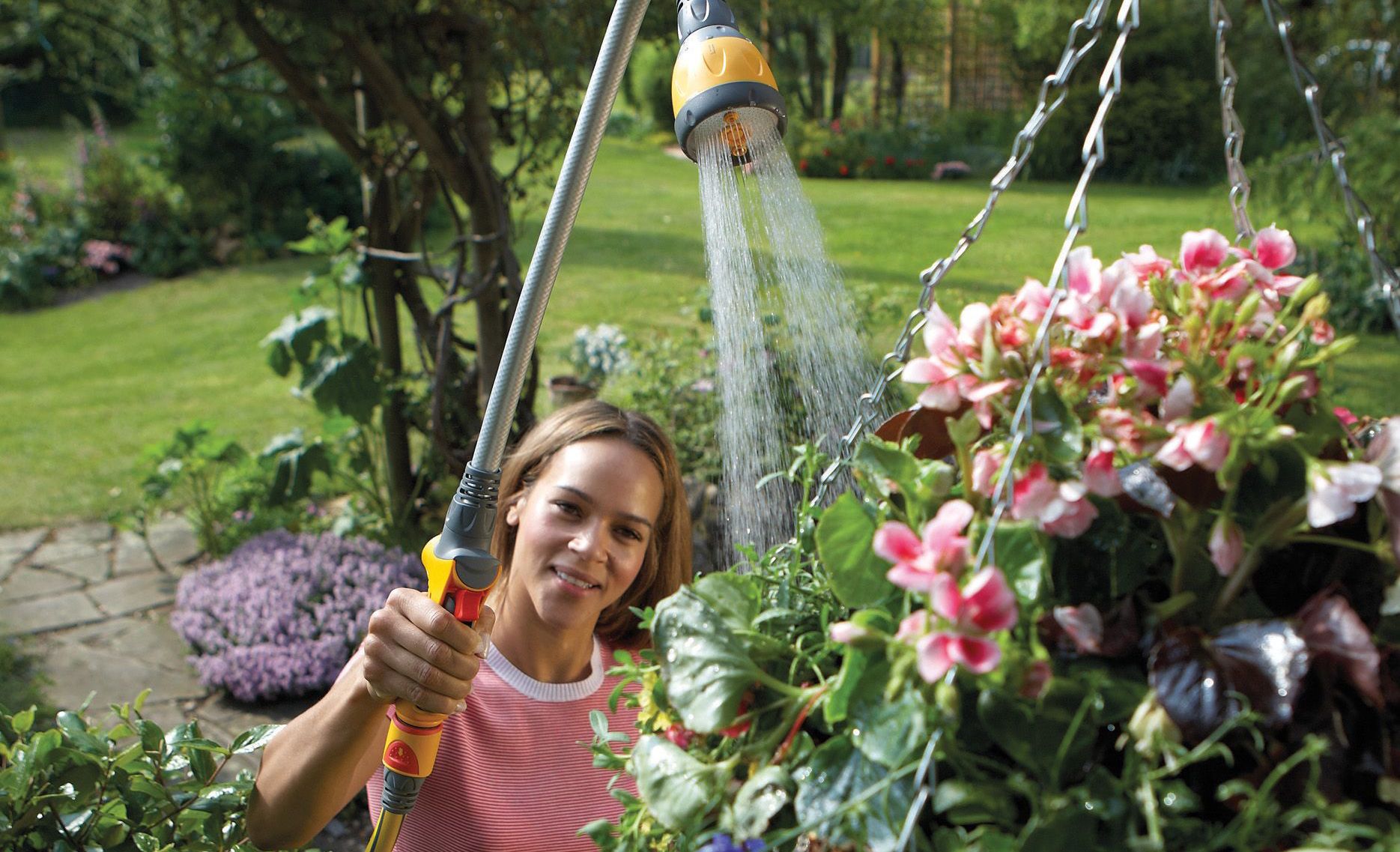 How to install a water dripper system and water timer
A good watering system delivers water only to the plants that need it and at the most appropriate time. Sprinklers are a popular choice and are good for lawns and large areas, but aren't localised and so tend to waste water as they often miss their target. Dripper systems are more accurate at applying water as they deliver it exactly where you want it, with little to no waste.
A dripper system waters each plant or container using tiny water outlets or drippers connected to a supply hose. It can be assembled to fit any garden layout and is ideal for pots and hanging baskets as well as flowerbeds.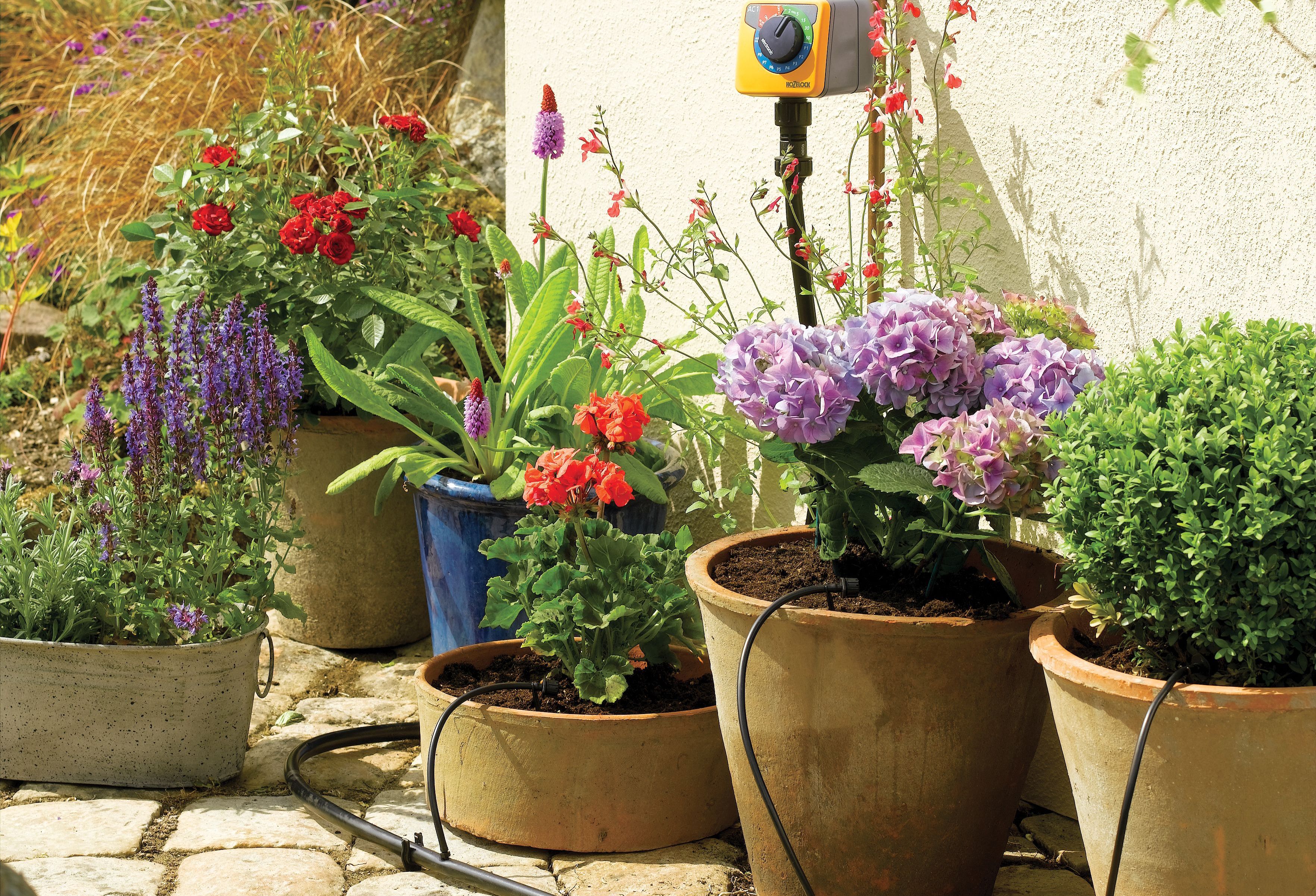 You might need:
Materials
Tools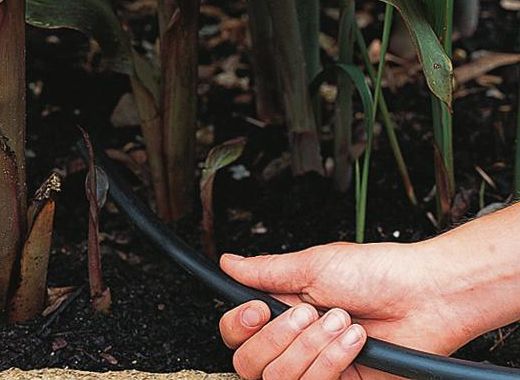 Step 1
Unravel the supply hose and run it around the area you want to water. You may need to work between established plants or around the edge of the beds.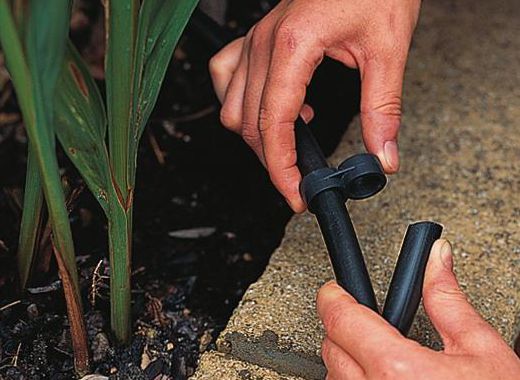 Step 2
Once the supply hose is in place, close off the end by bending it back on itself and through the end plug provided.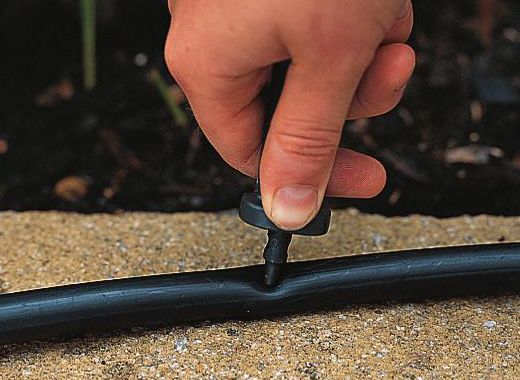 Step 3
Use a hose punch to create a hole in the supply hose wherever you plan to inset a subsidiary hose.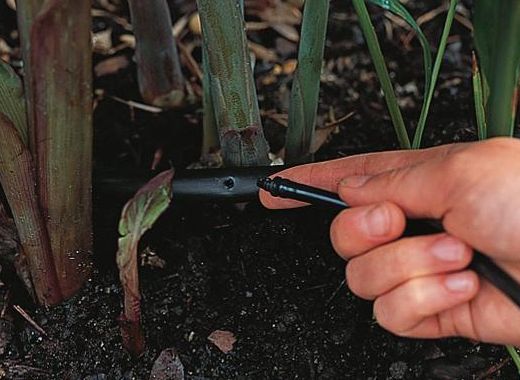 Step 4
Position the drippers, cut sections of subsidiary hose to length and use them to connect the drippers to the supply hose.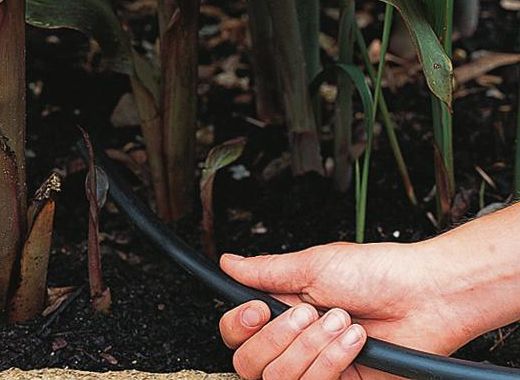 Step 5
Once the dripper network is complete, peg the supply hose into place and conceal it under a layer of soil or mulch.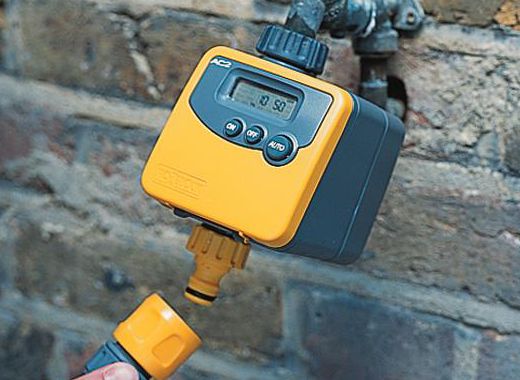 Step 6
Fit a water timer to your water tap.
Connect the supply hose to the tap using a length of standard hose.
Set the timer.
Step 7
Test the system and adjust the drippers if necessary.
How to use grey water
Much of the waste water you produce at home is safe to be used in the garden – this domestic waste water is called grey water. Every home produces large quantities of grey water, and in many instances, it's safe for plants.
There are a few things to bear in mind when using grey water.
Grey water should:
Be used as soon as it is cool – don't' store it
Not be used if it contains bleach, disinfectants or strong cleaning products
Not be used if it contains lots of detergents, soaps or cooking residues
Not be used if it's from your dishwasher or washing machine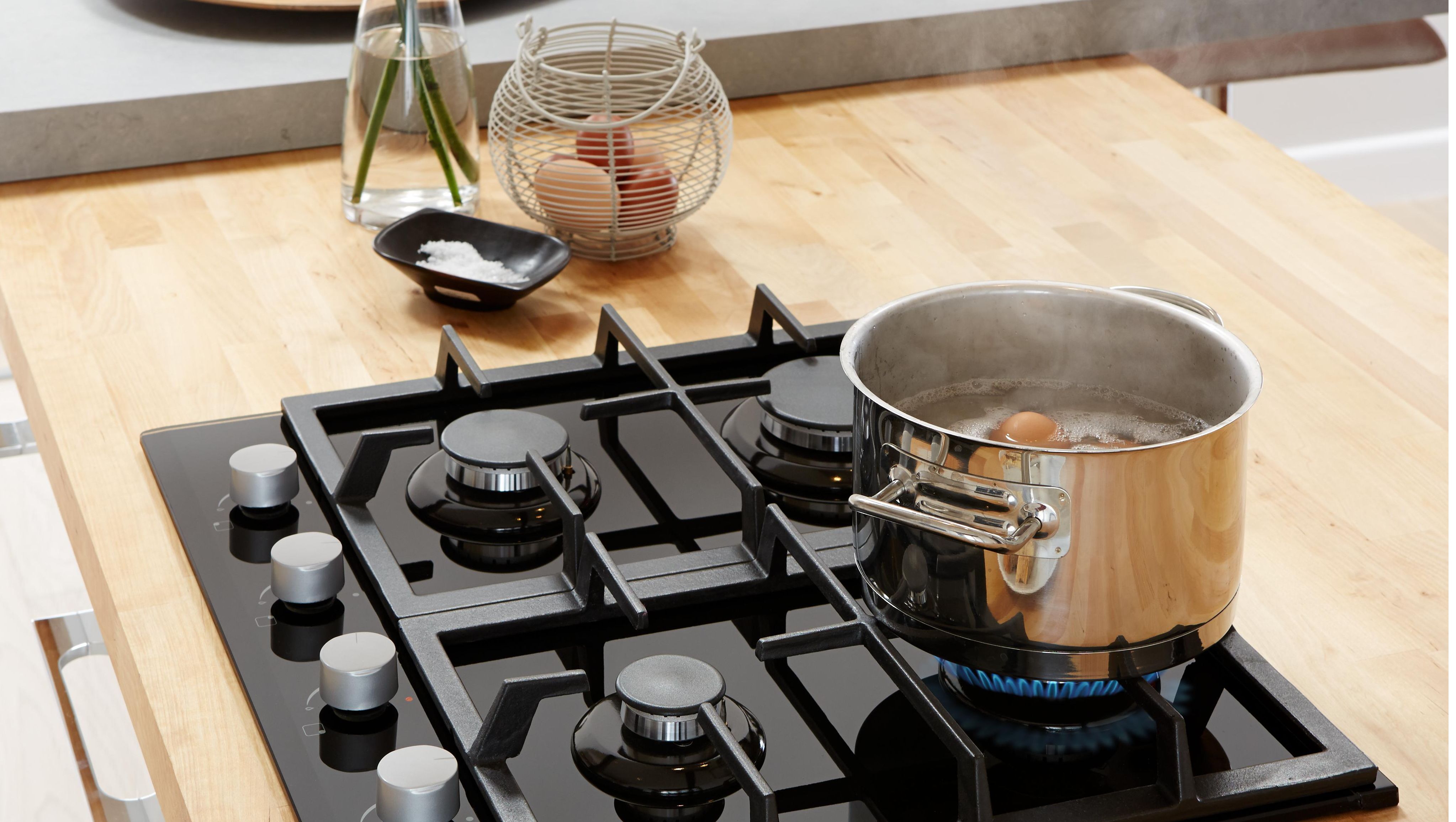 Don't use grey water:
on house plants
on edible plants
on container-grown plants
on newly propagated plants
on greenhouse or conservatory-grown plants
to fill ponds
in a sprinkler or watering system
on foliage, apply to the soil instead
as your one source of water for plants. Alternate it with water from the tap.
Top tip: Re-use vegetable washing water
When washing vegetables, use a washing up bowl to collect the water. When done, put the peelings into the compost or your food waste caddy, and empty the water onto your garden plants.