Introduction
Beautifully crafted worktops are the ultimate finishing touch to any kitchen. After your cabinets, they're likely to be the next thing people notice. There are five main types of worktop to choose from, with the widest range of colours available when you choose laminate.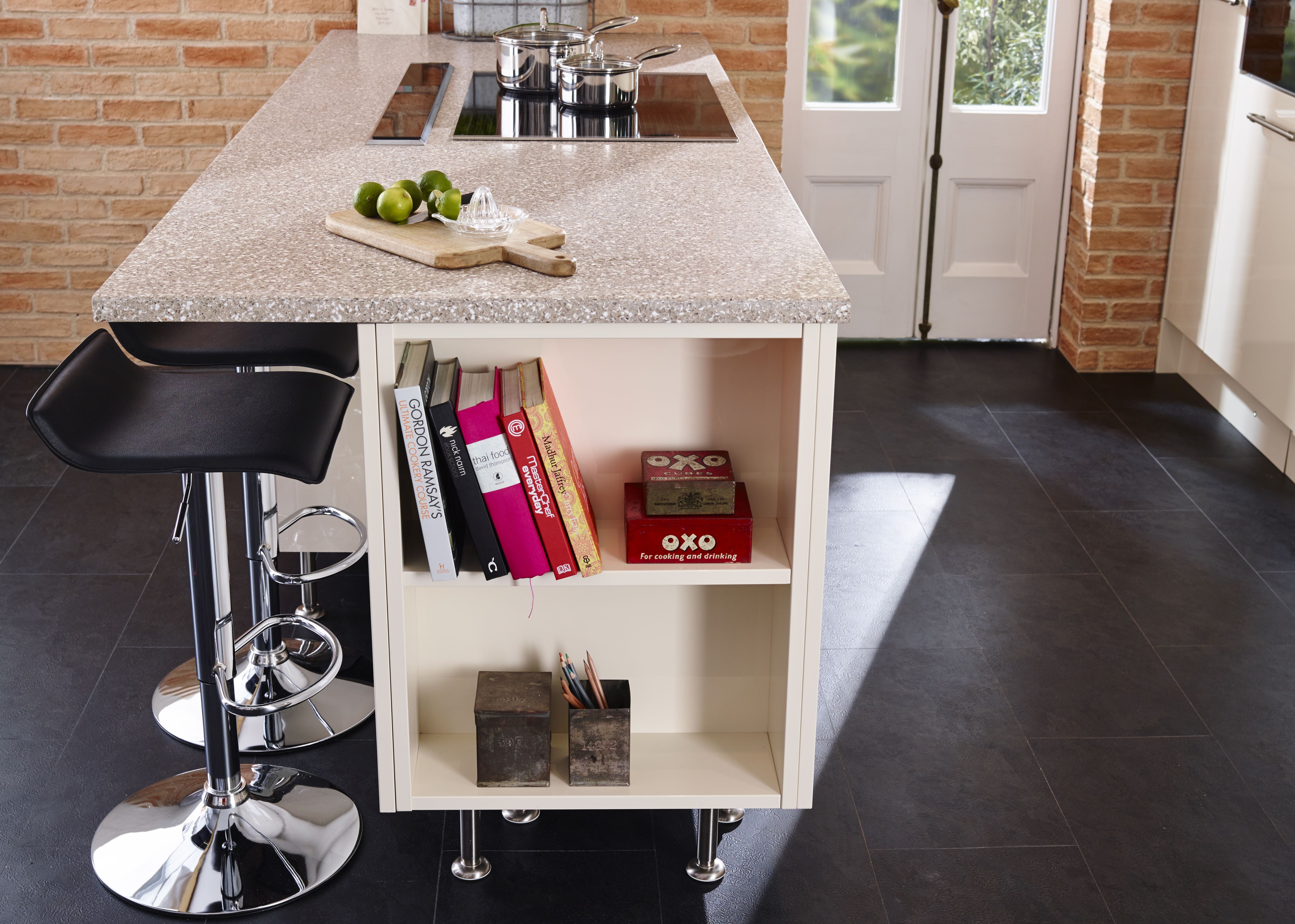 Types of worktop

Popular, affordable and durable, laminate worktops come in a wide range of densities, thicknesses and colours. It's a material that's easy to look after - even more so if you choose a hard-wearing, high-density product. No matter what your budget, you're sure to find a laminate worktop for you.
Our laminates come in three profile options.
Square edge
28mm, 38,mm or 50 mm thick . A fully square profile offering the most striking, contemporary design.
Curved edge
38mm profile with a tighter edge radius accomplishing a more modern design.
Rounded edge
28mm or 38mm profile thickness creating a traditional design of worktop

Natural and beautiful to look at, Solid wood worktops do something no other type can: become more characterful with age, as they get deeper and richer in colour. They're available up to 4cm thick, and typically have a squared-edged profile - curved corners and fronts can be shaped to match base units. They come pre-oiled and can be sanded lightly to remove scratches before reapplying protective oil.
What's it made of?
Solid wood through and through, with finger jointed staves and kiln dried to 8% moisture content and responsibly sourced from sustainable forests.

Non-porous and hygienic, Solid surface worktops are solid acrylic bonded to a chipboard core. They're very easy to install and need no specialist skills - just fit them the way you would a laminate worktop. This type of surface is ideal for busy households, as spills are easily wiped up and any minor scratches can be removed easily with a Scotchbrite pad.
A 6mm solid material bonded to a 28mm high performance chipboard core, Cooke & Lewis Gemstone is the perfect green choice, formulated with 85% recycled material. It is as strong as Quartz, as beautiful as granite and as easy to install as Earthstone.

Made to measure for your kitchen, these 3cm thick worktops are high quality and hard wearing. They're made from a precise template of the area you need to cover, so they fit perfectly. They're then treated with a liquid silicone sealer to protect against stains and moisture penetration.
You can choose from either granite or quartz:
Granite is cut straight from the mountain, giving it unique variations in pattern and colour
Quartz is mixed with a bonding agent, giving it the feel and durability of natural stone
Note that beetroot, red wine and curry CAN stain the stone, and that acidic foodstuffs can etch it. Over time and with regular use, the high-gloss finish will mellow, which is perfectly normal.
Bespoke worktops
Bespoke solid surface worktops are available when ordering a kitchen from B&Q. Our range combines the natural beauty and durability of stone with the consistency of an engineered work surface. Perfect for designs with fluid shapes and curves.
If you are interested in a bespoke work top for your kitchen contact one your local kitchen design consultant and they can demonstrate the range.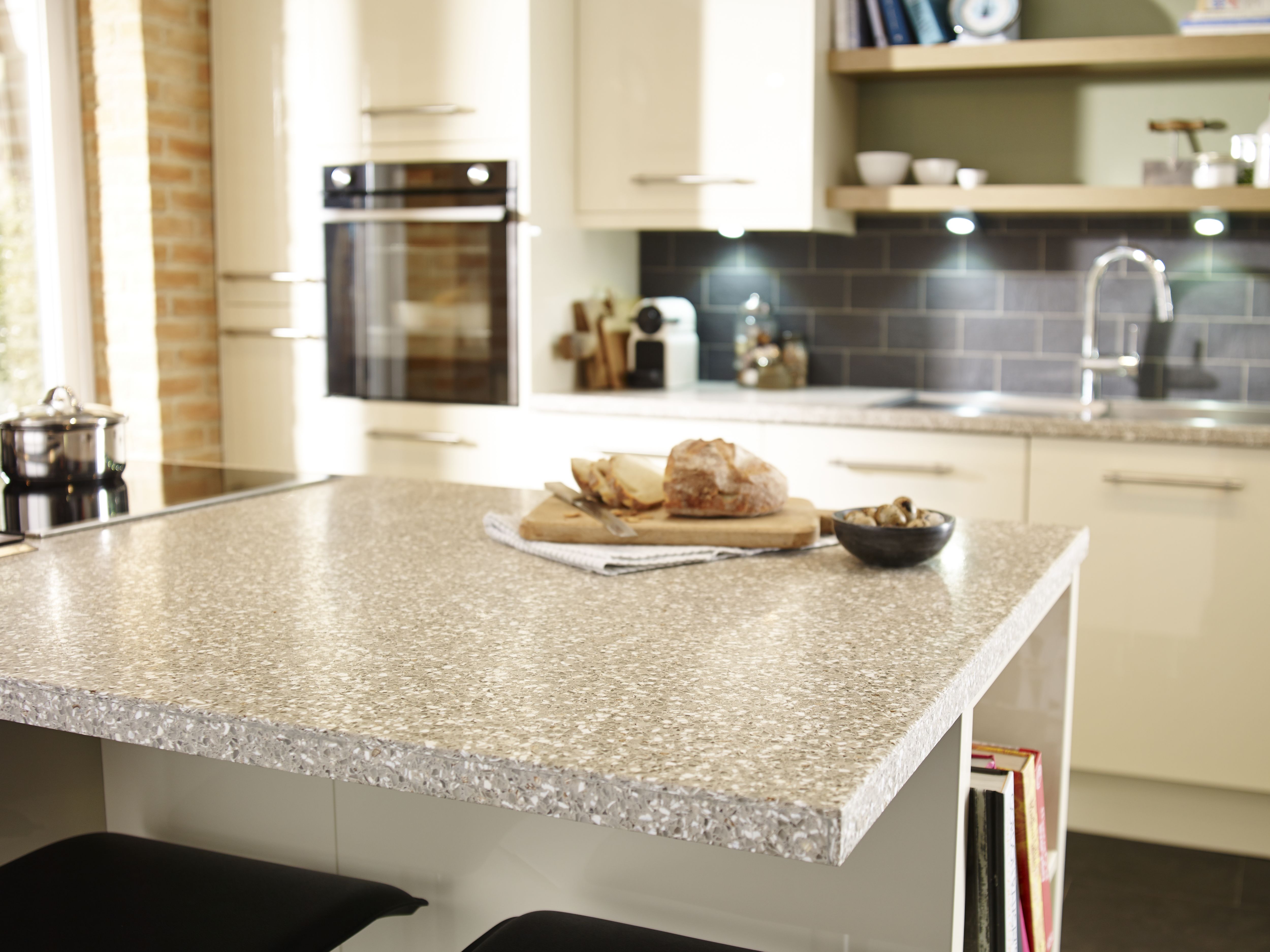 Types of bespoke worktop
All our bespoke worktops are 30mm think natural granite cut and fitted to your requirement.
Bespoke Granite
Being a natural material granite colours and patterns vary from piece top piece. This tough wearing seamlessly beautiful is a practical choice.
Bespoke Quartz
Man made granite alternative template and cut to your design. The properties of quartz have all the properties of granite , but with a more consistent composition offer modern design appeal.
Bespoke solid surface
This natural effect acrylic stone work surfaces have a contemporary finish , inconspicuous of joints and unique features.
What to expect when buying a bespoke worktop from B&Q
We start by making a detailed plan of your kitchen area using computer-aided design software.
A surveyor checks the plan, and a digital template of your worktop is taken to your home once all your cabinets are fitted.
The template is then used by the factory to produce accurate worktops using state-of-the-art cutting and milling machines.
Professional fitters bring your perfectly cut worktops to your kitchen and install them.