Scandinavian Kitchen design ideas
How to give your kitchen a minimalist, Scandinavian feel
The Scandinavian kitchen has a simple and elegant design that manages to be both classic and modern at the same time. Bright, minimalist and clutter-free, white surfaces make the use of the pattern and colour pop all the more. Whether you have a large space, or something more snug, this look can work anywhere.
We'll show you how to create the ideal Scandinavian kitchen in your space.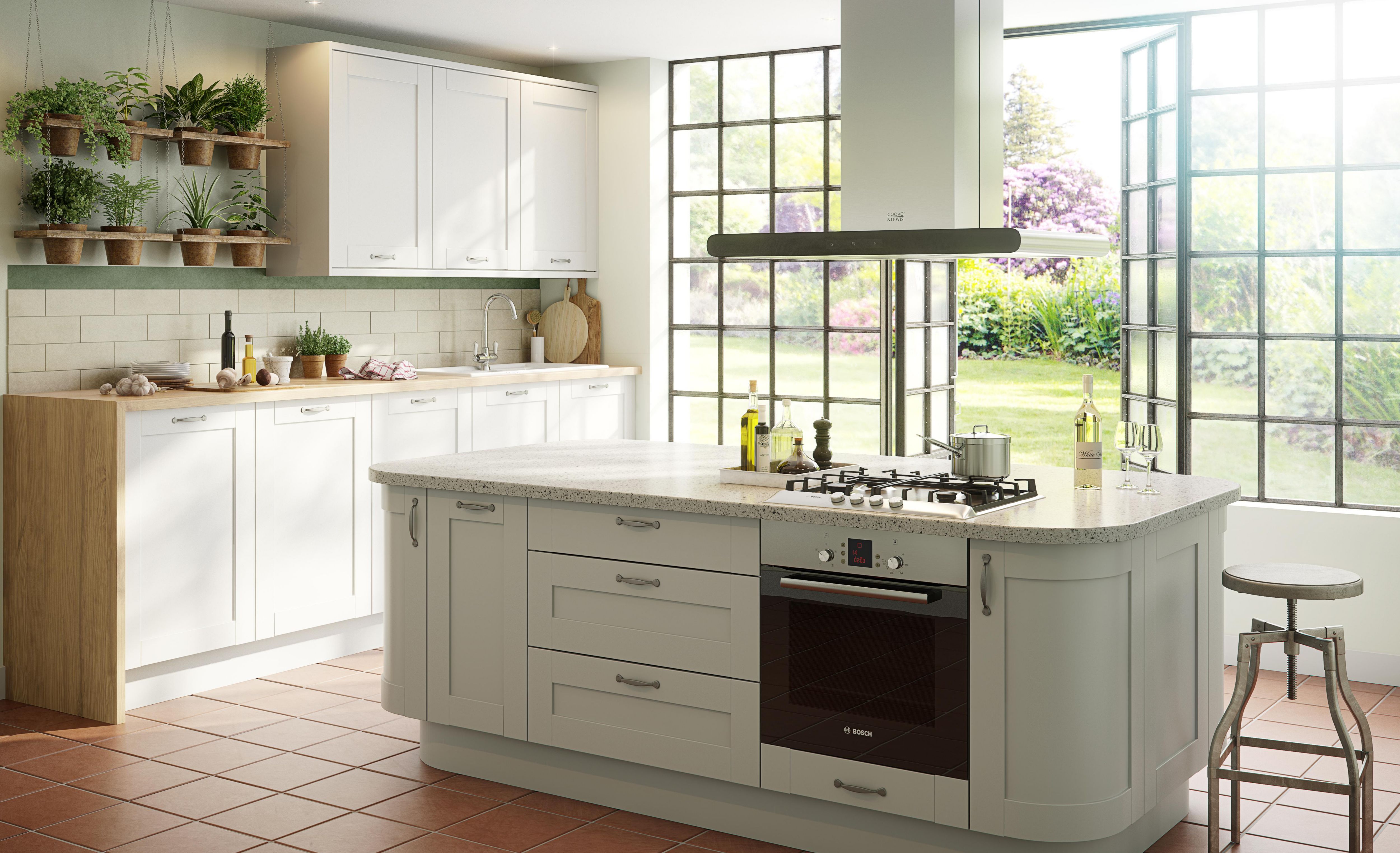 Tools & materials required
Cabinets & Shelving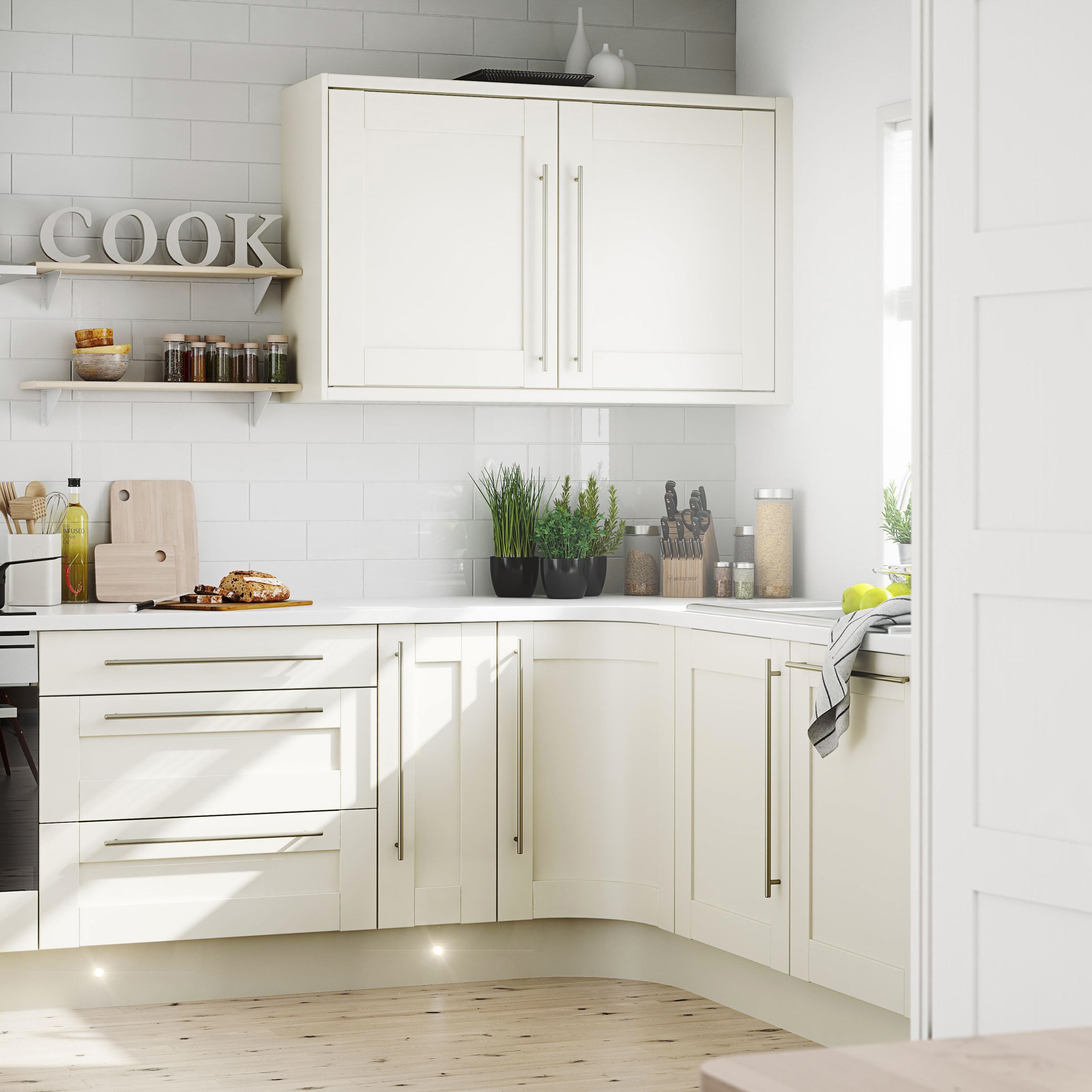 Fitted kitchens or just bottom cabinets – the choice is yours with this look. Just be sure to keep the clutter to a minimum. Make the most of our innovative storage solutions and you'll not only be able to keep more in a smaller space, you'll be able to get it everything quickly and easily.
Our fitted kitchen range includes the IT Brookfield in muted grey and ice white options for a clean, minimalist design, and the Appleby range - a streamlined gloss option with integrated handles that will look perfect with a pop of colour.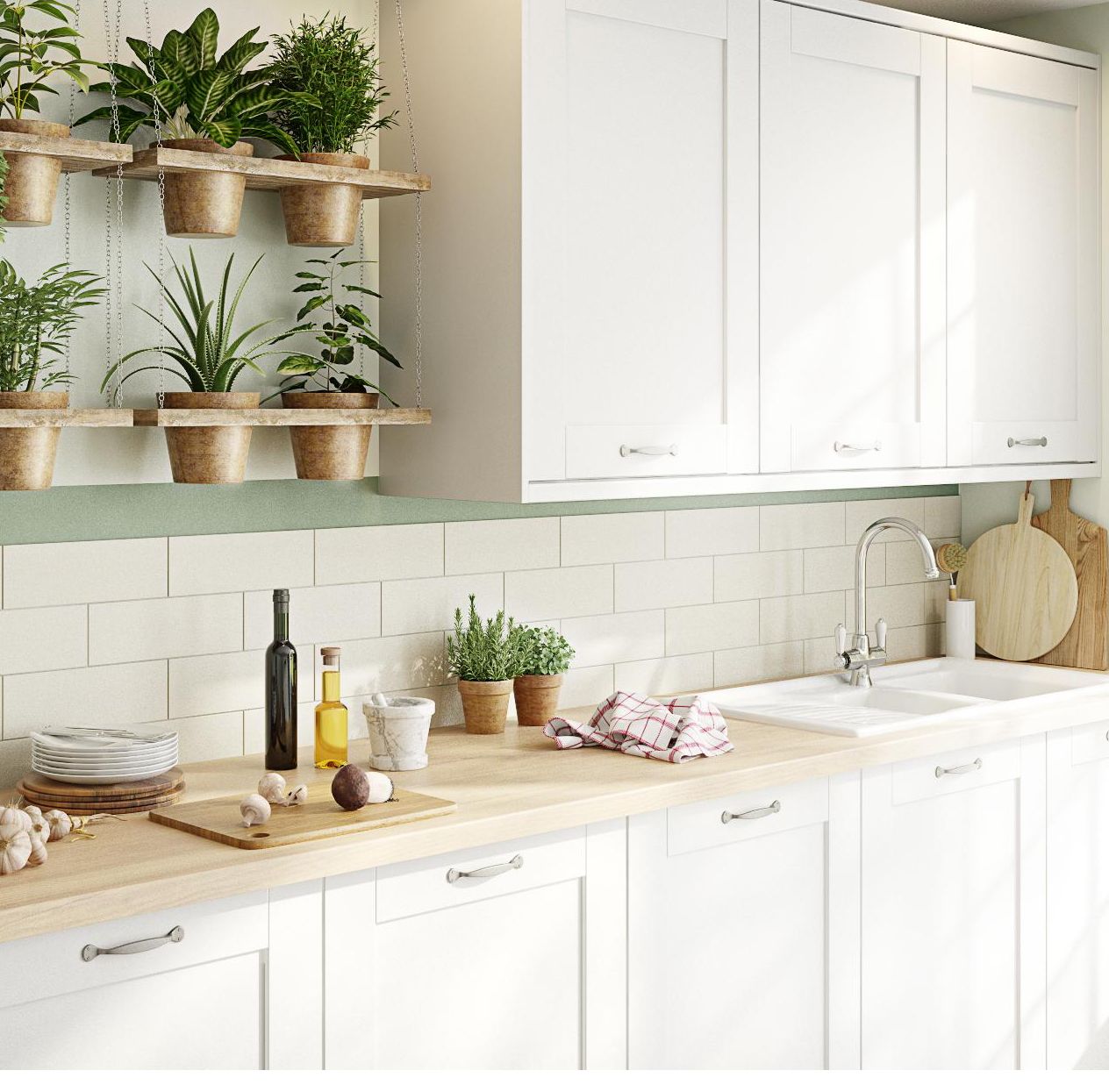 If you choose to just have bottom cabinets, your top shelving can either match the walls, or you could just to break up the colour scheme with a bright wood like beech, birch or oak. Stack your crockery and glasses neatly and, if you wish, add the odd herb pot or a pot of lavender for a look that is both practical and aesthetically pleasing.
When it comes to keeping your space free form clutter, explore our range of Kessebohmer storage options for a quirky but practical way to keep your equipment and utensils in order. This includes metal wall storage innovative cabinet storage and pull out larder storage.
Worktops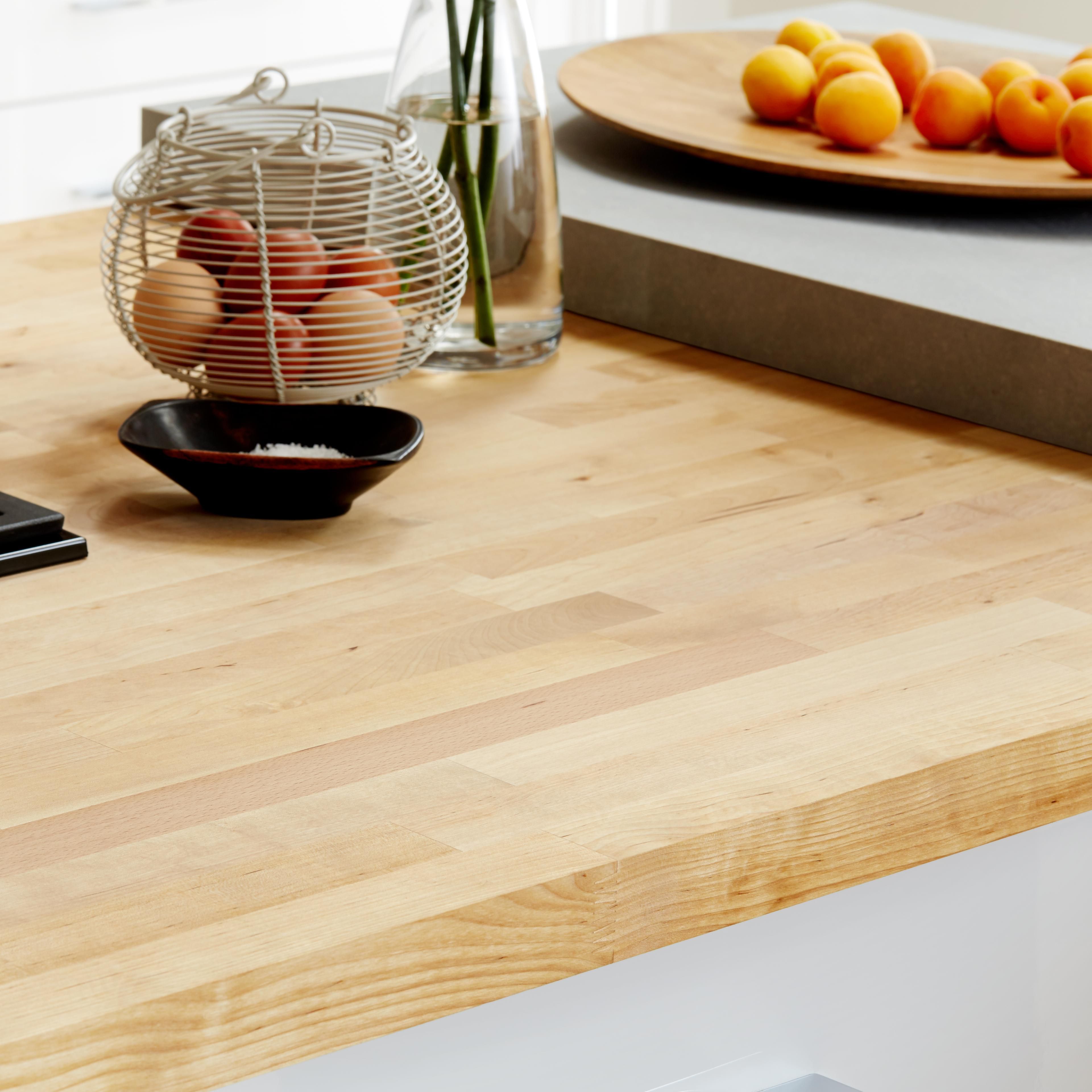 When it comes to worktops, a timber option will add warmth to the very neutral palette. Choose from solid wood, or one of our man-made alternatives - these are ideal for the active household, as they will keep on looking pristine for longer. Whichever material you choose, be sure that it has a square edge for a contemporary look.
A solid wood worktop is thick, has a square edge and will deepen in colour over time, but it does need to be regularly oiled or stained. We stock laminates that imitate the warmth of natural wood and also have a square edge, but require hardly any maintenance. It's also a better choice for those working on a budget.
If you want to continue the neutral look, our new Exilis range is ideal. Thin (12.5mm), modern, and available in four finishes, these heat resistant, waterproof laminates are a durable choice that will last for years – they also have increased resistance to abrasion and impact.
Sinks & Taps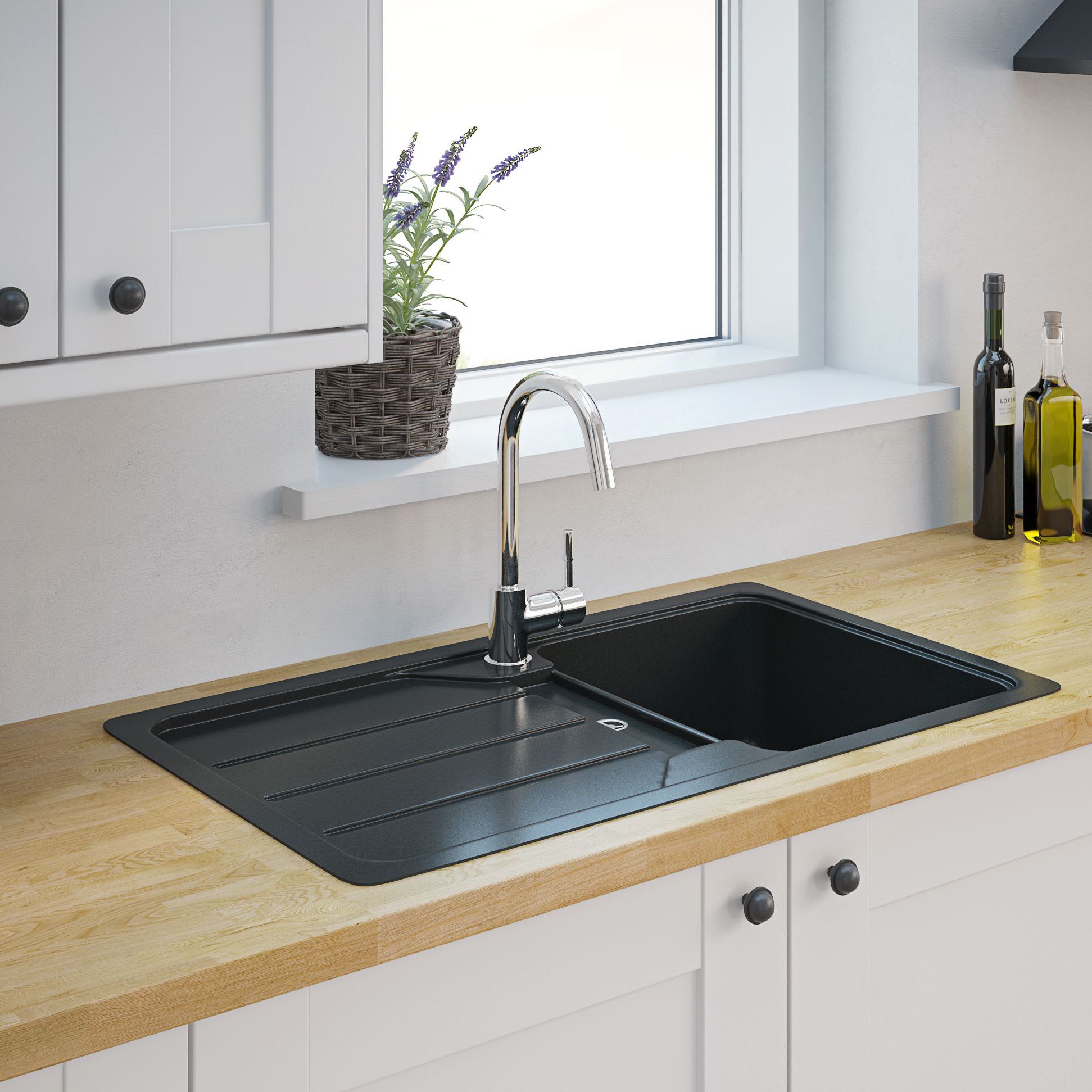 Like everything else in this kitchen style, your choice of sink and tap need to fade into the background to allow your focal points to stand out.
Pick the traditional single bowl sink and, if possible make it an undermount option that can be sunk it into the worktop so it cannot be seen from the side. Depending on the rest of your look, you may want to stick with white ceramic, or you may want to change it up with stainless steel, or black or grey resin.
It's also simple when it comes to tap choices – the Scandi look is all about the Monobloc or single lever taps. Both have a single spout, curve over the sink in an attractive way, and only require one tap hole. If you're looking for a practical addition to your kitchen, choose a pull out or spring neck tap which will allow you to clean vegetables and salad easily, as well as deal with tricky to wash pots and utensils.
Appliances, Cookers & Hobs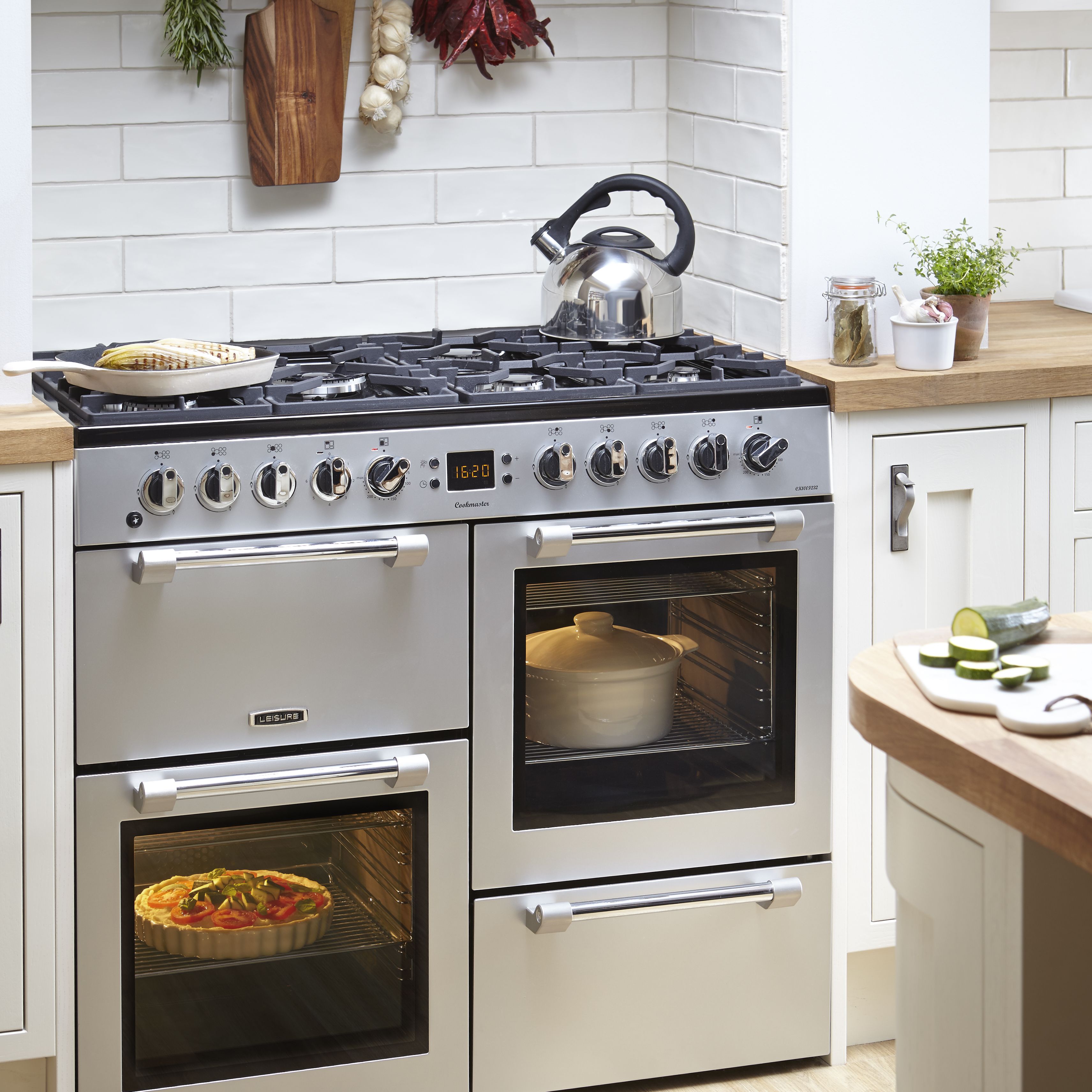 Cooking and eating together are the cornerstones of a Scandinavian kitchen. When it comes to choosing a cooker, you can make a statement with a range style cooker if you have the room, or a space saving,completely minimalist built in oven. Both these options work really well in a Scandinavian inspired kitchen.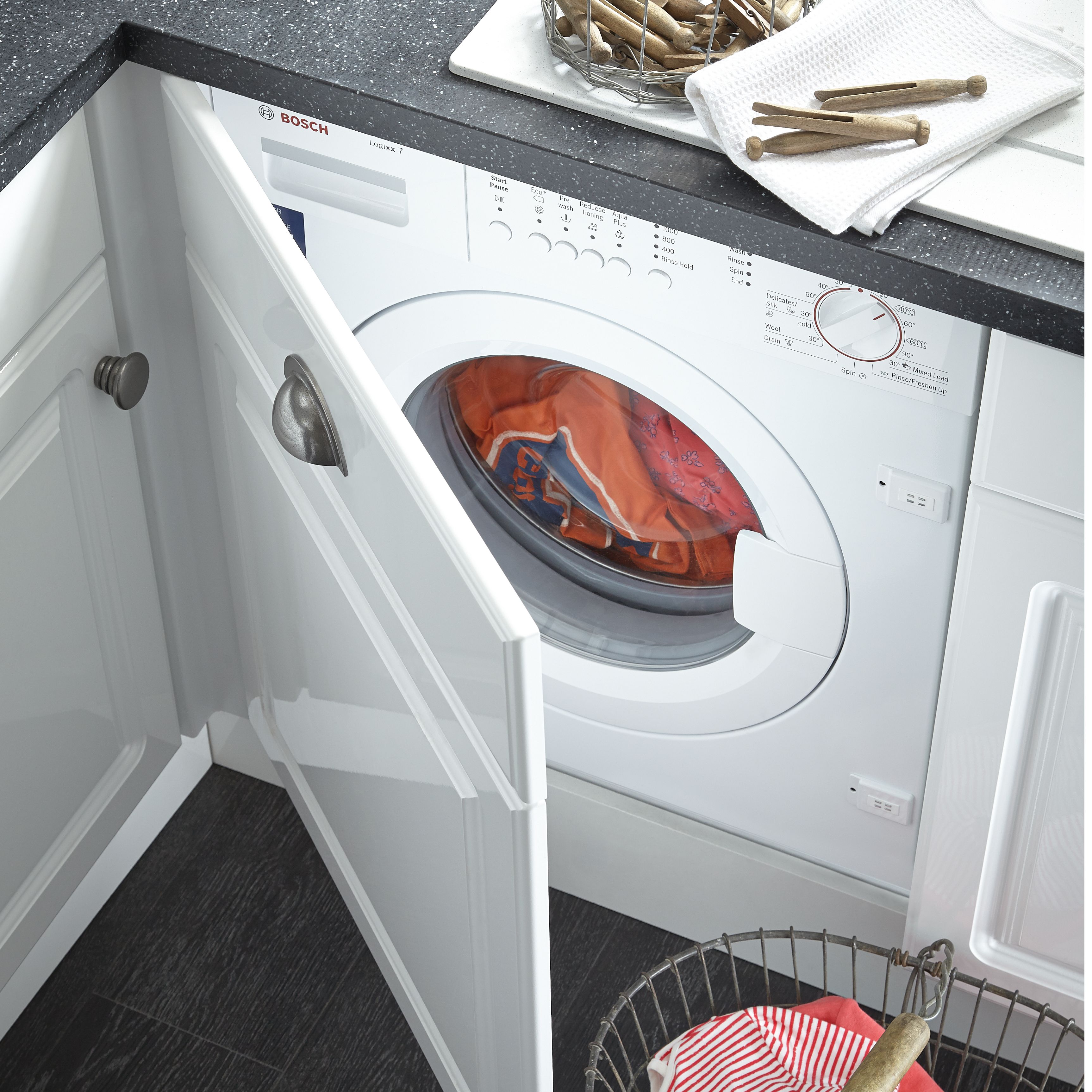 Cooker aside, this style is all about built-in appliances and hidden storage solutions so make sure you maximise this when planning out your kitchen. Dishwashers, fridge freezers and washing machines can all be integrated into a fitted kitchen – even bins can be kept out of sight. If you do have to have appliances on display, try and make sure you pick options that fade into the background. Choose white options (ensuring that they are as close to your wall colour as possible) and make sure you hide what you can .
Walls & Floors
The Scandinavian look is all about white walls and floors that, while resulting in a clean and bright effect, can be a bit boring on the eye. Pattern and texture are a great way to break up the monotony of a white space without using colour, so consider this when considering your wall and floor decoration.
Paintable wallpaper is one way to bring some texture into the room – even when painted your chosen shade of white, the pattern underneath will still come through and add some depth to your look.
While painting the walls white may seem like the obvious choice, wallpaper is a great way to add texture and interest to your design while keeping with the key features of this minimalist look. Make sure you choose wallpaper designed for kitchens. Kitchen wallpaper is splashproof and washable which helps to protect against harmful bacteria. If you feel as though you need to add a little more colour to your design, you can do this with a colourful splashback for a bright pop of colour that will draw the eye.
It's common for the Scandinavian kitchen to have either a light, wooden floor or monochrome tiles. Both of these looks can be created with our vinyl flooring – check out our black and white tile effect sheet, or the oak effect vinyl. Vinyl is comfy underfoot, cost effective and easy to install and remove when you redecorate. Want the real deal? Check out our range of hard flooring made from natural products, which includes solid wood flooring.
Lighting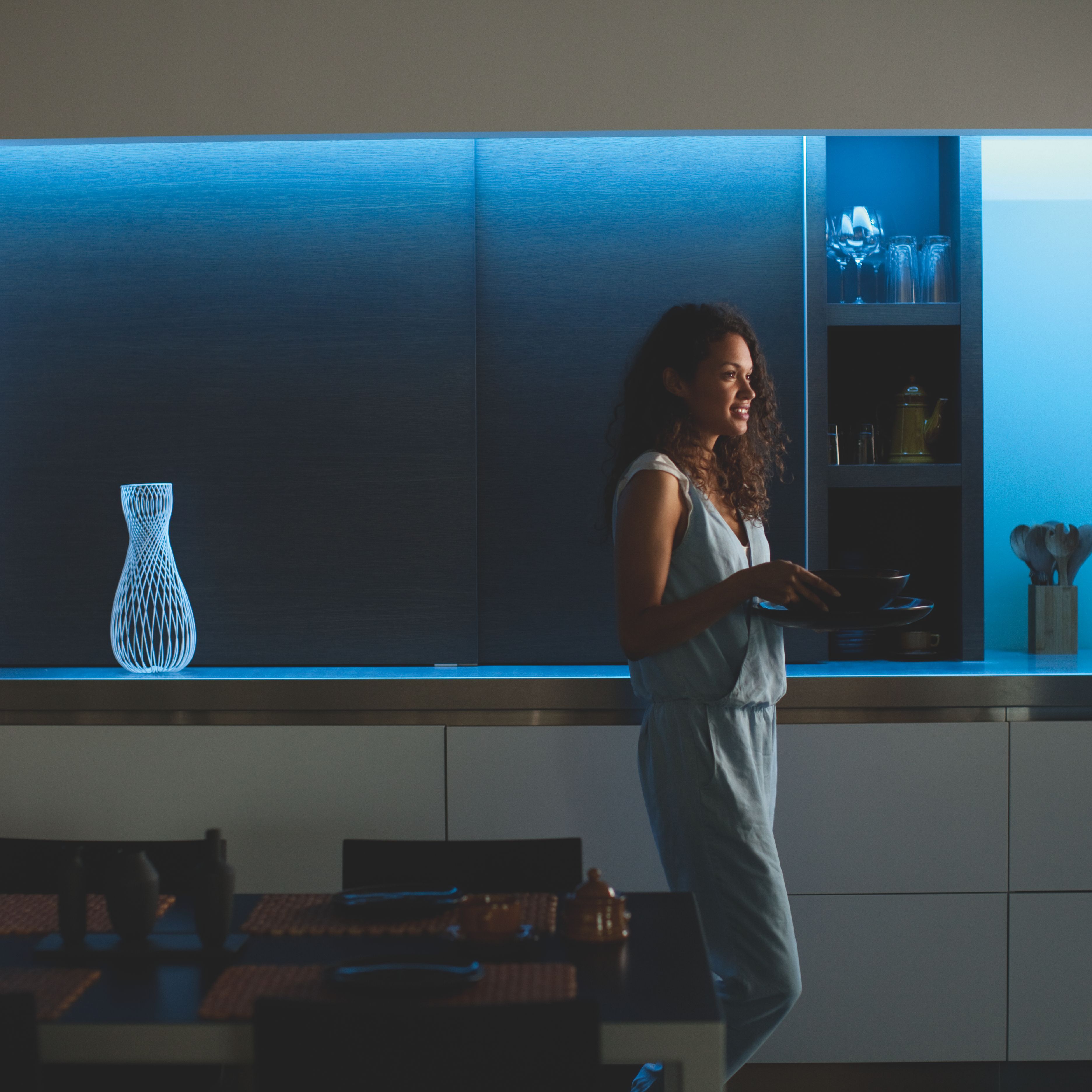 As with most current kitchen styles, statement pendant lighting is a popular look. Coloured pendant lighting can act as another way to bring colour into your very white space. Or, if you're looking for something really on trend, copper lighting is a great way to make a statement with your kitchen lighting.
Another interesting way to add light and colour into your Scandinavian kitchen is to add strip lighting that changes colour. They can be cut to fit any size and attached to any surface with the tape supplied. You can control the colours and sequences through an app on your phone and the colours will look great on your white walls. Consider placing them underneath your cabinets or shelves.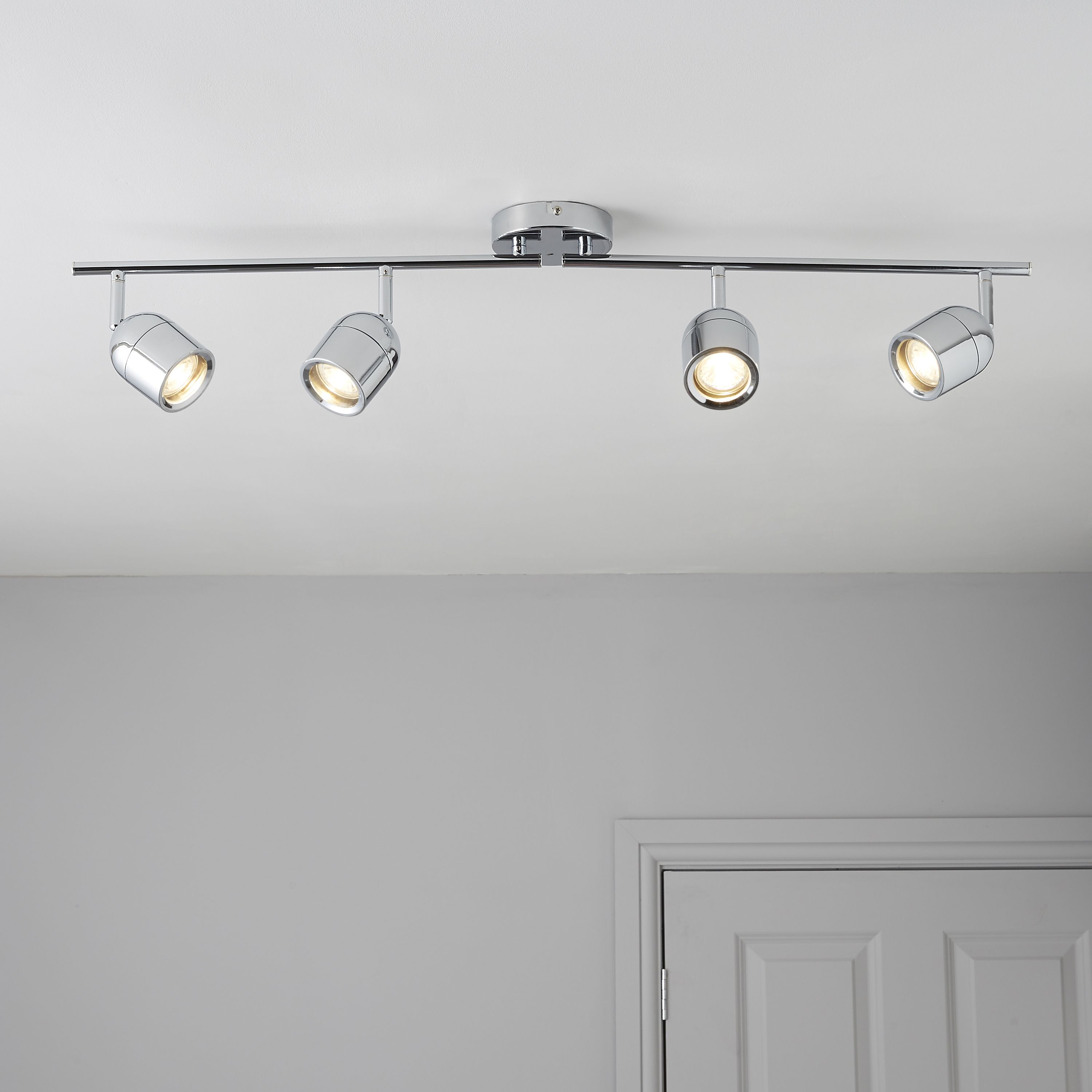 While the pendant lighting of the Scandinavian look is about creating a feature, the rest of the lighting should be more subtle. Think about adding a few spotlights that are the same colour of your ceiling –they won't distract from the rest of your look, but will make sure you get the illumination you need.
Windows tend to remain uncovered in Scandinavian design – no blinds, curtains or shutters. This allows as much light into your space as possible. However, if you're not comfortable with this look in your own home, consider using frosted window film on the bottom pane to get some privacy. This will ensure that no one can look into your home, while still allowing as much light to filter in as possible.
Accessories & Final Touches
When it comes to the Scandi look, your accessories should be all about bold colours or geometric prints. This will not only break up a very monotone space, but it's a great way to add some warmth and texture.
If you've gone for white walls and floor, a rug is a great way to introduce colour, and it's one of the key parts of the Scandinavian look. While your wooden flooring is also warm in texture, a rug adds an extra level of softness. Thinner kitchens should add a runner down the centre of the space, while bigger kitchens should put a rug in front of the oven or sink for a stylish way to protect your floor from splashes. We think our Elyza rugs would make attractive addition to your Scandinavian kitchen, available in a variety of colours. Or why not choose one of the Larissa rugs which combine classic, Scandinavian geometric design and are available in subtle tones of turquoise, grey or pink.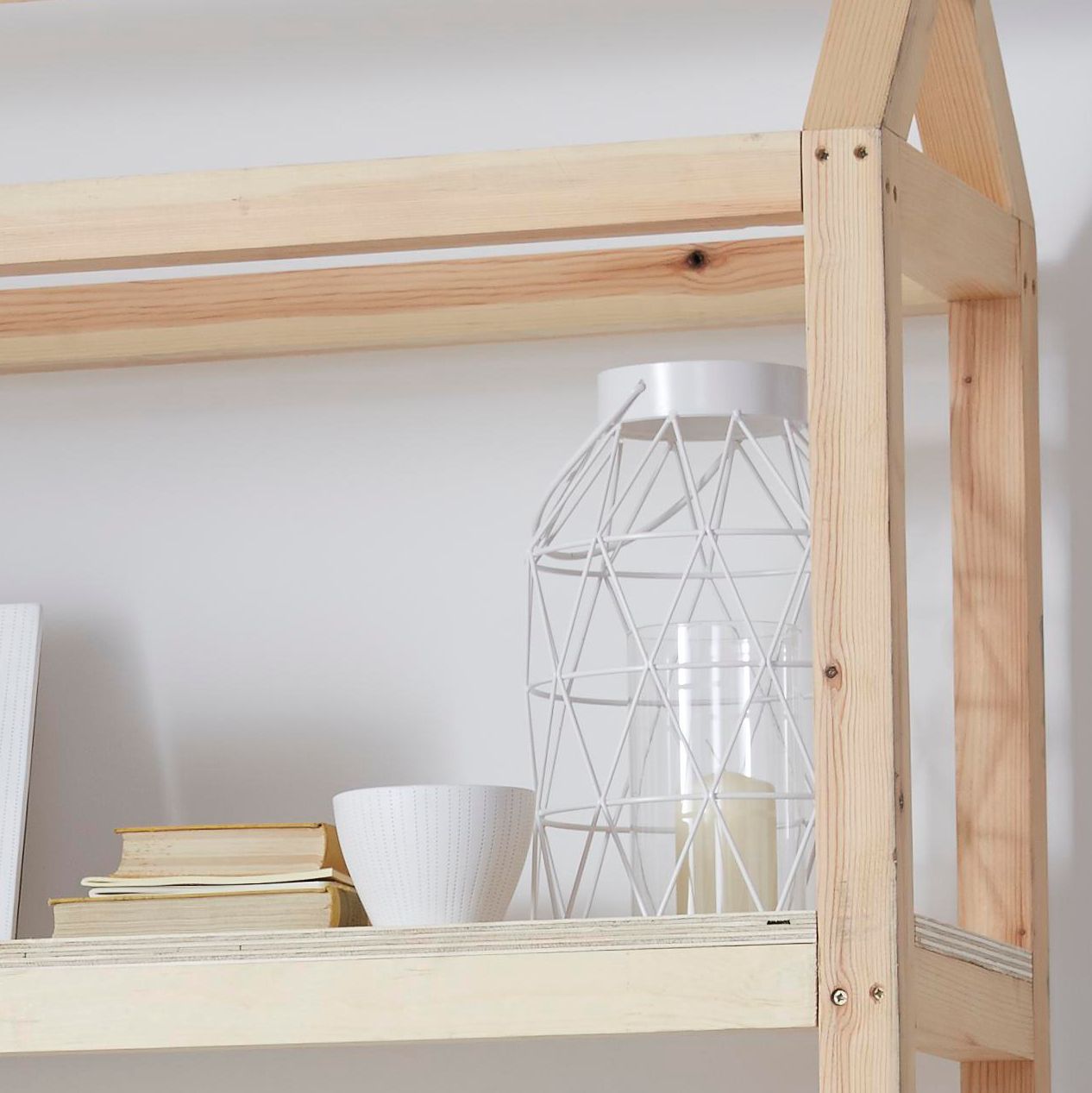 When it comes to smaller touches, geometric swirl cushions are perfect additions to kitchen chairs or benches. Cushions not only add colour but they will soften the look and make it more comfortable for you and your guests.
Other ways to incorporate colour and brightness to your design include adding bright vases, fruit bowls or furniture. Place a few of lanterns around your space for some ambient lighting that will create funky shadows. If you have chosen open storage options, your cooking and dining utensils and crockery will become decorative when put away, so choose them in your favourite shades.