Find the right shed for you with our jargon-busting help and advice
The garden shed - a beloved staple of the British garden. This firm favourite is fantastically versatile. It can provide much-needed outdoor storage for tools, equipment and garden furniture. Take shelter in it when busy with the odd outdoor job, like planting pots or filling bird feeders, or simply enjoy it as a quiet spot to sit and relax.
But finding the right shed for your needs can seem tricky. That's where we can help. Read our guide and let us help you choose the right shed for you and your outdoor space.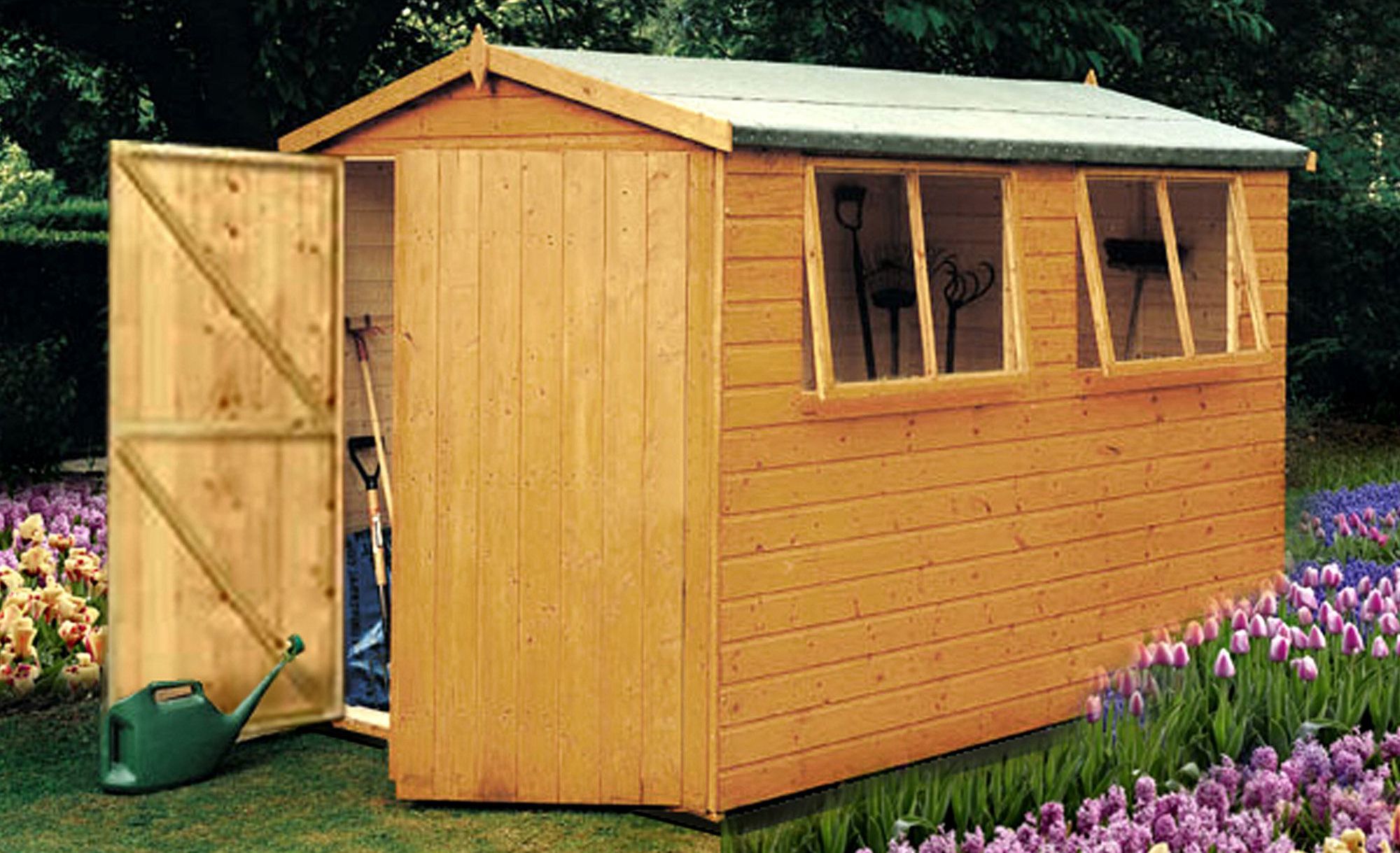 Before you begin
There are a few important things to consider before buying your shed.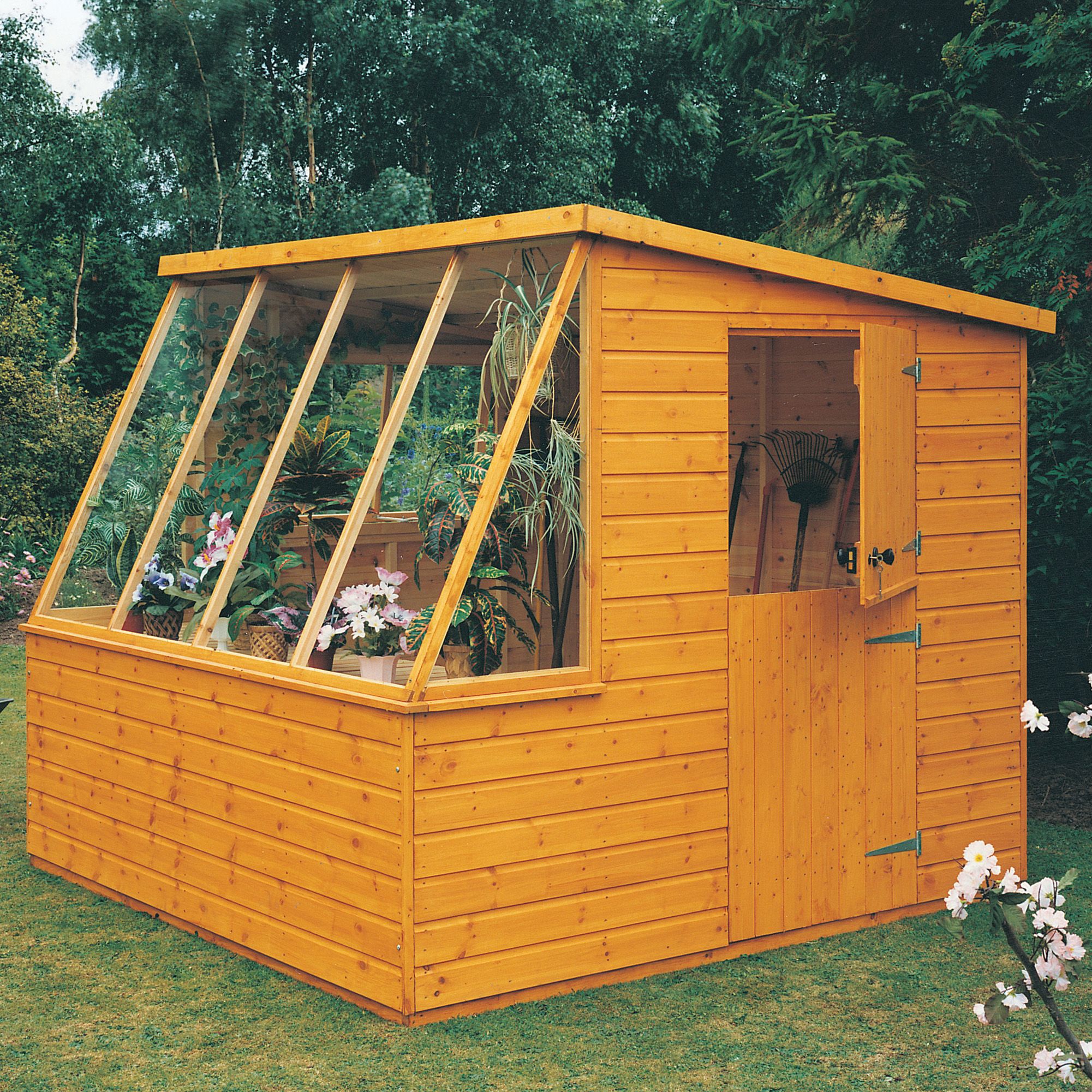 How big does the shed need to be?
This has a lot to do with what you'll be using your shed for. For example, you'll need a bigger shed for storing a large, ride-on lawnmower than you will if just keeping your bike or tools out of the way. List what you want to keep in your shed and this will help determine the appropriate size to look for, as well as if you'll need anything else, such as shelving.
Measure the space you've got available in your garden. Don't forget to take into account the opening of windows and doors, as well roof overhangs, as these will also need extra space. If you can, opt for a slightly larger shed than you think you require – it's always better to have too much space rather than too little and it'll be certain to fill up in no time.
If you're going to be working on large projects, a shed may not be the right choice for you. A workshop offers a bigger size, giving you loads of storage, but also room to add work surfaces.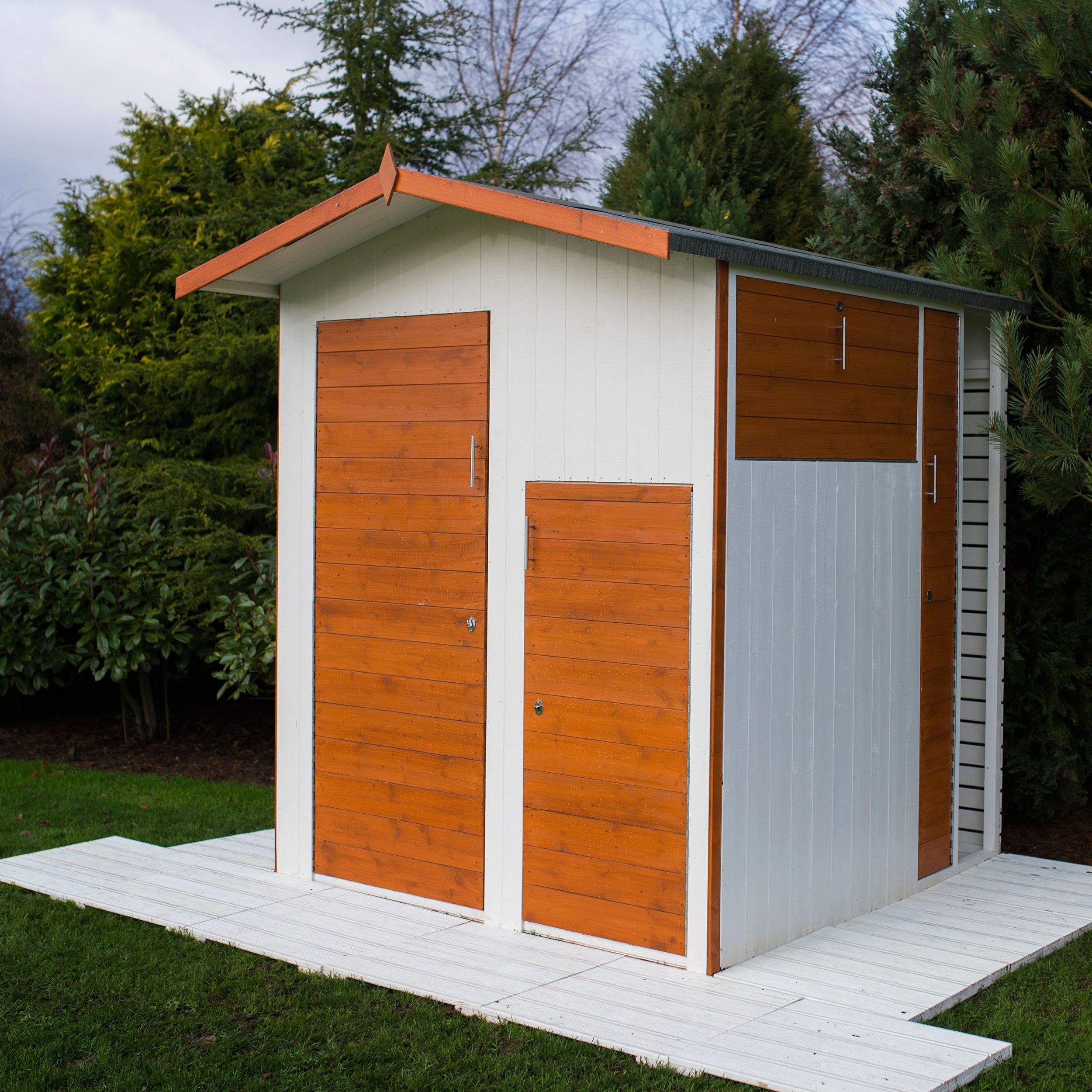 Where will the shed go?
There are many things to consider when selecting a suitable spot for your shed. If you have a large garden, all factors could be important, but if you're more limited for space, simply ensure that the area is as safe and secure as possible. Look for an area that is:
on level, secure ground
as dry as possible and not likely to be affected by possible flooding
protected from overheating
accessible from all sides for easy maintenance
away from overhanging trees - locating it underneath a tree will put it a risk from falling branches. And in autumn, you'll need to clear fallen leaves from it to prevent them rotting and marking the roof.
How you plan to use your shed can also affect which location you choose. Questions to ask include:
will it be used frequently? If so, you might want to situate it near to the house especially if you have a large garden.
will it need an electricity supply?
will natural light be important? This might influence not only the plot you choose, but also the direction your shed will face.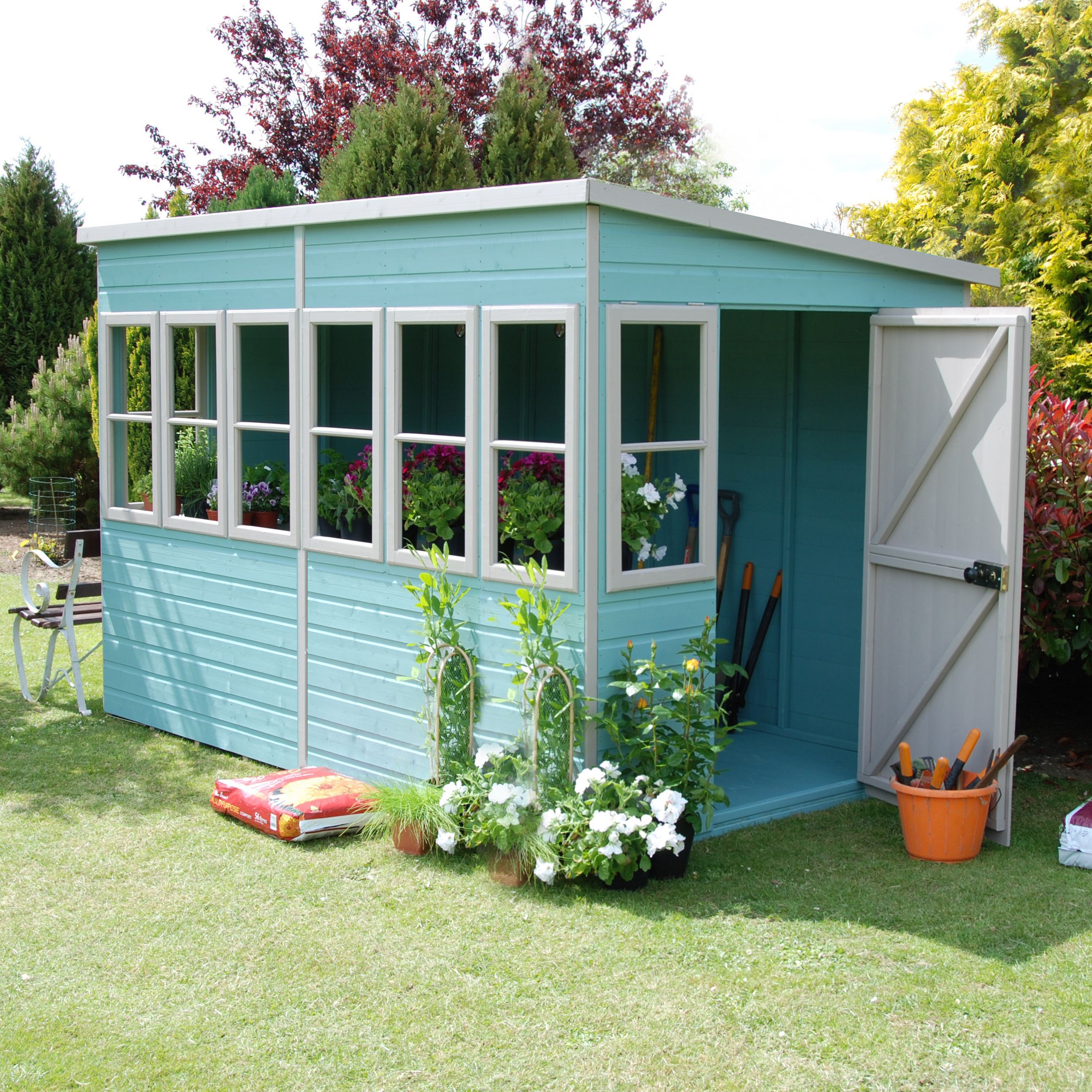 Will the shed need planning permission?
Most of our garden buildings are less then 2.5metres (m) high, which means that they don't need planning permission to be installed. However, there are still a few rules to consider when shopping for a shed. They include:
all outbuildings and garages should be single storey only and a maximum of 3m high with a pent roof and 4m high with an apex roof (for more on roof types see the 'Shed features' tab)
any building should be placed at least 2m away from the boundary of your property
the building must not cover more than 50% of the land around your home
If you have any questions, contact your local council for more information. And remember to discuss any building that you're doing with your neighbours. While you may not need planning permission, it's a courteous way to flag any loud activity you may be doing, as well as give you the chance to discuss any implications for them.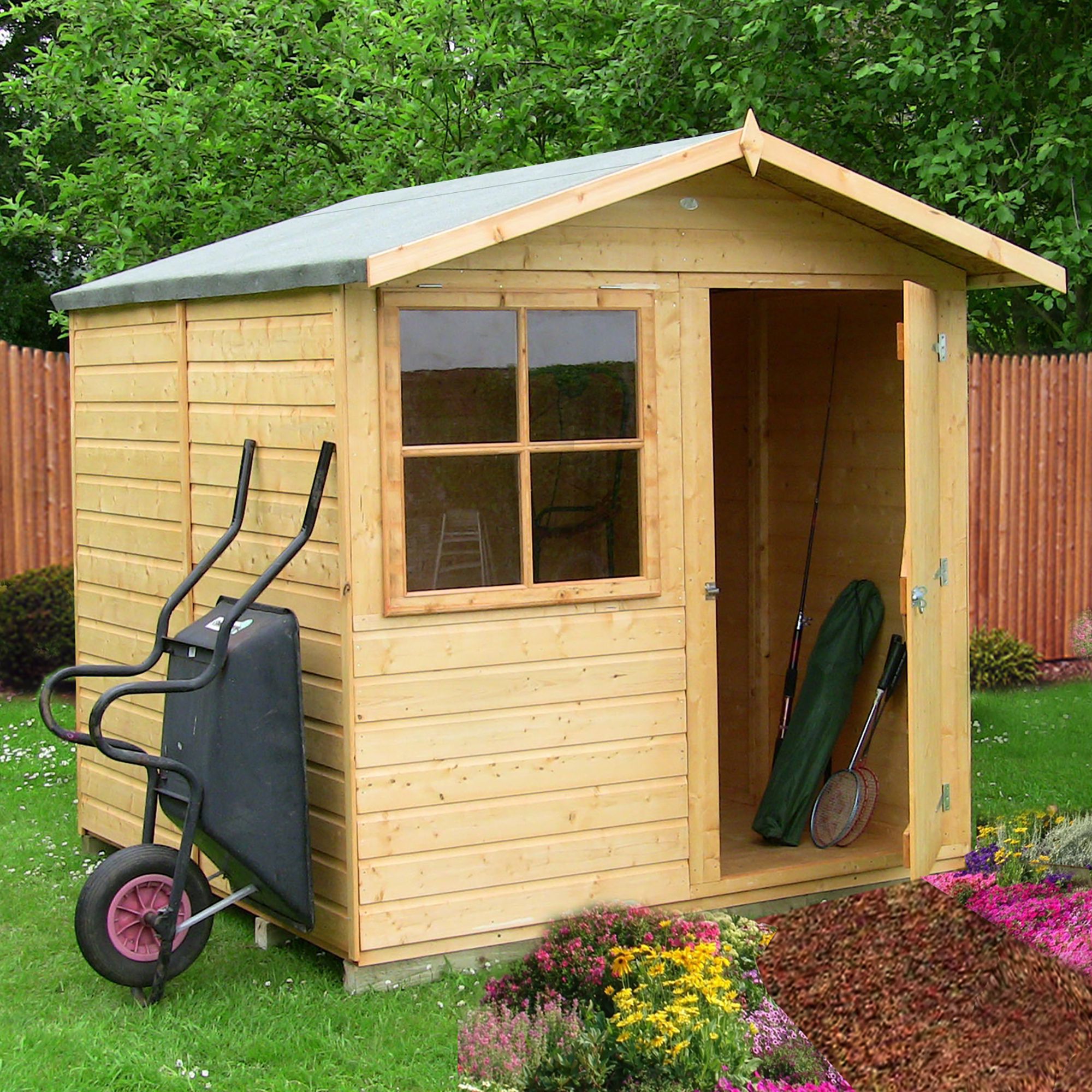 How to construct the shed
We offer two methods of building your shed - self assembly or our assembly service. If opting to build it yourself, follow the instruction manual provided and we recommend enlisting a friend to help you. More support might be needed for metal sheds due to the weight of the components and the type of fittings involved.
If building the shed yourself, head to our helpful guide for step-by-step advice.
Read How to build a wooden shed
Types of shed
The shed's construction material is the key factor in selecting your shed type. There are three materials to choose from - wood, metal and plastic.
All of our wooden sheds come with floors and they're offered in three different styles – also known as constructions, cladding or designs – overlap, tongue and groove and shiplap.
Shed features
Once you've decided on your preferred type of shed, it's time to check out what other features are available to make sure it delivers exactly what you need.
Shed roofing structures
There are two different options of shed roof that you can choose from - apex or pent.
You might need
With your shed chosen, there a few other things you might want to complete your shed project.