Declutter your garage
For most of us our garages are no longer the place we keep our car at night. Chances are, you don't have room to fit your car in your garage due to everything else you're storing. But there's no need to feel embarrassed - there are plenty of solutions to help you reclaim and make the most of your space.
Room organising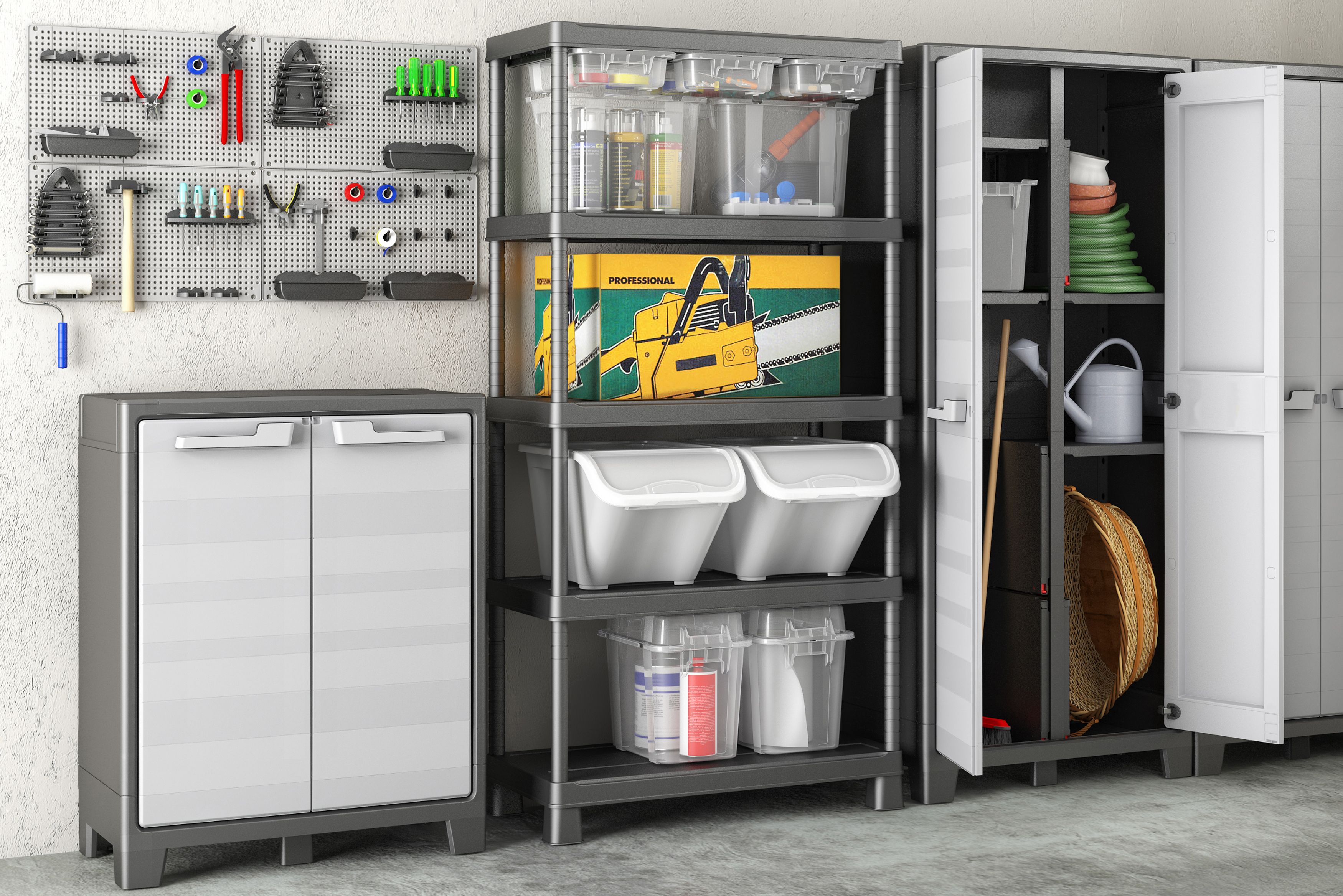 All items in this range
A garage can soon become a dumping ground for all the things we don't want in our homes. If this sounds like you, then perhaps it's time for big sort out?
Be ruthless
First things first, you're going to have to be ruthless when it comes to culling those items that haven't been used in years. If it's not been touched in the past year, ask yourself - is it essential? You may not have used that snow shovel recently, but it's not something you should necessarily throw away. Some things are worth keeping so you are always prepared for the unexpected, but you can store these neatly and efficiently so they're not in the way during their hibernating months.
Consider donating unwanted items to charity, taking them to a car boot or yard sale, or even listing them on an internet auction site. One man's trash may be another man's treasure!
Don't forget to dispose of things properly, particularly items like old tins of paint or garden and household chemicals. These can be hazardous, so take them to your local waste recycling centre where they will be able to deal with these safely.
Seasonal storage
Seasonal storage is vital for a tidy and organised space. Tidy away items you only use in the winter such as snow shovels, Christmas lights and winter motoring products in the spring - and bring them out again in the autumn. Pack up summer toys and garden furniture in the autumn to keep them safe from the elements.
Top tip... bike hooks instantly give you more floor space as they allow you to hang bikes from your garage wall. Ideal for keeping them safe from scratches and scrapes, they'll also save you from having to scramble over a pile of bikes to reach everything else.
See, doesn't it look better already?
Shelve it
Shelving is going to be your best friend in a room such as your garage. If you plan to keep your car in the garage, you'll need to keep floor space clear - but you can use shelving around the edges of the room. Equally, if you want to use this room solely for storage and are happy to park your car elsewhere, then you'll still need space to walk around and access what you need. Any items that are simply left on the floor are nothing short of a trip hazard - an accident waiting to happen.
Place items that you use most often at the front, and at waist or eye level. Those used less often, like Christmas decorations, can be neatly tucked away behind, above or below. If you're putting boxes under the bottom shelf of your storage unit, put them on wheels so that bending down to pull these out is easy and comfortable.
Opt for some heavy duty storage in your garage - such as plastic or metal shelving units - as these will be strong and durable enough to hold a wide range of tools and equipment and should be weatherproof too.
Don't forget to... measure the space you need for your car. Racking your garage out with shelving before checking to see if there is enough room for your car isn't a great plan!
An extra room
If you choose to store your car elsewhere you'll have plenty more space to play around with. Use your imagination and make good use of the extra room - make space for a craft table or tool station, create a safe open play area for your children or consider a home office or den.
Out of sight, out of mind
Finally, it wouldn't be right for the room that is home to the majority of your DIY utensils and tools not to not have a bit of a 'home-made' twist to it. Some of our favourite ideas include using a spice rack and old jars to hold all your loose nails and screws. Use blackboard paint to make labels that can be updated easily. PVC piping can be screwed to the wall to create tool holders for rakes and brooms and old kitchen cabinets can be recycled into homes for pots and planters, paint and brushes. The humble tin can is perfect for repurposing too - use to corral paintbrushes and small tools like screwdrivers. Alternatively drawer units can house all your bits and bobs.
An easy solution without having to screw anything into the walls are our tower units and really useful storage boxes.
Open door policy
To utilise your storage space even more, opt for garage doors which retract vertically with minimal kick out. However, if you're still stretched for space, or have a small garage, then the use of roller doors could prove to be a valuable solution to this dilemma. These particular doors only require minimal headroom and have no kick out, which provides maximum storage opportunities if you don't need room for a car.
Maximise your potential
There are endless ways to save space to really get the most from your garage. You can hang items from the rafters if your garage has a pitched roof - it might also be worthwhile boarding out some of the roof space so you can store boxes that you don't need to access on a regular basis. Using peg boards on the wall can be a great way to keep frequently used tools close to hand. Why not draw around each tool? That way if you lend it or lose it you will instantly know! Hooks on the wall are also ideal for larger garden tools, ladders and hosepipes.
Encourage children to put their toys away by hanging colourful buckets or baskets on the wall, at their height.
By making the most of your storage you don't have to part with all those precious items you'd rather not get rid of.
Safety first
Garages can be pretty dangerous places, especially for kids. If you have children at home, keep tools out of the way and out of sight, and make sure all chemicals, paint and other dangerous materials are stored in a cupboard with a lock. It's always safer to keep these things securely under lock and key.
Decluttering doesn't have to be an annual chore. Get your garage kitted out with the right storage and keeping things tidy will become a breeze.