Getting fired up and getting the most out of your barbecue
The outdoor barbecue has come a long way over the last few years. Even the most novice of barbecue enthusiasts is spoilt for choice.
Gas Barbecues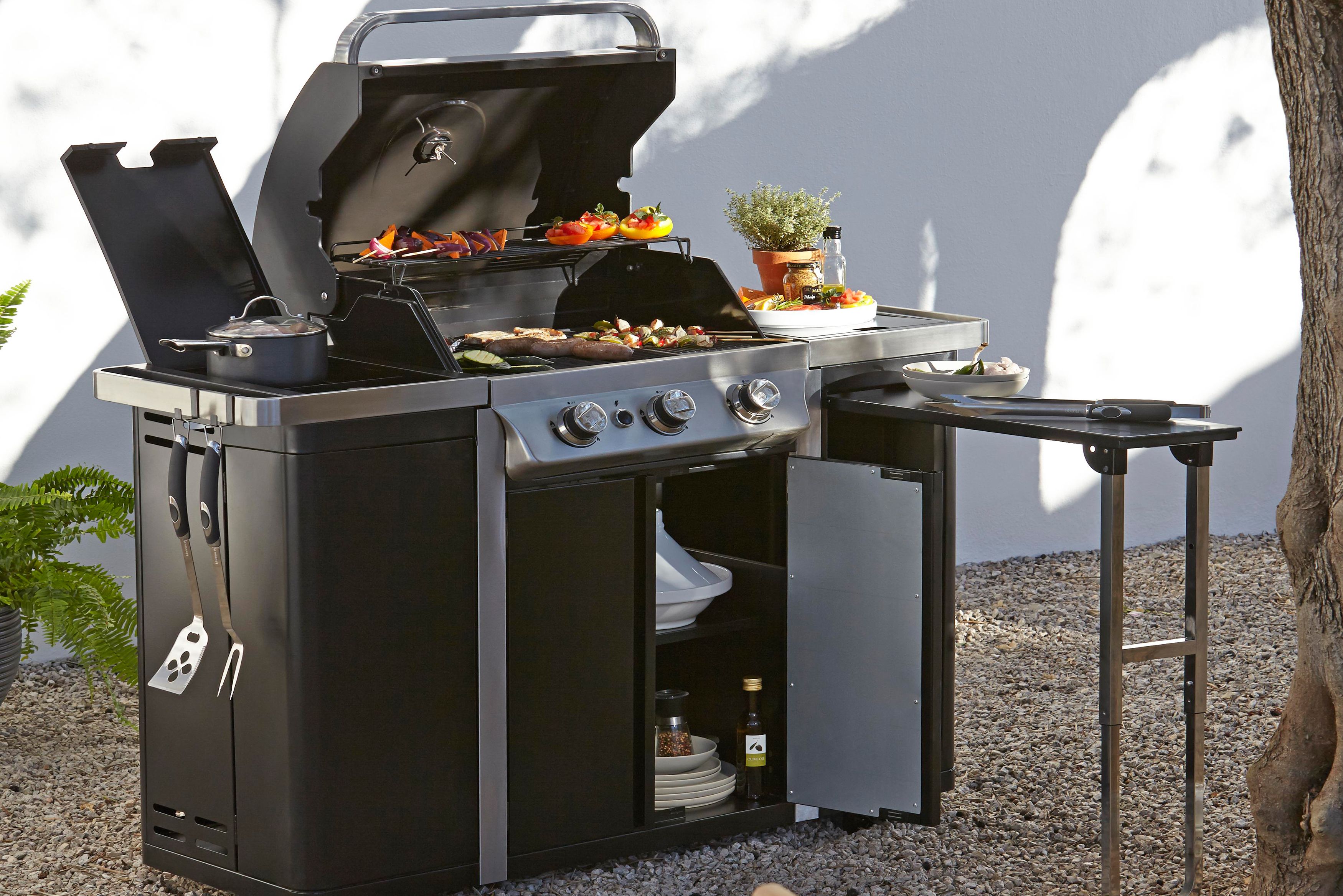 From portable barbecues, ideal for camping and picnics, right through to huge built-in grills and cover-all restaurant-style parasols for more frequent alfresco feasts, you'll find something to suit your chargrilled taste.
Who doesn't enjoy the occasional spread of plump sausages bursting from their skins and a good old juicy burgers, dripping with ketchup? But, when it comes to the ultimate barbecue there are few things to keep in mind.
Fire starter
To start with, which should you choose, charcoal or gas? Charcoal is the traditional choice. You'll need to spread solid lighting bricks or fluid between the coals for even burning. The trick is to wait until the coals are evenly coated with white ash. This can take up to an hour, so make sure you fire up the barbecue well in advance of your guests arrival. The smell of starter fuel will have burnt off and your patience will be rewarded with better tasting food.
Cook food as far away from the charcoal as possible to prevent the flames from touching the food. You can avoid flame flare-ups by adding dampened wood chips to the charcoal.
Top tip... if you really are struggling to get that barbecue fired up then a chimney starter is the ideal way to give it a boost.
Get fired up
For those with busy lives, a gas-powered barbecue offers instant gratification. Those who are slightly more old-school will argue that the flavour is not as good and that it's not as satisfying as throwing the food onto a charcoal flame. But with so many fantastic alternatives there are plenty of ways in which your food can hold that distinguishing char-grilled flavour.
Grill planks left to soak for a couple of hours and then placed on the barbecue gently enhances your choice of food, whilst leaving it with a delightful smoky essence. Everyone's favourite bourbon whisky now comes to the barbecue fray in the form of Jack Daniels smoke chips. Remnants of the oak barrels used to make their esteemed whisky add a tantalising aroma to your delicious cuts of meats or vegetarian alternatives.
Make sure you turn food regularly with tongs and don't be tempted to prod it with a fork - all the juices will escape, your flames will be difficult to manage, and your food will char. If food does char, cut it away. Use the grill cover for slower, more even cooking leaving the vent open to allow smoke to escape.
Top tip... To prevent food poisoning, never mix raw and cooked meat or use the same plate before and after cooking. When preparing to barbecue do not leave raw meat out of the fridge for more than 20 minutes. Always defrost meat and fish completely before cooking and be sure to cook meat and fish sufficiently to kill off any possible contamination. Why not pick a barbecue with plenty of storage and resting space?
Did you know?
That many barbecues now come with specially designed warming racks and folding shelves. Making it easy to store and warm items. It also means that you have somewhere to keep your cutlery.
Rise from the ashes
Once the cooking is complete, and you are all sufficiently stuffed, it's tempting to leave the ashes and burnt on bits from one meal to burn off next time. Doing this runs the risk of increasing exposure to potential carcinogens so once cool, remove any ashes from the bottom and give it a good scrub down. Before cooking again, oil the grill with vegetable oil, or coat it with a non-stick cooking spray. There is even a new range of barbecues that are fully dishwasher safe. Which means you can barbecue to your hearts content without having to worry about scrubbing off all that grease. Just simply stick it in the dishwasher.
To keep the sausages sizzling whatever the weather, a garden arbour or shelter is perfect for alfresco dining and barbecues. A solid timber roof will protect the chef from mother nature, extra wide hand rails provide space for all your guests' plates and glasses, whilst the open look and feel creates a sociable space for everyone in your garden. You can even hang lights from it so you don't have to cook in the dark.
Top tip... use the double pronged skewers to ensure that those kebabs stay firmly on the stick. Double prongs stop the meat and vegetables from sliding off and ensures that everything gets cooked evenly on all sides.
Don't forget... When it's not in use keep it covered from the elements to prolong its life. If you don't have a barbecue with wheels, or a place to store it, then a cover will keep it protected from the great British weather.
Barbecues are no longer an accessory to your garden, they are a necessity, and an extension to your kitchen too. Time to get your cook on with this summer's hottest barbecues.