Make it fit - kitchen retrofit ideas
You don't have to replace your whole kitchen to make it work better for you; there are lots of quick options to make your kitchen fit around your life.
Hidden storage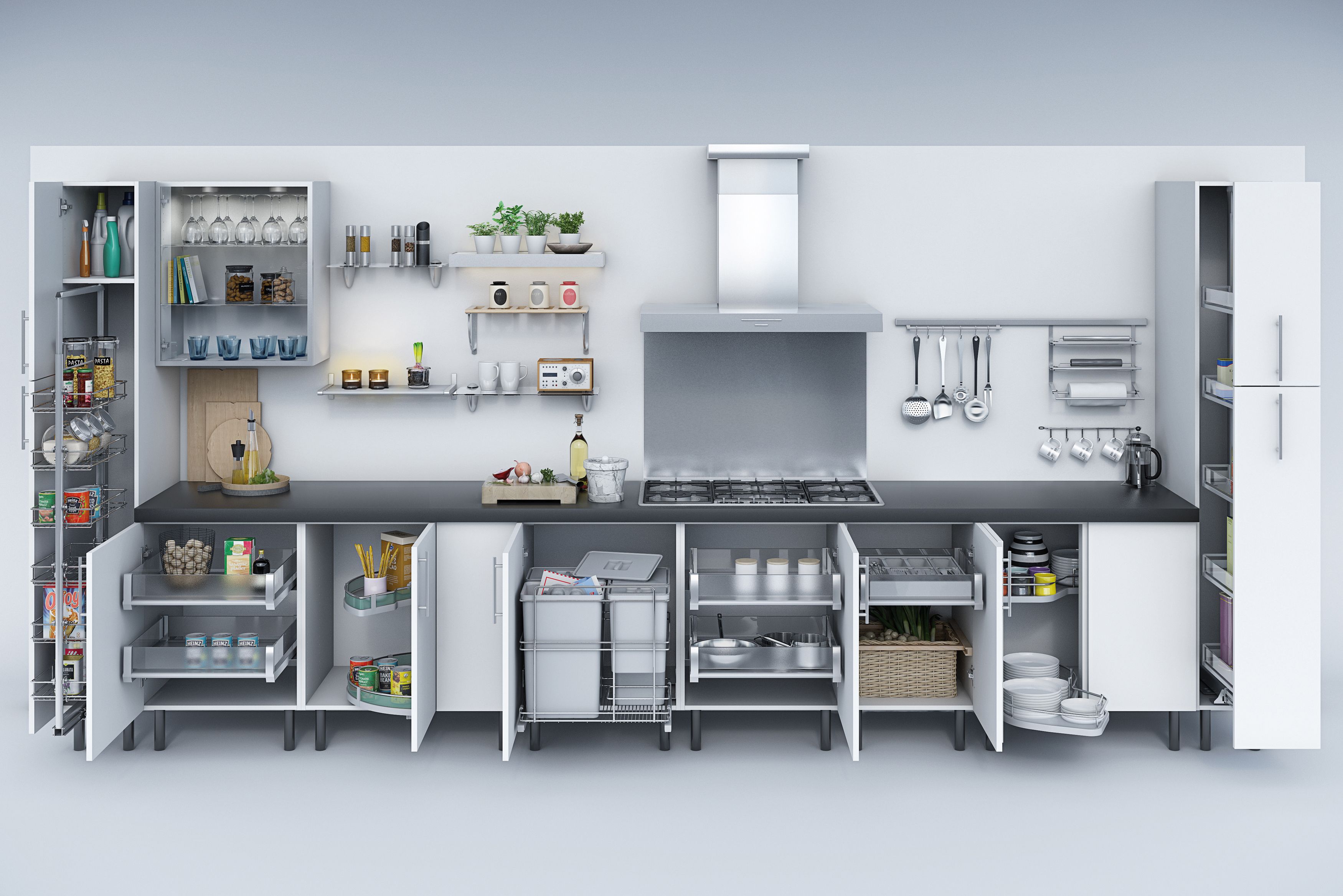 All items in this range
Storage solutions
Retrofit your kitchen; helpful products that can be installed into your existing kitchen, without having to start from scratch.
Make life easier on yourself. If you have a smaller kitchen then think about adding shelves or rails to create space. Lacking in kitchen cupboards doesn't have to mean limited storage space.
Putting up open shelves can not only help you utilise empty wall space, it can also become a design feature too. Store your food in pretty jars, add a few baskets, or put your favourite crockery on display. Have fun and get creative! Adding ornaments, picture frames or plants will make your kitchen really homely.
Top tip... Add a wire to the inside of cupboard doors to hold all your pan lids.
What is carousel storage?
A solution to those corner cupboards that lose pots and pans down that 'hard to reach corner'. A carousel unit is a great solution which fits into your exiting kitchen by making your storage space pop out and rotate for ease of access.
Use your carousel storage to create a larder, making all those spices and jars within easy reach. You don't need a new kitchen to install some pretty nifty storage ideas, that's why they are easy to fit; retrofit.

Add a breakfast bar if the room allows, it doubles up as additional worktop space as well. That tight corner cupboard that seems to always lose your pots and pans can soon become your kitchen saviour.
Pull out storage
Looking for something at the back of a cabinet is not a fun task. Organise your jars, bottles and containers with pull out storage, which allows you to see everything at a glance. For the tricky corner units, install a shelving unit or carousel, depending on your preferences and the shape of the base unit. And with kidney shaped trays, you never have to worry about something being placed out of reach.
Watch our introduction to kitchen inprovements film
Just a Clic
Adding just a few more cabinets? Try our new innovative Clic cabinets. Clever technology makes flat pack a thing of the past. No need for screws, tools and even glue. All you do is click the panels into place, add your shelf supports and pop the shelves into place. Mere seconds is all it takes for you to set up a brand new kitchen unit. Great for making a few Retrofit updates to your kitchen without the help of a kitchen fitter.
Your kitchen should flow, should be free from unnecessary clutter and be a space you want to spend plenty of time in. It doesn't have to cost the earth, nor does it mean starting all over again. Enhance the space that is at the heart of your home.