Splish, splash, colour - Adding colour to your bathroom
The days of the obligatory all-white bathrooms are over. Colour is what it's all about and the more vibrant, the better.
Peach perfection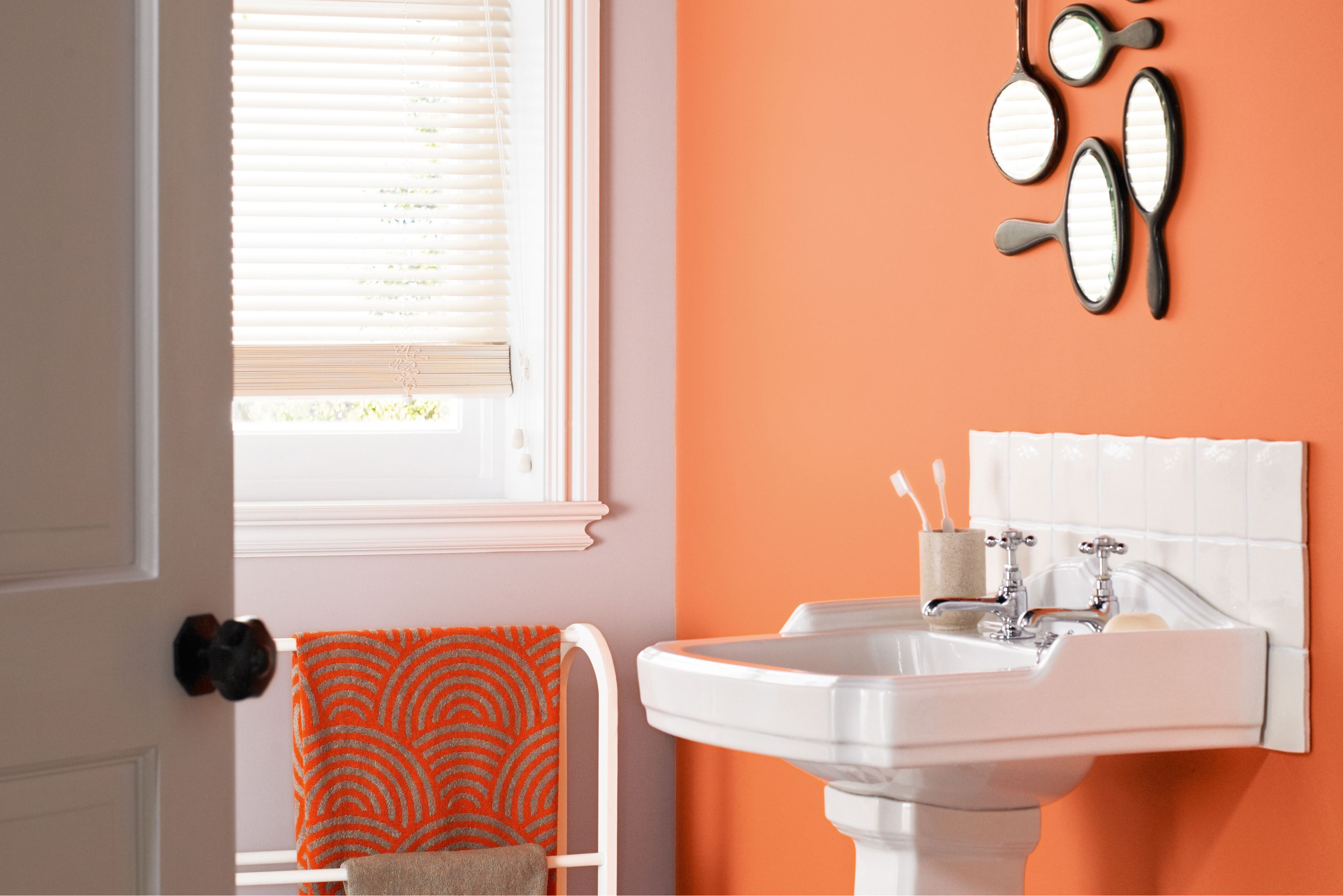 All items in this range
Think fun
It's especially fun for the kids – and might even put an end to those tiresome attempts at getting them in the bath. Imagine how cheery and bright your bathroom would seem if it had a splash of colour. Nothing like a raspberry coloured loo seat to raise a smile on a cold, grey morning.
Splashes of colour
Colour doesn't have to mean that a retro burgundy bathroom suite is required. It's about visualising your space in a new light, adding a touch of colour here and a splash of vibrancy there. It could be something as simple as swapping your boring beige towels for some juicy lemon or lime ones, or you might fancy bringing a single wall to life in electric blue or shocking pink. Even a plain old wooden duckboard can be jazzed up with some wood paint.

Bathroom paint comes in all colours and shades and is pretty hardy. Not only is it moisture and steam resistant, but certain brands even have a special Mouldtec system that protects the walls from pesky mould. Need a temporary fix while you save for your dream bathroom? Choose a complementary colour to your bathroom suite to really make a statement. With some flashes of burnt orange, your inherited 70's turquoise bathroom set will look like a designer styled it.
And now there is even bathroom wallpaper. Yep, you read that right. Wallpaper designed specifically for your bathroom. It can withstand heat, moisture and can even be wiped clean. Made from cushioned vinyl it really is worth a look. Comical designs mean your walls can really show off your personality.
Top tip... and if you want to get the right shade of paint for your bathroom walls then why not use Valspar? A paint mixing service that expertly replicates the exact colour you are after.
Tiles, not brave enough to tile the whole room with our gloss green or cherry red? Add a bright colour boarder to a neutral tiled wall. Go for either a solid colour tile or multi-coloured with a mosaic. While not add a row of new coloured tiles above an existing tiled area, the whole area will look like new and then you can start accessorising.
Style it up
Bathrooms accessories are available in a range of styles so you can update your bathroom theme on a regular basis, or when the shower curtain gets grimy. Coordinate with matching accessories; toilet brush holder, toothbrush holder and soap dish are all available in the same styles and colour ways. Match your new colour pallet to your towels, your bathroom will look boutique hotel bathroom in no time.
Take a seat
Last but not least; don't forget your toilet seat. Probably the most used seat in the house and could do with a multicolour make over.
Dare to be bold in your bathroom? How bright will you go?