Top tiling tips... trade secrets
Tiles can make a dramatic statement and not just in the kitchen and bathroom. Every room in your home can look stunning with large format tiles, innovations in fitting, gorgeous materials and accent borders.
Porcelain floor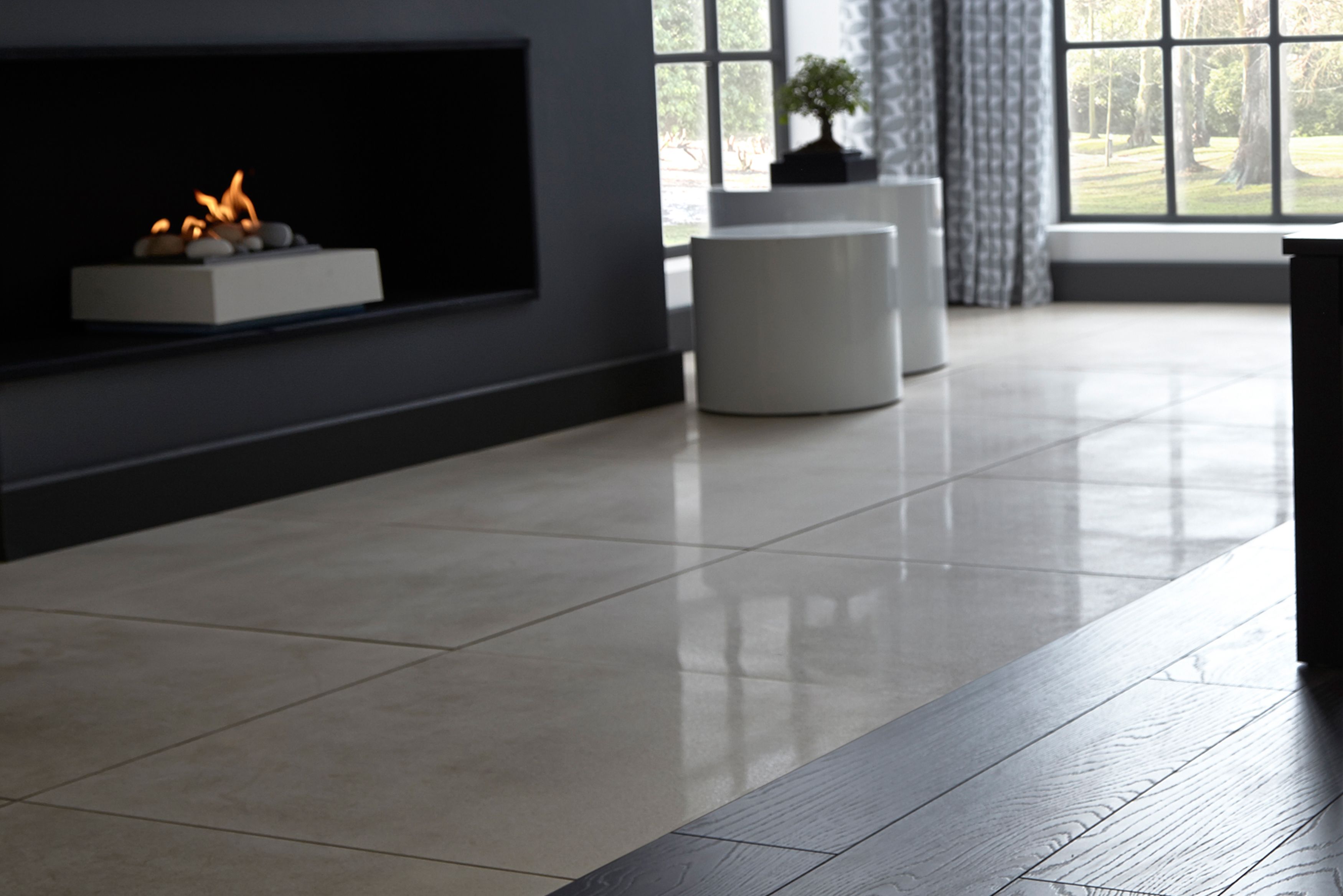 All items in this range
A touch of class
If you'd describe your home décor taste as classic then you might prefer an elegant and organic coloured palette of warm earthy tones and neutrals. Stone or stone effect tiles are just the thing for a simple and timeless interior design.
But aim to keep to traditional sizes, shapes and finishes. 10x10cm wall tiles and 30x30cm floor tiles are essential for emulating period character throughout.
If a more contemporary, stylish and striking feel is your thing then modern designs in a monochrome palette will help you to achieve this fashionable look. Think smooth matt patterned finishes and textured glossy tiles. Polished tiles will provide a silky finish that reflects light into your room to create the illusion of space, known as trompe l'oeil.
You can brighten up a black and white scheme with an accent coloured tiled. But stick to just one extra colour and tie it in with your home decor. The aim is to keep it simple with minimal accessories and clean lined furniture to complement your scheme.
Top tip... for an ultra-modern look, go large. With the very latest developments in larger format wall and floor tiles you can select 600 x 300mm or even 600 x 600mm to dramatically change the appearance of your room. Tile your hallway, open up your living areas, or create an ultra-sleek bathroom design; it really can make such a difference.
Get colour confident
If you are feeling colour confident, energise your surroundings with fun flashes of vibrancy by adding subtle hints of colour through the tiles. You can create a real statement feature through the use of playful colours and contemporary glossy finishes.
Why stick to just one colour though? For a quick update in a white tiled kitchen, you could tile just the underneath of your breakfast bar or island for a pop of colour and personalisation. Or have a really bold tiled splash-back. Perhaps your fireplace could do with a lift? Make it stand out with bright tiles or enhance its natural features with a more classic tile.

Borderline
Another way to personalise your scheme is to add a border and feature to complete your project. Select from the latest ceramic feature tiles, exquisite stone, glass or ceramic boarders to add your own stamp to your design.
You can co-ordinate your border or feature tiles with your wall tiles, so there is no end to the designs or styles you can create. Go vertical by fixing borders from floor to ceiling either side of your bathroom sink to create dramatic colour breaks or create a grand and impressive entrance hall by using a larger patterned border around the edge of a natural, plainer tiled floor.
You don't have to stop at tiling the inside of you home either. With a range of wall and floor tiles that can be used both indoors and out, the possibilities are endless; perfect for creating a seamless look and extending your living space to the outside.

As well as sizes and colours, there are many materials of tile on offer - from ceramic and slate to travertine and wood effect.
Best features
If you want to make a feature using tiles in your room then opt for the genuine slate tiles. Slate slim mosaics are so easy to use, and the slate can be cut using mere scissors or a Stanley knife. No need for a heavy duty tile cutter here. Perfect for kitchen splash-backs, fireplace surrounds and even bathroom floors, it works to really add texture to your room.
The right tools for the job
What makes tiling so easy and accessible these days is the array of helpful tools - or trade secrets if you will. Tile polish, sealant, tile cutters, grout removers, and the good old fashioned yellow sponge, they all help to create that professional finish.
You can also revamp your tiles with tile paint and a grout pen. A sleek finish that is cheap and effective; perfect if you want a temporary stop-gap before you re-tile your bathroom or kitchen.
Shop tiling tools and supplies
Time to get on the tiles and get creative.