Turning inside out with outdoor lighting effects
Warm summer evenings are all about spending time outdoors. Once dusk falls it's often time to move the party indoors. But have you ever thought of bringing the indoors out?
Garden light effects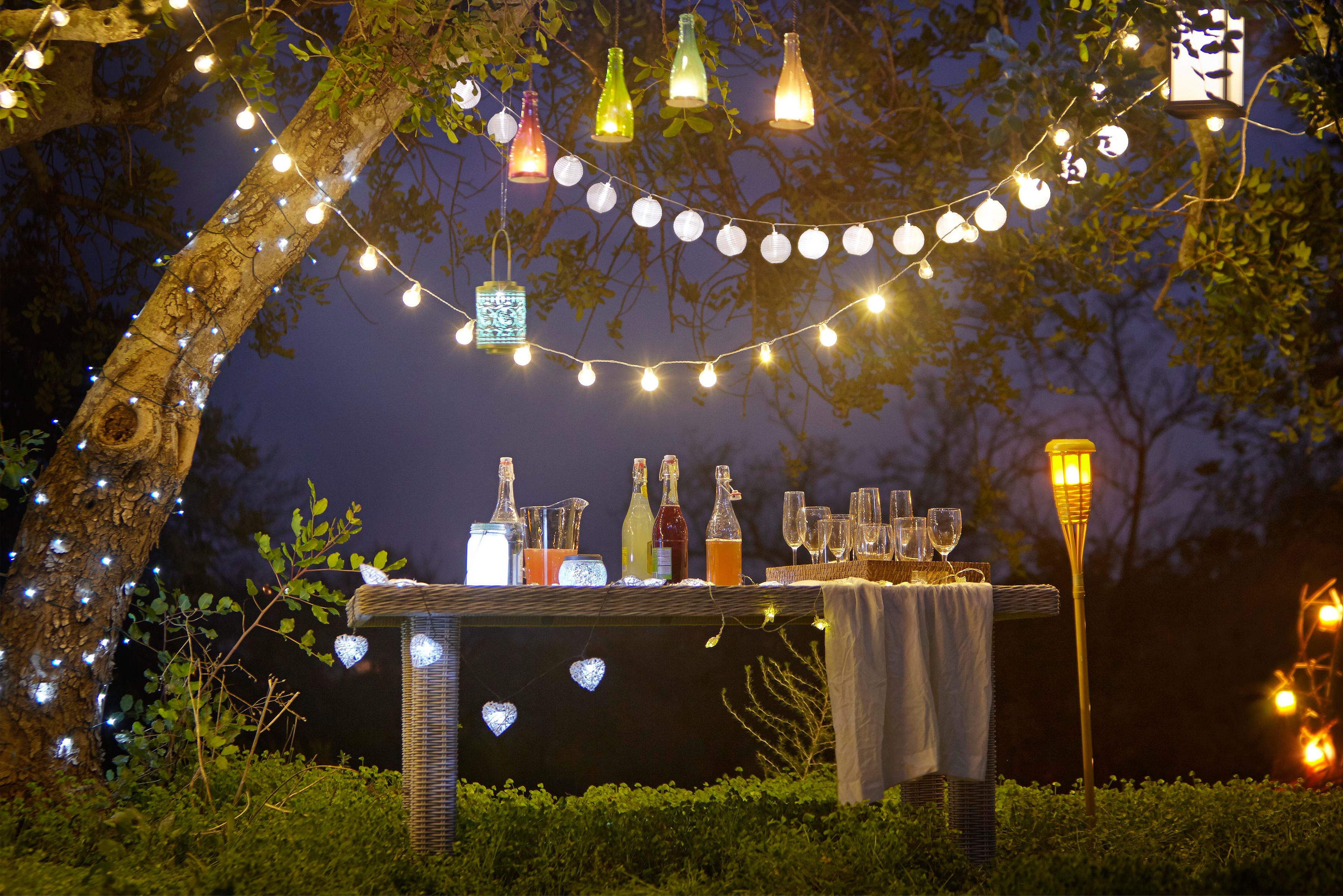 With clever lighting you can create an outdoor room that works just as well during the day as it does after dark. Even the smallest garden takes on a whole new dimension when it's well lit.
Come to light
When it comes to deciding how to light your garden it can be rather confusing. Do you go for lights tucked neatly in your plant beds? Do you adorn your decking in beautiful coloured lights? Or do you choose a multi purpose light that acts as a security light?
The trick is to consider how you use your outdoor space. Well-placed patio lighting creates a warm, restaurant-like ambience if eating al fresco at night is your thing. If you simply want to make the borders, decking or lawns more attractive then go for lanterns or candles. But if you need to light your garden up like the Blackpool illumination then spotlights and floodlights are ideal (although you don't want planes landing in your back garden, so go easy).
Ideas for Outdoor lighting
In the spotlight
If gardening is your passion, and you have an unusual plant or feature in your garden then it is time to put it in the spotlight. Quite literally in fact. Use spotlights to highlight the best features of your garden. They add particular drama and presence when put beneath trees – giving the branches a sort of theatrical shimmer of gold or silver, depending on the type of lighting you choose of course.
Don't forget... be careful how you position your outdoor lighting and consider its location. You don't want to dazzle your guests or neighbors now, do you?
Light up, lights on
You might think that the only way to power your night-time light show is by connecting it to the mains. But did you know that you can cut costs by using solar-powered garden lights? Eco-friendly, and hassle free. They also reduce the issue of trying to hide all those pesky wires. Low-voltage lights are a good alternative to solar, letting you string together cheap-to-run feature lights around your garden on a single cable.
You can also use wicker oil lamps if you'd prefer not to use electricity. There are so many different types of lamps to choose from, and some funky colours too.

Time to see the light
Enjoying the garden after dark can get a little chilly, even around mid-summer. So why not combine light and heat by creating a space for a fire pit or even a chimnea? A warm and romantic touch. And it'll give you that gentle play of light and shadow that adds texture and interest to an outdoor party... or to that special evening for two.
Top tip... illuminate your decking with lighting too. You can choose to have decking lights installed in the steps up to your deck, or you can simply hang lights all around. You will find you get much more use from it this way.
Don't forget... to install a security light in your back garden. It will really help to give you peace of mind.