Why join TradePoint?
Join today
Trade Brands. Trade Prices. Trade Only.
It's quite simple really - and as a TradePoint member you get low Trade only prices, free services, stacks of expert help and it's all for the Trade only.
Get your Trade business booming
When you're in the Trade time is money - we get that. That's why our dedicated TradePoint Trade counters are open for longer with specialist Trade stock on-hand at Trade prices and delivered to you with expert help from our friendly Trade-savvy staff.
Extended opening hours - TradePoint counters open 7 days a week, early till late
Handy Trade Only counters at over 300 B&Q stores nationwide
Dedicated & expert service for the Trade only at all TradePoint counters
Specialist Trade brands and products behind the counter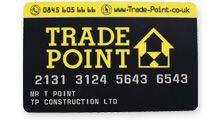 Let us make your life easier
We're all about making life in the Trade easier for our TradePoint members. With TradePoint backing you up you can get the job done quicker, with less hassle and for less money.
Tons of great benefits
It's free to join TradePoint if you're in the Trade. And you get a whole lot out of it like:
Big brands at Trade Only prices
Great Deals for Trade Only
Access to a Trade UK account, which gives you up to 60 days free credit
Great Trade Only deals on kitchens and bathrooms
Free design service, Free paint mixing, Free brick matching
Dual quoting
Wide range of choice - 12,000 products in our Trade Catalogue
Phone ordering on 0845 6056666 with FREE next day site delivery (on orders over £50)
Get in on the act - join TradePoint today
TradePoint is FREE to Trade Professionals like you. Sign up right now Online or call into your local TradePoint store and fill in the application form. All you need is two pieces of ID that prove you're in the Trade - a business card and headed letter would do great.