Kitchen Planning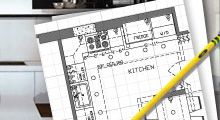 FREE CAD planning
Save time and make your kitchen plans look the business with our free in-store Computer Aided Design (CAD) service.
Our in-store experts on the B&Q shop floor will do it for you with their 3D design technology. We'll create realistic images so your customer can see exactly what their new kitchen will look like.
And our free CAD planning will give you an automated shopping list so you know exactly what you need. We're all about saving TradePoint members time and hassle.
Keep on the same page with Dual Quoting
Our duel quoting system means that we make it easy for your customer and even easier for you.
We can get you a quote with the retail price for your customer, and exactly the same quote for you, showing the Trade price that you will pay.
Just make an appointment for your customer to have their kitchen designed, and we'll take care of the rest, and provide you with the quotes.
Help if something goes wrong
We know that just one small part can be the difference between you finishing a job on time or not. Which is why if you have an issue with any part of your kitchen, we'll send a replacement part out to you within 24 hours.
All you need to do is to call our Orderline and let us know, and we'll speed a part out to you. We'll have it delivered to site or to store on an emergency 24 hour delivery.*
* Subject to availability, 24 hour replacement applies to orders placed before 11am, deliveries Monday - Saturday