Software for the Trade
Get ahead of the competition and win more work
As a TradePoint member we'll give you special access to software that'll help you create professional quotes, estimates, plans and designs. It's the smart way to impress your customers and win more work. Cracking!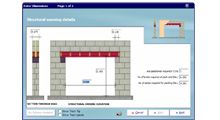 Software with Support
Our partners Trade UK have worked with clever tech specialists HBXL to create software specifically for builders and the Trade. It's brilliant to use and HBXL give you loads of help and support if you need it.
Try the 14 day free trial of these little gems:
EstimatorXpress - Estimating & Quoting
Produce accurate estimates for building jobs in half the time. It'll make your quotes so professional the competition won't get a look in.
Instant Quotes
Just type dimensions into on-screen drawings and you'll get instant costs and quotes, schedules, profit forecasts, cash flow and more.
It's great for estimating extensions, new builds, renovations, lofts and all other domestic building projects.
Specialist editions for plumbers, roofers and more
Plus, there are specialist editions for plumbers, roofers, groundworkers, plasterers, decorators and brick & block contractors.
Simple to use - just enter dimensions into drawings
100% accurate - no guesswork required
Smart quotes that will impress your customers
Cost your jobs using up-to-date prices
Multiple editions for different Trades
1st class support and advice
PlansXpress - Plans & Designs
Go up a gear - don't just submit a quote - tip the job in your favour with a quality drawing and 3D images. Use PlansXpress to get Architect-standard plans without any CAD experience.
CAD for Tradesmen
This is the first CAD software designed exclusively for Tradesmen. It's dead simple to use and you can easily make plans for planning applications, building regulation submissions, and room and services layouts.
Plan it, estimate it, win it
Plus, buy PlansXpress with EstimatorXpress and once you've drawn it you can estimate the cost with just a button click! Let our technology do the work for you so you win the contract.
Impress customers with plans and designs
It's easy - simply click, drag & drop
CAD for all the construction Trades
Automatic 2D elevations and 3D models
A new way to estimate
Photo-realistic 3D views of your build
Health & Safety Xpert
Save time doing paperwork. Stay safe. Avoid fines & shut downs.
Don't get caught out
These days all building firms have a duty of care to their employees and the public. Non-compliance hits hard in the form of massive fines - and worse.
Health & Safety Xpert is a seriously useful software package that presents the hazards relating to each individual job, suggests control measures and produces all the right paperwork. It'll save you time and a whole lot more:
Reduces time spent producing paperwork
Produces Risk and COSHH assessments, policies, permits, method statements and more...
Takes an active approach to health & safety
Regularly updates when legislation changes
Links to EstimatorXpress for ease-of-use
Avoids fines, site shut downs or worse
Check out all these brilliant Trade software programs that take the pain out of paperwork and make you look really, really good. Go to www.tradeuk.hbxl.co.uk