Our charity partnership with Shelter

Stepping up for our Shelter partnership
We're celebrating one year since the launch of our partnership with Shelter. Since then, our colleagues have raised hundreds and thousands of pounds to fund Shelter's team of specialist DIY advisers and help thousands more in housing need, by supporting the charity's other frontline services and advice.
The DIY advisers provide practical help to those settling into a new home following a period of homelessness, as well as supporting others to stay in their current home by making essential home improvements.
To date B&Q support has helped 240 families to create homes they feel safe, comfortable and good about. This includes teaching people basic DIY skills, such as how to put up blinds or paint walls, in addition to carrying out essential jobs like fitting extra security locks.
This weekend
This weekend (9 – 11 March) join us in store and help us raise vital funds for this important charity and celebrate the year milestone at your local B&Q. Support our colleagues as they take part in step challenges, inspired by Shelter's flagship fundraiser Vertical Rush - the UK's original tower-running event.
To kickstart our 'Virtual Rush' fundraising weekend we worked with Brighton-based artist, Mel Evans, to create a temporary work of art in Bristol. The colourful ombre installation depicts a woman taking positive steps; symbolic of the help B&Q is offering to people in housing distress through its partnership with Shelter.
Come and join us this weekend to support Shelter at your local store.
B&Q and Shelter
We're working with Shelter, the leading charity tackling poor housing and homelessness, to improve the lives of thousands of people through practical DIY and home improvement help, and funding of frontline services.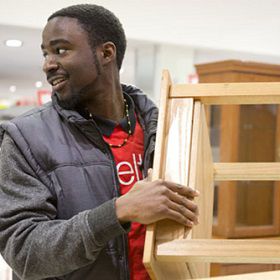 If you've ever taken on a project in your own home, you'll know that home improvement is one of the things that really makes a difference. It can transform somewhere you simply live, into your home.
Our work with Shelter will fund a network of specialist home improvement advisers, who will provide practical home improvement help to people as they settle into a new property after a period of homelessness, and help people at risk of homelessness to stay in their current home. This can include basic DIY skills such as how to put up blinds or paint walls, as well as improving home security.
As the UK's leading home improvement retailer, we are delighted to support this important initiative as part of our commitment to making home improvement accessible for all.
To find out more about Shelter's work, visit their website www.shelter.org.uk.
We work with Shelter in England, Wales and Scotland and with its partner charities - Focus Ireland in ROI and Housing Rights in Northern Ireland.
Corporate