Our charity partnership with Shelter
B&Q are working with Shelter to improve the lives of thousands of people through practical DIY and home improvement help, and funding of frontline services.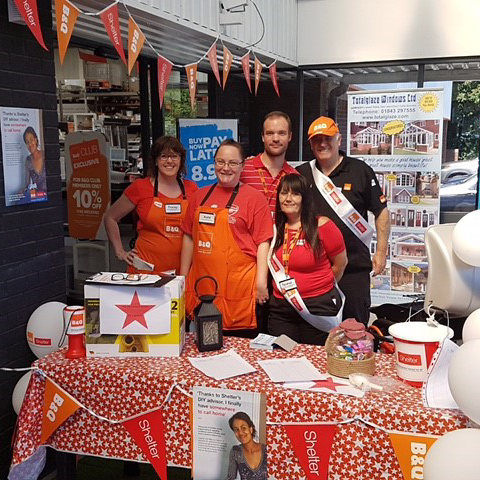 We're proud to work with Shelter, the leading charity tackling bad housing and homelessness. We are working together because we believe everyone has the right to a safe home.
Since launching our partnership in 2017, B&Q colleagues and customers have raised over £2.5 million for Shelter. These donations entirely fund Shelter's DIY Skills Adviser Service and support its all-important frontline services, providing advice and practical help to anyone struggling with bad housing or homelessness.
If you've ever taken on a project in your own home, you'll know that home improvement makes a big difference. It can transform somewhere you simply live, into your home.
Shelter's DIY Skills Advisers are helping thousands of people by ensuring they have the fundamental skills to build a future. The specialist teams work with communities in London, Birmingham, Manchester, Sheffield, Liverpool, Bournemouth, Newcastle and Bristol to help make them feel happier and safer in their homes. They also run skills workshop across the country to bring communities together.
As the UK's leading home improvement retailer, we are proud to support this important initiative as part of our commitment to making home improvement accessible for everyone. We hold quarterly fundraising events in store to fund raise for Shelter.
These are supported by our colleagues and customers, as well as our vendors. For example, as we were Raising the Roof, ahead of World Homelessness Day (10 October 2022), with our very own Paddy Earnshaw, Customer and Digital Director leading a 24 Hour Danceathon at our Head Office, the following vendors gave their support: Antalis, BSH Home Appliances, Duracell, Emerson Electric T/A Insinkerator, Floplast Ltd, Forest Garden, Karcher, Keter, Robovision Ltd Ta Mookie Toys, SBD, Spear & Jackson, Sterling and Westland Horticulture.
To find out more about Shelter's work, visit their website www.shelter.org.uk.
We work with Shelter in England, Wales and Scotland and with its partner charities - Focus Ireland in ROI and Housing Rights in Northern Ireland.