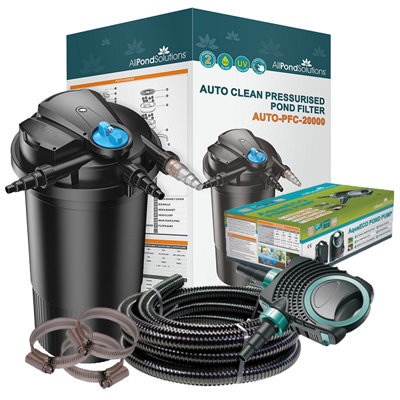 AllPondSolutions 20000L Pressurised Pond Filter Kit AUTO-PFC-20000-KIT
Sorry, this product is currently out of stock.
---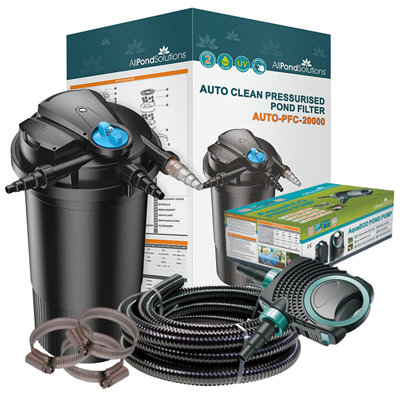 AllPondSolutions 20000L Pressurised Pond Filter Kit AUTO-PFC-20000-KIT
Currently unavailable
This item is not available at this time.
Product details
Product information
Auto Clean PFC-20000 Pressurised Pond Filter Kit With AquaECO 8000 Low Wattage Pond Pump, 5m of 32mm Hosing & 3x Jubilee Clips For ponds up to 20,000 litres Our range of automatic PFC pressurised pond filters with built-in UV clarifiers are designed to be efficient self-cleaning units with the simple turn of a dial. Just like the manual PFC models, auto PFC filters are kept continually pressurised by your pond pump which will help you to maintain the best water quality for healthy pond fishkeeping. Pond filter cleaning with the auto PFC is easier than ever due to the motorised sponge cleaning system. Just turn the dial so that the blue arrow is pointing in the direction of the dirty water outlet; Listen for the 'beep' indicating the start of the cleaning process and at the sound of the second 'beep', your PFC pond filter unit and sponges will be clean. Not only will this reduce the need for any manual labour but there is no need to disassemble any part of the unit except when replacing foams or performing a full system clean. Each automatic cleaning PFC pond filter is equipped with a built-in UV light, which helps prevent algae growth and eliminates micro-organisms in the pond water which can lead to fish diseases.  Please note: The diagram above is only an example of the water route through the system and does not exactly match this filters features. FiltrationWater passes through the PFC-20000 in the following order:1) Pond water flows into the PFC-20000 via your pond pump2) Initial filtration begins by removing large particles through a mixture of coarse and fine filter foams (mechanical filtration)3) Then the water passes across bio balls that harbour good bacteria across large surface area (biological filtration)4) Lastly the exiting water is exposed to a 18w UV steriliser capable of reducing harmful bacteria and algae5) Clean, clear and healthy water exits your PFC-20000 and returns to your pond. Please note: T...
Features and benefits
Maximum Pump Flow rate: 10000L/h
Ponds with a small mix of fish: up to 12000 Litres
Automatic cleaning system for easy maintenance - activated by simple turn of a dial.
Power of UV-Clarifier: 18W Cable Length: 5m
Complete Kit with Pump Hose and Clips
Decorative Ponds: up to 20000 Litres
4 x stepped hosetails fits: 20, 25, 32 38mm
Ponds with a small mix of koi: up to 10000 Litres
Specifications
| | |
| --- | --- |
| Brand | All Pond Solutions |
| Product width | 380mm |
| Life expectancy | 5 years |
| Product height | 740mm |
| Product code | 5056035508931 |
Documents
Product Instruction Manual