AMOS Woodlets Premium-Grade Briquettes - Pack of 6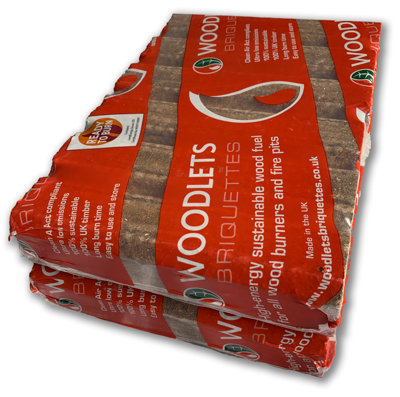 Product details
Product information
AMOS takes shredded wood, apply 10,000psi (pounds per square inch) of pressure, and create long-burning briquettes. They are entirely natural – the lignin molecules in the wood melt under the pressure and bind the wood together. Low-carbon fuel performs fantastically well in wood-burners. One Woodlets briquettecan last up to four hours, and customers can save quite a lot compared to buying conventional logs. Briquettes deliver around 50% more heat for each pound spent than logs. This cooking fuel is 100% sustainable and is a low-carbon alternative to fossil fuel because trees absorb carbon as they grow. Natural briquettes burn hotter and cleaner, are cheaper to buy, and much easier to store and handle.
Manufacturer guarantee: 1 year
This will need to be kept in a cool and dry place to avoid moisture being absorbed into the wood.
Sustainable Wood Fuel for Open Fires & Multi-Stoves, Outdoor Cooking Fuel & Fire starters
Features and benefits
Sustainable Briquettes: Trees absorb carbon as they grow, which is why Woodlets Briquettes are a low-carbon alternative to fossil fuel. They are 100% sustainable and entirely natural.
Long-lasting: Woodlets fire starters are made of extremely high-density wood that creates long-burning flames. One briquette can last up to four hours and burns hotter and cleaner than conventional logs.
Low Moisture: High-energy sustainable wood fuel for all wood burners and fire pits, these briquettes have less than 10 per cent moisture content. They are also easy to use and simple to store.
Multipurpose: Exceeding new Clean Air Quality standards, these premium-grade AMOS briquettes are ideal for all open fires, multi-stoves, wood burners and log burners. They can also be split by hand for smaller stoves.
Product Specifications: With ultra-low emissions, the outdoor cooking wood has a heat output of 4.8kWh/kg, each Woodlets briquette measures 295mm x 70mm x 70mm.
Specifications
| | |
| --- | --- |
| Brand | AMOS |
| Kiln dried | Not kiln dried |
| Product length | 295mm |
| Product weight | 12kg |
| Timber type | Hardwood |
| Product code | 5060318890057 |