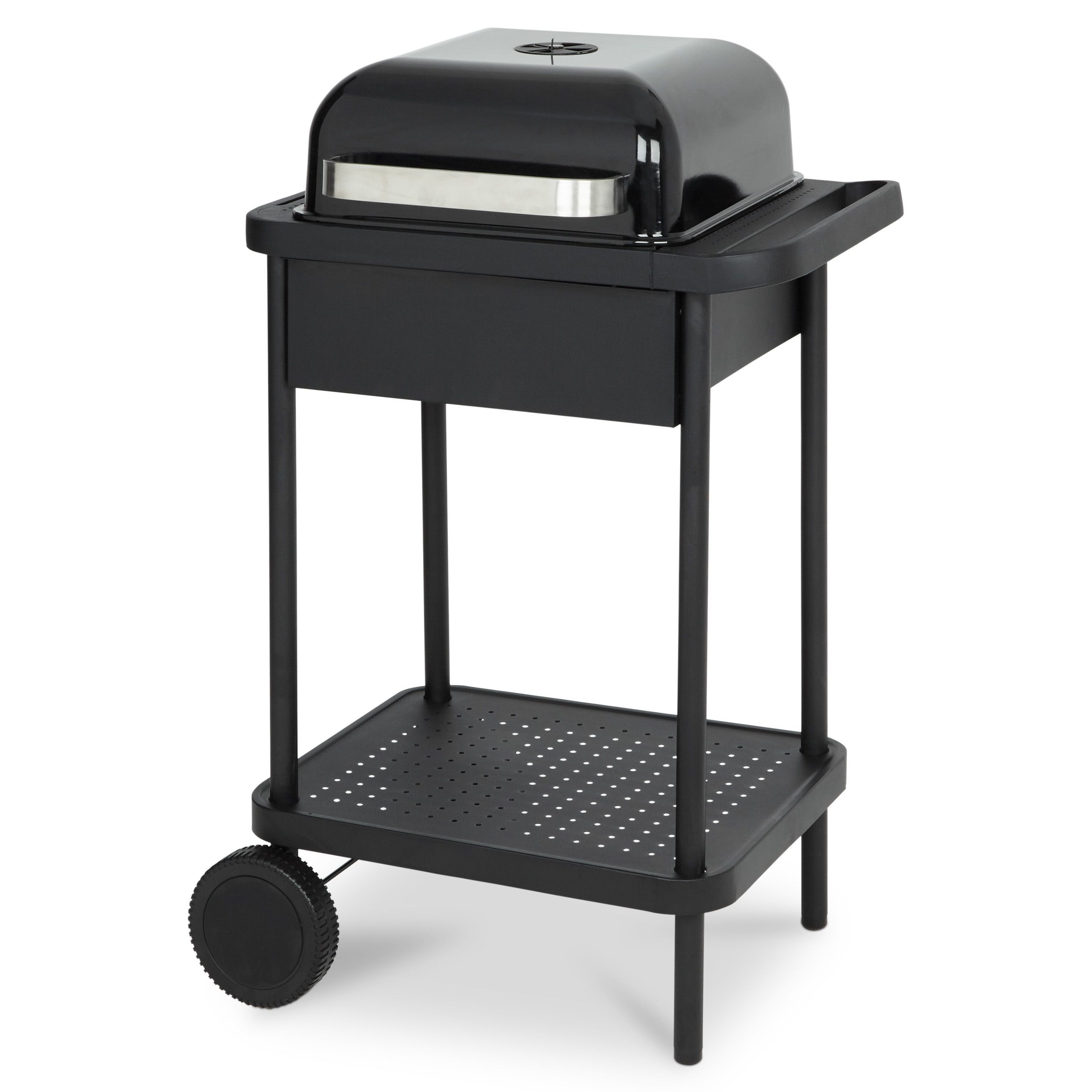 Blooma Rockwell 200 Black Charcoal Barbecue
Product details
Product information
This Blooma Rockwell charcoal barbecue is perfect for grilling.
Cooks for up to 8 people
Comes with 2x grills
We recommend you protect your barbecue with a barbecue cover when not in use
Features and benefits
With dishwasher safe grills and integrated ignition, the Rockwell range has considered the small details to make barbecuing that little bit simpler. Easy to assemble and even easier to move around, it makes garden grilling a piece of cake (or steak).
The charcoal version of the Rockwell gives you a great smoky barbecue taste. The pull over lid provides great ventilation and the handy ash collection tray keeps things tidy.
2x wheels make this BBQ easy to move around the garden
Epoxy coated paint keeps you BBQ looking newer for longer
Specifications
| | |
| --- | --- |
| Brand | Blooma |
| Product depth | 590mm |
| Product height | 1080mm |
| Product weight | 19500g |
| Product width | 720mm |
| Fuel type | Charcoal |
| Material | Steel |
| Model name/number | 200 |
| Assembly required | Assembly required |
| Product code | 3663602706724 |
Excellent barbecue
Love this barbecue great for our family barbecue although it took 2 hours to build it was well worth the wait, after using it and had cooled down it was so easy to clean hot soapy water then detox wipes to get off excess fat splashes.
All in all this barbecue is a very good buy.
BEST BARBECUE I HAVE EVER OWNED
Before I go any further, I am not an employee of B&Q and am not related to B&Q in any way – my review below is completely independent and objective.

Having had a succession of useless cheap ones, I had been looking at better quality charcoal barbecues and promised to treat myself and get a really good one this time around. The barbecues (from the USA - make not permitted to be displayed here) are seen to be high quality and certainly last really well (my neighbour had one for over 15 years and it's still going strong) but somehow, I just couldn't justify the very high price tag – despite the quality.

Blooma Rockwell seems to be B&Q's own make as it's not available anywhere else. The reviews looked reasonable but I had to go and 'touch it / feel it' in store to finally make the decision. I was able to view it side-by-side with the other ones B&Q had in stock and the quality is certainly comparable but the price is so much more reasonable.
The metalwork of the bowl and lid is not painted (like cheaper ones) but is stove enamelled (like the USA made ones) and the removable grills are also robust stainless steel. The grills are cleverly designed as two sections, so can be lifted out to replenish charcoal if needed. They are also sized to comfortably fit in a dishwasher – which makes cleaning after cooking very easy. This barbecue should last well, providing it is looked after properly.

It is a very sturdy piece of kit and took me less than an hour to assemble. The instructions are not written down but the parts are easily identified and the sequential diagrammatic explanation made assembly easy – those reviews complaining about the assembly aspect are not really justified in my view. One tip – don't try and tighten it up at each stage as you assemble it – but leave it till towards the end of assembly and give all the screws / nuts a final tweak – you need a good quality, strong screwdriver (a ratchet one if possible) to really tighten everything up – but once that's done, it is rock solid. It's perfectly sized for at least a family of four and with the optional warming rack which I bought at the same time – you can cook for a lot more.

The charcoal lit well, without the need for 'fanning' and the air vents make cooking and controlling the heat very simple and easy. The height of the grill is perfect – no more stooping down to tend to the food and turn things over. I have now used it several times and it has been great – the food has been cooked perfectly and I am looking forward to using it again soon.

In addition to the GoodHome warming rack which fits perfectly in the slots available, I bought the purpose-made Rockwell barbecue cover which is also good quality and will provide good weather protection as my new 'toy' will live outside for most of the barbecuing season (in the garage over winter). The rack and the cover are both well worth the relatively small extra cost.

In summary then – this is the best barbecue I've ever had – and I fully recommended it.
Pretty good barbeque for the money
Pros: feels much more heavy duty and well built than our cheap round one we had before.
Grill comes in two sections so fits in the dishwasher (brilliant).
Well packaged (even had a string to stop the card with the screws getting lost)
Cons: Much bigger than expected (bought online) Cooking surface is designed for someone 6 foot tall, much too high if you are short.
Despite all the bolts being prepackaged, one was the wrong size (fortunately not a critical one).
Looks like there is space for a warming rack but doesn't come with one.
Slightly annoying that grill slides about a bit when seated.
Rungs of grill run front to back which means you need to lay kebabs crosswise (to stop things falling through the gaps) so the windshield gets in the way a bit.May take it off.
Took me hours to put together, a number of bolts were located in a way that made them hard to access with an electric or manual screwdriver resulting in the heads getting a bit chewed up (as they need to be tight to stop it wobbling) which is an annoying design flaw.
The instruction for hanging the side flaps is very badly drawn.
The platform that forms the barbeque surface comes in two pieces which is an unnecessary complication(presumably to allow the different designs) but the box was massive so they could have pre assembled this bit. As a smaller woman, I really struggled to push them together with only two hands (ended up shaving some bits off the plastic plugs to help them fit).
Useless
Useless, took 2 hrs to put together, screw info number on the back of screw pack which gets ripped when removing screws! Comes with a stupid amount of packaging and stupid instructions in a million different languages
And after that will not light when put together
Waste of money and not happy with this purchase
Avoid
Shaken, not stirred!
Legotrooper - 8 months ago
Bought this one for size and dimensions as fits nicely into our Keter storage box.

As some have mentioned it seems a bit shaky but I found giving the screws another tighten to be of some benefit.

Instructions fairly straight forward and put together in the blazing heat of May.. One tip, don't put the metal parts on the grass in the sun. Just a few minutes and the grass had a burn patch appear in a square shape from where I placed the lid. Took a couple days to come through but the square outline gave it away.

Done 3 BBQ's on it now and all have been great. Leave over night to cool and clean next morning which is simple enough with some washing up liquid and water.

All in all I'm happy with the purchase.