See more Air Conditioners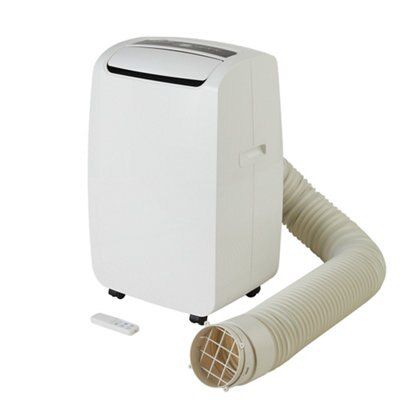 Blyss Mobile air conditioner
Product details
Product information
Features and benefits
Control the breeze with this 3 in 1 mobile air conditioner which provides cooling, dehumidification and ventilation functions. It provides a good energy performance to help you save energy in your home. It rolls on casters and can be used in living rooms, bedrooms and office. It's perfect for a 9m² room.
Perfectly cools a 9m² sized room.
A cooling gas which is better for the environment, low-polluting with a minimal impact on the ozone layer.
Provides a good energy performance to help you save energy in your home.
Control the breeze with 2 speeds. Set the timer to automatically switch the air conditioning on and off.
Control the breeze with cooling, dehumidification and ventilation functions.
The integrated thermostat has an easy to understand LED display. Manage the settings with the remote control, it's easy to use.
It's easy to move around your home.
Specifications
| | |
| --- | --- |
| Brand | Blyss |
| Number of speeds | 2 |
| Corded/Cordless | Corded |
| LED display | LED display |
| Energy rating | A |
| BTU | 4500Btu |
| Power output | 1300 |
| Remote control | Remote control |
| Switch type | Electronic |
| Adjustment type | Electronic Control |
| Timer | 24 hour timer |
| Model | WAP-08EC13 |
| Depth (mm) | 300mm |
| Height (mm) | 620mm |
| Width (mm) | 386mm |
| Weight (g) | 19400g |
| Primary power supply | Mains powered |
| Product code | 3663602439905 |
Air conditioner
Rickiboy2326 - 10 months ago
Good for a small room dose not take up much space either just make sure it's the right btu for your room or no it's not going cool it down
great for this hot weather
Bought it for caravan, but using it at home, really happy with it, vent opens on top to let tcold air flow out .hoping to purchase another when they come available. it can be a bit Noise when on high, but you can turn it down and its much better. compared to others we looked at we are really happy .
500 watt continuous demand off grid AC
I just brought this to cool a 10 foot square shed as it is my workshop and gets rather warm in there at times. The shed is insulated and has 4 layers for heat and water control and a 2kw solar setup (only 400 watt panel though). I needed a low peak load demand as inverters cannot handle large surge loads so bit the built and got this. i must say that it took a while to get down to 16 degrees but once your there it is a gorgeous feeling to have a cold room to goto in the hot days. The DC inverter did not even hint it was struggling to run it for the 40 minutes it took to cool down from 29 degrees so I am thrilled so far. The vent was a bit of a pain as I had to adapt the window to vent the heat. If you need AC for your mobile home and have restrictions on power, this runs at 500 watts flat out and dips to 455 when in night mode (Runs cooling fan at a lower speed to make less noise) It blows cool air quickly from switch on and reaches peak heat transfer about 5 minutes in. The only moan is the drain point is right at the bottom of the unit so you need to put a low baking tray underneath to drain the tank.

you need to remember that your area it can cool is just over 3 square meters and the vent point must be to the outside and also to seal any access to the outside air as you can cool a cab okay, but the air getting in from outside will work against you so door and windows must stay shut.
good, but
This air conditioner is meant to cool a (singular) room, with the following caveats, The spent hot air should be ducted from a window (preferably as high as possible) remember cold air is heavier than hot and the room fills with cold air from the floor up.
If you have a patio door or french door that you are using to expel the hot air from then you will loose the cold as well, and your view of this unit will disappoint.
You must shut all other doors to and from the room being cooled.
Note, because the unit sucks air as well as heat out of the room, the room will recover that lost air from the house, which will mean that the unit has too work continuously to cool as warm air is finding its way back into the room.
The unit will be effective in smaller rooms because of this, to use a analogy its like sitting in a rowing boat which has a hole in bottom, your ok as long as you can bail out the water from your sinking boat than it fills.
So having said all this , does this unit work...yes absolutely but with greater effect when the area covered is kept reasonable.
tip: stick a draught pillow at the base of the room door.
enjoy.
Great for bedroom
Bought one a couple of days ago for the humid heat. Haven't had chance to have a vent drilled in the wall yet however if you use old wallpaper and duct tape or a window sealing kit it works well. Quickly removes humidity and cools the room down effectively.

The negative reviews are from people misunderstanding AC. It is not a magic bullet - it takes time. It dropped my bedroom from 28 degrees to 22 degrees in around 5-6 hours and I had a great nights sleep but you must make sure the window is sealed and doors are shut or it drags the hot air back in. This is true of ALL air conditioners.

The sleep mode is an added bonus as it reduces the noise below that of our air purifier but keeps the room nice and chilled. Best purchase ever.