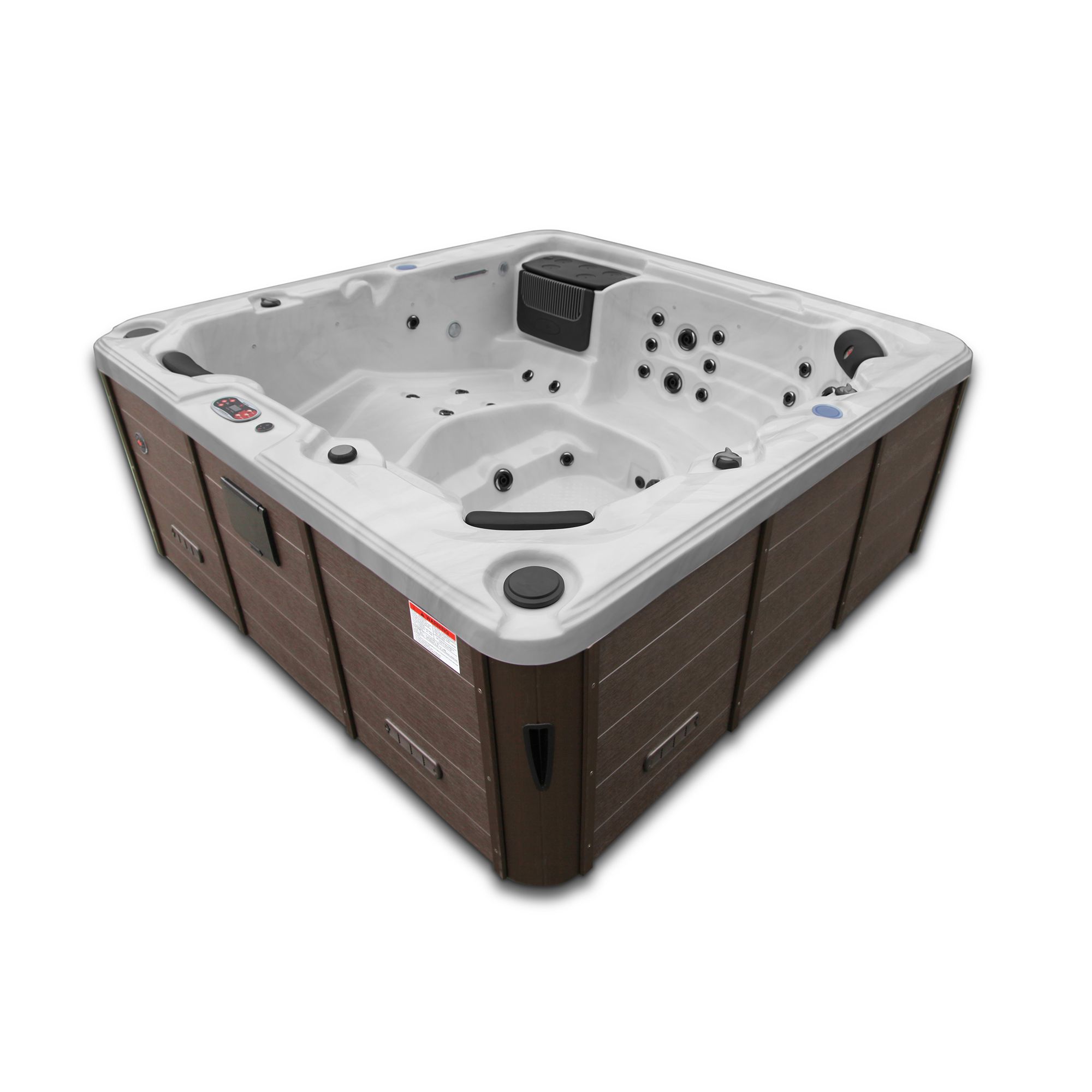 Canadian Spa Toronto Special Edition 6 person Hot tub
Product details
Product information
This special edition Toronto hot tub delivers double the massage performance of the original Toronto spa – so you can enjoy all the benefits of a luxury spa experience in the comfort of your own garden.
Features and benefits
The Toronto special edition spa has something for everyone – a sculpted therapy seat, a roomy lounger and a corner nook for friends. It features forty four jets with adjustable air controls for added pressure and a built-in aromatherapy system. There's room for up to six people to unwind in the Toronto hot tub.
Provides a variety of seating options including a hydrotherapy seat, a relaxing lounger and a corner seat
2x 5HP (15amp) pumps delivering double the massage performance of the original Toronto
Mountain Pure™ self-clean spa - Auto-cleaning water sanitation system with ozone purification and 100 square foot filtration to sift contaminants from the water. Spa filters are made from rigid and long-lasting 100% polyester Reemay filter fibres
Bluetooth enabled music system including 2x waterproof retractable speakers. Built-in high quality amplifier delivering high volume with clear acoustics & Aurora™ premium LED mood lighting system
Brand new Blackout insulation with high-density closed cell foam, foam curtain and infrared reflective material lining each of the cabinets – along with a 5x3 tapered locking spa cover which is designed for Canadian winters
Energy efficient heat reclamation system – Canadian Spa Company uses a unique combination of innovations to prevent heat loss and recycles water to save money and energy. 3.0 kW Balboa heater with smart sensors (shuts off heater within half a centigrade). High-quality tough triple layer insulation with IR reflection + thermal transfer blocker package on shell, cabinet and base
If you have any questions regarding the purchase, delivery or installation of your spa please contact Canadian Spa of 01293 812 047 before purchasing.
Specifications
| | |
| --- | --- |
| Volume | 980L |
| Colour | White |
| Location | Indoor & outdoor |
| Number of seats | 6 |
| Product depth | 820mm |
| Product height | 2130mm |
| Product weight | 400kg |
| Product width | 2130mm |
| Safety feature | Anti-entrapment system |
| Heat output | 3kW |
| Voltage | 230V |
| Product code | 0708296543088 |
Fantastic Hot tub
We purchased our Canadian Spa Toronto SE 18 months ago, It's great it helps with my aches and pains. We use it 4 times a week, Canadian Spa are very helpful and professional company to deal with. We like it that much my brother brought a Montreal model. It's been a investment
Brilliant :)
I have been bugging my mom ever since my bff got a hot tub to finally get us one. I had extremely high hopes when the tub arrived and Gary and his mate delivered the tub brilliantly. They showed us how to use it and only left when we were happy to use it. Although it is a bit pricey it is brilliant for what my family use it for :)
Fantastic service
We ordered a hot tub from a different supplier and was fobbed off for over 6 months with different delivery dates every time we called them. Eventually we asked for a refund and ordered a Toronto from b and q. The order was then passed immediately to Canada spa, who contacted me within 48 hours. They were really friendly and couldn't
do enough for us. The hot tub was delivered 5 days after ordering. I couldn't believe it
after waiting over 6 months. Gary the delivery guy turned up with his mate and again, they couldn't do enough for us. What a service!!! The hot tub itself is absolutely outstanding, we as a family, absolutely love it. I didn't want to leave a review until I knew it was a good product. We as family absolutely love it. I'm a stickler for quality and this is quality! I would happily recommend Canada spa and the Toronto to anyone.
Fantastic service from b and q, even more so from Canada Spa and Gary. Superb
Very good
I love it already even though its still in the box!
Fantastic service all round red
Buying a spa can be quite a challenge, particularly when you have no prior experience and there are a range of suppliers and brands all claiming to have the edge over their competitors. Having a budget in mind helped but what we were looking for was a reputable North American company with a long history of producing quality, long lasting hot tubs at a reasonable price. Having look at Canadian Spa initially (b&q) we continued our research elsewhere and nothing was comparable to the Toronto spa for size, quality and price. As we had a few questions, we contacted the customer service centre at Canadian Spa and the gentleman was happy to answer these in a confident and reassuring manner. Again, with this improved knowledge we continued our research elsewhere but still nothing could match the Toronto spa prompting us to go ahead with the purchase. Arranging payment through b&q and then delivery through Canadian Spa was a seamless process. The added bonus was we were offered an upgrade to the Toronto Special Edition for a small, additional cost. As since been proven, this was a great decision as the extra pump provides fantastic power to the jets. Tony, who arranged everything for us was fantastic, even managing to get us an earlier delivery slot than scheduled as it was my wife's birthday! On delivery, Gary and his co-worker were superb. Despite the time being 4pm and a long drive back to Derbyshire ahead of them, they were in no hurry as you might expect - taking the time to explain and demonstrate the functions of the tub, the different cleaning materials needed and tips to maintain the tub for longevity as well as installing the tub in exactly the position asked for. Whilst it is early days, the whole process from buying the tub to delivery to our first dip has been stress free and we would highly recommend this company and hot tub!