See more Complete irrigation systems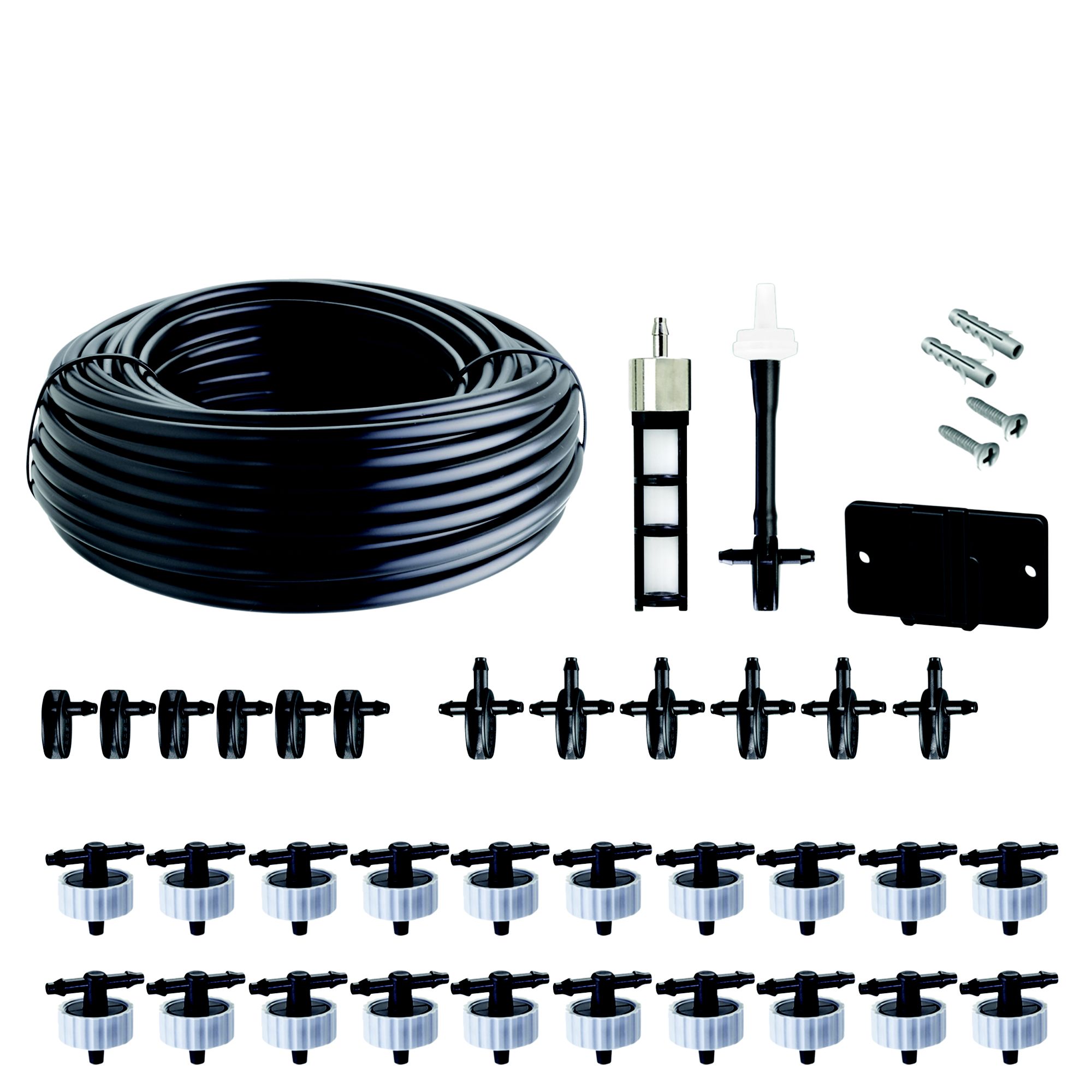 Product details
Product information
Comes with 20x self-regulating drippers, 20x 1/4" support stakes, 6x hole plugs, 6x 1/4" 3-way couplings, solar timer-pump, anti-siphon flow blocking valve, 1/4" suction filter, bracket with screws & plugs for wall-mounting and 20m of 1/4" feeding tube
Compatible with It can be used together with Aqua-magic tank, Claber foldable 80-litre water container
Features and benefits
Claber aqua-magic system for setting up a drip irrigation system up to 20 pots without connection to taps or power sockets. It includes a timer, with built-in photovoltaic panel and pump to draw water from a water reservoir, filter and distribute it to 20 drippers. Inspectable filter for easy cleaning. The photovoltaic panel, which has to be positioned in direct sunlight, absorbs the light energy and turns it into electrical energy, which is accumulated in 2 rechargeable AA 1.2V NiMH 1800mAh batteries (not included). A specific LED reports the battery level. 54 possible irrigation solutions, which can be set with just 2 rotating knobs, one with the watering frequencies (between 1 and 7 days), the other with the amount of water to be delivered through each dripper (between 40ml and 200ml). Optional manual irrigation, 100ml per dripper (the set programme remains stored). It can be used with any tank
Independent drip kit for watering up to 20 potted plants, without connections to water or power mains
The photovoltaic panel exploits the clean and free energy of the sunlight to charge the rechargeable batteries, which operate the timer and pump, with no need of electrical connection
Easy programming with just two dials
Specifications
| | |
| --- | --- |
| Manufacturer guarantee | 2 years |
| Material | Plastic |
| Product code | 8000625080632 |
Watering those hard to reach plants
I put this up today and all seems to be working well.
The pump is 3m above the bottom of the water source (and ~4m horizontally away). It draws the water well and supplies the 20 dippers placed on a branching line below the pump and over 1m in elevation range and ~6m in width.

Maintains a daily water supply to these out of reach plants that can be awkward to waste with a can.

Pump settings are: daily to every 7 days, and with a range of volumes (40-200 ml per dripper based on 20 drippers all at the same flow rate).

The battery indicator is hidden on the back with the dials (a warning/fault light on the front would have been useful), and a 12 hour pump cycle would have been nice. Otherwise, construction and use seems good.