See more Multi-Purpose Compost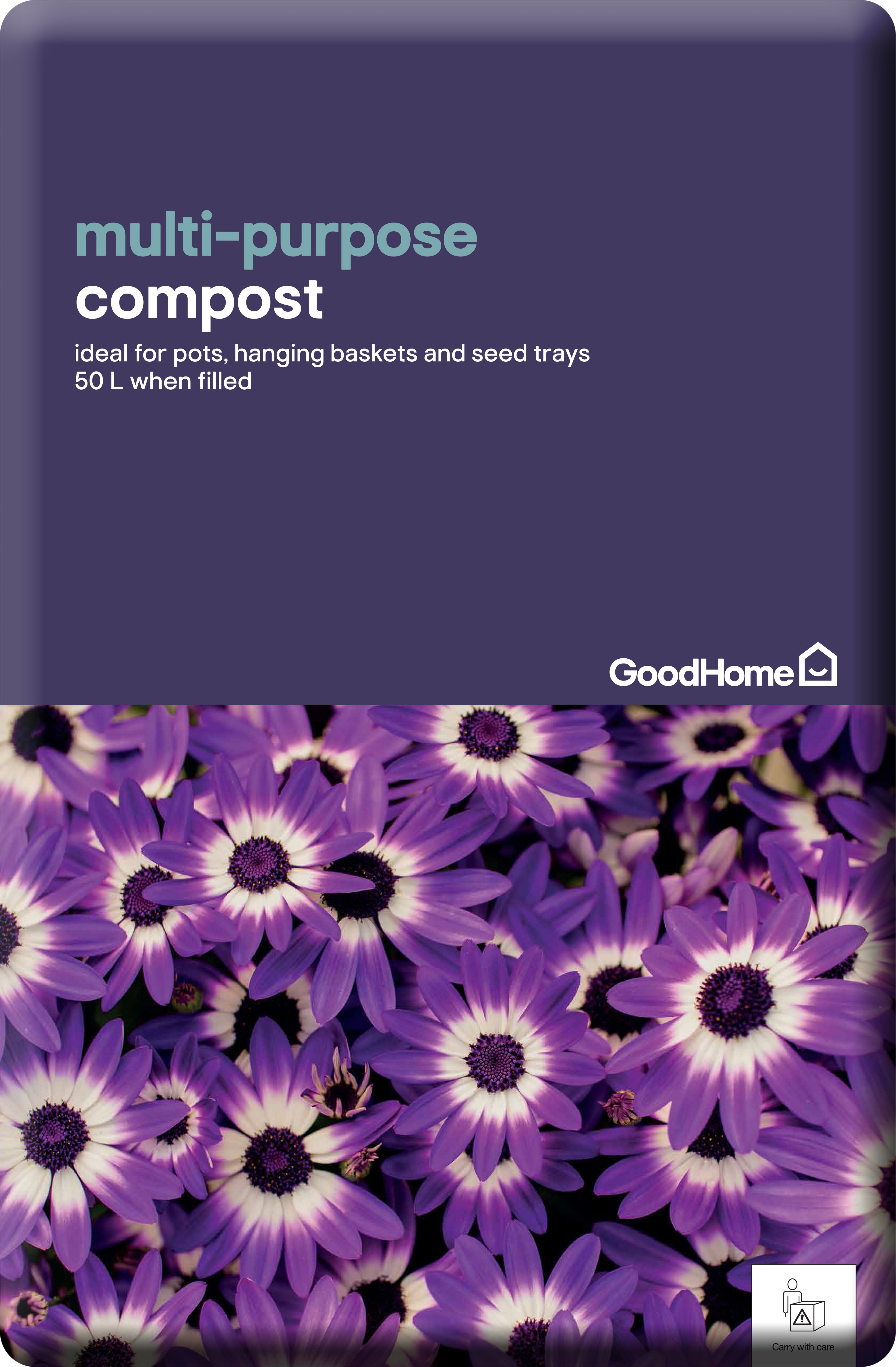 GoodHome Multi-purpose Compost 50L
Product details
Product information
This GoodHome multi-purpose compost is perfect for beds and borders, pots and hanging baskets. It locks in essential nutrients and moisture to help your crops flourish, use with our multi-purpose plant food for tastier fruit and vegetables and bigger blooms
Growing plants in hanging baskets, pots and window boxes. Rooting cuttings and sowing seeds in seed trays and pots. Potting on seedlings and rooted cuttings
100% coir, green compost & composted bark
To re-pot a plant, water well 1-2 hours before re-potting. Add a layer of compost to a slightly larger pot. Gently remove plant from pot. Pop plant into the larger pot and top up with compost. Lightly firm the compost with your fingertips and water.
Features and benefits
This compost feeds for up to 8 weeks after planting
This compost can be used in pots & planters
This compost helps to reduce garden maintenance by retaining moisture in your soil
Specifications
| | |
| --- | --- |
| Brand | GoodHome |
| Standard | FSC certified |
| Litre capacity (L) | 50L |
| Peat content | 0% |
| Product code | 5036581089986 |
absolute rubbish
tried a bag of this as B&Q no longer have verve compost. WORST compost i have ever had feels very rough, full of bits of twigs and other rubbish, I have to take toad stools out of pots every day removed 25 today out of 20 pots. cuttings that have been repotted into it are not growing very well. Going to buy different compost and repot them before they die. Its RUBBISH do not buy. Did not realise could add photos until writing review. to late now have binned toadstools or would have shown a good crop.would give 0 rating if i could
Mushrooms growing
Re-potted my plants. There was no mould or mushrooms before I used this. Now they all have mould and mushrooms sprouting. Hope this doesn't kill everything!
awful product
Squirrel 768 - 2 months ago
Had this as a replacement for the Westland product I had ordered ... as the bags 'in stock' were not available! Witl lockdown at the time, didn't have much in the way of other options, especially as I was (and still am) shielding.

In favour - it is not expensive. It is peat-free, made from recycled green waste.

Against:
I have found fragments of glass in it
I have found pieces of plastic in it.
It does not retain moisture, so dries out quickly. Not such a problching beds, where roots can go down into soil, but hopeless for pots - which need to be watered far more frequently than normal.

Worst - I had 6 bags. Used 2. One was a bout 1/4 left in it, but when I came to use it, it had gone mouldy (looked like fibreglass loft insulation growing in it!!). Opened one of the remaining new bags, that also had mould growing in it.

I will never buy this product again, and certainly cannot recommend it.

Sadly, there is not an option for zero stars.
Muiltul purpose compost
Brought this product yesterday, excellent plus received good customer from Jana,
Well done
Great peat free product. Allows peat bogs to thrive as well as my garden and greenhouse.