See more Fire & carbon monoxide alarms
Google Nest Mains-powered Smoke & carbon monoxide alarm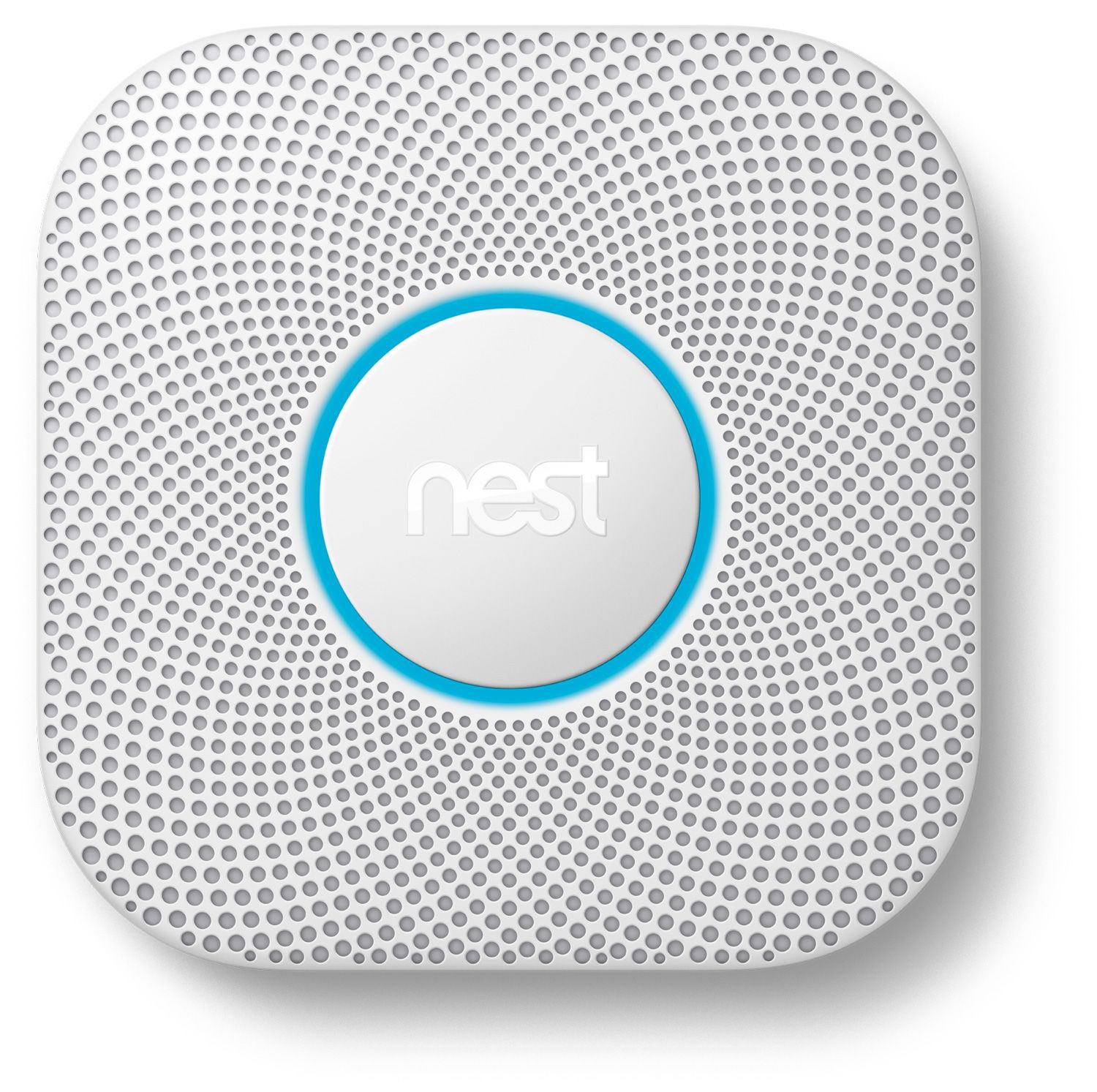 Product details
Product information
This smoke and co alarm uses electrochemical sensors to effectively detect dangerous carbon monoxide fumes and alert you to their release. Recommended for use in any indoor room.
Features and benefits
Nest Protect has been completely redesigned for it's 2nd generation launch. It has an industrial grade smoke sensor, can be silenced from your phone, tests itself automatically and lasts for up to 10 years. It also tells you what's wrong and can even alert your phone. Nest Protect alerts your phone when something's wrong when you are not home. In the unfortunate instance when something isn't quite right, the Nest Protect speaks up to tell you if there is smoke or carbon monoxide, and where the danger is. It is also the first alarm you can silence from your phone. Simply download the Nest app to your Smartphone to gain full control of the situation.
Split Spectrum Sensor that detects both fast- and slow-burning fires
Sends alerts on your phone even when you are away
The first alarm that you can silence from your phone
It speaks up to tell you what's wrong and where the problem is
Keeps you safe and sound for up to 10 years. The longest time allowed by law
Comes with heat sensor which detects sudden rises in temperature
Specifications
| | |
| --- | --- |
| Sensor type | Electro-chemical |
| Model name/number | S3003LWGB |
| Power source | Mains-powered |
| Colour | White |
| Wireless | Wired |
| Product code | 0854448003778 |
High quality premium product
An impressive build quality, far superior to typical smoke alarms. Together with far superior tech, easy install and simple to use
I feel as though the product has been missold
Nest and Google both state on their websites that the alarm has a 10 year CO sensor and should be replaced after this date. What they don't tell you is this date is from making the device: by the time I'd received my 3 "brand new" alarms, they only had 7 years of use! After the expiry date, they will stop working altogether. This is my main complaint, if Nest simply gave me a refund for the years of use I won't be getting (as advertised) or give me new units with the full 10 year use I would have no issues as they're actually a brilliant product. You wouldn't advertise an electric car with a 10 year battery only to find out it's been sitting on a forecourt for 3 years, so your brand new car will only run for 7 years. Also, in Scotland they are not compliant with building regulations due to the lack of heat alarm. "Works with hue" was another reason for my purchase, pairing smart lights is a fantastic function for those hard of hearing however this support is now discontinued!
Great product shame about the expiry dates
Brilliant product from out of the box, to easy swap out of legacy detectors. MAKE SURE YOU CHECK THE EXPIRY DATE OF THESE!!! Purchased 2, expecting 10 years off each and I received an email from nest notifying me that I have 7 years left before they stop working.Effectively robbing me of a 3rd of their value.. Not good enough Google!
Just not very good at all...
mrleelee123 - 26 days ago
Can't even use a google home to announce if the protect detects smoke. It could be so good but once again Google messes things up.
Brilliant
The nest protect is more than a simple some alarm - the set up is simple. The installation is easy and it's a kinda fit and for get thing. But what had made it popular in our household is the path light function which is brilliant particularly with a you family. We use it all the time. The only improvement which I would add is the ability to to extend the duration and the ability to use it as a Dusk to dawn night light, I understand that wouldn't be possible one the battery ones but would be possible on the wired ones.