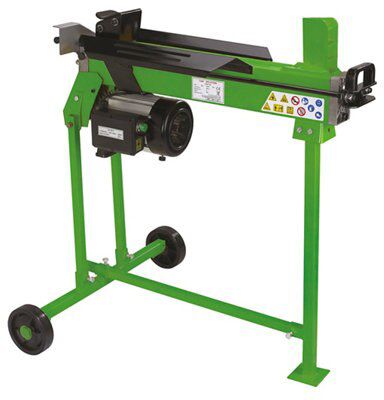 Handy Horizontal Corded Log splitter
Product details
Product information
Ideal for medium log splitting jobs
Comes with Fully filled hydraulic oil
Safety cut out
Features and benefits
The Handy THLS-6 mains electric log splitter is a great time saver for turning dangerous log chopping into a safe and easy operation. The Handy THLS-6 log splitter is powered by a 2200 Watt electric motor and exerts a massive ram pressure of 6 tons.
Log capacity between 50mm (2") & 250mm (10") wide
Large 30mm diameter hydraulic ram
Large wheels for easy transportation
Includes fully filled hydraulic oil
Includes fully filled hydraulic oil
Specifications
| | |
| --- | --- |
| Product weight | 49.5kg |
| Power output | 2.2kW |
| Cable length | 1.8m |
| Model name/number | THLS-6-PLUS |
| Product code | 5060012807542 |
Effective Splitter.
Wilienofish - 4 years ago
I bought this splitter for my own use after seeing one in use splitting log logs for fires in a sporting lodge on an estate near where I live. The splitter has coped with a fairly heavy workload easily. The only negative points are that if you try and split a short log you need to use a piece of wood or another log behind it because the ram stops short of the cutting wedge. There is a adjustable stop to save the ram returning the full length when splitting short logs. This stop tends to work lose even when tightened fully. These are only minor niggles and I am very pleased with my purchase.
handy log splitter
Bought this log splitter 4 years ago brilliant bit of kit.
better than an axe
Bought this a few weeks back for a large pile of logs and it just split even the oak ones without too much trouble. It's simple to use on your own but it does take two to get it on the stand to start with. I did find a couple of the bolts coming loose after the first time I used it, so they need to be checked before use. It could do with a slightly longer power lead.
Fast and efficient
Quick to setup and started working through the log pile in 15 minutes. Very heavy but stable and easy to roll around on the wheels provided. Comes with the wheels already attached to the unit with the stand parts separate. You will need to partially dismantle the wheel assembly before putting together the stand and then put the wheels back on.

The MINIMUM log length is about 150mm. This caught me out as I have some short logs where the ram reached its stop before the log reached the splitter blade.

You will need an 8mm hex key to open the hydraulic tank filler cap to access the dip stick. Instructions says it normally is shipped without hydraulic fluid but don't worry because mine was already full when it arrived.
Very powerful
I had a large amount, about a ton of green oak logs i sawed up a few weeks ago. They are incredibly tough. This machine went through them like a hot knife through butter. The only frustrating thing about these machines is the safety system that keeps both hands out of the way of the cutting/crushing parts. While they work really well I found that lots of logs were not perfectly flat each end and tended to get shoved off the machine when the slightest steadying with a spare hand prevented this. I rigged up a foot operated system to leave my right hand free. This I found actually safer because there was less chance of logs jumping off the machine. I found the work height a bit low for me so stood the whole thing on some concrete blocks to save my back. I used the machine all day without a hitch.