See more Fire Maintenance & Fuel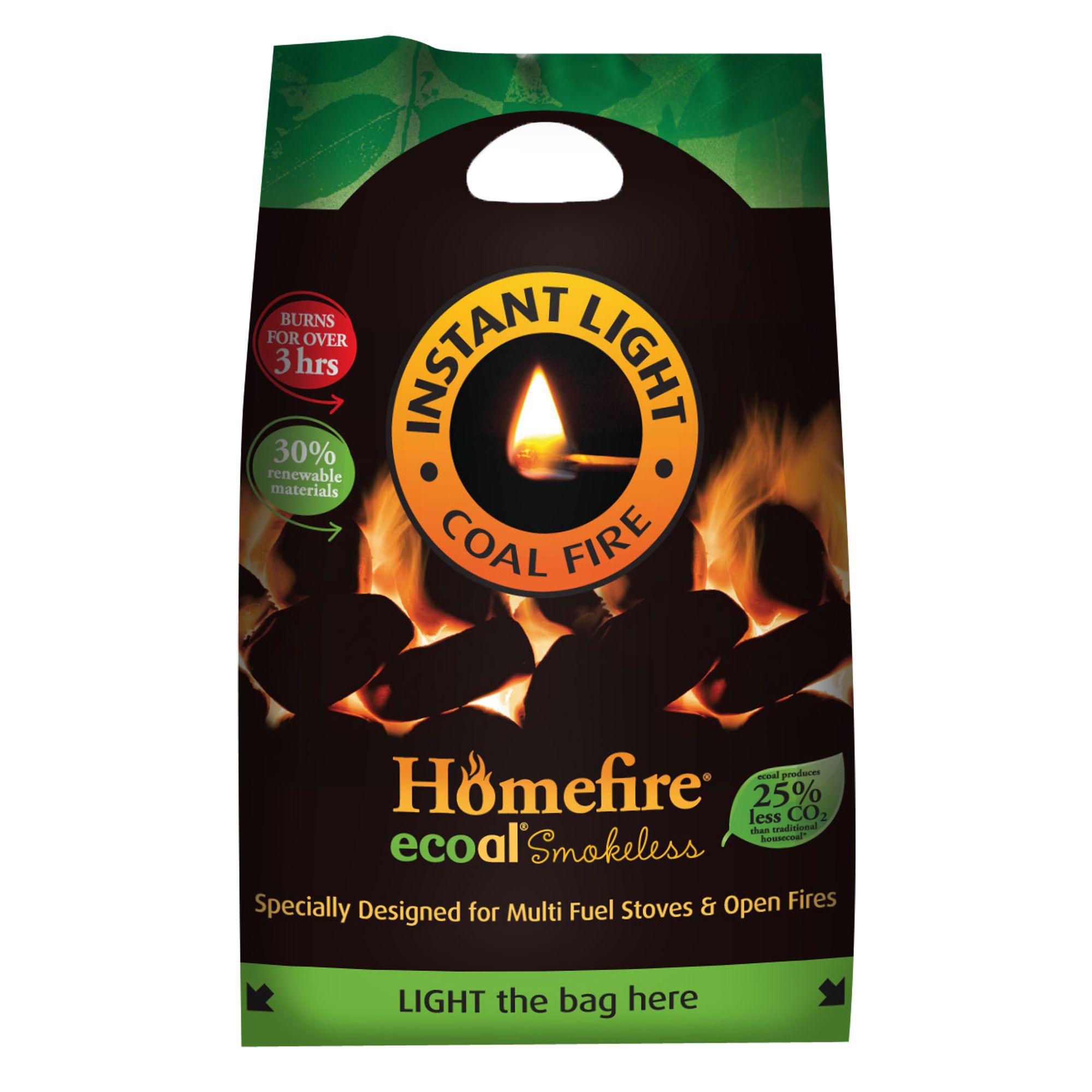 Homefire Ecoal smokeless solid fuel (Instant light) 4.5kg Pack
Product details
Product information
Smokeless fuel
Suitable for - Smoke Control Zones
Instant light

1 year Guarantee
Features and benefits
Emits 80% less smoke than house coal so can be used in all parts of the UK including smokeless zones
Emits up to 40% less Carbon Dioxide than house coal and is considered CO2 neutral as a renewable energy source
Manufactured with 50% renewable material
Burns 38% hotter than house coal and last significantly longer
Less fuel used to achieve same heat output means less refueling
Simply light the bag with a match. Simple, quick and convenient with no need for kindling or firelighters
Recommended for open fires and multi-fuel stoves
Specifications
| | |
| --- | --- |
| Brand | Homefire |
| Material | Coal |
| Fuel type | Coal |
| Weight (kg) | 4.5kg |
| Pack quantity | 1 |
| Unit of measure | Pack |
| Product code | 5017974008746 |
A brilliant product
Easy to use just light the corners of the bag and you have got yourself an instant fire. Brilliant product, burns really hot and for a very long time, would recommend it to anyone.
Ideal fuel!
I got 100 bags of this product about a year ago now... and I can honestly say that has been an absolute godsend
As I am disabled I find lighting fires very difficult but with this "instant light" It is simplicity itself - just light the bag - then just sit back and enjoy the heat - gfor the rest of the day ! Contrary to what it says on the packet it can last up to 24 hours particularly in a multi fuel log burner.
Pure magic - and so economical too.
Not much hassle
Bought a bag to see how it would fare, I'm impressed. You can't light it and go though, you need to light it then poke about about three or four times over 30 mins or so to get it even and a well distributed burn but that's it, after the initial phase of about 30 mins with a handful of visits to make it perfect then you are golden for a good 3 hours no more visits :) takes a while to get up to between 150-300 c optimal temperature but you need to know how to work your stove with this fuel, them close your air etc. to keep it ticking over. Certainly will buy again not many as it's expensive but on the whole easy. Not that different from a normal coal process (30 mins attending similar output etc.) but the bag makes it simple if you are busy and can't be gassed with paper and kindling.... though to be fair that's not much work.
Wow
don't listen to those poor review about this coal... This coal is beautiful read the reviews before buying the item... Purchase one just to try it out... Well impress with it the coal gives out heat and is very easy to light.. Glows beautiful will be going back into store soon to buy some more would recommend this product to family and friends l give it five stars
AMAZING STUFF
Letsbehonest - 5 years ago
Placed the bag in my 5kw stove and lit it at 12.30 pm Sunday , the stove was sill warm to touch 18 hours later at 6.30 am Monday morning, but it is expensive at £1.11 per kilo a coal merchant will do a similar loose product for 35p a Kilo . This would burn much quicker in an open fire my stove is 83% efficient and an open fire is about 20% efficient