See more Scarifiers & tillers
Hyundai 212cc Petrol Lawn Scarifier and Aerator HYSC210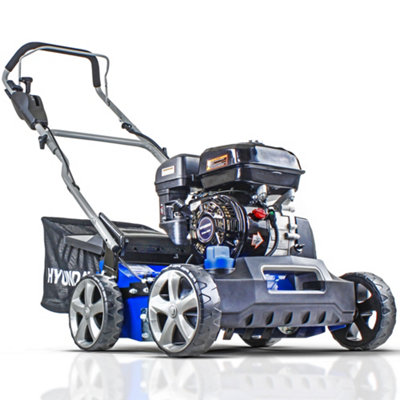 Product details
Product information
The HYSC210 is low-maintenance petrol-powered scarifier from Hyundai designed for aerating your lawn to improve drainage and grass growth whilst also protecting your lawn from waterlogging and disease.
Ideal for Maintaining a Healthy Lawn
The following steps should be taken to prepare your scarifier for storage. 1. Drain all the fuel from the fuel tank and then run the scarifier until it has completely run out of fuel to clear the remaining fuel from the fuel lines and carburetor. 2. Drain the oil from the engine. 3. Follow the cleaning instructions as set out in the previous section. 4. Follow the maintenance section and check, service or replace serviceable items if required. Check the blade to make sure that it is ready for the following season – This will allow you to get it sharpened correctly. Use a light oil or silicone spray to help prevent the blade from rusting. 5. Clean the machine completely and make sure all moving parts are lubricated with a light silicone based spray or grease. 6. Drain and replace with new SAE 30 or 15w40 engine oil, fill to the upper mark on the dipstick. 7. Remove the spark plug and pour 1 teaspoon of fresh engine oil down the cylinder bore. With the spark plug still removed, cover the spark plug hole with a lint free clean cloth, ensuring no dirt or debris falls into the cylinder chamber and gently pull the recoil starter handle to coat the cylinder bore with the fresh oil. 9. Refit the spark plug. 10. Visually inspect the machine and replace or repair any worn parts. 10. Once all work above is carried out store the machine in a clean, cool and dry place away from sources of ignition and varying changes in temperature. DO NOT store a machine that has not been given time to fully cool down. 11. Do not stack other items on top of the machine when in storage. 12. When the machine is to be next used, fill with fresh unleaded petrol and not petrol that has been stored for periods of more than 30 days.
Features and benefits
Powered by a 212cc 4-stroke OHV petrol engine, the HYSC210 delivers impressive aerating performance for achieving the perfect lawn. The HYSC210 features a cutting width of 400mm / 15.8", perfect for revitalising and reviving the most tired and spongiest of lawns.
Get a healthy green lawn: Revitalise your dull, spongy, patchy grass
Fitted with 18 hardened steel blades: Designed to remove moss, thatch, and dead grass right down to the roots
400mm working width: Perfect for small to medium lawns
Hyundai 212cc 4-Stroke OHV petrol engine: Provides easy starting with low fuel consumption
Variable height adjuster from +15mm to -15mm: Get the perfect finish on your lawn
Wide-tread wheels: Easy to move around your lawn
Large 45L grass catcher bag: Catches moss, grass and weeds as you go for minimal clean-up
Peace of mind: 3 year Hyundai platinum warranty (terms apply)
Specifications
| | |
| --- | --- |
| Collection capacity | 45L |
| Model name/number | HYSC210 |
| Product weight | 37kg |
| Propulsion type | Push |
| Raking & scarifying depth | -15mm |
| Working width | 400mm |
| Product code | 5056275705367 |
Documents
Product Instruction Manual
Product Guide
Safety Manual